Features
New Focus, New Energy for Cequent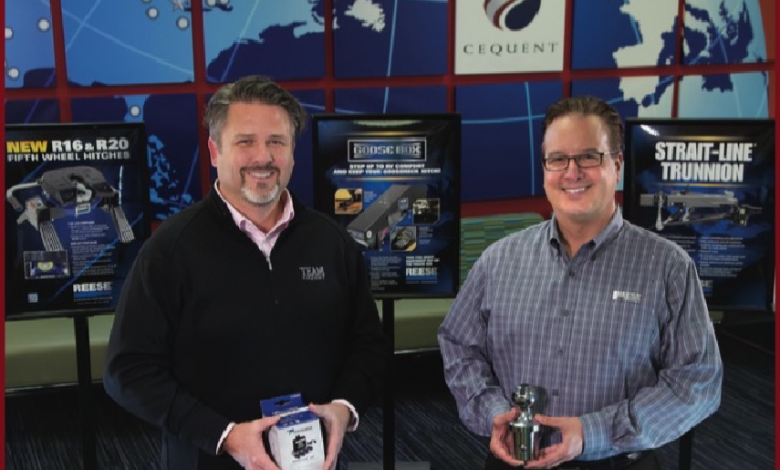 This article is from our older website archives. Some content may not be formatted or attributed properly. Please
Contact Us
if you feel it needs to be corrected. Thank you.
Corporate restructuring in the RV industry seems never ending, especially in the past few years. A fair question is whether such activity ultimately benefits dealers and their customers. Yet last year's spin-off of Cequent — the leading maker of towing and trailering products — from TriMas Corp. promises to do exactly that, according to company management.
"We were kind of the stepchild," Cequent President John Aleva says of the company's TriMas days. "We really didn't get a lot of capital to invest and reinvest in our businesses."
Now that Cequent is part of a new company, Horizon Global Corp., formed after the spin-off, there's a different approach.
"We are going to invest in this company," says Aleva, who's been at Cequent since 2003. "We are going to spend our working capital to grow our business, both organically and through acquisitions, to continue to drive innovation and product solutions for our customers. That's our mission."
So far, it's been a very successful one for Cequent, known best to the RV market by its Reese, Tekonsha, Bulldog and Draw-Tite brands. Headquartered in Plymouth, Mich., the company, which serves both the aftermarket and OE manufacturers, reported revenue in March of more than $650 million in 2015. With a 10 percent compound annual growth rate from the end of 2010 through last year, it's clear Cequent is doing something right.
One key to its success is new product innovation, according to John Walsh, vice president of sales and marketing.
"We will roll out new products throughout the year; however, we high- light particularly new developments at both SEMA and RVIA in Louisville. Louisville gets the season going for the RV market- place. We do have a few distributor dealer shows before Louisville that highlight new developments as well," says Walsh. "What we try to do is remain very consistent in the presentation of our new products throughout all of our distributor shows as well as the trade events."
Making Trailer Wiring a Snap
Cequent, whose U.S.-designed lines are made in Mexico and abroad in accordance with strict manufacturing procedures, recently introduced several items that should pique interest among RV customers. Company of cials are particularly excited about Tekonsha's new, easy-to-install ZCI trailer light power module featuring a "Snap, Don't Snip" design — a product that was first suggested by Cequent's dealer body.
"In the past, we've always had to cut and splice and oftentimes that disrupts a lot of the new electrical systems in today's cars," he says. "ZCI, or Zero Contact Inter- face, requires no cutting or splicing and it works on all known vehicles. We designed a solution that can handle every known vehicle in America, Canada and Mexico. The ZCI smart technology sensors simply snap around the tow vehicle lighting wires without splicing or cutting and detect current flow to activate the trailer lights."
First shown at last year's SEMA Show and RVIA's National RV Trade Show, ZCI was well-received, he says.
"It seems like most dealers want to have one or two on the shelf just as a security measure in case they need it on a Friday when someone comes in ready to go to a campground," Walsh says. Tekonsha, which began development on ZCI three years ago, recognized the challenge of wiring into today's vehicles, with their sophisticated multiplex CAN bus architectures, from a shop's point of view.
"We're seeing a revolving door relative to technicians. One of the tough things a lot of the dealers are having is keeping good, qualified technicians in place long term in the dealership," Walsh says. "This product also makes it extremely easy to train and educate a new person coming into the dealership because electrical is probably, in our world of towing, the most daunting piece of an installation. It scares most people because you're dealing with a 12-volt system and all the things that could potentially go wrong, plus the legal implications if it's not done correctly."
Engineers at Tekonsha were able to get ZCI compatible with 80 percent of all North American vehicles within 18 months, Walsh says. The remaining 20 per- cent took more time and led to a delay of the patented product's introduction, but it was necessary to ensure complete coverage.
Steady as She Tows
Also last year, Cequent's Reese brand unveiled a high-performance, light-duty weight distribution and sway control product, called Steadi-Flex.
"It basically improves light-duty towing," Walsh says. "If you've got a minivan or a small SUV and you want to upgrade handling and performance, this is a great solution for that. It's active sway control and weight distribution in one."
The hitch — yet another product suggested by dealers — has six points of sway control, featuring integrated automotive- grade friction pads on the spring bar frame brackets, which translates into superior sway control during operation, in addition to other features that make it quiet and more durable, according to Walsh.
"There's a lot of entry into the RV space. If someone's buying a pop-up camper or maybe even a small Airstream trailer, they need a different type of product," he says. "They need something that's easy to understand and easy to hook up, and so we're trying to design products for that entry-level tow customer."
The combination of a light vehicle and a light trailer means the potential for lots of sway, according to Walsh. And for a new RV owner, sway is one of the scariest things to experience on the road. That was the impetus for Steadi-Flex.
"Really, it's all about improving that vacation, because we make products for people to go on vacation and for their work environments," he says. "We really don't want them to think about our products. We just want them to know we have a product that works and solves their problem."
Early feedback on Steadi-Flex has been positive and a lot of orders were generated at the trade shows, Walsh says. The hitch even includes a special lift handle to make installation and removal of the spring bars easier.
Jack Gets Speedy Upgrade
From Cequent's Bulldog brand, primarily an agricultural and industrial line, Walsh says the new Velocity Series High Speed Jack offers some serious bene ts for RV applications.
"We came up with a way to increase speed and efficiency with an electric approach versus hydraulics, which means the consumer doesn't have to worry about all the complications of hooking up a hydraulic system," he says. "The electric approach allows us to have a remote control and you can use two of these in tandem as a leveling feature. It provides 12,000-pound capacity per leg so it can handle virtually anything in the RV marketplace. It's really a high-speed approach to jacks. If you've never worked with hydraulics, they go with their own speed. With electric, you can actually extend and retract the legs faster."
A premium powder-coat finish covers the proprietary system and the footplate is articulated to conform to terrain, but Walsh says there's also a dealer bene t.
"It's three times faster than a hydraulic jack to install," he says. "It mounts without any welding. It's a pure bolt-on approach."
The Velocity Series jack will be a perfect t for agriculture and industrial trailers, too, he says, two markets Cequent has served for decades.
"It's also a wonderful product for cold weather environments. In a hydraulic situation, it can get a little funny in the wintertime, whereas with electric, you don't have that problem," Walsh says. "Because of the way we've designed the inner core of this product, it actually releases from an icy substrate much easier, much faster and much more efficiently than you find in a hydraulic application."
The Velocity's weight rating may seem like overkill for most RV duties, but that extra capability is a company hallmark.
"Our products are all designed to exceed the needs of the vehicle," Walsh says. "We're very cautious when it comes to that. You can imagine, with close to a 100-year history, we want to make sure our products exceed all customer expectations."
A-Frame Jack Now Spring Loaded, Heavier Duty
Also from Bulldog is the 4,000-pound- capacity version of its powered A-frame jack, a follow-up to the 3,500-pound jack the supplier released in 2014.
"I'd say the most distinguishing feature of this is a spring-loaded, drop-leg pull pin," he says. "It's a proprietary patented product that we created, and what it allows a person to do is drop that pull pin into position. It makes it easier than trying to find the hole and then get it aligned. Since this is spring loaded, it'll catch that hole and connect positively."
The powered line is relatively new for Bulldog — a brand that's been around since 1920. Bulldog jacks have required manual operation until now, Walsh says, but product planners have recognized consumers don't want to turn cranks each time they use a trailer.
With that in mind, Bulldog has stepped into the DC electric utility winch market, too. Having made commercial and hoist winches for years, Walsh says making a line applicable to toy hauler owners, for example, was a natural t.
"The uniqueness around this is really form and function. We developed a remote control for this, but not just a remote control that plugs in," he says, "we've also developed a wireless remote control."
Bulldog offers DC electric utility and heavy-duty winches in capacities from 2,500 pounds all the way to 12,000 pounds to cover a variety of needs.
Dealer Support Takes Many Forms
With the range of products available from Cequent — which also includes the Bargman, Fulton, Hidden Hitch and Wesbar lines — excellent dealer support is vital.
"I'd say there are two primary elements. One is our field sales force. They are geo- graphically dispersed and they cover all of the U.S., Canada and Mexico. They're equipped technically to answer questions and to teach, but another real big part of our dealer support is field training and education," Walsh says. "We deal with products that can be dangerous if not installed and communicated properly with the consumer, so we spend huge amounts of time, energy and effort in field training and education."
In the past, Cequent staff would hold events in different parts of the country so nearby dealers could more easily send technicians for training. While the company still does that for RVIA re-certification classes, other training events became less attended in recent years as shops simply couldn't release their busy techs.
"That's when we developed our online video and e-Learning module series," Walsh says. "With our e-Learning modules, you can actually self-drive a product feature or technical training exercise with a test at the end and it's open to the dealer and installer community. We're continuing to build on that as we move forward."
One long-time favorite that Cequent continues to offer is "drive and rides" for dealers who request them.
"Demonstrating product is so much better than trying to sell it from a catalog," he says. "We actually take a truck-trailer combination into a dealership and we'll let them get into the vehicle, we'll run it with one of our brake controls, one of our weight distribution systems, a gooseneck or a fifth wheel and we'll put it through the ringer, quite frankly."
If techs or customers run into trouble, Cequent has an 800 line staffed five days a week, he says, plus there are FAQs and lots of product-specific videos.
"A person can go in, watch the video and really get a good understanding of what's going on," he says.
Not surprisingly, considering its resources, Cequent can provide dealers with a full line of merchandising and display sup- port, including exterior and interior signage.
"Now that we've brought together our consumer retail group and our aftermarket group, we're actually developing a whole new series of planograms in four-, eight- and 12-foot sizes in the various brands," he says.
Strength is in the Brands
Ultimately, Cequent's spin-off will allow the company to utilize the strengths of each of its brands, providing customers with the products and merchandising aides they need to support and growth their businesses, Walsh says.
"What we're focused on is high-velocity products that an RV dealer can really put in with assurance and know that they're going to sell because they've been proven in retail environment," he says.
For Aleva, the legacy and durability of Cequent's brands is what keeps the company at the top.
"If you want the better product or the best product in the marketplace, that's who we are. We sell pro brands. We sell brands that are trusted, tried and tested thoroughly," he says. "If you abuse our products, they'll still be there."