Features
RV Owner Begins Quest to Make RVs More Accessible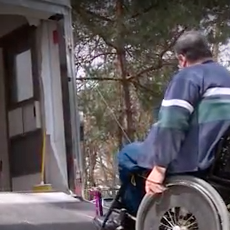 This article is from our older website archives. Some content may not be formatted or attributed properly. Please
Contact Us
if you feel it needs to be corrected. Thank you.
David Sherrer is on a four-year quest across the country in a 2005 Wildwood LE 29 FBSRV toy hauler, hoping to enlighten RV manufacturers, suppliers, camp owners and the public on the ease and benefits of making their parks, RVs and products more accessible to disabled citizens.
---
David Sherrer at a send-off event April 29, where Lippert Components and Furrion donated upgrades to his RV, the Qchair Traveler. Photos courtesy of Lippert Components.
---
On Labor Day, 26 years ago, Sherrer was shot three times in an assault that rendered him T-8 paraplegic, meaning he has use of his arms and upper torso.
Shortly after being paralyzed, Sherrer began reviewing parks, hotels and vehicles while travelling with his wife, and in 2006, he incorporated Qchair's Traveler, a non-profit organization dedicated to advocacy for disabled travelers.
With about 20 percent of American's suffering from some type of disability, and the mean age of RV owners falling at 48, according to U.S. Census and RV Industry Association data, Sherrer said there are business opportunities available for suppliers and manufacturers to make products that feature what Sherrer calls a universal design.
Qchair Executive Diretor David Sherrer demonstrates the entry ramp to his RV during an event in Granger, Ind. last week. Click photo to enlarge.
"Universal design simply means that it doesn't impede a person that does not have a disability and it does not impede a person who has a disability," he said.
Sherrer gives the example of traditional twist-type door handles versus the easier lever-type handles.
"You can buy either one for the same cost," he said. "But for an amputee, or a person with severe arthritis, or a person that's in a wheelchair who has both hands on those wheels, they have a real hard time reaching up and grabbing those door-handles."
Many RV manufacturers and suppliers already make products that ease accessibility, such as the parts donated by Qchair's continuing sponsors Lippert and Furrion.
During a send-off event on April 29 in Granger, Ind., Lippert provided the Qchair RV with a Power Tongue Jack, a StrapTek, Power Stabilizer Jacks with a JT Strongarm, Forward Adjusting Brakes, Waste Master, RV Lock keyless entry and 360 Siphon, among other items.
Furrion has donated a removable 30-inch power system, installed a wireless back-up camera and a 32-inch flat screen TV.
With the help of a relative, Sherrer modified his own Wildwood toy hauler to make it more accessible for the four-year journey.
He added a winch in the toy hauler's rear entry in lieu of an expensive wheelchair lift, widened doors, removed the vapor screen and completely overhauled the living quarters and bathroom. All told, Sherrer said he spent less than $25,000 on the RV and tow vehicle, a 2004 Dodge Ram 2500.
Sherrer will begin a four-year trip to visit all 49 land-locked U.S. states this summer.
In addition to parts suppliers, Sherrer said RV manufacturers could learn from some of the modifications he's made to his RV.
"I'm not saying they should go put 30-inch doors on every doorway in an RV, but one 30-inch door in every RV that is a billed axle, is feasible," Sherrer said.
In Mississippi now, Sherrer said the first leg of his trip would take him up the East Coast, where he'll visit and speak to both RV and camping business owners and other disabled people, whom he hopes he can inspire to travel, too.
"It's going to be wherever I can get to. As far as speaking, I'll speak to anyone who would like to hear me talk," he said. "I don't care if it's about what to do to protect yourself from getting a spinal cord injury, or how to modify your RV on a limited budget. All I want to do is help people."