News
Device Protects Camp Stoves from Wind
This article is from our older website archives. Some content may not be formatted or attributed properly. Please
Contact Us
if you feel it needs to be corrected. Thank you.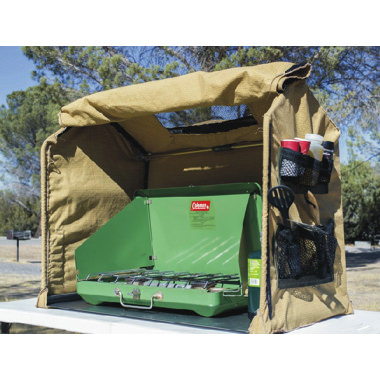 Coastline Mfg. Co. of Hesperia, Calif., has released the WindTamer, created by Mitchell Schliebs CEO of RVandOffRoad.com, which converts any common camp stove into a high output camping appliance in high wind, rain or fog while also conserving the stove's fuel.
It allows campers to cook meals outdoors regardless of the weather conditions.
According to a 2014 Camper Report sponsored by Coleman Company and the Outdoor Foundation, more than 40 million Americans went camping in 2013, sleeping outdoors nearly 598 million nights. Only 16 percent of those camped in RVs while 77 percent slept in a tent. To ensure the most pleasant camping experience, 59 percent budget for the best, most functional camping equipment.
Schliebs created the WindTamer while camping in the Southern California high desert and local mountains while searching for a suitable homestead. He witnessed many other campers who struggled or left early due to the wind. Others asked him for assistance as they watched him cook on the stove top or fire place. The idea for the WindTamer was born.
With three decades of freelance design work behind him, Schliebs began taming the wind at Mojave Narrows using a sheet of Nomex stretched over the front of the campground grill, laying the groundwork for his initial design. The WindTamer provides a Nomex shield with a steel stand that protects the stove from the elements.
It's quick and easy to set up and vents at the top. It's also large enough to accommodate a three-burner stove and offers pockets and holders on the sides for paper towels, foil, and other cooking utensils for convenience and organization. While providing easy access to the burners, it also saves on the amount of fuel utilized by the stove and is reusable saving money over time.
"Camping should always be a rewarding adventure but cooking in a windy, possibly wet environment will turn meal preparation into a risky undertaking with an unknown outcome," Schliebs said. "Cold or under cooked food is sure to rile moms and kids and cause consternation to future camp-outs. WindTamer helps ensure hot nutritious meals from morning to night."
For more information, visit CoastlinervandOffRoad.com.