News
Florida SuperShow Breaks Day 1 Attendance Record
This article is from our older website archives. Some content may not be formatted or attributed properly. Please
Contact Us
if you feel it needs to be corrected. Thank you.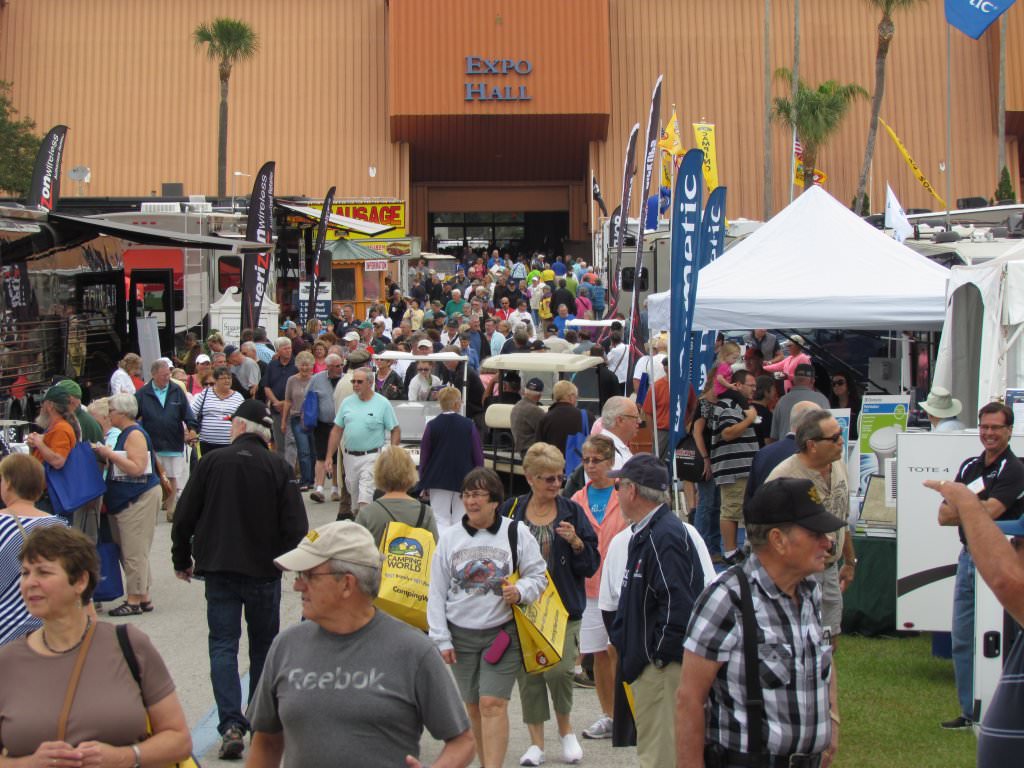 The Florida RV SuperShow opened its doors to the public Wednesday to a 20 percent increase in attendance on Day 1 numbers from last year.
---
The Florida RV SuperShow set Day 1 attendance records Wednesday. Photos courtesy FRVTA.
---
More than 17,200 people attended the show at the Florida State Fairgrounds in Tampa on Wednesday, up from 14,300 last year, a first-day record for the show, according to Florida RV Trade Association Marketing Director Dave Kelly.
Bikers from the Rolling Thunder motorcycle club escort the Wall That Heals Vietnam Memorial replica into Tampa, Fla. Click to enlarge.
Kelly wasn't too surprised at the numbers after seeing a packed Tampa Fair Ground for much of Wednesday.
"The public days and the rally are just phenomenal," Kelly said Wednesday afternoon. "We've got probably 800 RVs in the rally, and I know we have over 1,200 display units, so we have more than 2,000 RVs on the ground right now."
The Association sold about 8 percent more vendor space for this year's show, but low gas prices, combined with pent-up consumer demand, have led to good early crowds for the show.
"We're lucky to be doing this right as gas prices are at a low," Kelly said.
The show's vendors include dealers and manufacturers as well as suppliers. B&W Trailer Hitches Account Manager Luke Smith said the supplier hall was as full as he'd ever seen it.
"Apparently attendance wasn't too bad, but it seemed very, very busy. … I was going non-stop from 9 a.m. to 6 p.m," Smith said.
Smith is showing the company's full line of RV products, including a drop-in hitch for the new Ram truck that he debuted to the public yesterday at the company's booth in the supplier's hall.
"Yesterday was as busy as any show I've ever been to," he said.
A Color Guard stands at the opening ceremony of the Florida SuperShow Wednesday. Click to enlarge.  
While gas prices and good weather may attribute to the great turnout, the Association added an attraction to this year's show. The Wall that Heals, a half-scale replica of the Vietnam Veterans Memorial in Washington, D.C., is on display near the northwest entrance to the manufacturers area.
The replica rolled into town Tuesday in a semi truck, receiving an escort from about 70 riders of the Rolling Thunder, a national motorcycle club.
"That was really neat. They met up with the tractor trailer north of Tampa and they all rode into Tampa," Kelly said.
Former and active military personnel from nearby MacDill Air Force Base helped assemble the Wall, and host an opening ceremony, including a color guard, National Anthem, Pledge of Allegiance and benediction, Kelly said.
"We've had a lot of people coming in to look at the Wall. It's been a real neat addition to the show," he said.
If the show continues to reflect the same numbers over the next four days, Kelly isn't sure if they'll have any room to grow next year.
"I think there was a square-foot out in the back parking lot that we weren't able to use. … I don't know how we'd get any more people in here. The aisles were just packed full where the booths were," Kelly said of future shows.
He added that while this year's numbers look good so far, the whole weekend lies ahead, and show organizers aren't getting ahead of themselves.
"We'll worry about next year, next week," he joked.
For more information about the show, hours or events, click here.