RV News
Rainmaker Consulting Founder Judy Carr Dies
This article is from our older website archives. Some content may not be formatted or attributed properly. Please
Contact Us
if you feel it needs to be corrected. Thank you.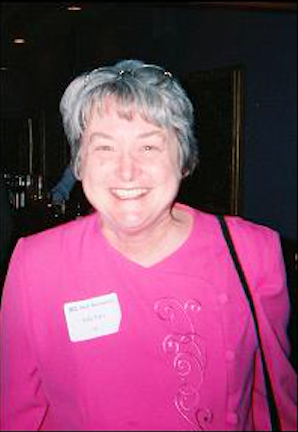 Judy McIntosh Carr, founder of Judy Carr & Associates – now known as Rainmaker Consulting – passed away unexpectedly early Saturday (April 2) from complications following surgery, according to a news release from the Carr family.
In addition to being a loving wife, a generous mother and a devoted grandmother, Judy was a pioneering business woman in this industry opening her consulting firm – Judy Carr & Associates (JCA) – in 1981 after working for several years as the editor of The Hardison Institute section of the Dealer Magazines (RVDealer & MHDealer) published by Brownie Hardison out of Chicago.
Judy got started in the RV Industry in 1976 working with the RV Dealers Association to help put together the educational programs for their first two conventions. That work led to her position as editor of the education-focused Hardison Institute, and when TL Enterprises bought out Hardison she started JCA as an educational company, hosting seminars featuring the top consultants and trainers of the day.
Judy Carr & Associates was one of the first companies to build software specifically for RV Dealerships, and over the company's first 35 years, JCA grew into a software and consulting firm for the manufactured housing, RV and specialty trailer industries. Now known as Rainmaker Consulting, the company Judy founded has worked with hundreds of dealerships across the U.S. and Canada.
While all of the other early dealership software systems eventually were sold to large corporations, Judy and her family kept their system in-house where Judy continued to direct its development.
Judy was born in Boston, Mass., and, although she lived in Davenport for 35 years, she never forgot her Boston roots, according to the release.
"She still said 'tomato' with that funny accent that gave her away, and she was direct and forthright to a fault," the family said. "She was known for telling you what she thought and held you accountable for your actions whether or not you were ready for it.
"Those closest to her observed (much to their chagrin) that, while she wasn't always 'nice,' she was almost always right in her observations and advice.
"Judy did have a pair of kid gloves that she reserved for her eight grandchildren, each whom she adored in their own special way.
Carr is survived by her husband, Bill Carr; her children: Chad and Mia Carr of Davenport; Lauren (Stacy) Larsen of Red Deer, Alberta; and Brian and Kati Carr of Shawnee Kan.; eight grandchildren: Charlie, Margaret and Grace Carr; Matthew, Peter and Evan Larsen and Ethan and Molly Carr; her three siblings, Gaye Ludwig of Vero Beach, Fla.; Jim McIntosh of Columbus, Ohio; and Linda Whalen of Dedham, Mass.; her many nieces and nephews and her mother Frances McIntosh Davies (97) of Vero Beach, Fla.
Services will be held Friday (April 15) at 1 p.m. at First Presbyterian Church on Iowa street in Davenport. An open house is planned at Bill and Judy's home from 10 a.m. to 3 p.m. Saturday (April 16).