Features
RV Women in Business
2023 WIB: Up-and-Comer Vows to Never Stop Learning
Veronica Helms, education director for the Florida RV Trade Association, credits her rapid professional growth to always letting life be the teacher and not being afraid of learning new things.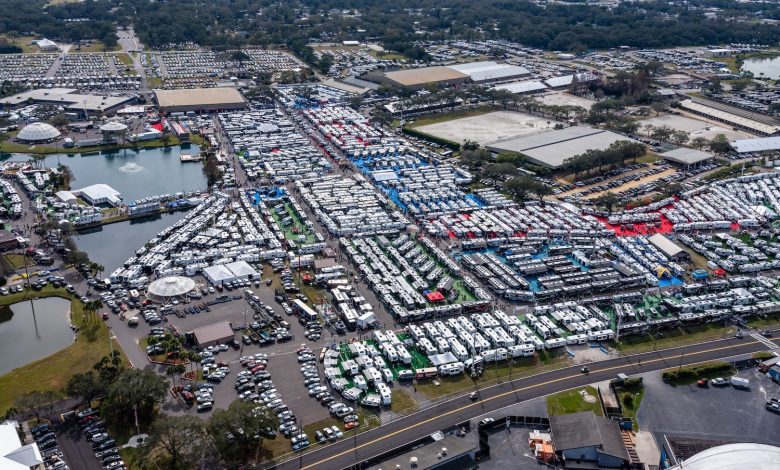 The May issue of RV PRO once again highlights RV Women in Business and the many roles they fill in what once was a heavily male-dominated industry.
The one thing that Veronica Helms is most proud of professionally: Her timing.
It's not often a person progresses from customer service representative to a director of training and development in only six years. But Helms has always carried a certain mindset – focus on being the best at your job, and the opportunities will open. And most importantly, let life teach you what you don't know.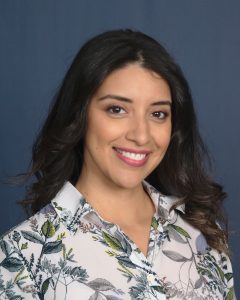 With a bachelor's in design and marketing from New York's Fashion Institute of Technology, Helms left her merchandising job and moved home to Tampa, Florida, at 24 years old. She was hired in Home Depot's call center, and in nearly one year, moved from customer service to supervisor to joining the company's training staff. Having no experience in the field, Helms was offered an opportunity that sparked her journey in training and development – and it was only up from there.
"It happened to be in a time when companies actually were committed to train their employees," Helms says. In the long run, she learned her role was bigger than it seemed. "Hands down, in my opinion, when a company believes in the people they've hired and are ready to build their careers, it will make an impact on the (employee's) life."
In addition to her own training, she pursued multiple leadership certifications and eventually became PDI (Practical, Dynamic and Interactive)-certified to coach leaders themselves. Pivoting from retail, networking opportunities landed Helms with Bisk Education, where she worked for three years in the higher education space.
"Back then, universities were trying to bring their education online and get more enrollment – which was a challenge," Helms says. "The internet was becoming a thing and they had to figure out how to tap new audiences."
Her focus became the "why," she says – why are people pursuing education? What are their goals and dreams? Helms learned many people already had degrees yet wanted something new, leading to her work with professional certificates and Six Sigma, a process improvement method focused on customer satisfaction. The main question was how to get pros more education, and Helms' passion for helping others succeed at all levels was a driving force.
"If I could give anybody advice, it's to never stop learning and never stop growing professionally," she says. "Be the best at your job that you can be until the next opportunity opens up."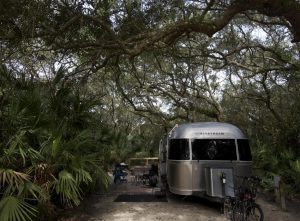 For Helms, that next opportunity came two-fold. She was headhunted by Ideal Image, the laser hair removal giant, and shortly after opening a call center for the company, she became a mother. Deciding that she had "plenty amount of years to be who I want to be," Helms put her professional life on pause and pivoted to being present with her kids.
"That's the beauty in being very authentic to yourself," she says. "As women, knowing you have to stop and ask what is important, it's ok to check in with yourself and be willing to part with what you built, because it will be there when you go back in. You never lose your experience – that's why it's important that you always do 100% at the job you're given."
Aiming to Adapt
In 2011, after about a year and half, Helms decided to reenter the workforce at the manager level. In under six months, she moved into a director position.
"While I wasn't planning to course myself there – I was just being who I was in my role – I took a shot in the dark," she says. Helms managed call centers at six locations across Florida and doubled her salary.
"You have to get over the 'maybe I need a mentor' or 'maybe I don't have enough experience', right? You have to remember, especially as a professional woman, if the opportunity presents itself and you like the challenge, you go after it," she says.
But taking opportunities means adapting to change – especially in training and development, which she calls a "fluctuation industry," as it's often disposable amid company setbacks. Helms was furloughed, and after applying for new roles a few weeks later, landed in a market that hooked her ever since – the RV industry.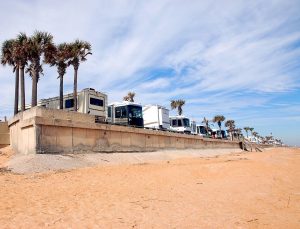 "I had never RV'ed before, and I thought this was such a different world," she says. Helms was hired as a training manager with LazyDays in 2018, a sweet spot for her to gain experience working with campgrounds, dealerships, rental sites, service departments and retail stores.
"I literally had every component of the RV business right there in Tampa. I learned the industry through LazyDays' employees, their customers, reading articles and just being a part of that world," she says. "As a training manager looking at their processes, I started figuring out there were missing pieces."
Not knowing what would come next, a partnership between LazyDays and the Florida RV Trade Association (FRVTA) sparked a working relationship that gave Helms a chance to climb the ladder once again. Eventually, she was named FRVTA's education director, where she's been ever since.
"I went from call centers to education to being nationwide, and now I'm focused on a whole bunch of members in one state. It's been a really cool landscape," she says.
Helms developed the association's RV Distance Learning Network, an online tool covering nearly all aspects of the RV business, based on a simple question.
"If I could have one thing that would improve the process for people behind me, what would it be?" In the forefront of Helms' mind was how to pay it forward – which sparked the creation of a resource for everything need-to-know in the industry.
"Like I said, nothing is better in life than just allowing it to just teach you what you don't know," she says.
From the Inside Out
Numerous industries, roles and shots in the dark have taught Helms that the universe will reciprocate what you give it. Oftentimes, that means adapting to change, prioritizing learning, and putting in 100% no matter the role. For Helms, many of those qualities were developed by an extensive library of books on leadership and development, for both personal and professional growth.
"It's a lot of self-development. I attribute my passion and dedication to being the best for my employer and myself. You have to look at your life as an entrepreneur," she says. "I was the best that I could be, and that shortened my promotional track."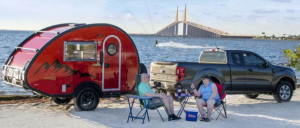 Helms never had a mentor herself but is open to possible mentorship opportunities, especially for professional women, in the future.
"As women, we think there is a certain track you follow. But honestly, it isn't about that – it's about your skills. What I believe is that your work speaks for who you are," she says.
"If I had to put my life in a statement, it's focus on your job role and being the best at it, and your opportunities will open, whether it's with that company or somewhere else. Their success is in your hands."
While an abundance of opportunity sits on the horizon, Helms is happy with her current work in the RV industry, which she considers as having the "greatest people I've ever met on a personal level."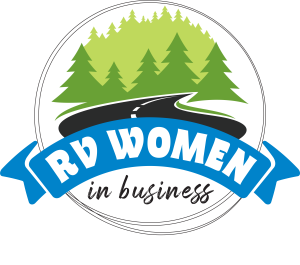 "We know how to live life. It's the best industry in terms of being fun, relaxing, enjoyable and with wonderful people."
And her training advice amid the industry's rapidly changing landscape?
"Leaders have to meet employees where they are. You have to be able to flex your program to fit the learner more than ever before," she says. "We have to use technology to get the job done – but never forget that the most impactful learning is what people can touch and see. Hands-on learning is still one of the most effective ways. If you can embed it in your training program, do it."