Features
A Fine Finish
Industrial Finishes and Systems has its OEM customers covered – supplying not just paint and specialty coatings, but also providing training, logistics assistance and technical support.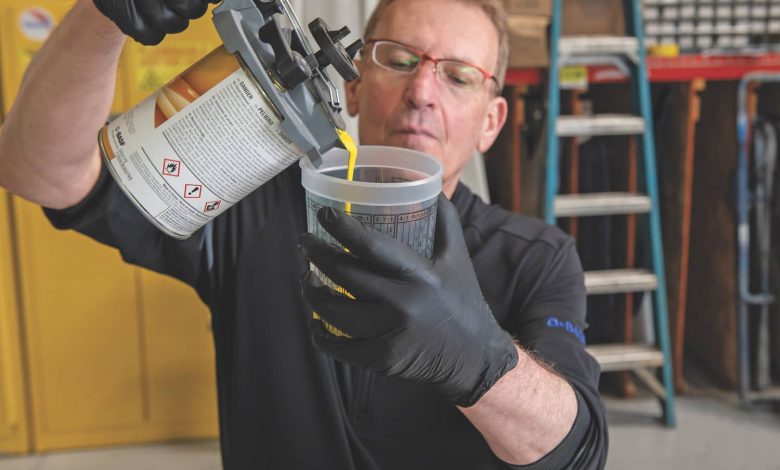 Trying to define Industrial Finishes and Systems isn't an easy proposition. However, it's probably safe to say the company is not your average distributor.
In the RV industry alone, its customers include everything from OEMs to component suppliers to dealerships that handle body repair – and that's just one of the company's four divisions.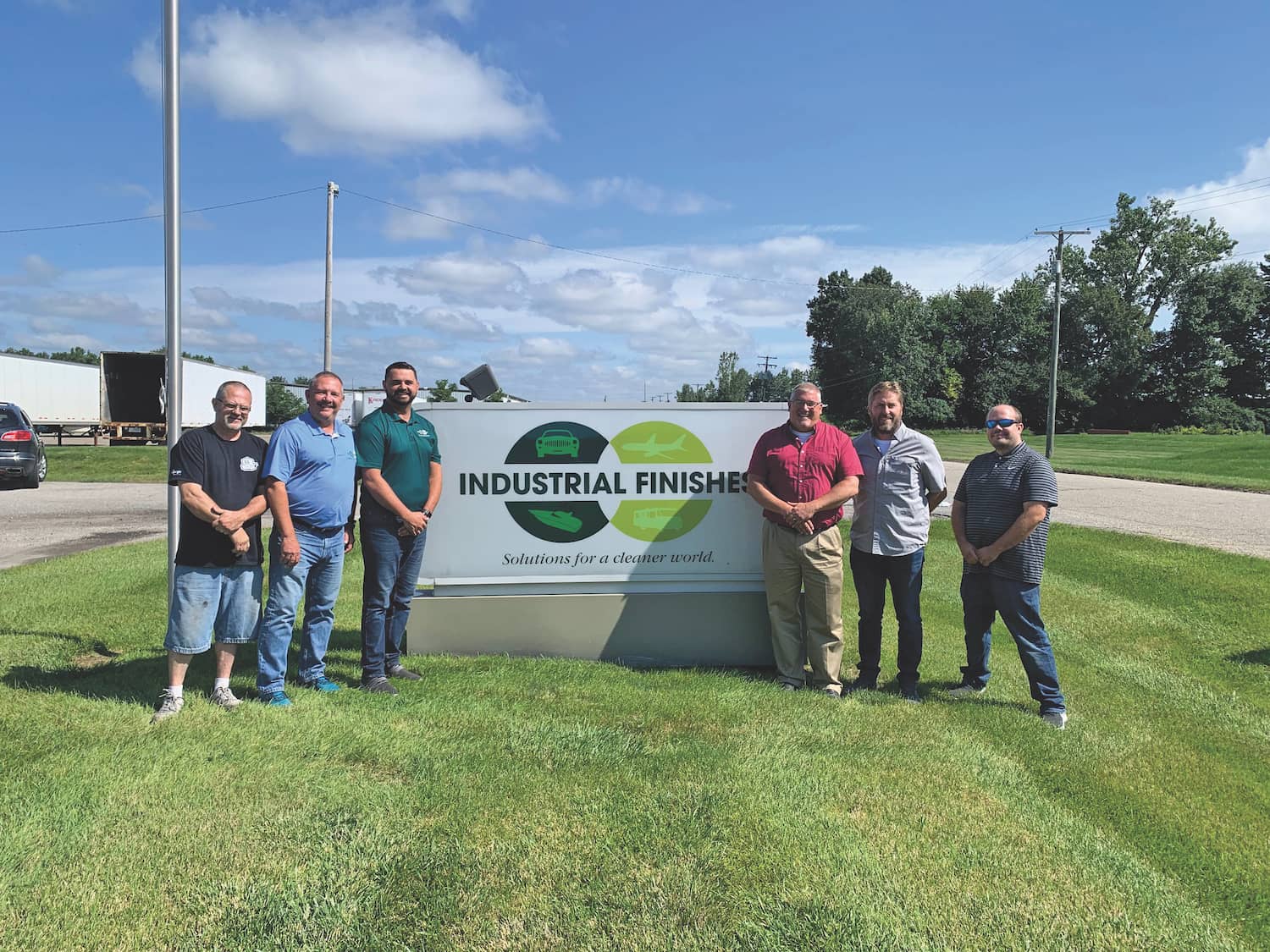 What sets Industrial Finishes apart is the breadth of its business support services, including inventory management, technical resources, training and education, and a host of business intelligence tools to help a customer measure, track and analyze key performance indicators.
"We over-service our customers," says Craig Floyd, general manager for the company's Specialty Vehicle Markets/Automotive division. "They know we're not going to be a problem."
Almost incidentally, the company also sells paint, adhesives and equipment.
Expanding Vision
Mike Duncan, Industrial Finishes' director of marketing, thinks founder Stuart Barr had little of this in mind when he and another man bought the business in 1958.
"The guy who owned the company wanted to get out of the business, so Stuart and another gentleman who's no longer involved in the company bought it so they would continue to have jobs," he says. "It's become part of our corporate folklore that our original delivery driver still works here."
At age 87, Barr still comes to work every day, although these days Glenn Duckworth serves as company president, overseeing a staff of about 380 employees. And, while Barr may not have had a grand vision for Industrial Finishes' future, he did instill a foundation of faith and ethics that continues today.
For the first 30 years of its existence, Industrial Finishes' focus was only serving auto body shops. It entered the RV market in 1987 at the behest of Safari Motorcoach Corp., which at the time was based in nearby Harrisburg, Ore.
"They approached Stuart because they were having some challenges with their paint shop and their paint procedures," says Duncan. "They asked him if he could help them overcome those challenges, and that was our springboard into the RV industry."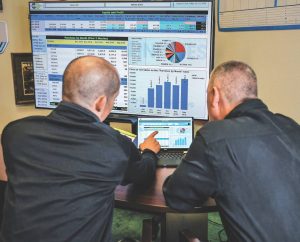 At the time, there was quite a bit of RV manufacturing along the Interstate 5 corridor in Oregon and into California, although many of the operations also had ties to the Elkhart, Ind., area. Still, it wasn't until 1998 that Industrial Finishes opened a facility in Elkhart.
Floyd explains that while the division's name originally referenced RVs, the change in nomenclature came about because of the expanded variety of vehicles the company served.
"We expanded the customer base not just to motorhomes, but to travel trailers, cargo trailers, boats and buses," he says. "You look at some of the companies we serve, and they have multitudes of different divisions we work with and supply. And we mention automotive because that covers collision repair."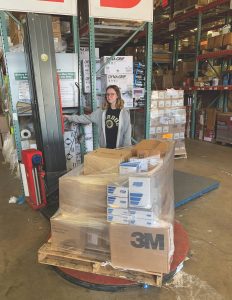 Along with its Eugene and Elkhart locations that serve the RV market, the company also has a location in Belmont, Miss., that services Tiffin Motorhomes' Vanleigh luxury fifth wheel division, along with smaller OEMs across the Southeast and Florida.
Even if a dealership or supplier isn't close to one of those locations, with a total of 35 facilities nationwide, there's someone available from Industrial Finishes to help.
"We're able to still service a lot of our customer base and fill requests because of the locations that are there," says Floyd. "A lot of times, even though we're in different business units, our businesses are still very similar, at least in what we do and how we support them."
Secrets to Success
The secret to Industrial Finishes' success is in that support, which can be both internal to the OEMs and external to the companies that supply them with components. Floyd says that it's important to bring solutions to suppliers that manufacture items that go into the finished units.
And a lot of that support is people. The division currently employs about 50 people, with some dedicated to specific manufacturers and servicing their accounts daily.
"We have a lot of technical people on our team, and they have a lot of tenure in our company," says Floyd. "We know how to spray it. We know how to work with it. We have touch points every day, and we also have great products that allow our customers to meet their demands."
According to Floyd, because Industrial Finishes is an established company on a sound financial footing, it has been able to stockpile product to assure availability to its customers, even as many other elements in the RV supply chain have been upended by COVID-19.
"We invest into products for our customers so we can assure nice transitions," Floyd says. "We don't want to become one of the 100 other problems the OEM is likely to have in a day."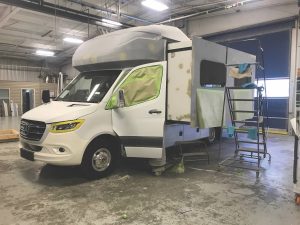 Even without COVID, Duncan says logistics has become one of the fastest-growing business segments in the country, fed in large part by Amazon's changing expectations of what can be delivered and how quickly it can be there.
That's why Industrial Finishes is much more than just a company that grabs some product, puts it in a transport vehicle and drops it off to its customers.
To do that, Duncan says, requires a great deal of discipline about delivery schedules, and inventory levels and control levels. And it requires sophistication by the company to make the most of its assets because fuel costs and personnel costs are high.
"We've also become more sophisticated to manage our customers' inventory levels," Duncan says. "Physical space is a constraint and it's also hard to come by. A lot of our customers don't have the ability to stock large amounts of products because they're building things."
However, that's only part of the story. Duncan stresses that the company's full name is Industrial Finishes and Systems – and it's the systems portion of its services that is so impressive.
"We work with our customers on everything from training new employees – new painters – through production methods, to where things are placed within their facilities, to how products are applied, to how waste is reclaimed," he says. "Those are all part of the supply chain, and we feel we have a responsibility to manage all of those things."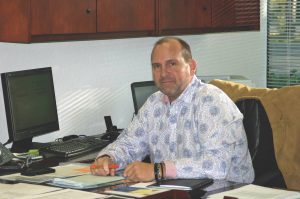 Additionally, Industrial Finishes has a chemist on-staff who works closely with the company's suppliers to help troubleshoot problems and develop products for specific applications. Pat Mormile worked more than 20 years at BASF, which is the company's largest supplier to the RV industry.
"Our customers respect him (Mormile) for the knowledge he brings to the table about the products they're using, whether they're using them right, and if there might be a better product out there," says Floyd. "He's our go-to guy."
Floyd adds that customers have ready access to Mormile and his expertise through Industrial Finishes' corporate portals, just like they can order directly though an app.
"We tend to be a little bit ahead of even some of our manufacturers with the technology that we're using to bring our services to people," he says.
Taking Advantage of Opportunity
Staying ahead of the curve may be Industrial Finishes' most-rewarding trait. While the company emphasizes its ability to help its customers resolve issues, streamline production, and understand their businesses better, it's also helping to move them toward a better future.
For example, Floyd says while Industrial Finishes is a privately held company, it's working hard to define and align itself with its environmental, social and governance (ESG) initiatives to help its customers meet their own. That can mean bringing both new technology and new products to the table.
Duncan cites an example of a manufacturer that can build 10 units a day, which leaves that company under its VOC (volatile organic compounds) threshold. However, when demand and the marketplace allow that same operation to start building 100 units a day, it can create problems with VOC output.
"It requires a company like Industrial Finishes to say, 'What can we do to help you take advantage of this opportunity but not have an unforeseen consequence?'" he says. "Those are the types of conversations that we get involved with daily, especially now when we're in an environment of rapid growth in the RV industry."
In the same spirit, Industrial Finishes is an investor in US Autocure, a Phoenix-based developer of infrared curing systems aimed at the automotive industry. Industrial Finishes is repping the company in the RV industry.
"The benefit of a system like this is that it allows a user to increase output, because it reduces the amount of time that's required to cure whatever it is you're painting, whether it's a full unit or a cap or whatever," says Duncan. "You can do it with the same labor, or maybe not even quite as much labor, which is a huge consideration. And there's a pretty dramatic reduction in energy usage, and you end up with a higher-quality finish."
So far, the greatest interest has come from dealers who are doing collision repair, but Duncan and Floyd say some large manufacturers see the benefits of the system.
Also on Industrial Finishes' plate is the possibility of automating more of the painting process using robotics. It recently signed an agreement with a southern California company that is introducing and programming robotics for sanding and potentially painting products.
Both men say that, at a time when they have never seen so many "Help Wanted" signs out, and with labor costs rising, they can see the manufacturers realigning some of their resources with more automation.
"If you think about it, the RV lends itself very well toward automation and robotics," says Duncan. "It hasn't been an industry that historically has had a lot, but a lot of the variables are relatively easy to identify and automate. There's no question about that."
The other area Industrial Finishes hopes to expand on in the future is its work with dealerships that do collision repair.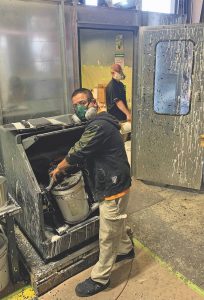 "There are similarities between collision repair at body shops and the OEM operations who built the units," says Duncan. "We understand both of those arenas extremely well, and to be able to combine that knowledge puts us in a unique position to support them, and we feel it still represents a tremendous opportunity for our company."
And it's also a benefit to the OEMs that want their damaged units repaired to factory specifications.
"It fits right into our other parts of our business," says Floyd. "It's very similar, and it only makes sense not only from a business aspect but from a manufacturing support aspect to our customers."
As for the overall future of the RV industry, Floyd is optimistic – at least in the near term.
"A lot of our sister markets – like marine – are still challenged," he says. "Ironically, no one wants to take the foot off the gas. When I talk to our vendors, they think over the next three to six months the supply chain may improve. However, the pandemic really opened our industry to a lot of people who said they want to be outdoors, and they want to get into that lifestyle. We have a lot more first-timers coming into the industry, so for now I think we're going to continue to grow at a really good pace."