Features
A Landmark Decision
With its 20th anniversary drawing near, Heartland RV's luxury Landmark fifth wheel is not resting on its many laurels.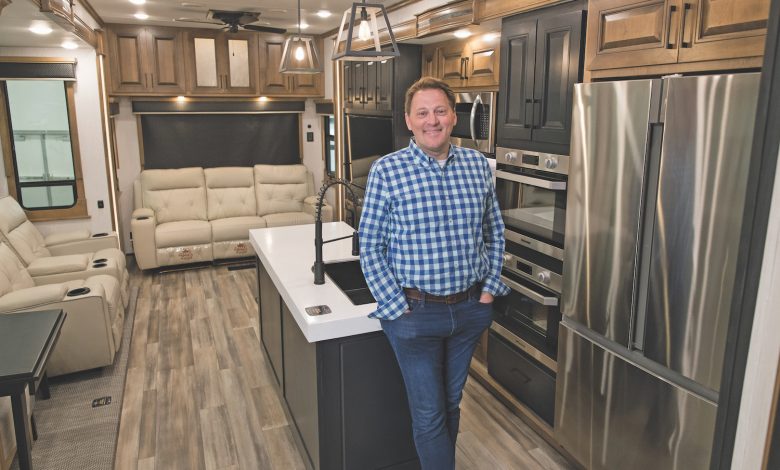 Heartland RV's flagship luxury fifth wheel brand, Landmark, will enter new territory as it approaches its 20th anniversary in 2023: It will debut its first shorter – 38-foot – fifth wheel during September's Elkhart Open House Week.
"We are excited about the new shorter model because we really think there is a market for it," says Andy Wesdorp, general manager for Heartland's Landmark, Bighorn and Traveler fifth wheel brands. "A lot of the new parks can accommodate the 45-foot motorhomes, but there is still a luxury buyer who doesn't want a 44-foot, five-slide fifth wheel. They want something a little shorter – something that might make them feel more comfortable going down the road. This is going to be right in the sweet spot for length and traditional layout."
Heartland is playing it somewhat conservative with the shorter model, Wesdorp says, mentioning a more traditional layout. The RV maker is not releasing many details, but to be sure, it will have some "cool" Landmark flair to it, he says.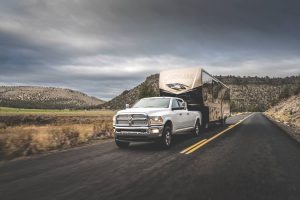 Heartland was founded in 2003, with Landmark as one of its initial fifth wheels. Today, it is one of the company's six fifth wheel brands, alongside the Bighorn, Bighorn Traveler, Big Country, Elkridge and Milestone.
Market data firm Stat Surveys ranked Heartland RV fifth in market share among fifth wheel makers in 2021.
"The core of the company has always been fifth wheels – and that's what I'm extremely proud to be a part of," Wesdorp says. "Landmark is a full-timer's dream. It's a high-end fifth wheel with high-end fit and finish. It has a laundry list of standard features, most of which are not even options on other fifth wheels."
Landmark is currently available in five floorplans.
"Like most lineups, we have our two or three bestsellers, and then we try to bring some new innovations, technology or decor every year," Wesdorp says. "All of the floorplans we have now are big and bold units – bath-and-a-half and more slide-outs."
Innovation by Design
Landmark's long list of innovations has solidified its strong standing among fifth wheels, according to Wesdorp. Many of those fall into the first-to-market category. This includes a mix of signature construction features.
For example, Landmark boasts 60 percent larger brakes than standard 2-inch brakes. Landmark is Heartland's only fifth wheel to feature three standard 15,000-BTU air conditioners, for 45,000 total BTUs of cooling power.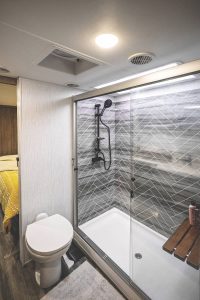 Meanwhile, Wesdorp credits Landmark's all-female design team with crafting a look attractive to buyers, with updates coming every two to three years.
"We try to stay ahead of the trends in the industry, which are typically a year or two behind traditional residential home trends," he says. "We don't want to look like everybody else, but we don't want to be so different that we aren't appealing to customers, so it's a delicate balance of standing out with visual impact."
There are also many under-the-skin details. Landmark uses high-end motorhome-based construction, such as laminated main level floors and upper deck floors. Wesdorp says this feature is unique in the world of fifth wheels.
"That is a concept that we brought to fifth wheels when we launched the company 20 years ago," he says. "That was one of our core competencies. You have to be a believer in the axles and the tires, so we use some industry-leading brands that stand behind what they sell us."
Heartland has long promoted the quality of the inner workings of its units. Wesdorp cites a company marketing piece created a few years ago touting: "What You Can't See" in a Heartland product. The brochure suggests important questions to consider.
"If you are going to make an investment in a high-end fifth wheel, or a high-end motorhome, or even an entry-level travel trailer, you should ask questions about how it is built," he says.
"How is it going to stand up to weather? How is it going to stand up to potholes and railroad tracks at 55 mph? How is it going to heat and cool? How is the wiring built?"
Differentiating Details
Numerous small details help differentiate Landmark. For example, wires are loomed to prevent chafing. Units are equipped with whole-house surge protection. Landmarks are also equipped with whole-house water filtration.
"It might seem silly, but we put aluminum frames and aluminum angle gussets in the four corners of every window, even though there is a cheaper way to do that with plastic inserts," Wesdorp said. "We build our own aluminum walls and we think that is just a better way to build RVs. You never know when a part is going to extend the lifespan. We try to add those details whenever we can."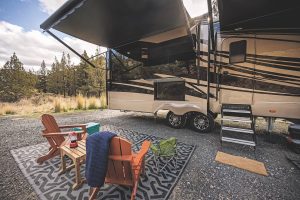 Wesdorp notes that many RVers buy with their eyes, so developing the right look for Landmark is crucial.
"Something cosmetic that's gone over great, and that I'm proud of, is we were the first to offer decorative shower enclosures," Wesdorp says. "Instead of just going with traditional standard white or cream one-piece fiberglass shower, we have partnered with a couple of different suppliers to offer decorative patterns and colors in the showers."
On the inside, all of the wood is true maple hardwood. Amenities include Farmhouse-style sinks, and a power tilt bed mechanism in every bedroom, something Wesdorp says is a market first. Landmark, working with MORryde, debuted the power bed for fifth wheels in 2019. The popular addition is now standard, adding 23 inches of bedroom floor space when fully tilted. It also enables the bed to be tilted upward for occupants reading in bed.
Landmark also has pioneered other advancements in the bedroom.
"About four years ago, we were able to work with an engineering team to innovate the industry's first walk-in closets," Wesdorp says. "Like most innovations, it's been borrowed by others in the industry, but it has been a great feature for us.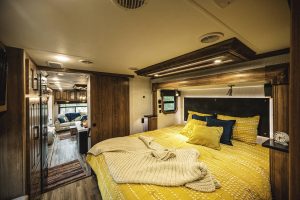 Additionally, last fall, Landmark unveiled what Wesdorp describes as the industry's first three-slide bedroom in its Scottsdale version. He says the unit's slide and the front windshield have made it a popular addition.
A few years ago, Heartland introduced its Super Store More basement, which is now patent-pending.
"We were able to open up the front gooseneck baggage compartment and open it up to the main pass-through exterior door-side and off-door side storage, so it added about 30 percent to the overall basement exterior storage," Wesdorp says. "It gives you three points of access to get to your gear."
Landmark's design team draws on residential housing trends for much of their inspiration. Great effort is made to avoid being a "me-too" brand with the same colors and countertops as competitors. Once a cabinet/linoleum countertop is selected, coordinating features such as faucets and window treatments are added.
"We are in early development for what the dealers will see at the September Open House," Wesdorp says. "We're not ready to reveal those yet, but they will be some energizing products, inside and out, for the Landmark brand. Dealers will come away very happy with what we will introduce."
The inclusion of a MORryde air compressor has been a popular exterior improvement.
"You don't need one until you do, and they are not commonly available in RV parks, so we just decided to put one right on the exterior of the RV," Wesdorp says. What's neat about that is that not only will it inflate a 17-1/2-inch tire, but we also ran a connector air hose port on the off-door side of the unit, so with a quick connect air hose that comes with the kit, you can inflate tires on both sides of the coach. That's been a fantastic feature."
Not Your 'Typical' RVer
The majority of Landmark buyers are considered full-timers, according to Wesdorp. Most typically stay in nicer parks and usually head south to Florida or Texas for the winter. Summertime sees many Landmark full-timers parked in Michigan, New York and other northern states.
With a MSRP ranging from the low $180,000s to $198,000, Landmark is a definite luxury purchase. Wesdorp describes Landmark's customer base of a mix of people who are retired, about to retire, or in good shape with their retirement plan.
"They are a very savvy buying group," he says. "They have often owned four or five RVs before. They've gone through the evolution is small travel trailer, bigger travel trailer, small fifth wheel, bigger fifth wheel, and now they are ready for a full-time piece."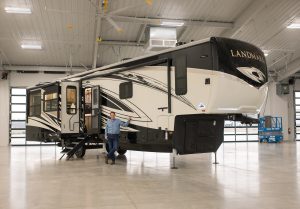 Heartland has a network of about 70 Landmark dealers in North America. They are more concentrated in the South and West, where weather is more conducive to year-round sales. Dealers appreciate the fact that Landmark strives to be a first-to-market brand, according to Wesdorp.
"Dealers know that every year, or a few times every year, we are going to introduce a feature that hasn't been done in the RV industry before," he says. "They get to sell it before anyone else sees it. I don't like the term 'industry-first' – that's worn out and a bit of a cliché. 'First to market' is a much better way to express that we innovated and we introduced it first. That's what our dealers appreciate about the brands."
The Landmark sales team, which is also the Bighorn team, consists of Wesdorp and three regional sales managers: one in Florida representing the Southeast, one in Southern California covering the West Coast and one at Heartland's Elkhart headquarters covering a region stretching from the Midwest to Texas.
"With those guys combined, we have over 100 years of experience, which I would love to see anyone compare with ours," Wesdorp says. "We have deeply entrenched relationships with dealers. It's the four of us, then my senior GM."
Heartland RV hopes to increase production by 15 to 20 percent in 2022. That's slightly more than a typical year, but not a record. There's plenty of reason for optimism, Wesdorp says, as many dealers have deep backlogs and are clamoring for product.
"With the product we have coming out, we will continue to generate sales and energy," he says. "I feel good about 2022. Although I'm hoping that the COVID era is in the past, people still want to get outside. We are still looking to put people and their families in fifth wheels. It should be a great year."