Features
A New Dawn for Travel Lite
With new ownership and leadership, the RV manufacturer is dialing in its products to its selection of truck campers and the recently introduced Rove Lite ultra-lite trailer.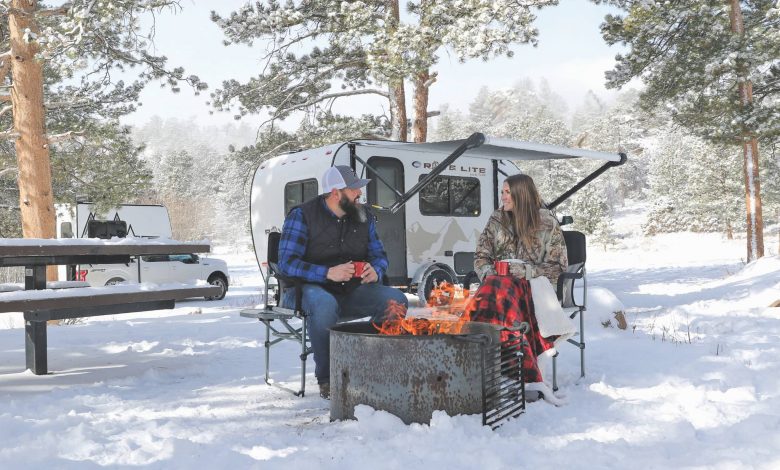 As with other leaders at Travel Lite RV, Keith Lessner wears a lot of hats. In addition to managing all North American accounts and establishing new dealer relationships as the national sales manager, he works in product development and has a myriad of other responsibilities.
"I'm not a 'job description'-type guy – I do whatever it takes to move the company forward and grow," he says. "The reality is that Travel Lite had it a little rough for a while, which is no secret, and now we're rebuilding."
Travel Lite RV, based in Syracuse, Ind., is now owned by a group of investors and its board of directors.
"Basically, our job is to produce a quality product that people can enjoy the great outdoors with – that's our mission. We take a lot of pride in what we do," Lessner says. "We're fortunate because our board is extremely receptive and lets us experiment and try new things – and we have a really solid core of dealer partners who have faith in us, which is so important."
Travel Lite has two product lines: truck campers and travel trailers.
"We like to stay in our niche and remain true to our ultra-lite offerings," Lessner says. "There's no need for us to expand to larger units and go toe-to-toe with the big guys. Everything we're going to do will be lightweight."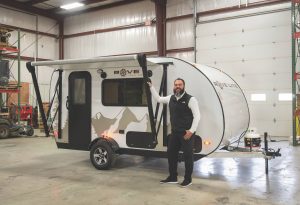 Capitalizing on Ultra-Lites as a New Niche
Lessner says that ultra-lites are a growing segment, as people become increasingly environmentally conscious with smaller vehicles and hybrids.
"The towing rating keeps going down and the gas mileage keeps going up. And there was a big hole in the ultra-lite segment at our price point and weight category," he says.
Having also worked in RV retail sales for 15 years, Lessner says he would often encounter potential customers walking through the door and asking what they could tow with their smaller vehicles.
"I had to tell them we had nothing to offer other than a pop-up, which they didn't want," he says.
It was a natural evolution for Travel Lite to add ultra-lites to its truck camper offerings after speaking with its dealer partners – and the segment knows no bounds as to age and income demographics, according to Lessner.
"The phone calls I field are from older, retired folks to younger generations with small families," he says. "The demand is all over the place. We saw a hole, and we said, 'Let's fill it.'"
Travel Lite's truck campers kept the company "on life support" as it rebuilt and launched its Rove Lite RVs. The Rayzr truck camper series, which is a "weekender" with basic living quarters for pickups the size of a Ford Ranger or Chevy Colorado, is joined by Travel Lite's Extended Stay truck camper, with four models that require a 3/4-ton pickup or larger.
Breaking New Ground with the Rove Lite
The Rove Lite ultra-lightweight travel trailer series, however, is in a "class of its own," Lessner says.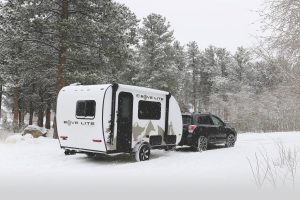 After making its debut at the 2021 Florida RV SuperShow and partnering with General RV, the three units the manufacturer had on display sold immediately after the event.
"Then, General RV ordered another 36," Lessner says. "Our overall feedback has been amazing, and every dealer has nothing but good things to say about them. They're selling like crazy – it's fun to experience."
The Rove Lite is constructed with a brand-new, innovative Hydro-Lite material for its sidewalls. "We've also eliminated using wood in the sidewalls, floors and ceilings, which is beneficial for weight considerations and water intrusion," Lessner says. "Everything in our construction is impervious to water, so there's no delamination and nowhere
for mold to form – the resistance to mold is much stronger than anything with wood in it."
He adds that no other manufacturer is using the Hydro-Lite technology presently, which was developed with Travel Lite's supplier, Jasper Plastics. It's constructed with one-piece gel-coat fiberglass with 2-pound, fire-retardant foam and Azdel composite panels, which are all vacuum-bonded together with epoxy. The entire skin is framed in aluminum. The ceiling also is constructed with a one-piece gel coat fiberglass.
"Jasper is located right down the street from us. They're not just suppliers – they're partners," Lessner says. "All of our suppliers, including Torklift, are great and they've been very supportive and understanding as the company has transitioned and moved forward."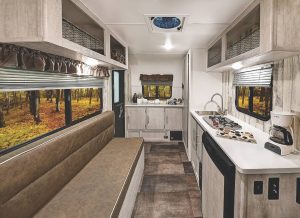 A Rove Lite base unit can be built with a weight of about 1,500 pounds and, depending on options, can come in the ballpark of 1,700 pounds. Three floorplans are available: the 14BH (MSRP: $20,999), 14FD (MSRP: $19,999) and 14FL (MSRP: $19,999).
The Rove features room for two batteries, allowing RVers the capability for extended stays. The floors avoid a foam construction, which can compress over time with foot traffic, and instead uses a 3/4-inch composite honeycomb material that also offers rigidity to the unit.
Exterior storage units are also accessible from the interior, and optional exterior features include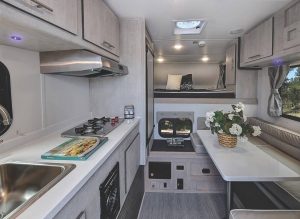 speakers and a power awning. Standard are exterior power outlets, LED outdoor lighting, separate flushes for the 30-gallon gray tank and the 5-gallon black tank (not a cassette toilet), and side-mounted air conditioning units (to avoid rooftop units and potential leaking risks).
The interior features a standard wet bath with foot-flush toilet, cargo-netted storage (rather than doors for light weighting), and a three-way refrigerator that can be powered by either gas, electric or 12-volt battery.
"We're small enough that we can turn on a dime when it comes to design changes and innovations recommended to us from our dealer partners and customers," Lessner says. "It doesn't take an act of Congress – there are really just three of us who make the decisions and we're nimble enough that we can make changes to production inside of a week if we want to. Our operations manager, P.J. Reidenbach, is fantastic, and makes things happen. I don't know what we would do without him.
"COO and General Manager Ryan Rebar and I are both sales guys, and we can come up with some pretty crazy ideas, and P.J. is there for us to tell us what will and won't work," he adds. "Most often, though, he'll find a way – we gave him a week-and-a-half to build three prototypes and he got it done."
Lessner has personally taken prototype units out for test runs for evaluation and assessments. "I towed one prototype 6,500 miles on dealer visits just to figure out what holds up and what doesn't, so we could make tweaks and make overall improvements to the chassis. If we're going to sell it, we want to know how well-designed it is," he says. "The Rove is the culmination of all that hard work and listening to our dealers."
The Biden Administration's plans for infrastructure improvements is on Lessner's radar and how it will affect the RV industry, as well as those who enjoy RVing. Equally important are campground updates and improvements.
"If we're selling RVs and people have a tough time traveling or finding a place to camp, then what are we doing? And if there's anything good that came out of COVID, it's that people are getting back to their roots and their families," Lessner says. "From my personal experience, we took our kids camping for a four-day trip but didn't come home until four weeks later. RVing has brought us all closer."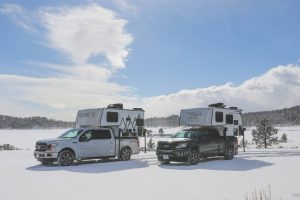 Travel Lite's sales goals for 2021 are to produce 1,300 truck campers and 1,500 travel trailers. Depending on the week, the company staffs between 35 and 55 employees.
"We're just a bunch of guys trying to make it. It's all hands-on decks, and we're making it happen," Lessner says. "I'm humbled by the opportunity that we've been given and the relationships I've been able to cultivate and grow – from our dealers and suppliers to our customers.
"If you do the right thing by your people, then success will follow and it will help us grow," he adds. "This is just the tip of the iceberg for us – it's an open road."