Features
A Toy Hauler with Style
The new Keystone Raptor 420's differences aren't as evident on the outside, but the storage, décor and amenities inside pack a punch.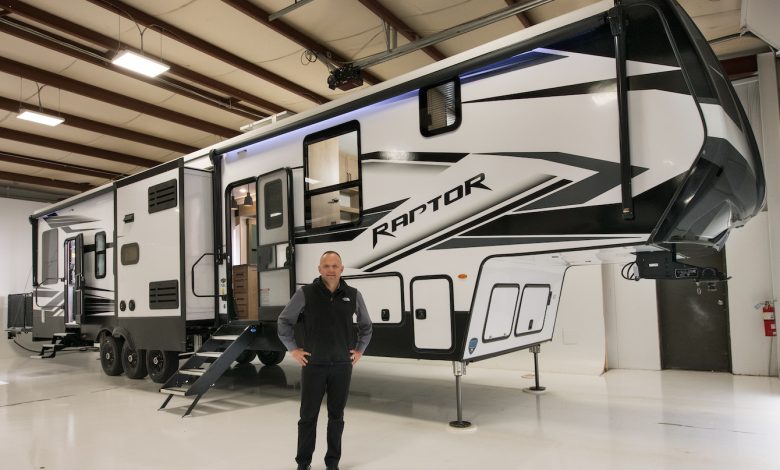 As towables have evolved through the years, toy haulers have probably changed the most in less time than anything else in the category. What began as cargo trailers modified by powersports enthusiasts across the West Coast with prefab cabinets and cassette toilets back in the 1980s, have morphed into incredibly capable and comfortable units today. Helping lead that charge is Raptor, a Keystone Key Performance line and one of the top-selling toy hauler fifth wheels in the country. The brand has a long history of evolution that began back in 2004, says Colin Clark, Raptor product manager, and for 2022, the all-new Raptor 420 continues the tradition.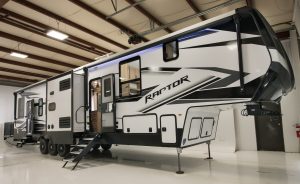 From the outside, the 420 doesn't appear much different than the 429, Raptor's top model. Both are almost 45 feet long, ride on a triple-axle frame and have three slides. They even weigh about the same: 15,400 pounds for the 420 versus 16,023 pounds for the 429. The difference is on the inside.
"It's got a full walk-in closet and a private bathroom up front," says Clark of the king bed master primary bedroom. "We've got double bunks in the back and there's a bathroom there, too, for your children so they don't have to go all the way up front to get to their parent's bathroom. It's got a tremendous amount of storage up front. There's a linen closet next to the shower, there's his-and-her storage on each side of the walk-in closet and also in the middle, there's a padded bench, so you can sit down and change your shoes."
Those arrangements haven't been done in the industry, according to Clark, who firmly believes offering something out of the ordinary is a key factor to success in what has become a highly competitive segment. Credit for the 420's unconventional design goes to his sales team, but not everyone at Raptor took to the idea as quickly.
"It probably took me five or six months to sell our plant on it, but once they built this, they fell in love with it. Going into a tough market, you have to be different, and this will be different," he says. "When someone walks into it, it'll be like, 'Wow, you know what? This makes sense. This works.'"
Clark concedes the 420, introduced in April and retailing at $146,130, would make for a great couple's coach given all the space and amenities found in the master primary bedroom, but with plenty of sleeping space available elsewhere, it's definitely still livable for a family. The optional rear ramp patio and its electric awning and side-entry steps even provides room to enjoy the outdoors securely with pets and children alike.
What really helps make the 420, as well as the other eight floorplans in the lineup, appealing is the decor, according to Clark, and that's what makes Raptor's truly highline fifth wheels that just happen to have attached garages.
"We have geared our interiors to be more modern, more upscale," he says. "If you think about the garage, that's generally not going to be a focal point for women. That's for a canoe or a grill."
Yet the 420's garage is a comfortable place for people. Like all Raptors, there's a HappiJac bed back there, along with flip-down sofas and a dedicated air conditioner with ducted heat. A separate entry door, again a Raptor hallmark, makes for easy access, and a pair of hardwood corner cabinets offer handy storage. Naturally, there's even a 40-inch pull-down TV.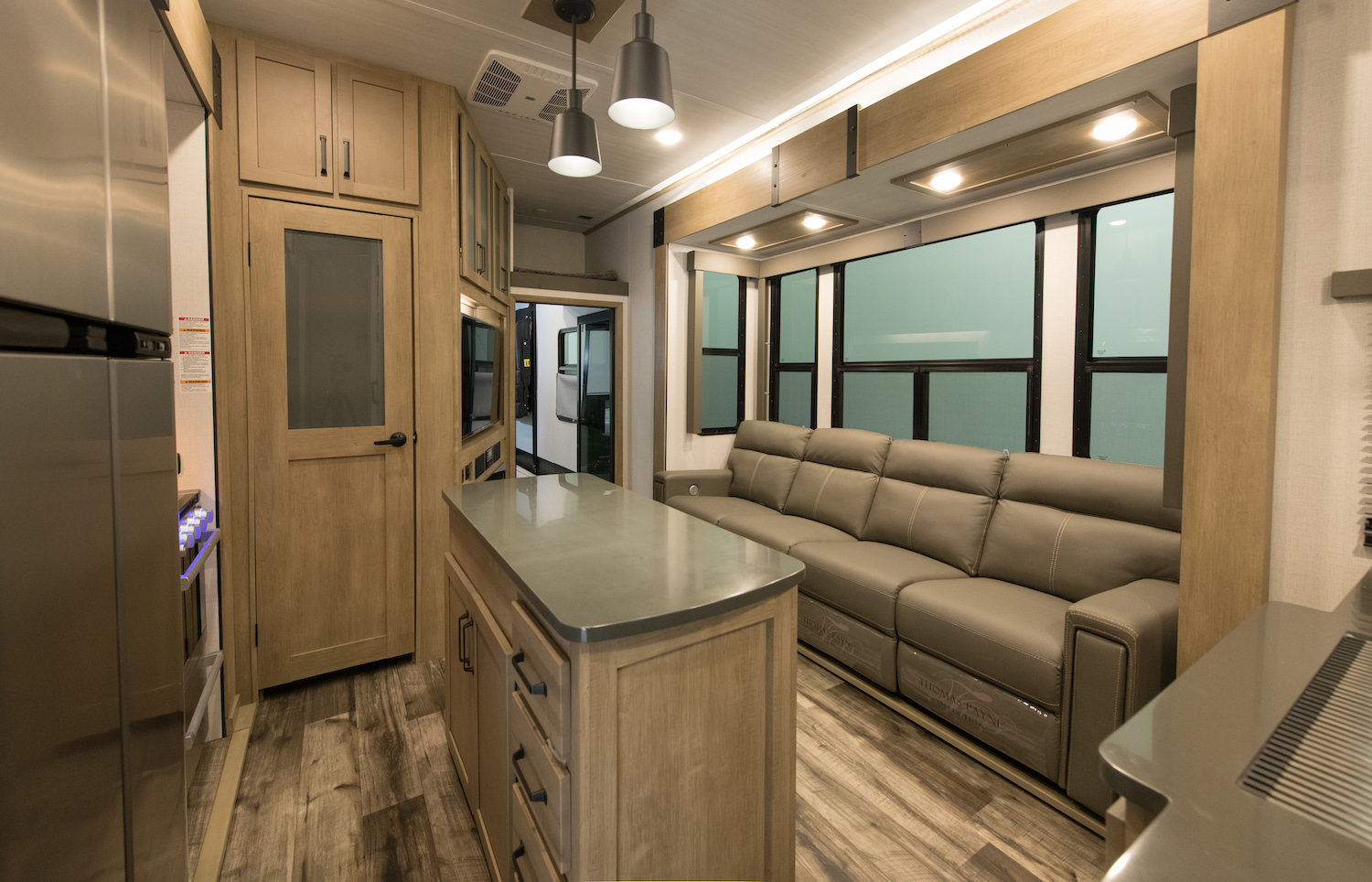 Available in two décor styles, the 420's dedicated living spaces are finished in a Scandinavian-modern style with beach wood and white cabinetry with soft-close doors, hardwood ceiling treatments, as well as faux wood vinyl flooring. There's also LED lighting throughout the unit and Thomas Payne recliners that heat and massage occupants. Ceiling heights are 8 feet throughout the main floor and 6 feet, 5 inches in the master primary bedroom. In other words, Clark says, it's not much different than Keystone's top-selling Montana highline fifth wheels.
One innovative idea that first appeared in Raptors five years ago is attached to one side of the 420's island: flip-up barstools.
"With separate barstools, you have to strap them down or place them on couches to travel," Clark says. "You've got to put them somewhere and people forget about them. They run a slide-in and they crack the barstools."
Speaking of slides, Clark believes owners will enjoy the 420 even while enroute to a destination.
"Once your slides are in, you can still access the front bathroom if you're going down the road. So you can flip your steps down and walk to the upper deck and get in. Sometimes you can't do that with certain units," he says.
Storage was a top priority during the design phase for the Raptor team, according to Clark.
"Here's the thing with a toy hauler: We have to use all the space. If you think about it in thirds, a third of it is wide-open garage, so that space is used for toys, then the other third is a living room and the remaining third is a bedroom," he says. "Recently we added within the last year and a half a pull-out spice rack just next to the stove. We previously had a blank there so we utilized that space for a spice rack and things like Pam and olive oil. Any available space we use for storage because a third of it is gone from the outset."
On the exterior, the 420 even features a large pass-through storage compartment, a rarity for the brand, Clark says. What isn't rare for Raptor is multiple model debuts throughout the year, so shortly after the 420 appeared, the 362 was introduced. Smaller than the 420 by about five 5 feet, the two-slide 362 still offers a 13-foot-long garage (the shortest Raptor thus equipped), so Clark believes it should enjoy wide appeal.
"The key to this unit is the tandem axle and a 40-foot overall length so people feel comfortable, as opposed to 44 feet and triple axles," he says, noting that with its weight of just under 14,000 pounds, the 362 is easily pulled with a 3/4-ton truck.
The inspiration for this model came from the Carbon 338, itself an updated version of the now-discontinued but popular Fuzion 310. The common dimensions between both units were their 35-foot lengths, 10-foot garages, and tandem-axle configurations.
"Fast forward to the 362, we used that exact same floorplan and added three 3 feet to the garage," Clark says. "It's an awesome floorplan. There's three floorplans that I would buy if I was camping: the 362, the 420 and the 429."
The 362, still a tandem-axle model and now shipping to dealers, offers buyers a lot of coach for its $124,466 retail price tag, he says.
For example, there are no slides on the camp side of the coach, so only a tiny gap exists between its pair of long awnings. The U-shaped kitchen tucks in nicely between the dinette and the garage to maximize space. In the master primary bedroom, there's a large wardrobe slide and the spacious bathroom has two doors for convenience.
Despite all the emphasis placed on style, Raptor hasn't forgotten what the garage is really supposed to do, according to Clark, and that's to be a garage. Accordingly, Raptor provides, as it has since 2004, tie-downs strong enough for almost anything a buyer desires to transport.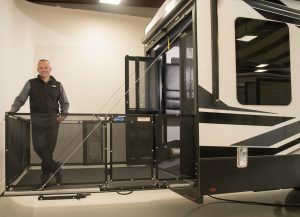 "Those are actually welded right to the frame. They are not coming out. A lot of our competitors use a D-ring with a single screw into the Dyna Sspan floor. If you get someone like me who over-ratchets everything, I could pop that single screw right out of there. That's one of the biggest things that we have that none of our competitors have," he says.
There's another old-school feature still found in Raptors that Clark is particularly proud to point out.
"Dovetail storage. A lot of brands went away from that," he says. "There's a compartment with a door that goes in between the I-beams just inside the garage so you can put tie-downs, gloves, chains, a grease gun," he says. I personally believe it's one of the coolest features in the garage and we''re one of the only manufacturers that still do it.""
Contrary to some manufacturers that make highline RVs, Raptor doesn''t intend to go to an order model any time soon; indeed, Clark says only 10 percent% of his units were retail ordered in 2021. Instead, the brand will continue to crank out models from its Goshen, Indiana., plant as the market demands despite an occasional bobble.
"I've got such a great team around me. The latter half of 2020 and 2021, I dont think our group sat on our hands. We could've pushed harder and maybe did some more innovative things, but we really stepped it up at the end of 2021 and coming into 2022, we're really looking good. In the fourth quarter of this year, we'll have some great floorplans. We continue to do cool stuff and innovate throughout," he says.
One thing's for sure: toy hauler garages will continue to grow in length.
"That 13-foot garage fits the majority of everything right now. My West Coast rep says anything from 14 to 17 feet is his sweet spot, but we are working on more floorplans for him out there as well, because you've got a lot more dry camping in the dunes," he says.
Rising fuel prices, a concern for most every American who owns a vehicle with an internal combustion engine, don't worry Clark much, even though Raptors need a stout tow vehicle – usually of the diesel-powered variety – to get them where they're going.
"I don't think this buyer is going to get affected. I think this buyer is educated. I had a dealer tell me earlier this year at a show the average camper camps within 100 miles of home. This is buyer generally has great credit. They're spending $100,00-plus on a Raptor or Carbon and they have a $27,000 Razr in the garage, he says. "The thing that would scare me the most would be interest rates on loans. If you've got an $80,000 or $90,000 diesel truck, you're not worried about fuel. You're just not. Interest rates? That's a whole different world that sort of scares me a little bit. If they tighten up on lending, this industry will contract."