This article is from our older website archives. Some content may not be formatted or attributed properly. Please
Contact Us
if you feel it needs to be corrected. Thank you.
Editor's Note: Part 1 of our excerpt from July's "All in the Family" special feature can be read here.
Whether it be families enjoying the great outdoors together thanks to an RV or families helping build our industry, there is something special about this market: The ability to sometimes work and play with those closest to us.
For those who work together, RV PRO took time to highlight these family members in this year's July special section: All in the Family.
Many thanks to everyone who participated: We truly enjoyed the opportunity to share your stories.
Windish RV Center
The Windish family had an unorthodox entry point into the RV industry. Mainly, camping was simply not their forte. Family vacations consisted of 10- to 14-hour drives a day in a car with quick stops at a motel and then back on the road. And vacation times were cut short with return trips home earlier than planned.
"When we became an RV dealer, life started to get interesting," says Carolyn Windish Irwin, president and owner of Windish RV Center in Lakewood, Colo. "All my college friends wanted to come to Colorado and go on an RV adventure."
Later this translated into "packing up the RV" for fly-fishing trips or ushering her daughter and her friends to out-of-town soccer tournaments.
"If it wasn't for my father stepping out of his comfort zone to get into the RV business, we never would have had all these great life experiences," says Irwin.
The dealership – originally founded by her grandfather in Illinois – began by selling cars, later transitioning to RVs in 1971. Today, Windish RV Center boasts three locations along Colorado's Front Range, including: Longmont, Colorado Springs, and Lakewood. Each location has its fair share of familial ties with coworkers bringing in cousins, brothers, sisters, etc., all the time.
"My grandfather always told me that the employees did not work for us but with us. When someone was going through hard times, it was important to help them out to the best of our ability," says Irwin. "I always want this store to have that philosophy of a small-town dealership but the volume of a mega store."
That approach extended into local philanthropic acts for charitable organizations, paying for things like education expenses, doctor bills, and funeral costs. The Windish legacy carries on today through Irwin's daughter Whitney Holtz. After spending 12 years outside of the dealership, working for various business, Holtz is now bringing new ideas and energy to the chain of dealerships.
"With my daughter, we do talk about business but also family, new ideas out there, politics, movies," Irwin reflects. "You name we discuss it. We may not agree on everything but that is what makes life interesting!"
Storyteller Overland & Jim Dandy RV
Singer/ songwriter Paul Simon once said, "Every generation throws a hero on the pop charts."
That phrase seems appropriate for the Cooley family, which has been creating stars in the RV industry for four generations – and shows no signs of stopping. Andrew Cooley, vice president of business development for Birmingham, Ala.-based Class B manufacturer Storyteller Overland, is bringing his kids up to be the fifth generation to expand his family's influence in the industry.
According to Andrew, his great grandparents traveled the Southeast in a caravan group selling RVs. His paternal grandparents were Hi-Lo dealers and ran a campground.
"My grandfather had a tremendous way of putting things into perspective," says Andrew. "He had been around so long that he knew the sun would always come up tomorrow."
Andrew's parents, Jim "Dandy" and Tammie Cooley, "pushed me to be the best version of myself that I could be," he says, noting that his father assigned him a book on business and one on body language each week, and quizzed him at week's end.
"Iron sharpens iron, and just being around high-quality and knowledgeable folks really rubs off on you."
Jim was the owner of Dandy RV and served as president of the RVDA for the state of Alabama in the early 1990s. Andrew recalls once thinking they were heading for a family vacation – "we always went camping once a month" – and learning when they arrived that they were there for an RVDA event. Everyone had a wonderful time at Disney anyway.
Dandy RV began in the Cooley's front yard and grew to become a prominent player in the Alabama market. Ultimately, the dealership was acquired by Camping World.
After that, Andrew opened his own dealership.
"It's funny," he says. "When you're the assistant coach, you think you know all the right plays to run. But when you become the head coach, you look around and say, 'I need a great assistant'."
At Andrew's dealership, his wife, Shannon, was in charge of finances (today she runs their 50-site campground), "so, in a sense, she had a supervisory role over me." But this was not new.
"My whole life growing up, the dynamic at my parents' dealership was the same. My father would concentrate on motivating and sales, my mother would concentrate on titles, and my uncle was our CFO," he says.
His past "culminated into the role I play now," Andrew says. When he was approached to become a partner in what became Storyteller Overland, he decided to close his dealership to go all in to be able to "influence an industry."
According to Andrew, having been "the scrub" and worked his way through every aspect of the dealership business has given him an advantage in business.
"We know what dealers need and want on a day-to-day basis to make their lives more enjoyable. It's why we are so innovative in our dealer-facing programs and customer care/ warranty processing."
One upside of being part of a multi-generational business is being around "folks that have been there for 20 years and have seen you grow up from a small child. Earning and keeping those folks' respect is a balancing act. Once the younger generation figures that out, things run much more smoothly."
The best thing about having multiple family members in the industry (several of Andrew's relatives own dealerships) is "no matter what you go through on a day-to-day basis, you always have a support group to guide you to a better day," says Andrew, who adds he can't think of any downsides to having family in the RV industry.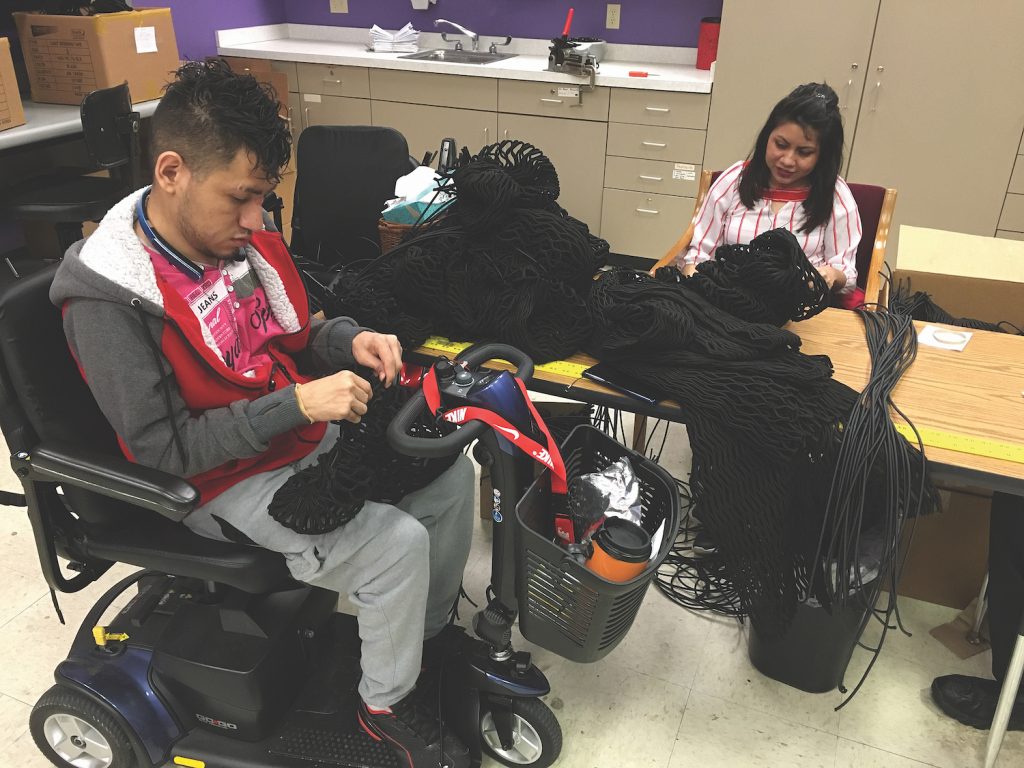 Ancelmo Cruz and Celena Cantarero
ObeCo
ObeCo Inc. co-workers want people to know that sister and brother, Celena Cantarero and Ancelmo "Memo" Cruz are such a delight to work with.
"They always have a big smile on their face and love to be kidded with," says Marketing Manager Steven Hite.
Part of their job is in assembly.
They work on putting netting onto metal frames for their framed net pocket storage organizers. They also weave bungee cords around the perimeter of the netting of their Barrier Stretch Nets that allows flexibility and access for maximum storage capabilities.
Celena enjoys joking with her brother about helping around the house more. Memo, however, doesn't just take it. He is a practical joker at work, livening the spirits of his co-workers. His co-workers decided to return the prank, one time wrapping him up in some shrink wrap.
Celena shares, "We talk about work at home, especially when we have fun at work."
Hite mentions,"They both have cerebral palsy but that doesn't stop them from doing anything. They were even on the winning bowling team for our local Big Brother Big Sister bowl-a-thon company fundraiser."
Keller Marine & RV
A family business built on integrity has a solid foundation, but it is up to the next generation to maintain and build upon that foundation.
That is the legacy brother and sister G. Michael Keller and Lori Morrow work toward every day as president and director of marketing at Keller Marine & RV.
The business was founded by their parents, George and Margaret Keller.
"Our dad treated each customer as though they were the only one and that is another one of the values we believe in today," Lori says. "We are thankful for each one of our dealers and their decision to buy from us. We value God and country also, as our parents did, and because of it we have prayer and devotions each morning, since our fire, and we fly our country's flag proudly on our rooftop because we are thankful for our freedom in the U.S.A."
The third generation also is in place, as Lori's nephew, Michael T. Keller, is director of sales.
A fire in March 2013 wiped out the company's main warehouse and, at least temporarily, changed the way the company operated. "Mike told us that, as our president, normally we would be encouraged to run our own departments but during that time he was the general and we needed to take orders," Lori says. "He laid out a chart of the 20 percent of the vendors that generated 80 percent of the sales and those were the companies that went to the shelf first. Because of his leadership, our company went from a 25 percent fill rate, the week of the fire to a 95 percent fill rate in 11 weeks. It was the greatest team-building exercise our company has ever gone through and we all agree has changed our lives forever."
Working for a sibling might be seen as a challenge, but Lori says because of the example Mike sets for the entire company, she enjoys working for her brother.
"He has so much knowledge and there is no one who works harder than Mike," she says. "He is in the office each morning at 5 a.m. and leaves at 7 p.m. He travels the territory visiting customers, so he is also knowledgeable about what is going on in our customers' businesses, which allows him to make decisions that are very well-rounded for our company."
The brother-and-sister team took different paths to the family business. Mike was involved from a young age, working on trailers and involved in all aspects of the business. Lori worked for a wholesale drug chain in summers and went to college with an eye toward becoming a buyer, but not working for Keller.
"My dad's marine buyer retired, and he asked if I wanted to fill the position," she says. "It has been an answered prayer to work with my family. Michael T. thought he wanted to be in sports broadcasting and after his first year of college at Robert Morris, transferred to Susquehanna University to major in business. We are thankful he changed his mind. He has been a blessing to Mike and me and our entire company."