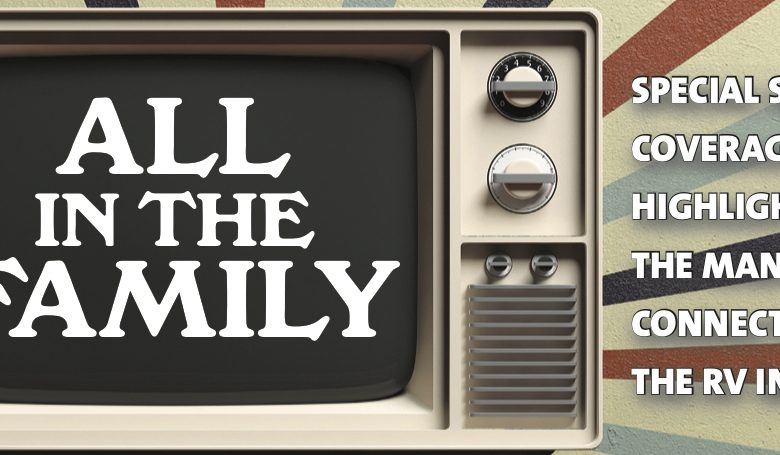 This article is from our older website archives. Some content may not be formatted or attributed properly. Please
Contact Us
if you feel it needs to be corrected. Thank you.
Whether it's families enjoying the great outdoors together thanks to an RV or families helping build our industry, there is something special about this market: The ability to sometimes work and play with those closest to us.
For those who work together, RV PRO took time to highlight these family members in this year's July special section: All in the Family.
Many thanks to everyone who participated: We truly enjoyed the opportunity to share your stories.
Bobby and Mike Raatz
Southwire and SM Osgood
Bobby Raatz started in the RV industry in high school in the late '90s. He helped during the summer at Ewing's Outpost RV in Middlebury, becoming parts manager in 2003 and then had a short stint in RV sales. He was hired as a sales rep by SM Osgood in 2006 and then moved to Southwire in 2014.
His father, Mike, made a career change after 12 years in marine purchasing/material management (Century Boats, Chris Craft, OMC) to sit on the other side of the desk with the SM Osgood Company calling on marine accounts. Eventually, he transitioned to the RV industry.
Bobby describes the work relationship: "We not only work in the same industry but in the same segment of supplier sales. SM Osgood is Southwire's OEM agent in the Elkhart region. It has brought a great deal of understanding and appreciation for the work that we each face daily.
"Work talk goes well beyond the typical business hours, but life is all about finding the balance that works. Having a trusted resource (like my father) that is/has experienced the same situations provides a tremendous sounding board for thought development."
On that unique relationship, Mike agrees.
"I've yet to experience any downsides. Maybe a little too much shop talk off the clock, but that's OK, I feel we balance it well," says Mike. "The whole experience is something special to me, it's a unique level of bonding that many don't have."
The younger Raatz adds, "The most rewarding part about working so closely with my dad is being able to share the many wins together and helping each other through the challenges. There are far too many experiences to share, but I always found it interesting the number of people that thought we were brothers. I always wondered if I looked older or if he just looks that good? From the many shenanigans at trade shows to the daily conversations we have, there are no words to describe being able to work so closely with a parent. There will always be 'one more for the ditch'!"
On what has stood out about his dad's career, Bobby realized, "I never really understood the time and effort that he committed to be successful at his job. Once we started working together at Osgood, his work ethic has really stood out. How he was able to build relationships with both customers and principal staff impresses me to this day.
The work ethic is perhaps something was passed down. Sharing what he's learned about his son, "What I've learned about Bobby is his strong work ethic and his leadership ability. During the period that Bobby worked for us at the SM Osgood I was proud to watch him grow and overcome the many challenges there are being a factory rep working both marine and RV accounts at the same time."
Grandfather Bob Tiffin and Leigh Tiffin
VanLeigh RV
VanLeigh RV launched in December 2014, the moniker a combination of the youngest Tiffin, Leigh, and his father, Van. Being a relative newcomer to RV manufacturing, Leigh feels he has gleaned a wide variety of knowledge from grandfather and pioneer, Bob Tiffin, his uncle Tim, and, of course, his dad, Van.
"I would say the three people that I work closest are Bob, Tim and Van," Leigh says. "They all have really unique strengths and different things that I admire about them.
"Seeing them at work, I view them as a lot more intelligent and wiser than I ever would have probably given them credit for than if I had not worked with them," he adds. "My dad has a real knack for design. He's a great problem solver. He really understands the consumer very well; what they like, what they don't like. He has a good knack for taking a good design concept and helping translate that into something that engineers can create a good design within their production. Something else that I really appreciate about my father is he's got a keen eye for quality. He's very interested in the quality of the unit and I think that developed with him when he realized that you can design the greatest thing in the world, but if it's not been executed very well in terms of production then what good is that?
"He spent a lot of his time walking units, reviewing units, taking a deep look at what the problems are and he's very insightful in that way. I mean he's very technical. He would come into shop and he could tell you in very specific terms how to solve them. A lot of his knowledge comes from his many years of experience in the business."
And as for his grandfather?
"My grandfather, you know, I'm always profoundly struck by his wisdom, too," Leigh says. "In many ways he's a pretty simple guy. You almost get to underestimating him, I guess you could say. It can almost be disarming because some of his wisdom seems so simple, yet it is so powerful when it's done for a long time. He's always put the customer first. … He's been doing it for what's been nearly 50 years for him in this industry. He's super insightful and extremely wise in his business approach.
"He brings a totally different perspective to business than my dad or Van does, in the sense that he's almost 100 percent customer focused and that's how he's built his business and it's been very effective for him. You are always amazed by the single-minded customer focus of his approach. He's been doing this a long time and he's still extremely productive. He's very interested in the voice of the customer and resolving their immediate issues and preventing future issues for new customers."
Leigh also recalls his learning curve when manufacturing units, and how his grandfather helped him see things from a different perspective.
"I can remember calling my grandfather and telling him you know I think all of our units need a full week of pre-delivery inspection. I told him I think if we could do that, we could get perfect units out there every time. He responded, 'Well, yeah, you may be right. I guess we've just been paying our customers to do that.' That's the sort of thing I'm talking about. Just a profoundly different way of looking at things."
Leigh says he is thankful to all his family, including his uncle, Lex, whom he mentioned several times throughout.
"It's nice to have people like that, who you're related to, whom you can trust because you know they have nothing but your best interests at heart," he says. "And they have that knowledge and they're willing to help you."
Dawn Fields (left) and Katie Fields
Priority One Financial Services
For a mom who otherwise might not be seeing her daughters as often as she once did, having them work in the same office at least lets her keep up with them a little bit.
At Priority One Financial Services, New Dealer Coordinator Dawn Fields works directly with her daughter Gabbie, a receptionist. Daughter Kaitlyn also works in the office as a customer service agent.
"It is nice to be able to see each other every day, since my oldest, Kaitlyn, no longer lives at home," Dawn says. "It is also nice to be able to share our work day and really be able to understand where each other is coming from."
Dawn says that Gabbie is still deciding what her career path will be, so Dawn enjoys helping her problem solve on the job and share her love for the RV industry.
Alexis Skaggs (left) is pictured with her father, Nevelle Skaggs
Skaggs RV Outlet
Since the goal of any good RV dealership is to help its customers have fun, it seems only fair that a family-owned business such as Skaggs RV Outlet in Elizabethtown, Ky., should be a fun place to work.
Business Manager Alexis Skaggs is the "next generation" at the business, working with her father, owner NeVelle Skaggs. Mom Robyn formerly worked in accounting, but returned to working in the government sector during the Great Recession to accrue enough time there to retire with a government retirement.
"Working with family is challenging yet rewarding," Alexis says. "Having the opportunity to help hundreds of families enjoy the outdoors and make memories together has strengthened our family's bond and our relationship with our clients. We help families have fun, so it is only natural that we have the opportunity to serve these families while having fun ourselves. It does not feel like we are working at a job, this is not a career, but rather a lifestyle."
For the Skaggs, camping is a lifelong love and it was the way the parents met.
"They were camping with their parents and they ran into each other," Alexis says. "The courtship progressed, but they split up for a few months until Robyn went to a show NeVelle was exhibiting at. They ended up getting back together."
Father and daughter use that story to help overcome when customers insist they are "just looking" at units on the lot.
"My parents were both 'just looking' and look at what happened!" she says.
NeVelle is a board member of the RV Safety & Education Foundation. The Skaggs lead the fire safety course at the national conference, which includes hands-on fire extinguisher training. NeVelle has been involved with the fire service for 45 plus years, and Alexis has been since she was 18.
The Recession was a tough time for the dealership, as it was for many in the country. Not only did Robyn need to find other work to help make ends meet, but the challenges of maintaining a work/life balance was tough as well.
NeVelle and Alexis also restore collector cars and run cattle on their farm which has been in the family since the Civil War, so they are always working together. Rarely being able to leave business matters at the dealership has made the relationship a little tense at times, she says.
Still, Alexis says working with her parents has given her valuable experience and insight.
"Working alongside my father has been rewarding by helping him achieve goals and learning about self-made entrepreneurs," she says. "I have learned more practical hands-on knowledge and skills regarding managing, motivating, and negotiating from him more than I did in the graduate business program. Robyn is involved on the weekends, at shows, and sits in on our marketing meetings."