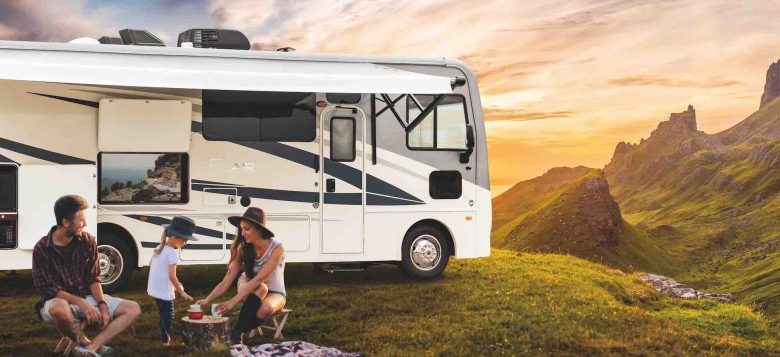 Heading into 2019, a rebound is underway at REV Recreation Group's Class A motorhome business.
New Vice President/General Manager Pat Terveer laid the groundwork for the rebound late last year when he reconfigured the Class A business into three divisions: high-end diesel (luxury models), core diesel and gas. In tandem with this reconfiguration was a thorough review of what made certain brands under the REV umbrella successful in the past – and then determining what success moving forward should look like, according to Mark Lombard, Class A gas product manager.
Notably, REV Group encompasses three of the most storied and successful names in the Class A business – Fleetwood, Holiday Rambler and Monaco – whose successes for decades set the standard for the rest of the RV industry.
While the company placed a respectable third in Class A motorhome retail sales in 2017 (see Figure 1), no one in the REV Recreation Group's Class A management team by year end was truly satisfied with its performance, according to Lombard.
"We were trying to be everything to everybody – and all points in between" before Terveer arrived, he says.
REV's staff sharpened its focus by identifying underperforming lines and then reduced the overall number of Class A models by 30 percent and the number of floorplan offerings by 40. Lombard says the decision was made with the goal of simplifying the production process, the ordering process for dealers and, ultimately, consumers' buying decisions.
REV Group unveiled its 2019 models back in June, so dealers have already been retailing those motorhomes for several months. A gratifying response at retail shows in Hershey, Pa., and Pomona, Calif., plus a strong showing at the Open House in Elkhart, Ind., have lifted the spirits of REV Group and seem to have validated the changes.
Here's a look at how the product managers at these three teams changed their products and are using the "top-step" approach to sell them.
High-End Diesels 
Reviving American Coach's luxury American Dream coach may prove to be the most rewarding experience for 2019.
At the September 2017 Open House, REV displayed a "de-contented" American Dream diesel pusher that allowed for a significant price decrease.
"It did not go over well, as it is not what our high-end customers (dealers and retail) expect," says Janeen Gerke, division product manager for high-end diesels.
"We went back to what American Coach used to be," Gerke says of the 2019 version, which has been completely redesigned for 2019. Available in both 42- and 45-foot floorplans, the American Dream has a revamped interior featuring exclusive Apex furniture, three custom hardwood choices and a recessed ceiling treatment.
The American Dream offers a technology package that features Mobileye collision-avoidance technology. It also includes American Coach's Liberty Bridge on a Freightliner chassis that includes Select Drive and Ultra Steer. Select Drive passive steering provides RVers with feedback through a computer-aided steering system, reducing driver fatigue over extended road trips by automatically adjusting to the curvature in the road surface.
American Dream is available in four floorplans: three are on a 42-foot chassis offering 450 horsepower; the fourth is a single bedroom, 45-footer with 605 horsepower. MSRPs range from $550,000 to nearly $600,000.
For 2018, dealers and customers like the direction American Coach is heading, according to Gerke.
"The product has gone over very well. Bringing it back to what the American Dream once was has been good for us. We are doing well selling the coaches to the dealer network," she says. The division began coach deliveries in September.
Gerke also is working to rebuild REV's high-end diesel dealer network.
"We'd like to see our product on more dealer lots and gain some market share, but that will take some time," says Gerke who started her career at the Fleetwood Service Center in Decatur, Ind., some 29 years ago and has one of the longer tenures among the 1,200 employees based there.
A score of dealers spread across the U.S. carry the American Dream brand. In particular, Gerke is looking to grow the brand's presence out West.
Like other RV segments, the demographic of the high-end diesel is evolving.
"You're seeing younger and younger buyers in our products," she says. "It used to be the retired couple going longer distances and living in their motorhomes. Now, we're seeing younger families in the higher-end products. That's why we added the bunks in one of the 42-foot floorplans. (The 42B model features rear bunk beds, which can be converted to extra storage space when not in use.) More people are working from home so they can travel while working."
As of mid-October, REV was building one to two American Dreams a week. All four floorplans were coming off the production line.
"The 2019 American Dream is getting a great early response from retail customers. We've listened to our customers and the results we're seeing for the American Dream, in terms of retail sales, have been immediate," Gerke says.
Not to get lost in the hype for the Dream, Gerke's division also builds three floorplans for the American Eagle, a 45-footer with a 605-horsepower Cummins engine.
"The Eagle is a very contemporary motorhome – it comes with the high-gloss thermofoil wood to give it a yacht look upon entering," says Gerke, reinforcing that "top-step" appeal. All three floorplans are bath-and-a-half models and offer TLS furniture to give more of a residential style with polished porcelain heated tile flooring throughout. Upgrades for 2019 include keyless engine start, driver/passenger seats with powered footrests and the Firefly multi-plex system.
Her division also offers the Monaco Signature and Marquis. Available in 40- and 44-foot floorplans, they are the "entry-level" motorhomes into REV's high-end lineup.
Gerke concedes REV Group has some work to do to regain ground in the luxury segment, but says the company is taking a concerted approach that she believes will pay off.
"Right now, we're starting out slowly, trying to get our product right and hope to build consumer confidence back into our product," she says.
Core Diesel Division 
REV Group's largest Class A division by dollar volume, the core diesel division encompasses six product segments: the iconic Fleetwood Pace Arrow and Pace Arrow LXE, the Discovery and Discovery LXE and the Holiday Rambler Navigator and Endeavor.
MSRPs on the division's brands range from $230,000 for a 33-foot low-profile Pace Arrow to $420,000 for the 44-foot Discovery LXE, REV's "Cadillac" of the division.
The division offers three brands that hit the "sweet spot" of $230,000 to $260,000 for diesel motorhomes: the Discovery, Endeavor and Discovery LXE.
Doug Miller, who oversees the division, says REV is winning in the "top-step" approach. He explains, "We weren't always the flashiest or most glamorous motorhome builder out there, although when you walked inside a REV motorhome in the last four to six months, I can sum up consumer responses in three letters: Wow." He says he's hearing consumer comments akin to, "Wow! We didn't know the Fleetwoods looked this good", "Wow! We didn't know this floorplan even existed" and "Wow! This floorplan fits our needs better than anything we've seen so far."
The "buzz" for 2019 has surrounded the Discovery LXE, a hybrid of the Discovery, the top-selling brand in the core diesel division and a mainstay in the Fleetwood line since its launch in 1996. Sister product for the Discovery is the Holiday Rambler Endeavor.
Miller says, "We figured out a way to get those features into our Discovery and Endeavor, but
we didn't take things out. We didn't take away the integrity of the motorhome. We didn't take away certain things that make our company and our products what they are. We figured out a way to put those features in at a price point that's tough to match by anyone else out there in the field."
The 2019 Discovery LXE is built on a Freightliner chassis integrated with Fleetwood RV's Power Bridge frame. Floorplans range from 40 feet to 44 feet in length with a 380-horsepower Cummins engine on shorter models or 450-horsepower engine on longer models. MSRPs for the 2019 Discovery LXE start at $345,833.
The buzz continues with Fleetwood's Pace Arrow, REV's legacy model that was first launched in 1969. The four floorplans range from the 33D (shortest), a mid-entry model in double and quad slides, through the new 35QS – the first-ever quad slide in a 35-foot motorhome, Miller touts.
A key feature on the 35QS is opposing slides in the front of the coach. The 36U is a bath-and-a-half, one of its most popular floorplans. All Pace Arrows come with a loft that accommodates two adults weighing up to a combined 650 pounds, depending on the HappiJac bed lift system used to support it.
The Pace Arrow LXE is considered a full-body motorhome. Its sister on the Holiday Rambler side is the Navigator. Those two coaches share floorplans, the same feature set, capacity size, AC size and similar price points. This allows REV to offer the two lines in a specific market area and provides more exposure to the REV "umbrella" of brands.
"We recognize some consumers out there find value in the Holiday Rambler product and others find value in the Fleetwood product," Miller says.
As part of the overall product reconfiguration, REV "re-positioned" Endeavor and Navigator for 2019.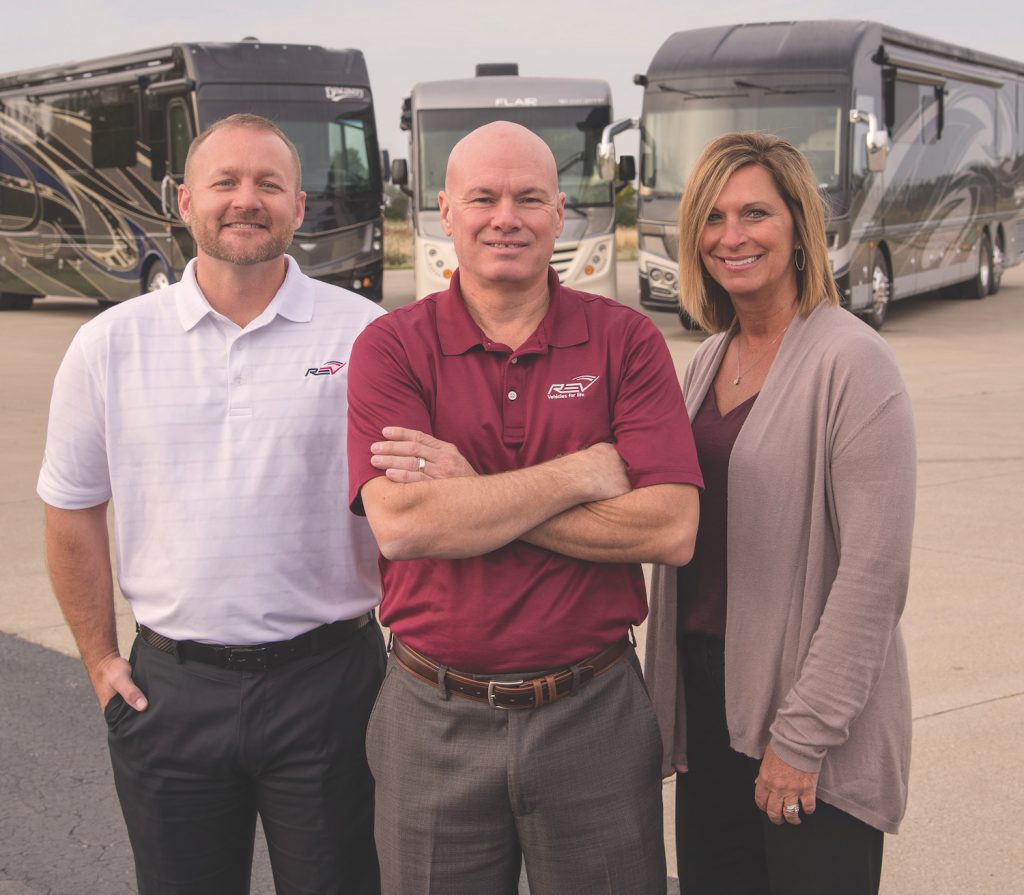 (From left) Doug Miller, Mark Lombard and Janeen Gerke.
"We needed to reduce the Holiday Rambler offering by half," Miller says. "We focused on building the two mid-range Holiday Rambler diesels instead of the value line Navigator XE diesel and the high-end Endeavor core diesel."
Miller, who's been at Fleetwood since beginning as a shop laborer at American Coach in 1999, offers another reason why REV products are gaining further acceptance from the division's 134 (core diesel) dealer locations and in the retail market.
"Cohesiveness among the three teams is at an all-time high." He says the new arrangement, which allows him, Lombard and Gerke to work in unison, yet "allows us to be individuals and focus in on what we think we need to do to create that identity and that's something that really wasn't there in the past."
Based on this fall's retail shows, Miller says he believes there is "more sense of urgency in customers" in wanting to buy a Class A motorhome sooner than later. That window of purchase might have been, say, four years away in the past, but now he's hearing consumers talking about making that purchase within the next six months.
Class A Gas 
The changes within the REV Recreation Group are quite evident in the company's Class A gas lineup, as the OEM seeks to gain penetration in the ever-growing gas market.
"The thinking was to right-size our offerings and not try to produce so many diverse floorplans and cover every little niche, but make sure we were focusing on the most important segments of the market," says Lombard, the Class A gas product manager.
That thinking led to a 40 percent reduction in overall floorplans and a redesign from top to bottom of the entry-level Fleetwood Flair and Holiday Rambler Admiral that target one of the largest Class A segments.
"They don't even remotely resemble the Flair and Admiral from last year. They're brand-new products and brand-new floorplans at a much more affordable price than last year," he says.
Lombard says the biggest change is "the look and feel. Dealers walking into the product are extremely happy to see what we're doing, the features we're offering and the price."
Available in five floorplans, interiors are spacious and comfortable with amenities like a king bed, open living area, Hide-A-Loft drop-down queen bed, ducted A/C, residential refrigerator (on select models), modern cabinetry and auto generator start. The models also offer several practical features, including 50-amp service, heated holding tanks and pass-through storage, as well as options like theater seating, an upgraded suspension package and power driver seat.
MSRPs on the smaller Admiral and Flair floorplans start at $112,000 and top out around $141,726, which is $10,000 less than the 2018 models, according to Lombard.
Since the 2019 models were unveiled to dealers at the start of summer, the Flair and Admiral are becoming REV's No. 1-selling brands, says Lombard, even topping the flagship Bounder, which is in its 32nd year.
There are still good days ahead for the time-tested Bounder brand. Lombard is high on an "extended living floorplan" Bounder that takes a current double-bath bunk unit, swaps out the rear full bath for a two-piece lavatory and adds a tailgate to the unit's rear so that "you can have a nice patio living area on the back."
Vacationer also is in the mid-level price range.
Meanwhile, REV is seeing renewed interest in the top-of-the-line Fleetwood Southwind, which matched Bounder in retail sales at the Hershey Show in September and in Pomona in October, thanks to the nice separation in price points, according to Lombard. MSRPs on the mid-level Bounder start at $178,000 and for Southwind at $184,000, depending upon floorplans and specs.
"The Southwind received an interior makeover and now has a mid-level diesel feel," Lombard adds.
As an example of not trying to cover every little price niche, for 2019 REV discontinued the Axon, Reno and Storm brands, the XE and LX lines of Admiral and Vacationer and the LX lines of Flair and Bounder.
REV launched its model changeover in May and invited dealers to the factory in Decatur, Ind., to see the changes firsthand. Others visited in June. Orders soon followed. It means that the 2019s have been in the dealer pipeline since May and already had a foothold in the retail market before the Hershey and Pomona consumer shows as well as Open House Week.
That has given REV's 223-member dealer body a huge jumpstart on the 2019 selling-season, Lombard says.
Echoing Terveer's comments from last winter, Lombard says, "We're not market-share focused. We may have gained in some segments and lost in other segments. We did a complete turnaround in May, so there is a lot of old product still moving through the system. I do know that since May all of our new products are winning. Our new product is turning in less than two months and I'm proud to say our dealers know it."
Lombard credits Terveer's new approach to the Class A business as a major factor.
"We were more of an engineering and product development driven company than we are now," he says. "Now, nothing happens without first going through the sales department. Now we're more of a sales-driven company. The people on the front lines – the people who are talking with the customers, the people who are talking with the dealers – are the ones having most of the input on what's going into the product. We still highly value our product development team – our engineers, designers and everyone else who is instrumental in helping us create a better product for our customers – but sales are the ultimate driver of the product right now."