Features
Are You Retail Ready In 2021? Best Practices for Your Digital RV Showroom
Sponsored by SpinCar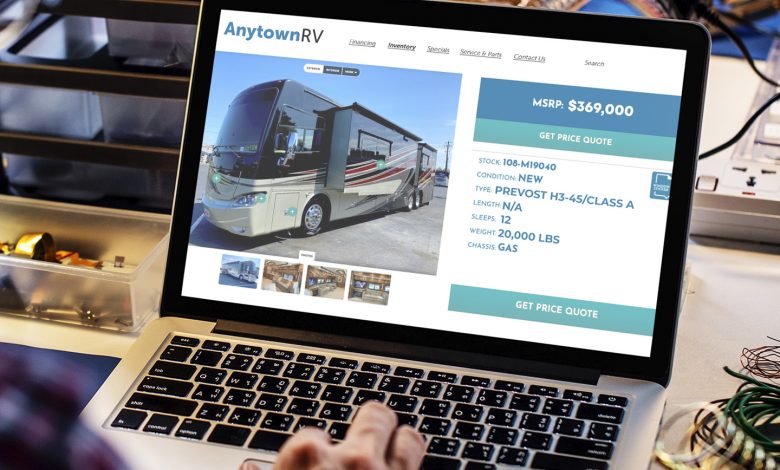 2020 was the year that made the world remote-first. An accelerating trend in various vehicle verticals became a permanent inflection point. In an environment in which consumers demand immersive digital experiences (the "Amazon effect") and in which buyers spend more than 80 percent of the buying journey online, RV dealerships need to think about their website as the centerpiece of the sales process rather than a digital appendage to the showroom. The website is the storefront and the showroom; the biggest source of traffic and the dealership's best salesperson. With every other dealer in the same position, competition for digital supremacy will be fierce.
If you're not already doing so already, consider implementing these proven retail strategies quickly to maximize every digital walk-up opportunity as we enter peak selling season.
Invest in your digital lot as much as (or more than) your physical one. Effective digital merchandising is essential for survival as shoppers continue to shift away from in-person visits. A 2020 Cox study reported that two out of three consumers are now more likely to buy their vehicle 100 percent online. Tools like 360° exterior and interior walkarounds, personalized vehicle feature showcases, panoramic imaging, video merchandising and others can help replicate the showroom experience right on your Vehicle Detail Pages (VDPs). Delivering tangible value with personalized and interactive experiences that reduce friction is the name of the game.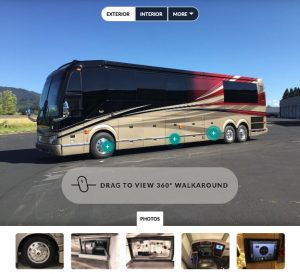 Put your best foot forward with the 3 Cs of RV imagery: Captivating, Consistent and Clutter-free! Every RV on your physical lot is perfectly aligned, regularly washed, with no trash or clutter. Your digital lot should be no different. Ensure your images are crisp, crystal clear, and well-lit. Capture unique details and valuable features which increase shopper appeal. Keep your images consistent and updated so that shoppers can make comparisons: Data shows that highly visual VDPs help with conversion and also encourage shoppers to discover vehicles they may not have previously considered. Consider automated solutions that enable background editing, including flexibility with partial or full removal and shadow placement options, particularly with seasonal changes and older or slower-moving inventory. Cox Automotive reports that 40 percent of consumers would be willing to buy a vehicle without ever seeing it in person based on online images. Quality matters.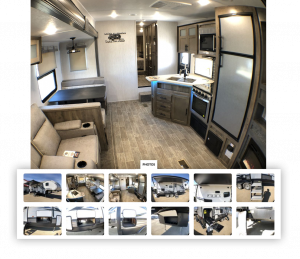 Showcase valuable features. Just like your best salespeople would in person! Detailed images, videos and explainer content regarding unique and relevant features will better communicate each RV's value proposition, moving the conversation beyond price. For example, include the generator, specific appliances, roof vents, storage options, specific console features for technology enthusiasts, and more. And by using interactive technology to highlight features within your VDPs, you keep shoppers on your site and give them no reason to leave to engage in research.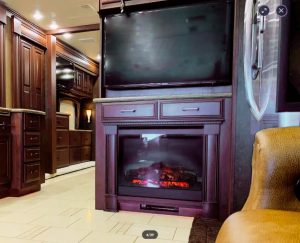 Avoid surprises by increasing RV condition visibility and reporting. The increasing incidence of online-only RV shopping and evaluation make accurate condition reporting more important than ever. The ability to transparently display elements that are critical in used RV evaluation are indispensable for online shopping. Consider solutions which provide detailed condition features such as damage tagging, undercarriage imaging and even engine sound recording. That level of transparency can be an enormous differentiator, reducing sales disruptions and dissatisfaction.
Get RVs online faster – much faster. Merchandising delays won't cut it either. Delayed imaging carries real holding costs, and the typical dealer can spend hundreds of thousands of dollars per year for every day that an RV is not on their website. Streamline the process with solutions that allow you to capture quality images quickly and consistently with guided processes, in-app editing and high-quality photographic controls. Further, the most progressive tools enable your photographers to edit and upload wirelessly right from the app, reducing time to merchandising from days to minutes.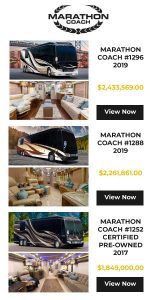 Keep your dealership in front of active shoppers with effective retargeting. In today's environment, you can't afford to lose one single active in-market opportunity. Your digital showroom is your largest source of traffic and return visits, and your ability to nurture in-market shoppers is essential. But don't just spray and pray, retargeting every live body that visits your website. The more sophisticated remarketing platforms use first-party data to distinguish casual visitors from in-market shoppers based on their engagement behavior and enable pay for performance based on incremental VDP views. That means you only retarget the most engaged and highest-value shoppers, which increases your effectiveness and reduces wasteful spending.
The data is abundantly clear. According to Forrester Analytics and McKinsey, e-commerce penetration, which was already accelerating, saw the equivalent of 10 years of growth in only the first quarter of 2020. In November 2020, Google reported that 73 percent of vehicle shoppers are comfortable negotiating terms online, and 65 percent of purchasers expect more online options for purchasing a vehicle. RV sellers who recognize the opportunity and pivot to offer a frictionless and comprehensive online buying experience will flourish while others flounder. Let 2021 be the inflection point for your dealership!