Features
Azdel Stakes Out Sidewall Territory
Supplier Hanwha Azdel stresses strength and durability in its composite sidewalls.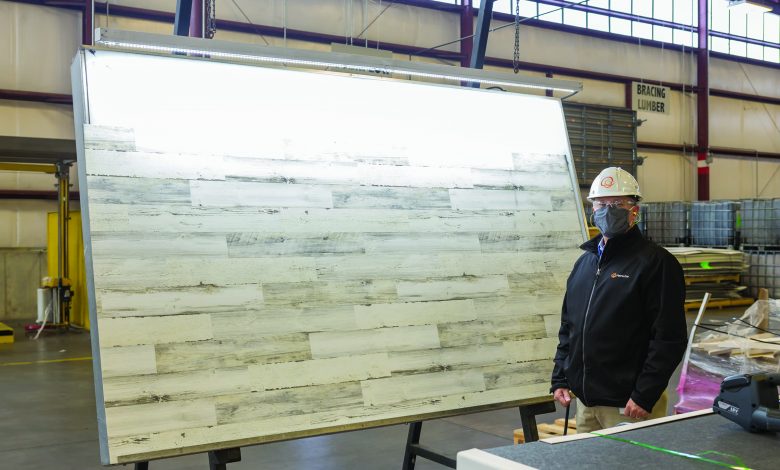 Composite materials have made a significant impact in evolving the construction of RV sidewalls since their introduction more than a decade ago – and industry supplier Hanwha Azdel has been a driving force behind the increased demand.
Commonly referred to as simply "Azdel" for both the company and the product, Azdel's composite substrate consists of a patented blend of polypropylene and fiberglass. While exact figures regarding the number of RVs built with composite sidewalls are a bit difficult to pin down, Azdel describes itself as the leading one used in the RV industry.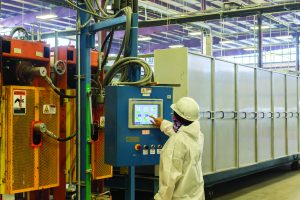 "We estimate that close to 50 percent of today's production of laminated sidewalls include our composite," says Jeff Squiers, marketing manager with Azdel, referring to the number of RVs with Azdel composites in their construction. "There are also many units where Azdel can be found in roofs, ceilings, and interior décor."
Joe Dumeah, commercial new business development manager at Azdel, says it's no mystery why composites in general – and Azdel's product in particular – has gained market share at the expense of lauan (the plywood used traditionally in RV manufacturing) over the years. He says Azdel's composite material has provided enhanced performance in a myriad of ways.
"If we want to talk about our No. 1 benefit, that would be our superior performance when it comes to delamination," he explains. Multilayer construction with lauan can make it vulnerable to internal delamination that cannot be seen at the time of production. Lauan is a solid substrate that sometimes doesn't allow for sufficient off-gassing of the curing adhesive prior to installation. If lauan doesn't get 100 percent coverage, resulting air pockets can help initiate the delamination process.
The porous nature of Azdel allows for better off-gassing without jeopardizing the bond, according to the company. Additionally, the white surface of Azdel makes any areas with insufficient glue coverage easily detectable prior to completing the lamination process, according to the company, which says such sheets don't make it onto a finished unit, saving both time and the wall itself.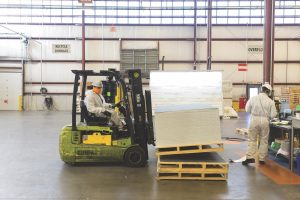 As part of its sustained performance, the substrate has a Coefficient of Linear Thermal Expansion (CLTE) similar to that of FRP (fiber-reinforced polymer). When a unit is subjected to fluctuations in temperature and humidity, Azdel expands and contracts with the FRP, not against it, reducing the stress on the adhesive bond, which otherwise could create seam lines on the wall, according to the company. With far different expansion properties, lauan is constantly fighting with the FRP, weakening the bond and potentially leading to delamination, Azdel says.
With RVs continually being exposed to the elements, Dumeah says the composite's construction additionally lends itself well to the rigors of the road. The Azdel substrate does not retain water, which eliminates the chances of water damage like mildew and rot. Water damage can often be a problem for RVs, particularly in long-term settings, given that trapped moisture goes unseen under multiple layers of wood, leading to long-term mold growth and rot – and a costly repair, he adds.
Still, Squiers says that composites are not necessarily needed for every RV application, noting that the product generally is the best fit where it is solving a problem, or where design flexibility and improved performance are priorities.
Inside & Out
While the company has a strong position in the exterior wall segment, Dumeah says Azdel has also been looking inward – literally. In addition to sidewalls, Dumeah says that Azdel has been developing a weight-saving flooring solution, as well as improving existing applications in roof wraps, ceilings and interior décor – all areas where he says Azdel can bring additional value to the industry.
Currently, the company's standard product meets Class B-level of ASTM E84 (flame spread), exceeding the Class C of lauan and the minimum for RV interiors. Dumeah says that with both interior and exterior walls, Azdel can produce them with an in-line process without changing the entire manufacturing and construction process of the RV units the products are used in.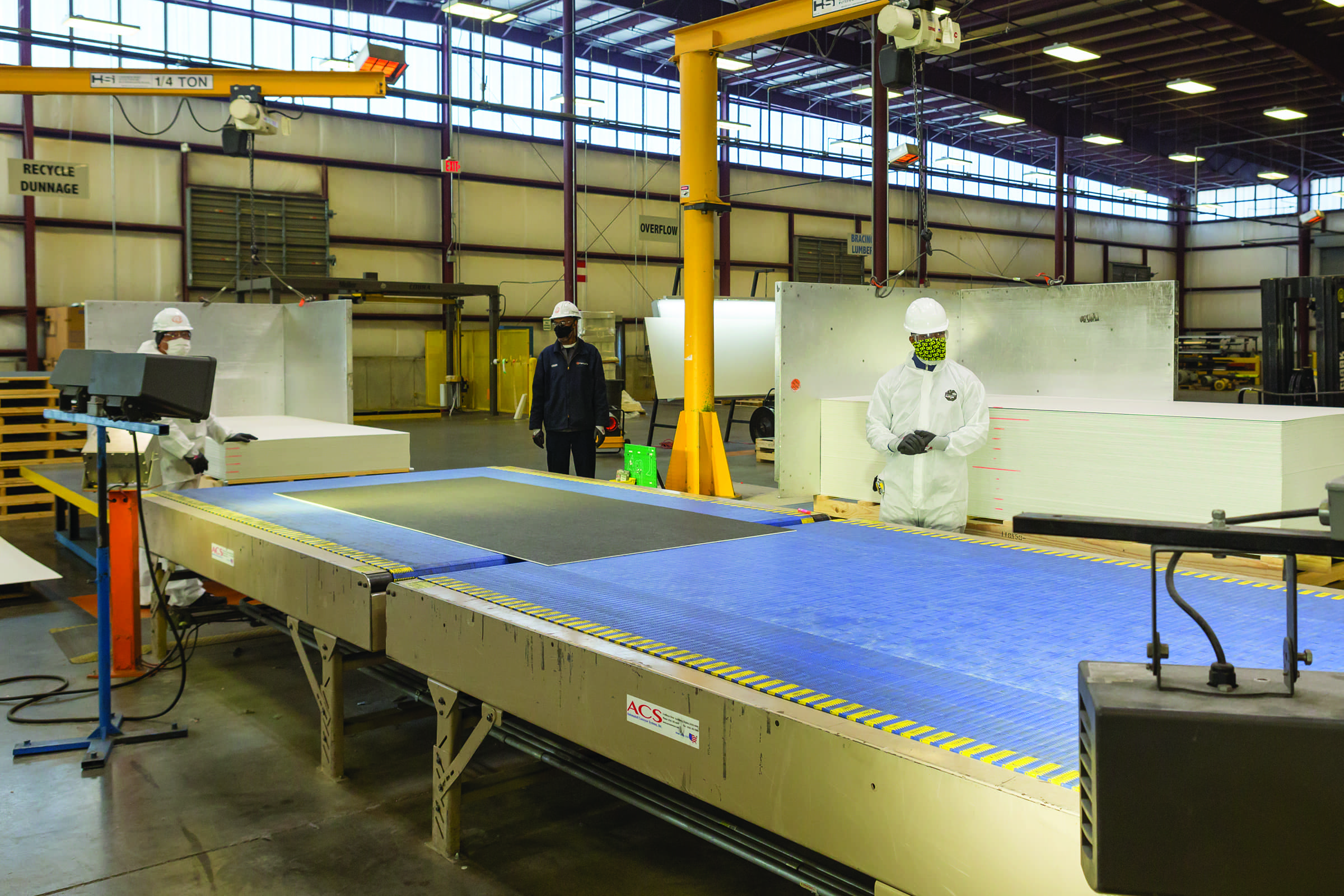 Close to Home
Aside from its performance benefits, Azdel's composite product is manufactured at a Forest, Va., plant, which is part of the Lynchburg municipal area. The 220,000-square-foot plant employs about 140 hourly workers and 40 salaried employees, including eight in research and development.
Having a domestic manufacturing operation is beneficial for the company, according to Dumeah. From a logistical standpoint, the Virginia plant helps the company save on lead and shipping times for clients. This has become more important now more
than ever, as the COVID-19 pandemic caused delays in the supply chain, especially for goods made overseas. That domestic proximity also means flexibility that accommodates the RV industry, Dumeah adds.
"The RV market fluctuates and, we're able to respond quicker," he says. "(We can) fill those gaps as things change, where if you're waiting on product from across the ocean, you're just going to have a gap."
And when it comes to accommodating the RV industry, the manufacturer responds by offering custom-cut pieces of its substrate, reducing waste. For RV makers building units with Azdel's product, Dumeah says that many companies are often looking for custom sheet sizes length and/or width. Azdel produces these boards for the industry to reduce the amount of waste in the manufacturing process.
This is a huge advantage for both the RV manufacturers and Azdel by utilizing the flexible width and length capabilities of Azdel's manufacturing process with minimized waste, according to the company. As a result, no longer are the RV manufacturers locked into standard widths and lengths, Azdel says.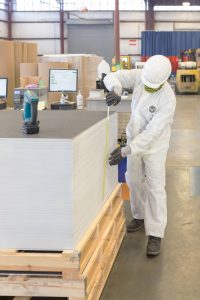 An Evolution
Azdel's composite panels have been used in RVs since 2006, and since that time, Dumeah says the process has evolved – both on the production side and the end-user side.
"We had our early bumps in the road attempting to truly understand the RV market and how they use our product," he explains, pointing to things like performance requirements on towables. In roughly the last five years, he says, the company has dialed in its approach to accommodating the industry.
"Now that we have our own technical reps in the industry that basically work hand-in-hand with the OEMs and the laminators, we truly understand the application and can bring a lot more assistance and support to the customers," Dumeah says.
When asked what he believes helped solidify the relationship between Azdel and OEMs, Dumeah points to the issue of combatting delamination.
"It probably had to do with the lamination process, the ability to roll-coat and get the glue onto our board with a good coverage," he says. "I think there was a misunderstanding on our end and the OEM's end."
As Azdel began to investigate and research different components, such as how glue and the composite relate to each other, and how temperature and environment impacted the product, Dumeah says the company began to understand the proper application for RVs. Ultimately, he says, it came down to consistency on all fronts, including material flatness.
He says it was basically, "how do we laminate and roll-coat the material at an optimal and more repeatable way?"
User Support
Refining the process for RV applications hasn't been the end of evolution for Azdel, either. Dumeah says that with the research and development growth the company has experienced, it now also offers an extensive support program for end-users to ensure they are getting the most out of the product. A set of four Azdel team members are charged with going into the field with RV makers and OEMs to solidify this process. This is especially true for manufacturers looking to make the jump from plywood to Azdel, according to Dumeah.
"They will go out and (work with) the customer starting from the time they decide they want to use the product," he says. "We lay out a plan on how we would like to transition them from the lauan to the Azdel and everything that's required in between."
The support program, Dumeah explains, operates in phases to ensure the customer has a full grasp on how to process the product. Specialists from Azdel start with a trial period working side-by-side with customers, gradually scaling back to weekly visits. Once a customer is onto using Azdel's product in regular production cycles, company reps pare their visits down to a monthly check-in where they perform an audit on the customer's production process to verify they are using the product correctly. Even with that thorough vetting process, Dumeah says the company is always open to offering additional assistance.
"It's kind of a constant contact; we never go away, for lack of a better word," he says. "We deal with a lot of the customers on a daily basis, and questions come up, and we're in there working with them hand-in-hand. We're always there to help them out and support them."
Outside of in-person support, Azdel ensures that each piece of the composite produced in Virginia is traceable when it leaves the facility.
"Every single part has a date code and a lot code on it," says Dumeah. "If there is an issue in the field, each board has its own identification."
Paired with the tracing system, the company says it can remotely monitor temperature and humidity conditions in OEM plants and perform periodic adhesion tests to ensure quality bonding.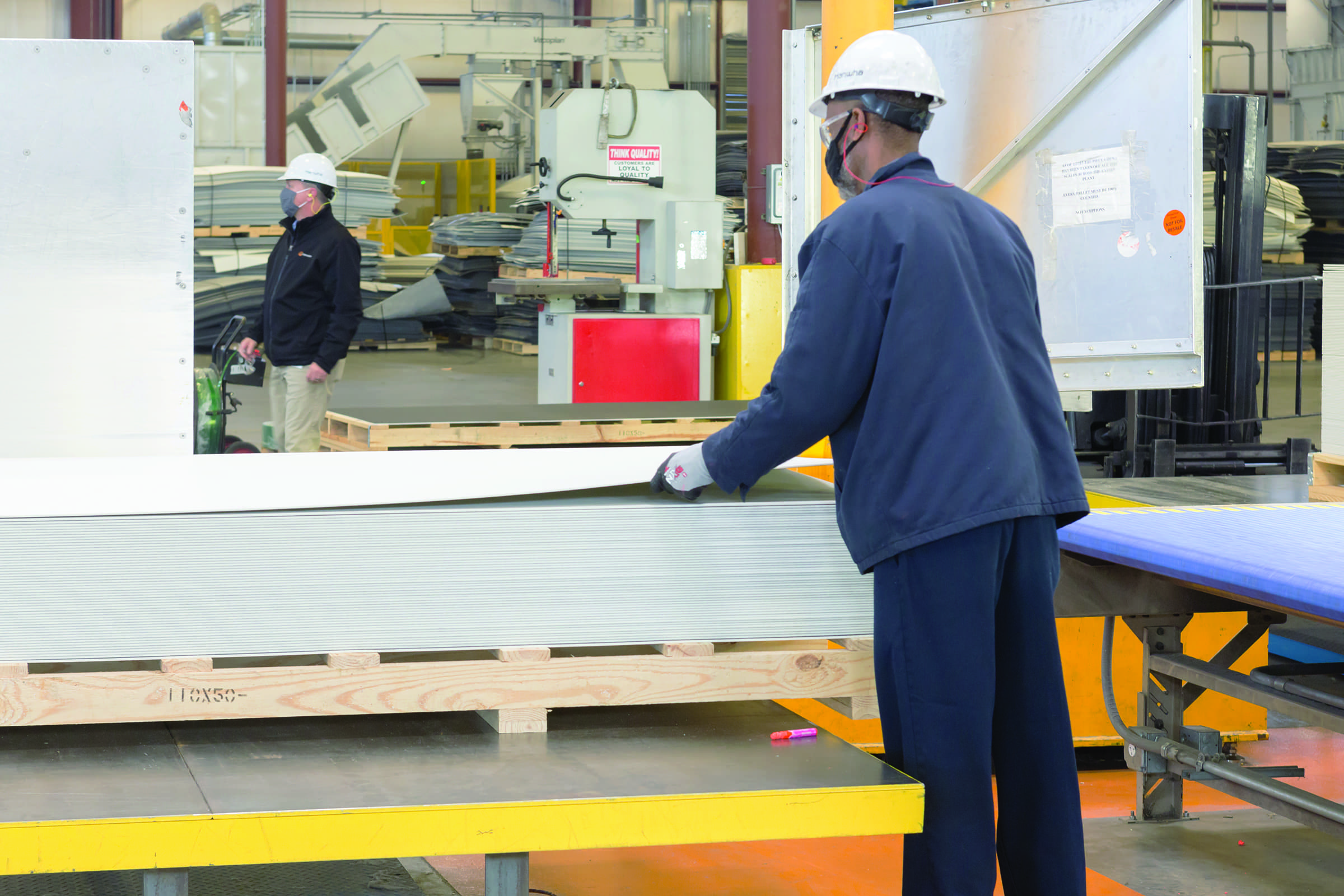 A Changing Industry
As manufacturers continue to refine RV construction, including exploring ways to build lighter-weight RVs, Dumeah says Azdel is poised to tap into those demands.
In an era where many companies are also adding sustainability to their corporate messaging, Dumeah says that the low-waste design of Azdel's composite also helps address this trend. Given that the product isn't made from wood, it doesn't result in deforestation. In the spirit of minimizing waste, Azdel has its Eco- Lite product, which reintroduces ground material to the production line. It includes all the benefits and performance of the standard product, but offers slightly better flexibility for tighter radius applications, according to Dumeah.
"I think that (sustainability component) helps us – not to mention we're able to avoid wood shortages," he says, adding, "We're consistent, yet always evolving, and we have the capability to expand and grow with the industry."