Features
Back by Popular Demand
Forest River's apex Class A diesel pusher, the Charleston, returns to the company's lineup for the first time since 2017 to meet customer demand and new buyer demographics.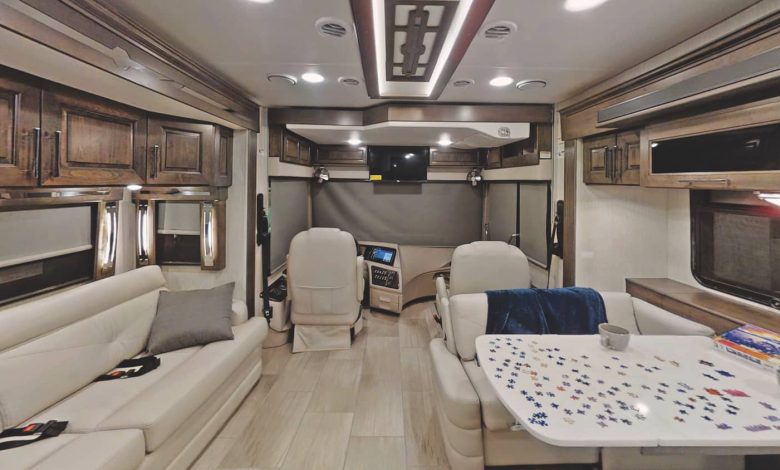 Forest River's topline Class A luxury diesel motorhome – the Charleston – is back. After a four-year hiatus, the coach has returned in 2022 for the manufacturer's expanding customer base, which also is gravitating toward more high-end motorhomes.
Popular Demand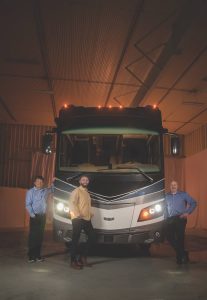 "Customers are super-excited to have it back," says Tim Cunningham, Forest River's national sales manager and product manager for diesel motorhomes. "It's always been known as our high-end unit with a good following. The Charleston's return allows us to get enter that high-quality motorhome market with what people want today. Our Forest River fans now have that avenue to get into a top-quality diesel."
He adds that the timing was right for the Charleston's reintroduction.
The Charleston offers many contemporary interior finishes with its matte-finish porcelain tile throughout the coach, roller-style day/night shades and crown trim in the kitchen and bedroom ceilings.
"We had always wanted to bring it back, but in order to build a high-end unit you need to have the right infrastructure and production capabilities, as well as good timing," he says. "We didn't want to rush it, and we wanted to be confident in our ability to deliver a high-quality product."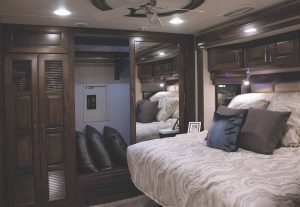 Cunningham says that Forest River's customers have been increasingly stepping up into newer RVs with more amenities in recent years. The Charleston reintroduction was a direct response to fill that need, he says, rather than have potential customers seek a comparable unit elsewhere.
"Now we have that next step up for them," he says. "With our expanding customer base, it was the perfect time for the Charleston and keep them in the Forest River family."
Redesigned from the Ground Up
The Charleston differentiates from the competition in part with its custom-designed chassis from Freightliner Custom Chassis Corp.
"Our relationship with Freightliner and our desire to get into the higher-end market was a great opportunity to take us to the next level," Cunningham says. "Their engineers and our engineers worked together to push the envelope of what is typically a traditional deal. We took some things further that haven't been done before."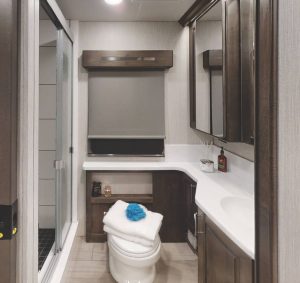 Specifically, the new Charleston chassis has Freightliner's RoadWatch system, which offers many safety features including collision mitigation and collision braking. The 36-foot Charleston also has a 15,000-pound towing capacity, compared to competitors' 5,000-pound towing capacity.
The coach also features integrated awnings, which affords the motorhome a new look, as well as four exterior graphic and color packages: Constellation, Deep Space, Nebula and Polaris. The unit features contemporary interior finishes.
The motorhome's Freightliner XCR Raised Rail Chassis with a Cummins engine is mated to an Allison 3000MH six-speed transmission. Its independent front suspension (IFS) and V-ride (rear axle) rides on Michelin tires. The Charleston is equipped with a 100-gallon fuel tank.
The interior has a side radiator and boasts a flush floor, which was an intentional modification of the chassis in order to avoid the engine compartment step-up in the rear.
"There can be smaller units with a side radiator, but you wouldn't be able to maximize a coach's space," Cunningham explains. "We try and make as many features standard as possible to help the customers, and we don't compromise on any components. We've been very fortunate to have not run into any (supply chain) hiccups. We haven't had to 'de-content' a unit, as some other manufacturers have had to. If we have to wait, then we have to wait. We build our units with a dedication and commitment that fulfill people's expectations."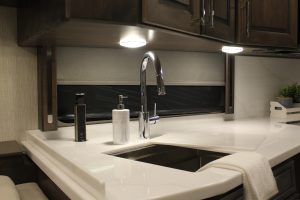 The Charleston's construction and exterior offers fiberglass front and rear caps, a four-point fully automatic hydraulic leveling system with auto air dump, a steel basement structure and a one- piece fiberglass roof (crowned and layered vacuum-bonded). The coach features an 84-inch ceiling height and a 30-inch entryway.
Heating and cooling features include an Aqua Hot hydronic heat with continuous-flow hot water, electric heated tile floors, two 15,000-BTU air conditioners with heat pump, a Maxxair fan in the galley and an electric fireplace.
Charleston is Loaded with Amenities
In the galley, the Charleston features a 30-inch OTR convection microwave oven, an electric induction glass cooktop, a stainless-steel dishwasher, and a 23-cubic-foot French door residential refrigerator with an ice maker.
The motorhome is prepped for a washer and dryer.
The Charleston comes well-equipped with entertainment offerings, including four TVs (one each in the living room, exterior, bedroom and cockpit); a high-definition digital TV antennae; a JBL sound bar with a subwoofer; an auto WiFi extended-range Falcon antennae and router; a Blu-ray DVD player; high-definition Cat6 matrix signal distribution; and dash radio-tuned amplifier with a sub stereo system. The motorhome is prepped for a roof-mounted Winegard Trav'ler satellite.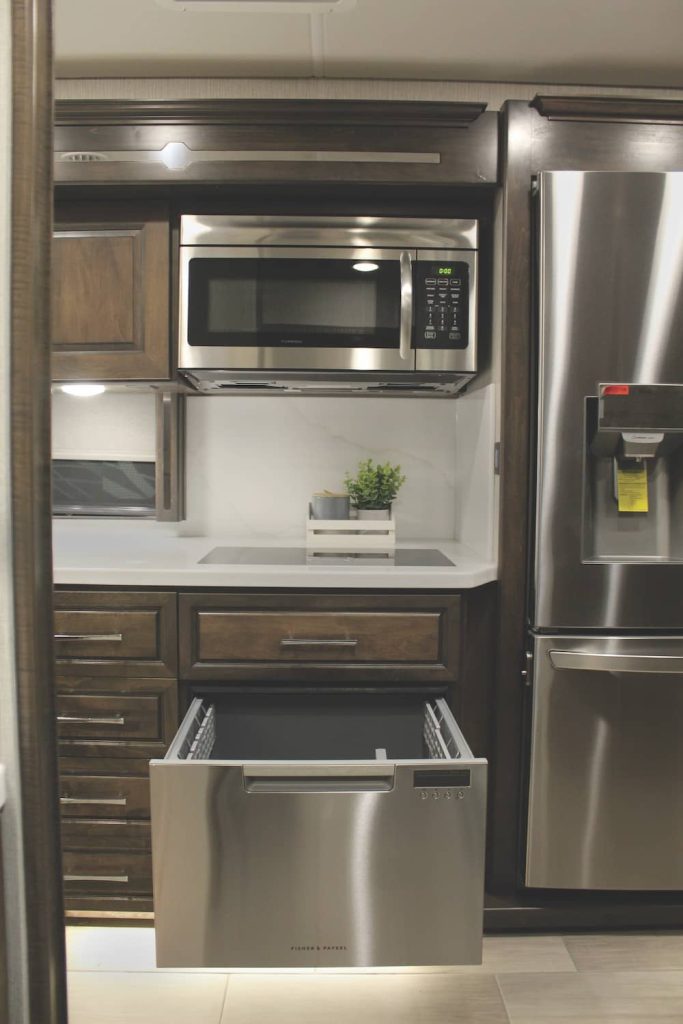 The cockpit enjoys a 10-inch dash radio with color back-up and side view camera package with navigation; a Mobileye collision avoidance system; an electronic cruise control with high idle; 3D car- bon-fiber dash panels; multiple auxiliary/USB and 12V charging ports at the dash; a driver console wireless cellphone charger; and keyless entry. The coach also features a passenger seat workstation.
"Customers are going to be pleasantly sur- prised with what they get with the Charleston – especially in its price range," Cunningham says. "It comes with all the equipment and components that people expect when getting into this diesel market. You're not going to see a unit like this at this price point elsewhere."
The Charleston's MSRP starts at $575,000.
Forest River's launch of the 2022 Charleston has one floorplan, the 36A, although the manufacturer also has a chassis ready to go for a 45-footer, which is presently in the prototype stage.
"It's a difficult unit to build because of its numerous complexities, but we expect it to hit the market by the end of the year," Cunningham says.
Coach Designed for a Changing Customer Demographic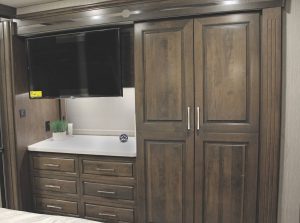 The customer base for the Charleston has expanded beyond the typical high-end Class A diesel pusher clientele of middle-aged consumers with disposable cash, according to Cunningham. "Historically, we've been known as a good bunkhouse manufacturer, and now we've expanded on that reputation," he says.
The Berkshire line, which Cunningham's division also manufactures, and Charleston have now grown to include two full bathroom bunkhouses, which is attractive as a family-orientated coach. "We have a lot of younger people who are buying across the range of our products. They aren't just the typical retirees anymore," he says. "Families are now doing remote schooling and work, which allows them to opportunity to get into a Charleston and also enjoy the RV lifestyle. Our units aren't just dedicated bunkhouses – there can be wardrobes or a desk space. It's a very user-friendly coach that comes with great customer service."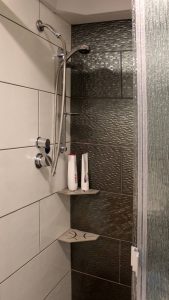 He adds that customers also seek the benefits of the many amenities Forest River offers and the Charleston's high-class reputation, which he says offers a lot of "bang for the buck."
"All we do out of our Forest River division is build the Berkshire and the Charleston, and we excel at providing a great product, much of which is because we're a really tight-knit group that's focused on quality and customer service," Cunningham says. "We try not to step outside of our 'lane' too much. We want to keep our customers happy with an excellent product. We're focused on our ability to control the marketplace in terms of what we're offering and how quickly we can meet our customers' needs."
Customer Feedback Drives Product
That "control" is the ability of Cunningham and his team to be nimble in the Charleston's design and manufacturing as they receive a continuous flow of consumer feedback. The benefit of Forest River is that each division "runs its own show," he says, and they can respond to feedback without having to run it up a chain of command in order to implement changes. "It's easy for us to operate and be successful."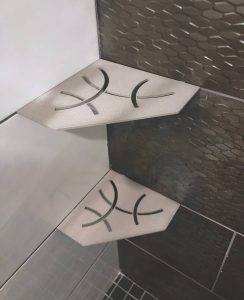 The lion's share of feedback comes from word of mouth, Cunningham points out, which often comes from events such as FROG (Forest River Owners Group) rallies at the Elkhart fairgrounds where there's an abundance of customer interactions.
"We talk to so many different customers on a daily basis and at shows," he says. "We're always listening and attentive to their needs and questions, from maintenance and care concerns to new ideas."
Forest River Forums (ForestRiverForums.com) also are fertile ground for customer feedback, where Cunningham's team can respond to customers' questions.
"We're really excited to continue to offer the Charleston and customers are going to like what we've been spending a lot of time on," he says. "I believe in our product and our growth. It's something to be proud of and to be part of. The customer base that we have is a large part of the Charleston's success. We have our niche, and we understand who they are – and who we are."