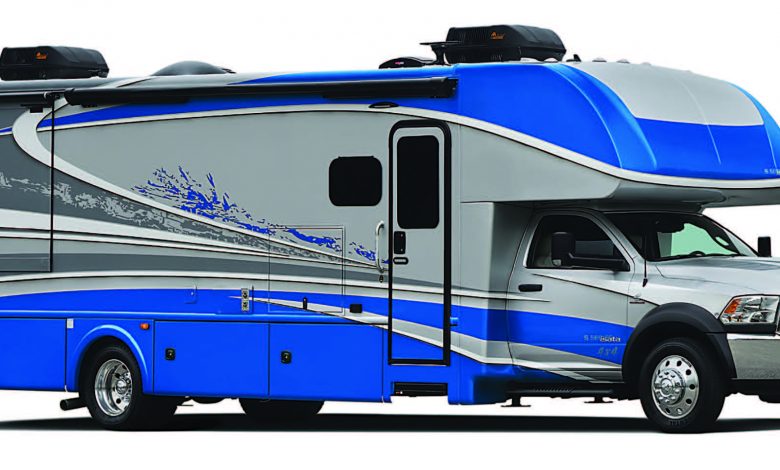 The market for Super C motorhomes is a fraction of the total Class C market – maybe 4 percent at best. But the allure surrounding this beefy diesel motorhome bolsters its place in the overall motorhome pecking order.
Just nine manufacturers competed in this niche market in 2017, although the segment is gaining new interest with every passing year. Since 2013, retail sales of Super C's weighing 19,500 pounds or more in North America were up a whopping 156 percent compared with a 113 percent sales gain for all Class C motorhomes, according to market data firm Statistical Surveys.
Stat Surveys data shows three major players are slugging it out on the North American Super C leaderboard. Through Nov. 30, Jayco's Seneca led this segment (19,500 pounds or more), followed by REV Group's Renegade and Forest River's Dynamax division. In the 26,000 pounds and above segment, the figures are tilted even more toward Seneca, followed by Renegade and Dynamax. That's Statistical Survey's reading on the market, although Stat Surveys President Scott Stropkai concedes that the reporting process is not flawless across the country. As a result, the major players supplement Stat Survey's "Spot Fire" reports with their own counting system.
For example, Jayco officials say its market share is closer to 40 percent. However, company officials admit that a two- month production halt in summer for a chassis switch bit into its sales potential. As a sidelight, both Renegade and Dynamax reps claim they gobbled up most of Jayco's lost market share.
Dynamax officials say a truer count for the 19,500 pounds and up sector would be Jayco 33 percent, Dynamax 29 percent, and Renegade 28 percent.
Whatever the numbers, all the players sense that the Super C market is growing.
Super C's are receiving exposure on dealers' lots "right next to a Newmar, a Tiffin, or a Winnebago Class A," says Kevin Erdman, director of sales and marking for the REV Group's Renegade RV division. "We are considered a viable alternative to traditional Class C's – or even a Class A. That has done much to help Super C products grow market share quickly. The exposure provides the opportunity to showcase the advantages that Super C products offer, including serviceability, safety and stability on the road."
Nic Martin, the director of product development for Jayco Motorhomes, agrees that the Super C is drawing buyers from the Class A motorhome market. "Depending upon what customers like to do, they're finding many of the same features in a Super C. Being a C in general, the way they sit in the cab is more intuitive as to driving; it's like what they sit in (an auto) every day. The same feel surrounds you."
Brian Clemens, manager of Forest River's Dynamax division, shares that sentiment. "The majority of our buyers are moving from Class A's to a Super C primarily to get the towing capability," he says, adding the safety factor of Super C's and the drivability also are key factors.
So, what's in store for Super C's in 2018?
Representatives for the three leading Super C makers recently spoke at length with RV PRO regarding what to expect while highlighting their respective offerings.
Jayco's Seneca: The Segment Leader
Jayco has parlayed a lot of special features into its Seneca, which for the past several years has led the Super C segment.
Jayco launched its first Seneca in 2005 on a Chevy Kodiak chassis, then switched to the Freightliner Custom Chassis Corp.'s M2 in 2012. In 2017, it adopted Freight- liner S2RV chassis.
"This chassis allowed us to overcome some issues with the Freightliner M2," says Martin, director of product development for Jayco Motorhomes. Improvements included increased horsepower (from 340 to 360 HP), improved transmission to the 3000MH six-speed Allison transmission with electric push shifter, and a single 100-gallon single-fill, between-the-rails fuel tank.
In addition, the gross carrying weight on the S2RV chassis increased to 38,000 pounds, which can accommodate a 12,000- pound hitch. Meanwhile, the chassis cab is modified to sit about 4-and-a-half inches closer to the ground and exterior storage also was increased.
The lone drawback to the 2017 S2RV adoption was about a two-month halt in Super C production until the model changeover in late July was complete. Still, the RV maker sold an average of about 30 units a month over the course of the year, Martin notes.
Jayco offers the Seneca in five floorplans, with one or more to be added for 2019. The newest layout, the 37K, is an offshoot of a popular Class A gas floorplan and has quickly grabbed the top spot, according to Martin, based on retail response at shows in Hershey, Pa., and Pomona, Calif. The 37K features a bath-and-a-half and a mid-ship, L-shaped sofa. The unit is segmented, so it gives a residential feel upon entry, Martin says. MSRPs on the 37K start at $238,000.
"As we studied the market segment, we concluded the only way to grow it is to attract people looking for a small diesel pusher Class A or higher-end A," he says.
Martin says what sets the Seneca apart from other Super C's is that Jayco offers the best value. Features include Jayco's patented JRide suspension, a Truma AquaGo instant hot water system, a Thetford Sani-Con Turbo macerator, two 15,000- BTU ACs with heat pumps, a drop-down front bunk with a 750-pound rating (the industry's highest) and the exclusive Garmin infotainment system.
Seneca is Jayco's only Super C brand. It has no plans to add another.
While Millennials are showing some interest in the Seneca, the prime demographic remains Baby Boomers who trust a known chassis builder that can pull all their toys, according to Martin.
While the Super C segment may be limited, Martin says he sees opportunities moving forward.
"There is a ton of room for growth and we will continue to see it grow," he says. "It's a unique platform. It's not going to replace the Class A diesel, but it's a nice alternative."
As for Jayco, he says, "We're right where we anticipated being."
Meanwhile, sister company Thor Motor Coach – which stood a distant No. 4 in the Super C rankings late in 2017 – was under- going some changes on the production side at the start of the new year. TMC's market share dropped – not because it stopped selling units, but because it stopped building new models.
Jonathan Krider, TMC's vice president of product development and marketing, explains, "We are building the Super C orders out for the 2018 model year, and we are working to revamp the product for 2019 MY."
Dynamax Super C's Seeing Strong Growth
Dynamax – the only division of Forest River that builds a Super C – has experienced excellent growth of late. From 2015 to 2017, Dynamax's Super C segment has grown 86 percent in unit sales of chassis weighing over 19,500 pounds, according to Clemens, Dynamax general manager.
"When I came here in 2015, we were barely building one a day. Now we're building eight a week," he says.
He bases the brand's growth on retail registrations that are reported directly to his office, a system he's devised that may fill in some of the gaps that occur in Stat Surveys reporting because not all states are consistent in their reporting to Stat Surveys. By his calculations, the Super C market can be divided among Jayco, Renegade and Dynamax, with each garnering about a third of the market.
Dynamax's Super C history dates from the start of the company in March 1997. It started building the Europa, which had a Class A-style body on an International chassis. Its first owners group was called the International Sports and Touring Association (ISATA). A little later, Dynamax came out with a Super C it called the Isata. The company's purchase by Forest River in 2011 only heightened customer expectations.
Today, Dynamax, produces the widest array of product among all the players. Dynamax's Super C lineup ranges from the three Isatas – the Isata 3 on a Mercedes Sprinter platform, the Isata 4 Series on a Ford E-450 chassis and the Isata 5 on a Dodge Ram 5500 SLT chassis – to the Force and DX 3, both built on a Freightliner M2 106 chassis, and the top-of-the-line Dynaquest XL built on a Freightliner M2 112.
At last year's Open House Week, Clemens called the Isata 5, "the holy grail of what people are asking for." Features include 10,000 pounds of towing capacity and almost 3,000 pounds of carrying capacity. The unit targets consumers who want maximum towing capacity but also want all the luxuries while dry camping. MSRPs for the Isata 5 start at about $176,000. The model was just going to market at the start of this year, but Clemens stands by his prediction.
"The Ram was supposed to be a supplemental chassis, but it's taken off real well," he says.
MSRPs in the Isata 3 and 4 Series start between $123,000 and $129,000, while MSRPs on the Force, DX 3 and Dynaquest XL start at $243,000, $299,000 and $361,000, respectively.
The Dynamax demographic is "all over the board," Clemens says. "We have guys in their early 40s with young kids all the way up to people in 70s and retired – and everything in between. Some are full-timers; some are weekenders. The price point excludes some people, except for our Sprinter-based models, but we do see some Millennials and younger couples." Lower-priced Super C's captured a big market share early on because RVers saw them as the most affordable Super C. However, some came to realize it did not tow what they needed, or the performance was not there, according to Clemens. "We've been seeing that for a couple of years," he says.
For that reason, Dynamax is going to take a "wait and see approach" on the Freightliner S2RV chassis and will focus on what it does well with its chassis of choice, Clemens says.
Clemens says the Super C market "is not an easy market to enter. If everybody (at Forest River motorized) jumped in, there wouldn't be enough business for everybody. It is not a high-volume product and our customers are very specific with what they need."
"In a large part, Millennials are discovering this industry at a faster rate than they did three years ago," he says. "It's become more significant and in general our Super C products are experiencing a huge market share gain, as the popularity of the type of chassis that the Renegade builds appeals to buyers that previously didn't know about our product. … Having that exposure is great validation that a Millennial should look at our product."
He adds, "Our business has exploded in the last three years. Our sales forecast shows that our volume will be substantially ahead by the end of our first quarter."
To be sure, Super C's offer many features that traditional C's can't. Erdman explains, starting with "heavier GVWRs, which means greater cargo capacity; larger fuel tanks than a traditional C chassis; more capacity to build bigger and stronger products that provide longer camping cycles – you don't have to stop periodically to dump tanks or get fresh water or fuel.
"With the chassis configuration, the engine is outside the passenger compartment, which gives a quieter, more comfortable and spacious cab. You get a larger engine with more capable transmissions. And you get the positives of a family-friendly C with more areas to sleep, including a cab-over bed that allows two more sleeping positions. Generally, people think a Class C is more compact but with some of our bigger products, we can go up to 45 feet."
Erdman says Renegade has been able to avoid price creep thanks in part to simplifying the production process. Most everything on Valencia is standard.
"We look at every feature and make hard decisions about what we can and can't afford to get maximum perceived value when the customer sees the finished product," he says. "We try to look at features that will make it hard for our competitors to follow. Our cabinetry is 100 percent solid hardwood; that's not easy to follow. The way we build our sidewalls and floors is unique. It creates product differentiation."
Erdman says the Super C demographic is "not all that different from Class A diesels. It's the same profile, but depending on product line, ranges from young families looking for sleeping capacity and storage to someone looking for every bell and whistle of a Class A diesel pusher.
What makes Super C's special is after RVers own one, they recognize that the serviceability aspect is different from a typical Class A gas or diesel pusher. Since the engine is in front, accessibility is much greater. It's easier to find service for that chassis – it's exactly like the last Freightliner truck that pulled out of the service bay. They don't have to go into the coach for service. Also, a safety aspect, all that heavy-duty frame and steel out front, protects the passenger." There is a theory that "pricier" RVs, such as Super C's, may benefit more than other RVs in light of the stock market boom, and explains in part Renegade's dramatic growth over the past year or so. Erdman doesn't disagree.
"It never hurts to have a booming economy," he says. "Go back to 2008-2009. Some manufacturers went away completely; some closed for a while and later came back. Renegade never closed; it continued to build. Renegade rebounded quickly, choosing to launch a premium-priced RV product first. It was a smart move and helped the company to recover faster."
For that reason, he says he doesn't foresee any other Forest River motorized division entering the Super C field.
As for the relative merits of a Super C versus a Class A diesel pusher, Clemens likes to point out the ease of service for his C lineup. Owners can even change their own oil.
Plus, everything can be serviced under the hood in a Super C, he notes.
"We've had people who have transitioned from Tiffin's diesel pushers for that reason – because they don't want service techs needing access to the bedroom for engine work," he says.
"It's more comfortable driving ours. It's a different feeling: driving 'behind the wheels' instead of driving 'above the wheels' seems more familiar," he adds.
Plus, the Super C gives the front seat passengers a 5-foot crash zone in the case of a collision and the driver and passenger doors are designed to be used daily, not just in an emergency, Clemens notes.
"We have four points of entrance and exit. The Super C chassis also has widest entry door in the industry."
"The biggest hurdle for us is capacity," Clemens says. "We could build more, but we have grown at a measured pace. If we ramped up too quickly, there is a risk of quality drop off. Every unit we build already has a buyer, as our orders are out to March 2019."
Renegade's Roots in Super C's Run Deep
Through November, Renegade RV's share of the Super C market had grown by 32 percent over the previous year, according to Erdman, Renegade's director of sales and marking. Some of that market gain comes from Renegade's Valencia, which it introduced at the Family Motor Coach Association's (FMCA) convention last March in Chandler, Ariz. Erdman says Valencia gained plenty of traction in its first year on the market. It's the first Super C built on Freightliner's new S2RV chassis. Renegade has been building Super C's since the company's founding in 1997 and dominated the retail market early on – thanks to its focus on motorsports and the instant preference among racing fans. Because Renegade's Super C's could tow large trailers, they became "the premier product at the country's race tracks," Erdman says.
Meanwhile, Renegade shifted its attention and efforts to developing affordable Super C products, adding Explorer, Verona and Verona LE models that broadened their market appeal at more affordable price points.
Renegade offered input on Freightliner's initial S2RV chassis concept that resulted in a better product, according to Erdman. With that, Renegade's Valencia was off to the races again with two attractive floorplans: the 38BB (bunk bed) and 38RW (rear wardrobe).
Still on the drawing board is a shorter Super C version on the S2RV chassis.
Valencia's MSRP ($235,000) is well below Renegade's established brands, which include IKON ($734,000), XL ($548,000), Classic ($480,000), Explorer ($375,000), Verona ($290,000) and Verona LE ($328,000). Renegade also offers Sprinter-based brands Vienna ($137,000) and Villagio ($118,000).
Still, Erdman stresses, "We're not the low-cost manufacturer. We're more of a custom builder." Nevertheless, "This product needed to be in a more affordable price point to be competitive with Jayco's Seneca and Dynamax's DX3 and Force," he says.
While much of the industry initially passed on the S2RV chassis, Renegade saw the advantages this platform offers – namely, the ride and handling characteristics that are RV-related and not truck-based. The S2RV front-engine diesel cab chassis caters to drivers who want the power and performance of a diesel without the cockpit of a conventional Class A.
Since Renegade's adoption, Jayco also has adopted the S2RV chassis for its Seneca for 2018.
"We paved the way and created the chassis. It's an interesting shift that someone is following us instead of us being the followers," Erdman says.
Speaking of followers, Millennials have discovered the merits of the Super C, which may explain in part Renegade's surge in 2017, according to Erdman.