Features
Best of Show Winners – Part One
This article is from our older website archives. Some content may not be formatted or attributed properly. Please
Contact Us
if you feel it needs to be corrected. Thank you.
ELKHART, Ind. – The sheer volume of new RVs on display at Open House combined with the dizzying array of special features and amenities, made for difficult choices when RV PRO's veteran editorial team attempted to narrow the massive list of contenders for inclusion in this special section highlighting what were determined to be RV PRO's Top 20 Best of Show units for 2020. This is Part One of a four-part series. Be sure to read parts Two and Three.
Newmar Supreme Aire 
Oh, the mystery of the Super C.
RV manufacturers knew that building on a truck chassis could make for a powerful vehicle that had the potential for an extremely smooth ride, but there wasn't an easy way to take advantage of that feature. As a result, they built the vehicles by separating the air cab from the chassis, resulting in a big hump between the cab and the living quarters and a rougher ride.
Until now.
With the Supreme Aire, Newmar solved the problem by using the type of accordion seals seen on some large buses to preserve the function of the truck chassis. But the seals are small and hidden away, so that they are unlikely even to be noticed.
The result is a 45-foot vehicle on an M2 112 Freightliner truck chassis with a 505 Detroit Diesel engine that can tow 30,000 pounds – and a smooth ride experience that keeps the driver in comfort and the contents in the back from any undue bouncing around.
"It makes for a smoother ride and allows you have a lighter cab top with the Sky View window above the driver's area," says Sales Representative Ken Williamson.
"It makes it so you can have a flush floor from the housing all the way through the cabin," says John Sammut, vice president of sales and marketing.
Supreme Aire is Newmar's second Super C, after last year's introduction of the Super Star.
Anyone thinking Newmar's legendary luxury might somehow be compromised by being on a truck chassis needn't worry. Supreme Aire is a full luxury coach with the look at feel of a top-of-the-line Class A.
Sammut explains that the interior of the Supreme Aire is based upon the Mountain Aire Class A motorhome.
He says that the vehicle will only be available to two dealers for the 2020 model year before potentially being opened up to more in the coming years.
Williamson points to a number of features and details that will be familiar to any Newmar devotee. All cabinets and drawers come with a soft-close feature that keeps them from slamming shut.
A large TV lifts out of its resting place for viewing or easily slides away for just looking out the window. In the kitchen, a two-seat table easily lifts up and pulls out an additional 12 inches, making from for two more chairs.
Supreme Aire, which also comes with the Silver Leaf control system, three air conditioners and a 19.7-cubic-foot residential refrigerator, has an MSRP of around $600,000.
What impressed RV PRO: Newmar's solution to making a truck chassis work for an RV is at once brilliant and simple. The accordion panel connecting the cab with the rest of the vehicle is completely unnoticeable to anyone who isn't actively looking for it. But the fact that it allows the manufacturer to take advantage of the ride-smoothing benefits of the chassis makes the Supreme Aire a Super C in a class by itself.
Winnebago Solis 
An RV is a manifestation of dreams. It's inherent in its very nature – the moment someone said, "Let's put a house on wheels." With the introduction of the Solis, Winnebago proves how much it is listening to its customer base and what dreams they may have.
A sister of the Travato Class B, the Solis was influenced by adventurers (like a utility light on the exterior to see hookups). In particular, one filmmaker enjoyed traveling to the beach and staring at the stars, so he custom-built a roof to do so.
That input is instantly noticeable with Solis' fiberglass pop-top, which expands into a well-cushioned sleeping space with panoramic views for two adults. The roof bed utilizes a Froli Sleep System designed using quickly adjusting springs, invoking a floating feeling, so users can sail into space.
The all-weather Solis was constructed with adventurers in mind. It boasts what Winnebago Corporate Trainer Anthony Kelindoi refers to as a "surf-to-slope" design.
"You want to be able to use it in any situation," he says.
The rear annex floor is comprised of a honeycomb vinyl material that can be sprayed clean after, say, surfing or snowboarding. Other Class B's may incorporate lauan wood, which wouldn't make that possible, according to Kelindoi. And changing into gear between activities is made easier with a rod extension widening the rear doors and a durable privacy screen that runs across it.
The automotive-grade insulation and waterline routing helps with heating dramatically. The efficiency is increased by a standard, 220-watt Xantrex solar panel and a Truma Combi Eco heating system.
All plumbing sits above floor and rinsing off after a swim is simple in the wet bath equipped with a Thetford cassette toilet. The kitchen includes a two-burner range top from Suburban and a 12-volt, compressor refrigerator for high altitudes and multiple level angles. A lighted glass tube in the galley indicates where water levels are for a more accurate read – no electric interface to know gallon count. Two molded bench seats are extra comfy despite their rugged appearance, with cream-colored Ultraleather sewn with "W" patterns all across.
Built on a RAM ProMaster 280-horsepower chassis, the Solis sleeps up to four adults and has an overall European design. A Murphy-bed in the back is comprised of slats and converts from a table with cozy cushions spanning the 6-foot-and-4- inch interior width. Zip screens on all the windows achieve full blackout for uninterrupted sleep.
The Class B has an MSRP of $100,667.
What impressed RV PRO: Winnebago has listened to its Class B customers to arrive at a product line that makes it possible to venture anywhere. From the magnets on the ceiling for the cabinet doors to eliminate the head-bump factor, down to the ample space throughout the entire camper, the Solis will have heads turning with its sleek, youthful, and minimalist design.
Fleetwood RV Discovery LXE 
The 2020 Discovery LXE was the hidden jewel of Open House. It was created solely for the event to garner dealer reaction. Company reps say people were blown away by the total package. So much so that Discovery manufacturer Fleetwood RV will produce several more for 2020 and make the Enclave décor standard for 2021.
The big attention-grabber, however, was its new Class A chassis.
"We took what we knew from the Liberty platform and from the Power Bridge platform and brought those concepts together in one bridge platform," says Doug Miller, Fleetwood RV's product sales manager. "The Huckbolts have to fit within one-1000th of an inch in every location for exact precision."
That sentiment encompasses the overall marvel of engineering that has gone into the Freedom Bridge.
The chassis represents the only use of Freightliner Custom Chassis' XCM in this form – a fully integrated bridge and chassis system in the modular concept. For one, the 26-inch- tall, pass-through exterior storage capacity is enormous, with slide rails integrated into the floor. There are features aplenty: aerospace-grade Huckbolts to significantly decrease vibration; dual-sided fuel fill for the 100-gallon tank; premium SACHS shocks found on brands like Mercedes-Benz, as well as V-Ride rear suspension; and double-thick flooring to deaden exterior noise from the road.
"We could have done the cookie-cutter chassis, but we chose to go completely outside the box and create something all on our own," Miller says.
And then there's the mesmerizing interior.
The Enclave décor (limited for 2020) is like stepping in an opulent, oceanside mansion. The 40M floorplan's bright white with hints of blue and instantly calming. Those colors are teamed with Greystone wood cabinets and celestial gray accent walls. Rustic plank flooring with a matte finish is illuminated wonderfully by the ceiling lights seven feet above. All of it is tied perfectly by the new abstract wall art and accent pillows.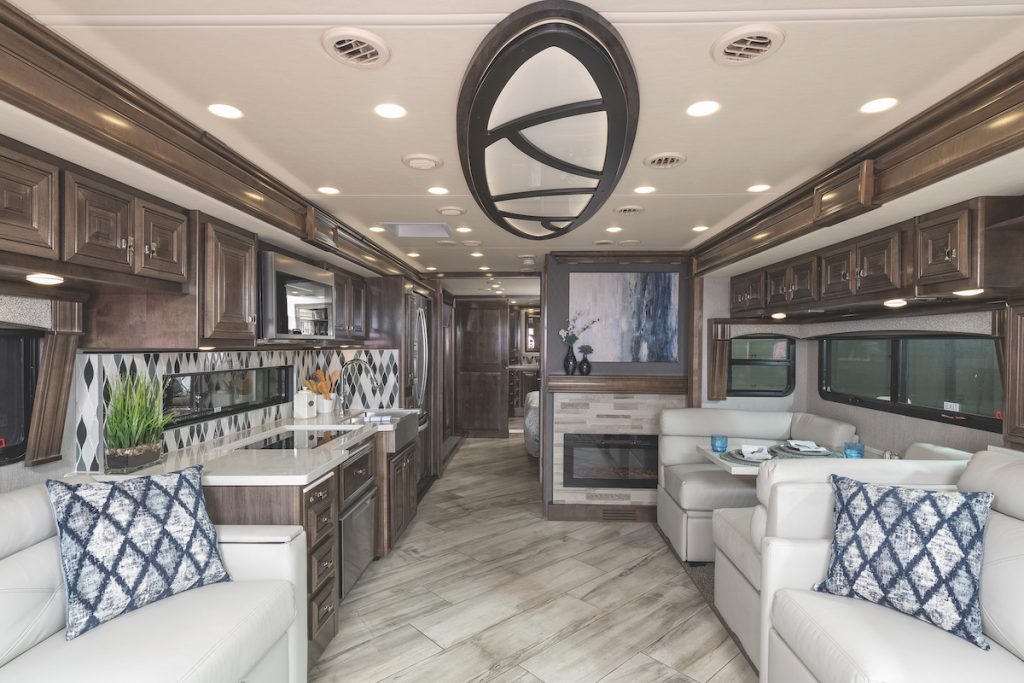 As for kitchen in bathroom, there's his and hers sinks, as well as a shower with a seat. Other features include a residential Whirlpool refrigerator, an Aqua-Hot 400D system, custom Apex furniture, a dishwasher, and an electric touchpad controller that's dually operated by a phone App.
"The intent wasn't to build (these units), just to get feedback on the décor," says Miller.
However, the Open House display was sold to the second dealer who walked in, and the orders piled on shortly after.
The MSRP for the Discovery LXE is $372,753.
What impressed RV PRO: In a year where stylish yet heavily gray interiors can be seen across many brands, the Discovery LXE with the costal retreat interior is stunning. While the 25 units of this limited edition are bound to go quick, the new interior will become a regular option for 2021. Regardless, the Discovery LXE on the Freedom Bridge is destined to marvel in whatever décor option.
Renegade RV Vienna 
The Vienna by Renegade RV reinvents what can be done on a Class C chassis. From the plush Murphy bed that pulls down from a sofa to the European-inspired cabinetry, the Vienna delivers a roomy space for adventure at an excellent price point (the MSRP is $160,000 fully loaded).
Although the product line debuted in 2017, three years later it feels like something entirely new.
"What Renegade RV did not do is take away from the DNA that they have in their $750,000 Class C's," says Chris Cook, regional sales manager. That includes the curved, hardwood maple cabinetry. The care and space-utilization are self-evident upon stepping through the keyless entry and onto the woven vinyl floor that was inspired by the marine industry.
The motorhome features a multiplex electrical and lighting system that can be controlled via smartphone App, and there's a 3.6-kilowatt LP gas generator with remote start, as well as an optional 3.2-kilowatt Onan diesel generator by Cummins. "If the temperature drops down in the coach, the auto, diesel generator will turn on and get it back up," says Cook. The same goes for setting a timer on the generator, say, if camp sites have a quiet policy after 9 p.m.
"We were able to come up with a system that works for the diesel, which nobody else has," says Dwayne Kazmierczak, national sales manager.
The features are nonstop in the Vienna, which is built on the Mercedes-Benz 3500 Sprinter chassis. A full-sized shower and mini-king-sized bed go the extra mile, proving how well
Renegade RV understands space.
Cook calls the kitchen a "full-wall slide on steroids" with decently sized counterspace. It also includes a two-burner stovetop by Dometic. (A single-burner electric induction cooktop is optional.)
With space in mind, the 2020 Vienna is outwardly distinct from past models, aside from the dual-pane, frameless windows. The cabover bed design above the dashboard offers a 48-inch by 80-inch sleeping berth, replacing the dedicated storage and aero cap. And Truma AquaGo runs throughout. Other features include a crowned, one-piece fiberglass roof to help prevent leaks and four-point, automatic leveling jacks.
All of it adds up to a unit with significant bells and whistles. But how does that translate into quality?
"Our warranty percentage right now is at 0.4 percent," says Kazmierczak. "That is top-notch. There are people that will question that number, but that is straight up."
What impressed RV PRO: Introducing a new product line is one thing. A serious revamp that heightens the DNA of a strong brand like Renegade in a two-year period – that's next level. The Vienna Class C hits that sweet spot for a variety of customer demographics and feels plain-good to step into.
Sunseeker 2400B 
Sunseeker/Forester is now offering what some could consider the safest Class C diesel in today's market. That's because the Forest River division is building 2020 models on Mercedes-Benz's new Sprinter chassis, which features a safety system typically found in high-end luxury cars.
The Sunseeker 2400B model – a complete overhaul of its best-selling 2400W – also features a lane detection system device distributed by ASA Electronics that alerts the driver when vehicles are approaching from either side in the driver's blind spot. It's an aftermarket product that Sunseeker/Forester is installing as original equipment.
"We're the only Class C manufacturer that does that. Safety is very important to us," says Kary Katzenberger, sales and product manager for Sunseeker and Forester.
The new Mercedes chassis also prompted a complete redesign and overhaul for 2020, Katzenberger notes.
"Due to the new Mercedes chassis, we were allowed to lengthen the chassis by 4 inches, so it allowed us to get more storage in it. The back wall is now a fully enclosed hanging wardrobe dresser area," he says. "We've increased the storage 10-fold for the customer. It's phenomenal what we've done with that floorplan."
The new chassis also led to a new fiberglass front cap, side wings that make the coach more automotive-looking and an integrated new rear bumper. The 2400B also features a new paint color.
At Open House, Katzenberger says the Sunseeker's aggressive pricing surprised its dealers. MSRPs with options will run between $110,000 and $115,000. (MSRPs on the sister Forester version will be around $115,000 to $120,000.) That's well below competitors using the same chassis, according to Katzenberger.
"All of our competition coming out with the new Mercedes chassis are increasing their prices by 10 percent to 20 percent," he says. "We've been super aggressive in dealer and retail pricing.
We're just going to be very competitive. We've always tried to put the best product out there for the best value.
"We're always very conscious of our pricing, with the redesign of our interiors, trying to get a little more European automotive look, two-tone Euro cabinetry, more of a frameless cabinetry look," he adds. "That, along with all the storage, we're just really excited about this new floorplan, not to mention it's also available in our B-plus Trekker cap option or a standard Class C cab over sleeping option."
Katzenberger expanded on the pricing feature.
"The Sprinter market has been really, really competitive," he says. "Some of our competitors have done a really good job at higher price points. But at the end of the day, is everybody going to be able to afford that high price point? We don't think so. We've always tried to go after meat and potatoes and still want to give them a really good product without breaking the bank."
Sunseeker began shipping the first 2400B's to dealers in late September and will begin full production this month.
What impressed RV PRO: Improved safety is a big feature of the new Mercedes-Benz Sprinter chassis, but Sunseeker took that aspect one step further by adding its own lane detection system. And the fact that Sunseeker/ Forester is able to offer the many features found in the 2400B model is commendable.
Entegra Qwest 24R 
The Qwest 24R might not be as long or as mighty as some of Entegra's Class A models, but the Class C might just surprise a potential customer upon first look at the inside.
Checking in at a little over 25 feet long, Qwest is built on a Mercedes-Benz Sprinter chassis with a 188-horsepower diesel engine.
But it's the spacious interior that really does the selling. On the driver's side of the vehicle, Qwest has a full-wall slide that includes a dinette with stow-away pedestal legs, as well as a sofa.
The big surprise is that behind the sofa is a queen-size Murphy bed that folds over the sofa to function as the main sleeping area of the coach.
It's hard to overstate how much this hideaway function opens up the floor of what otherwise isn't much bigger than a large Class B. It is built on a Sprinter chassis, after all.
But because of the bonus space provided by folding the bed into the wall, the design also allows for a large bathroom across the back end of the Qwest with a 24-by-32 shower and porcelain toilet in a dry bath setup. The shower includes a skylight, which adds headroom to the area.
Pretty much everything else for the living area is lined along the passenger-side wall, including a pantry, an 8-cubic-foot refrigerator, a microwave and stove and a pair of overhead cabinets.
"It's a premium product under the Entegra name," says Ryan Eash, director of product development for the Jayco Motorhome Group. "It is really versatile and gives you the best of both worlds with space for entertaining and for sleeping."
Safety features include GPS, anti-lock brakes and lane-assist system. Standard external features include a 1,000-watt inverter, a 3.6-kilowatt Onan LP generator and two 12-volt house batteries.
Qwest can come with an optional B-plus front cap with windshield to give added storage space in place of the standard overhead bunk above the driver cab. It also has three options for full-body paint scheme.
A customer value package includes features such as a backup camera with monitor, tank heating pads, swivel driver and passenger seats and an armless electric patio awning with LED light strip.
Qwest's MSRP is about $149,000.
What impressed RV PRO: Qwest isn't a small Class C, but the use of a Murphy bed makes the coach seem even larger than it is. Given the spacious feel that is created, it's a wonder more manufacturers don't take advantage of this.