Features
BGS Stays on the Cutting Edge
Burlington Graphic Systems delivers its standout graphics for RV exteriors using innovation, informed design trends and an artist's eye.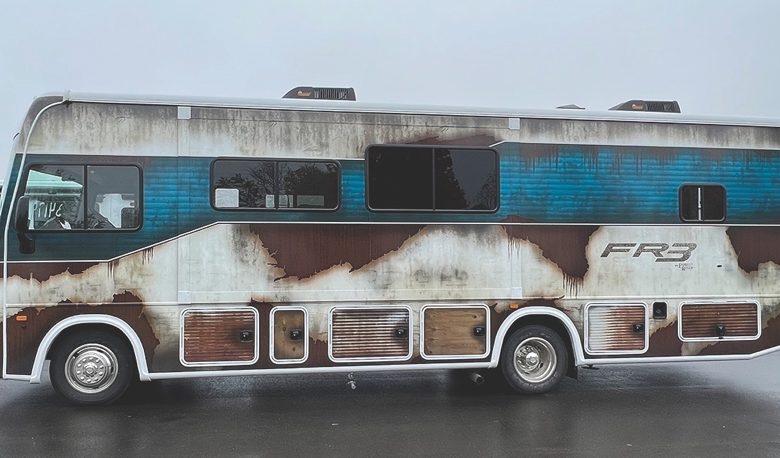 Being on the cutting edge – literally and figuratively – Burlington Graphic Systems (BGS) designs and produces the many decals and stickers that adorn the sides of RVs today, working closely with manufacturers large and small to deliver what's hot and trending, keeping tabs on market changes and dictating many of those developments as an industry innovator.
"When it comes to the RV manufacturers that we have as customers, it would be easier to list those that we don't have," says Doug Graham, vice president and general manager of BGS, who leads the company's Elkhart, Indiana, operations, which is comprised of two facilities that service the RV and marine markets, including a new 7,500-square-foot showroom and design center, as well as a new state-of-the-art manufacturing facility.
"Our hands touch every manufacturer at some level with some brand," Graham says.
Sixty percent of BGS's business is for RV manufacturers, 20% is marine, while the remainder is OEM, such as for Harley-Davidson and Case New Holland Tractors.
Most of BGS's RV printing is done via a screen printing press, though there is also digital printing.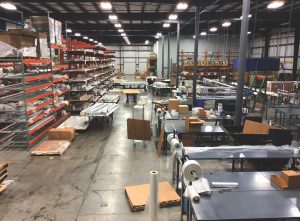 "Just imagine a massive printer sitting next to your computer that's capable of printing vinyl stickers large enough for the sides of RVs," he says, adding that the vinyl comes in two varieties: printed and non-printed. The company has two dozen stock colors – reds, blacks, whites, grays, etc. – for which there is no printing, only shapes are cut. Screen printing, on the other hand, involves applying multiple colors onto the vinyl for the "print effect" seen on sides of RVs. Screen printing is applied to white vinyl.
Graham is quick to note, however, that BGS also offers "dimensional products," which are often referred to as autochrome, best described as car badges, such as those found on hoods of vehicles as a 3-D nameplate. The majority of those products are how BGS services the marine market.
In addition, BGS also recently purchased new equipment to print and produce caution-warning and alert stickers – notifications for exits, fire alarms, GFI (ground fault circuit interrupter), etc. "It's the non-glamorous, non-sexy commodity end of the graphic business that we've been attacking for the past 12 months."
Playing it close to the vest without giving away too much to competitors, Graham says the best way to describe the creative process for their products is that BGS is a "design company, first and foremost, and our designs just happen to be applied for stickers – design is how we win business. Nobody comes to us and says, 'Here's a design that we need you to produce for two years.'"
Market Differentiation and Innovation
Where does BGS stand among the competition – good, better, best?
"Best," says Graham without hesitation. "We're the market share leader in the RV industry for designing graphics. That's undisputed. I've actually been using the term, 'boutique design house,' lately. The manufacturers leave it up to us to drive and develop design as the experts."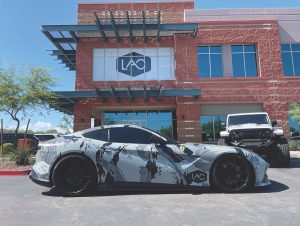 BGS customers typically provide a budgetary range that they're trying to keep their graphics package within. For example, a stick- and-tin product line will have the lowest spend on graphics, while a fifth wheel toy hauler will have the highest.
"We'll come up with a design based on a manufacturer's budget constraints," he explains, but adds that there is no design fee. Clients are charged for BGS's end products applied to every unit.
"We design for many people, and we might not win them all, but our designs are free of charge knowing that the end-game is to get the graphic business," he said.
And while the RV world and other industries were impacted by supply chain challenges after the onset of COVID-19, BGS was well positioned to absorb any hiccups and keep producing for its clients, thanks in part its vinyl developed in partnership with a supplier.
"We kept our entire customer base stocked with product," Graham says, "and as a result, business grew exponentially. We are the only graphics supplier that uses a product called Arlon, while the rest of the competitors are using 3M."
Arlon was the pioneer of air-egress vinyl technology, which eliminates bubbles during sticker application, initially and specifically targeting the stick-and-tin market approximately 15 years ago.
"Arlon developed that technology with BGS, and now 3M and everyone else is using it," Graham says. "However, we're Arlon's largest customer, and we have exclusive rights to that material for the entire RV industry."
In addition to preventing bubbles, Arlon is also easier to apply.
"Not only is it a premium product, but it's also made in the United States. In lean times with supply chain challenges, 3M could impact the industry negatively much quicker than Arlon, for which the RV industry is its biggest customer. During times such as the pandemic, 3M will supply the automotive market before they'll supply the RV market. Arlon is dedicated to us."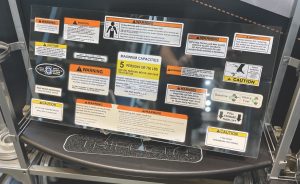 For more than 35 years, BGS had been a graphics supplier only. Today, it also has a full installation team. "We have five installers on staff, and we're pushing into the world of full-vehicle and trailer wraps (using similar vinyl used for its stickers), covering every square inch of a unit as an alternative to full-body paint, which has a process that's very constrained. There's not enough capacity in the market to paint everything that everyone wants painted – cost is high and repairability in the field is extremely expensive."
By comparison, he says, full-body wraps are faster and less expensive with a better design than paint. They also have easier repairability. If there's a tear in the wrap or damage, often times it can be simply repaired using a heat gun.
"This is our biggest growth opportunity in the future – and one of the largest shifts in design coming for the next few years. It's completely taken over the automotive world, and it's time for it to take off in the RV industry. And we're the only supplier ready for it with an entire facility in Elkhart to accommodate it."
BGS also has a new retail full-body wrap center for a variety of recreational vehicles, as well as cars.
"Wraps are literally like installing sheets of wallpaper," Graham says.
How the Design Process Works
Typically, an RV sales/product manager might decide to change the exterior appearance of their product and will begin the design process with BGS's team of artists.
"Sometimes the product manager will give a lot of direction, or none, as to what they're looking for. They'll usually tell us what color palettes they prefer, and if they like a linear or a 'Nike swoosh' look. Our artists will then begin designing a product template – which can take up to 40 design variations, or we nail it out of the gate, and it just becomes a revision process. It's usually a three- to four-month process," Graham says.
"Our entire design team lives what we're designing by staying close to trends and keeping a finger on the pulse of what's coming next."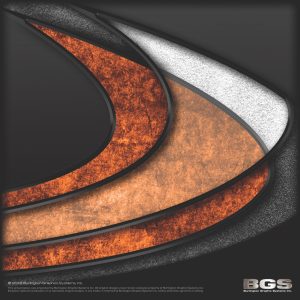 The prototype follows. Once a design is agreed upon, a complete set will be printed and BGS's team of installers will work with a specific product line's' plant to apply the "proto-package" on an RV's exterior. At that point, a manufacturer's operational team becomes involved and might make slight changes depending on their specific production line assembly.
"They'll either sign off on it or it might return for revisions ­– or we might start over from ground zero."
Revisions can include color changes, size alterations and removal of design content once it's on a unit and the manufacturer deems it unnecessary. Front caps, especially, where the parts transition from a unit's front to side, is where there's potential for considerable revision.
Design and Showroom Center Innovations
When BGS begins its design season for next year, it will have installed a life-sized, 50-foot video screen – think New York City's Times Square – in its showroom that features 3D capabilities to allow for real-time designing and tweaking. It will also showcase BGS's portfolio for prospective customers.
"The real win is going to be the reduction in prototype time," James says. "Right now, we're showing designs to customers on computer screens, which has to be visualized as applied to a life-sized unit – it's going to be a game-changer for the industry."
How RV Decal Design and Colors Have Evolved
Since Graham has been in the business, he says shapes and colors have remained constant for as long as he can remember, ebbing and flowing over the course of time. However, approximately five years ago, BGS began pushing the trend of linear designs. But that, too, is coming full circle, now.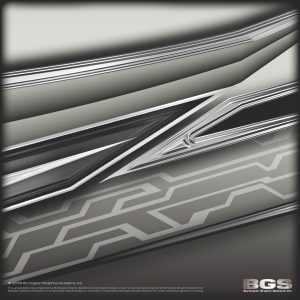 "The industry went from the 'Nike swoosh' to more of an 'Adidas' look, which is the simplest way I can explain it. As a company, we stay really close to what's happening in the automotive space, and we bring those trends to the RV industry. Now we're cycling back to the more traditional 'swoops,' though colors have remained similar for 35 years, such as blue, which is always a hot-button color. But in the past five years we've seen people moving toward more monotone colors – blacks, grays and silvers – that we still see today."
Graham notes, however, that the largest recent development has been the emergence of matte and satin finishes that have a "flat" appearance, rather than high gloss. Again, he says, this is reflective of what's trending in the automotive industry. "But we also pay attention to what automotive is doing with wheels, as well as interior design trends as far as stitch patterns are concerned in seats and dashes – we try to bring all of those elements into our exterior design flow."
Quality Control and Testing
BGS conducts full-weather and UV testing on all vinyl that's delivered to its manufacturing facilities. Before any products are printed or cut, they are subjected to stabilization testing.
"Every roll of vinyl that comes in we test and keep a retain (sample) so we have the ability to go back to it if there's a problem that arises in the future," Graham says. "I can tell you, though, that the number of customers that call with issues is basically non-existent. Our warranties either meet, or exceed, a manufacturer's warranty on any given unit. Any warranty-type situation that might occur comes only from application processes."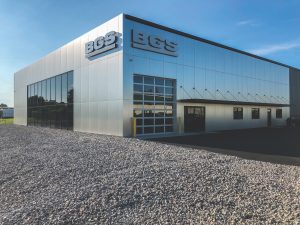 Continuous improvement is built into the company culture.
"We're always striving for a better product, newer and cooler products – and excitement," Graham says. "We're a lifestyle company, from RVs and boats to motorcycles and golf carts and more, we develop synergies throughout the leisure spectrum and cross-pollinate among our customers' interests and products.
"From a design standpoint, we're really good at those sweet spots and at what we do."