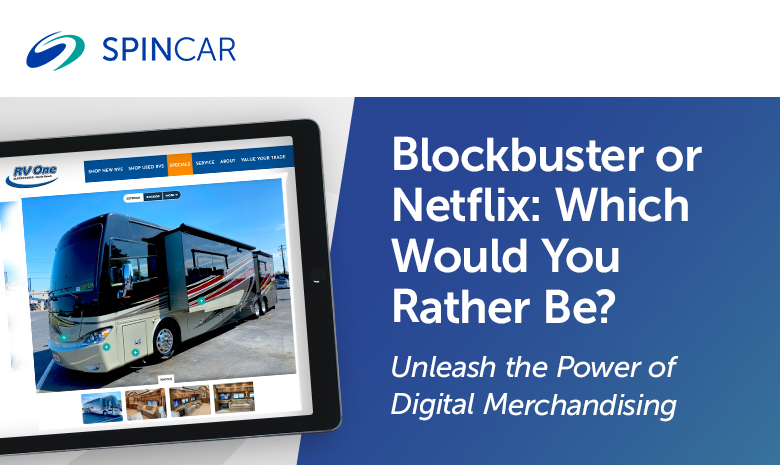 Sponsored by SpinCar
We all know the story of how Blockbuster scoffed at the arrival of Netflix. Now one is defunct and the other is worth billions. In every shopping category consumers have come to expect personalized and immediate online experiences, and RVs are no exception – not when shoppers can get a 360° view of a $99 pair of sunglasses!
Today, the average consumer spends almost 80 percent of their shopping time online, yet vehicle sellers typically allocate only 15 percent of their operational budget toward digital capabilities. Too many dealers are failing to make adequate investments in a predominantly digital landscape.
Simply put: Your website is your new front door and your best salesperson. If you're not spending as much time walking your digital lot and investing in it as much as your physical lot, you are missing out on massive opportunities to capture shoppers and drive sales. Join us and learn how to maximize your virtual showroom results with digital merchandising.
In this webinar with special guest Jim Jabaay, SpinCar's VP of Specialty, you'll learn key strategies to help you transform your digital showroom. Some of the items we'll discuss:
How disruptive consumer behavioral changes are changing the way shoppers use and evaluate your website
Steps to significantly improve and streamline RV imaging quality and processes
Digital merchandising best practices and tools proven to increase engagement and conversion rates
How to harness digital footprints to understand and proactively address shopper needs
To view this informative SpinCar webinar on-demand, click here.
About the Speaker:
As Vice President of Specialty, Jim Jabaay leads SpinCar's growth in specialty sectors including RV, powersports, marine, commercial trucking and heavy equipment/machinery. Jabaay is a 20-year industry veteran and previously served as President of LotVantage, a leading provider of digital marketing solutions for specialty dealerships and auto industry service providers. A prominent speaker and thought leader, Jim has been a featured presenter at Digital Dealer, America's Powersports Tradeshow (AIM), and the Marine Dealer Conference and Expo (MDCE).