Features
Broadmoor RV SuperStore Sees $50M in Annual Sales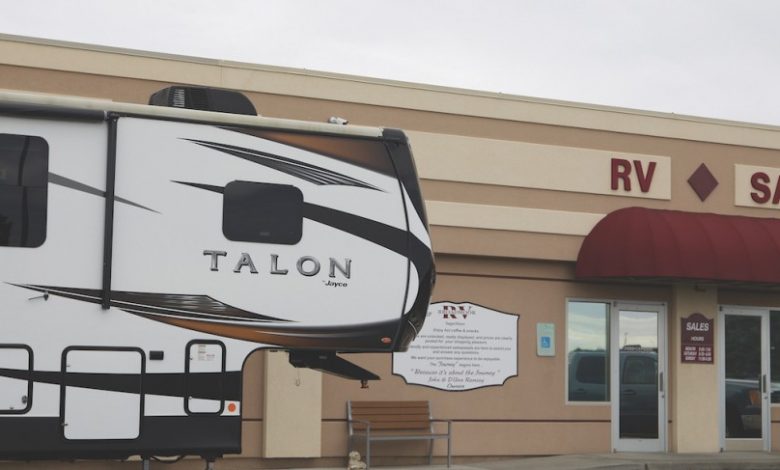 This article is from our older website archives. Some content may not be formatted or attributed properly. Please
Contact Us
if you feel it needs to be corrected. Thank you.
Not every RV dealership can say it started its business in shipping containers. However, that was the case for family-owned and family-operated Broadmoor RV SuperStore, located in the southeast corner of Washington in Pasco, part of the Tri-Cities area that also includes Kennewick and Richland.
A rocky start for the dealership began in 1997, when the construction contractor responsible for its initial facility ran into permitting issues and, as a consequence, the business had to relocate into containers across the street – at a factory outlet mall.
"A mall isn't exactly conducive to RV sales and parts service," says Debbie Hughes, public relations specialist for the dealership.
"And due to the desert environment of the region – unlike the Seattle area, which is typified by the ocean and trees – we get horrendous windstorms, especially in the spring."
In hindsight, it may have come as no surprise that the fledgling dealership was then greeted at its temporary location by the Easter Morning Storm of 1997, as it's regionally known, which added insult to injury.
"The storm decided to relocate some of the travel trailers we had set up, but not tied down – it was a lesson learned," Hughes says.
As the Latin proverb states, "Fortune favors the strong," and Broadmoor RV recovered and soon acquired 2.5 acres that straddled a major highway. It now sits on more than 22 acres (for comparison, the average size of competing dealerships in the area is 6 to 10 acres, according to General Manager Travis Blake) and sees $50 million in annual sales.
"We always say we rose from humble beginnings," Hughes adds. "We meet our customers' needs, and owners John and D'Ann Ramsey began this business with the motto, 'Enter as strangers, leave us as friends.'"
Today, Broadmoor RV sells 1,600 units annually and presently keeps an inventory of $14 million (about 600 units) and has 88 employees.
It is braced for more headwinds, however.
Blake – who began his career 11 years ago as a part-time shop technician then progressed to sales, followed by finance and sales manager positions, until he eventually landed the general manager role last year – says the downward industry trend in overall sales concerns him, but it was to be expected.
"We saw it coming. The industry has been ramping up for years and it had to take a dive at some point, and we've adjusted accordingly, though we were hoping for more than the recent 1/4-point reduction in interest rates," Blake says. "We're walking a tightrope, just like everybody else and concentrating on the customers and service we have right now."
Broadmoor RV's bread and butter is in travel trailers – half-ton towables and fifth wheels – although it has also been investing in ultra-lite units recently.
"We get a lot of first-time buyers," he says. "And we've focused also on our service department because we want them to come back to us for their third, fourth and fifth RVs – and quite often they do."
Northwood has been a staple manufacturer since the beginning due to its Northwest region location in Union County, Ore., and the dealership took on the Outdoors RV line when Northwood acquired Fleetwood's towable factory in La Grande, Ore.
"It was a natural fit," Hughes says.
Additional manufacturers featured on the sales lot include Jayco, Keystone RV, Heartland, Forest River, Coachmen, KZ RV, Highland Ridge RV and Winnebago for customers who enjoy the region's many private parks.
Service Department a Pillar of Success 
Service has become an integral part of the dealership's growth and expansion, and has grown hand in hand with sales, which is paramount to having a balanced dealership to serve its customers, according to Hughes.
"We knew there was more need in the area for service bays and getting RVs in and out. We can't sell 200 units in a month and not have the bays to get them ready," she says.
Broadmoor RV features 52 outdoor bays, 38 indoor bays, four delivery bays and two PDI bays, as well as a full-sized Nova Verta paint booth that can house up to a 45-foot unit.
"There's nothing we can't do," Blake says. "We perform a lot of insurance work with our full-service collision center, where we spray PPG paint sourced from Wesco. And we have specialists in every other discipline, from HVAC to electrical to plumbing."
Hughes adds that RVers are increasingly seeking TVs in their units, so installing receivers, dishes and related components are good for business, as is the trend of today's RVs having residential refrigerators with invertors, and CPAP machines, for example.
"We're heavy into solar installations and we're starting to get into lithium-ion conversions for batteries, too, which have really taken off for us," Blake says.
RV customization has become a specialty in the service department, capitalizing on its technicians' expertise and ingenuity. Custom work has included installing a full-wall slide-out by removing the entire side of an RV and reinstalling a gate on a toy hauler so it drops off the side, rather than the back.
"We've also built complete food service trucks for businesses from scratch," Blake adds. "Our first customer came to us with the build proposition, then word quickly spread for similar jobs after its completion."
For those RVers traveling from out of region, the dealership also has overnight accommodations for customers who need to wait in their units while parts are delivered for service.
"Without a doubt, we take care of warranty work for any manufacturer we carry, regardless of whether or not they bought from us," Blake says, "especially when they're away from home and need help. We try to cover everything and everybody."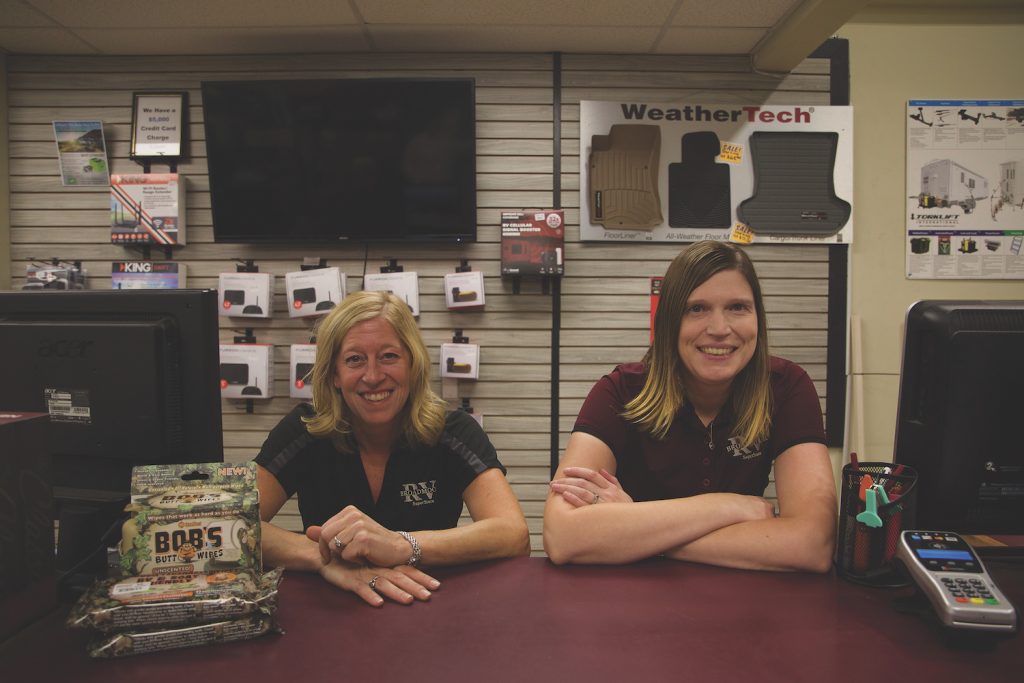 Sales Consultant Angel Musick (left) and Finance Manager Molly Swan (right) share a laugh at Broadmoor RV.
Sourcing Technician Talent, Focus on Training 
Of its 18 service techs, 11 are factory-certified and trained master technicians – all of whom are required to meet annual training requirements and have pay plans incentivized to obtain training.
"Great techs are hard to come by," Blake says, although the dealership has been proactive and reaches out to four community colleges that are within 80 miles of Pasco.
"We contact their automotive and industrial arts instructors to let them know we have openings for men and women who can work with their hands," Hughes says. "If they want to do automotive painting, they can do the same with RVs. Similarly, if they're interested in electrical, then there's plenty of opportunity in this industry. We're looking for people with those aptitudes because it's becoming a dying breed. Not everyone wants a desk job – we just have to get the word out that there are careers in those fields."
Staff members from various departments attend the RVDA's RV Dealers Convention/Expo every year.
"We take a large number of employees – it's great training for everyone," Blake says, adding that, in the past three years, Broadmoor RV has received the Top 50 Dealer Award at the event.
Typically, one or two employees from each department will make the trip in order to gather as much information as possible, then return and share what they learned with their staffs. Every Friday features a managers' meeting, where each manager is held accountable with one another to ensure that training is being taught and executed.
"I mandate that they take notes at the convention so the others can learn," Blake says. "It works well for us and we get the most out of our investment."
Broadmoor RV's focus on providing top-notch service also extends to its 23,000-square-foot retail store. The operation features max/min stocking in partnership with NTP-STAG, resulting in maximized space and part availability in its $640,000 parts and accessories inventory.
"NTP keeps a very close eye on what comes in and what goes out," Hughes says. "We never have an empty peg – the system works very well.
"They also assist with store floor planning and layout all of the time. They'll come in and do a complete floor set for us," she adds. "And they just installed slat-wall displays in our delivery bays to show customers items like starter kits as they do their walk-throughs. NTP gave us the manpower to do that – and it looks great."
Culture Built on Family & Community 
All employees are part of the Broadmoor RV culture of family and community, which includes monthly company breakfasts where departments take turns cooking for everyone, and team-building exercises. All employees receive health benefits, vacation and a 401K savings plan.
"We have very generous owners," Blake says simply.
Broadmoor RV also has had a strong partnership with the Special Olympics in the Tri-Cities area, making sure the dealership helps meet the group's needs and sponsoring an annual torch run. This year, the dealership has made a larger commitment.
"We discovered that Special Olympic athletes have had to travel to the Seattle area to participate in the spring and fall games, so we reached out to see what it would take to bring the games to our area," Hughes says. "And now, it's going to happen in November. It's a huge deal for the athletes and their families because of travel costs and some participants do better in their own environment, as well as the family and friends, who couldn't typically travel to the other side of the state, can now attend to cheer them on."
The torch relay, a polar plunge, a kickball tournament, a golf tournament and other events have raised in excess of $100,000 for the Special Olympics this year alone.
The owners also established an endowed scholarship to keep children in school, and Broadmoor RV is the official sponsor of RVs for the Tri-Cities annual hosting of hydroplane circuit races. And there are more, including partnerships and donations with basketball tournaments and rodeos.
"Those are just the big ones," Hughes says, "there's a whole bunch of smaller ones."
The dealership also supports employee families and their interests, such as helping Little League teams with donations.
"We want the community to under- stand that, without them, we wouldn't be here," Hughes says. "It's a great environment to come to work to."