Features
Can-Do Duo Form
Tested by the COVID-19 pandemic, the supplier has bounced back stronger than before, expanding its OE offerings for RV bathrooms and broadening its line of aftermarket products.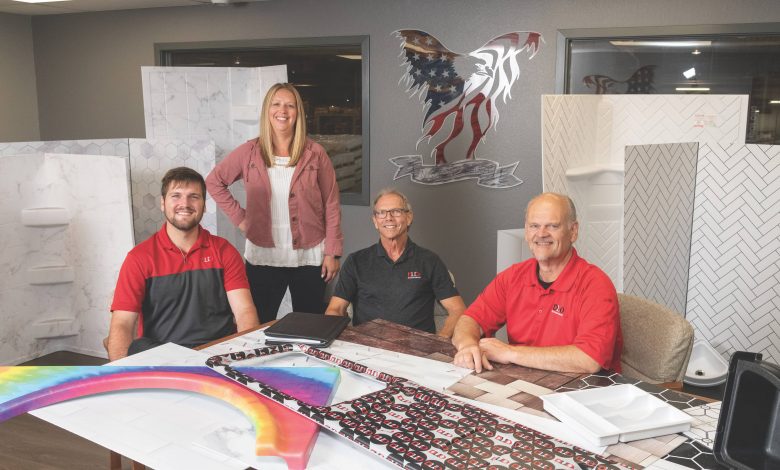 As the country comes out of the worst pandemic in a century, many businesses are beginning to realize the new "normal" may not be the same as the old normal.
Duo Form Plastics is one company where the old "normal" of supplying RV OEMs was already evolving with more versatile products and new production techniques. However, since March 2020, new leadership – and a quick move to making personalized protective equipment – has contributed to the birth of many other products.
And, while the privately held thermoforming company will continue its evolution in OE items as it builds its repertoire of RV products, it has its eye on the aftermarket as well.
A Bathroom Staple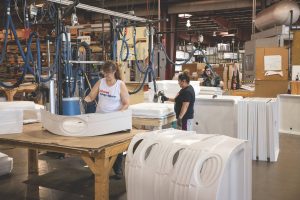 It's not like Duo Form is coming out of left field within the industry. Although the company sells its products in a variety of other markets, including automotive, trucking, medical equipment, food service, aerospace and aviation, gaming, and signage, RV OEMs have always been its main market. In fact, the company estimates its products are found in 70 percent to 80 percent of all RVs.
Founded in 1968, Duo Form's offerings for RV bathrooms include shower walls, tubs and shower pans.
"We're known for our bath products," says Shelly Ditmer, previously the company's vice president of sales, who took over as president in mid-2020. "That's our core – and I think it always will be. But we acquired some companies in 2008-2009 which made us the largest supplier of skylights for the RV industry."
And, with thermoforming capabilities of up to 10 by 12 feet, Duo Form also makes front caps, although among its other RV staples are thermoformed silverware trays, and what Ditmer refers to as "floor skis."
"They're a part that rides underneath the slide-outs," she explains. "No one sees them because they're small, and most people probably don't even know they're on their RVs, but they're underneath a majority of the slide-outs to protect the flooring."
Thermoforming may be its bread-and-butter – Duo Form touts itself as being one of the largest thermoformers in the United States, with more than 20 different thermoforming machines in a variety of sizes. However, the addition of printing capabilities almost five years ago probably makes the recent move toward new products less surprising.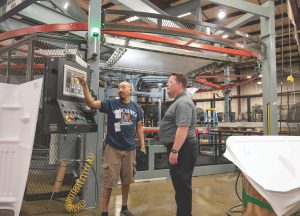 "We're trying to hit everyone from motorhomes to the small towables and everybody in between," Ditmer says. "We're able to print any look, any pattern, any style, so we can make it look like subway tile, we can make it look like shiplap, we can make it look like Carrara marble."
Less than a decade ago, Duo Form's products traditionally sold in either white or a parchment-type look. However, Ditmer says one of her long-term goals has been to dress up the look of the RV bathroom.
"With so many more people living in their RVs or using them year- round, they want a bathroom that's as nice as they have at home," she says. "That's been one of our goals and we're trying to make it a key area for RV users."
Adding to that, she notes is that while RV décor used to lag behind what would be seen in a new home, today's designers are working hard to stay current with market trends.
"And we're working to do the same," Ditmer adds. "We're trying to stay on top of current colors, current styles and current trends, while being able to give them all sorts of options, whether they want just a basic bathroom or they want the look of Italian marble. We'll do either."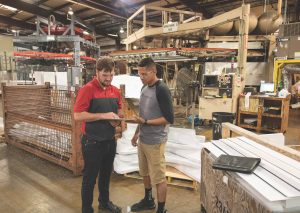 Close Relationships
About the only thing that's stayed the same with RV bathrooms over the 15 years Ditmer has been with Duo Form, she says, is the sizes. Selling to the OEMs these days involves working more closely with them and starting earlier in the process.
"That's where Austin Meadows (the company's RV sales manager) comes in," she says. "We have a show trailer where we have different ideas and inspirations that he takes out to the designers, just to talk with them as they're starting work on the new models."
Meadows can demonstrate what sizes are available – although Duo Form will work on new sizes, if needed – as well as different color and style options. The company also has added an in-house graphic designer to help with print designs.
"We really don't have standard set sizes at this point," Meadows says. "We'll do what the customer wants and we're willing to do new molds if we have to. And, with our printing capabilities we don't have set prints that a customer chooses from. Typically, the OEM will give us a picture or a print or something and we'll match it for them."
Meadows also pays regular visits to the company's OEM customers checking on orders and meeting with their engineers, project managers and purchasing agents. He explains that part of his ability to help troubleshoot issues stems from his college years, when he worked during his summers for Duo Form, doing everything from running an oven to routing parts, before following that with a sales internship after graduation.
The RV sales manager also is actively involved in what Ditmer calls "one of the company's next big pushes," which Duo Form is referring to as a walk-in shower.
"Austin has worked with our engineering team on those showers and on coming up with an easy way to install them with some trim features," she says, adding that one possible market for those showers is DIY owners of older units who are looking to update their RVs with more modern-looking bathrooms.
Meadows also has been an active participant in the development of another of the company's newer products: Backsplashes. "With the coater, we can do backsplashes, we can do lavi sinks, we can print on shower pans," Ditmer says. "The coating makes it easier to clean because it's scratch-resistant. We can even add anti-microbial features if an OE is interested, and we make sure it meets the fire codes."
Research-and-development has always played an important role at Duo Form, and Ditmer says that R&D partnerships are another service that Meadows pushes on his sales calls.
"We're really interested in partnering and coming up with new products together," Ditmer says. "Our R&D team probably has 80 years of plastics experience, with many of them having been here 10-plus years. There's a lot of eagerness to be inventive and come up with the next great product in partnership with our OEMs."
6A Flurry of Brainstorms
However, it was end-users of one of Duo Form's products that started the company down the road in the aftermarket. As manufacturers of RV skylights, Ditmer says a lot of RV owners called asking about a product that could block the sunlight into their coaches.
The result was a selection of sunshades that are now being requested by some OEMs.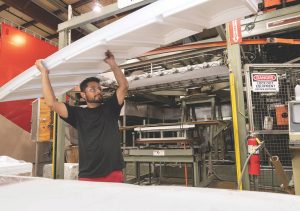 "Sometimes you get enough people buying RVs that want it that the OEs start making it standard," Ditmer says. "We've seen that with our shades just recently – probably the last six months, I would say."
That's been only one of several products that has kept Duo Form busy as the country moved through the pandemic. Like many companies, Duo Form laid off much of its workforce in March 2020 following the initial shutdown of businesses.
The company was fortunate, however, because it had what the government defined as "essential business" manufacturing parts for the aerospace industry, as well as ambulances and firetrucks, which allowed it to call some workers back to work in April.
At the same time, Ditmer says one of her jobs was to keep money coming through the door, which made the manufacturing of personal protective equipment – specifically clear plastic face shields – an attractive idea.
"We tried to make them a little nicer and a little more comfortable than other products out there," she says. "We worked closely with our local medical group. The vice president of operations and I were going to the hospital emergency room – where you didn't really want to be at the time – but we turned our design around in less than 48 hours."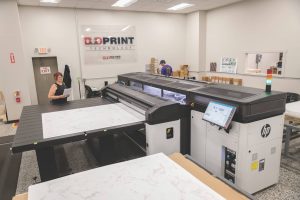 Aided by a federal Paycheck Protection Loan, the company ultimately began making hand sanitizer and three sizes of plastic counter shields for retailers as well. And while Duo Form isn't selling as many of the shields as it did at the height of the pandemic, the products are still available online.
"We have a lot of dentists and nurses who just really like our design," Ditmer says. "We also make a shield that's very popular with young people with developmental disabilities that can't wear masks."
The success of those items also convinced her that it's sometimes too easy to get stuck in the same daily ruts.
"We get so busy with the day-to-day it's easy to lose track of innovation," she says. "We've brought a new focus on innovation, including a monthly brainstorming meeting with all departments, right down to the maintenance team."
Growing Results
So far, the results have been the Duo Pets pet product division, featuring the company's new Go Pet B&B, and an expansion of its cleaning products through its Clean Label RV Cleaning Products. Both hit the marketplace in mid-June.
The Go Pet B&B product is exactly what it sounds like. The easy-to-carry thermoformed case that opens up to a pet bed on one side with feeding and watering bowls and a mesh-covered area to store the food on the other side. The cleaning products are the outgrowth of – yes – more camper calls.
Ditmer says while cleaning instructions are always included with its products, the company decided to develop its own plastic cleaner that would be safe and wouldn't void any warranties. Duo Pure Plastic Cleaner hit the market last spring.
"We started with that, and then we got really interested in being sustainable and a little more Earth-friendly, so we moved our cleaner to one that's considered 'clean,'" Ditmer says. "We've just kept growing the line from there."
The company also has upgraded a glass cleaner and added Pure Drain Deodorizer for RV black and gray tanks. For the launch of the new line, the company is offering a complete kit that includes the three products, along with a microfiber towel and a Duo squeegee.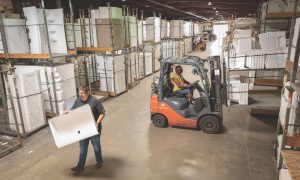 At least partly in response to the addition of its aftermarket products, the company has upgraded its marketing department and will be updating its website. Plans for marketing to the after- market also involve a partnership whose details Ditmer can't discuss until it's finalized.
With so much going on, it's probably not surprising that Duo Form began calling its employees back to work in early May of last year. Today, the company employs almost 250 people – a 33 percent increase from its pre-pandemic workforce. Duo Form employees work in three shifts at its Edwardsburg, Mich., campus, which encompasses 250,000 square feet – and is scheduled to grow by a 40,000-square-foot warehouse addition by the end of the summer.
"We work two shifts of four 10-hour days," Ditmer explains. "Then, we have what we call our weekend shift that covers Friday, Saturday, and Sunday, where people work 12-hour days. Both the second shift and the weekend shift aren't fully staffed, but we especially like the weekend shift because we do our big runs at that time. It's quiet and they get a lot accomplished."
She adds that the scheduling has given workers – especially those whose children might have been home from school because of the pandemic – more flexibility.
Words like "flexibility" and "innovation" seem to be watchwords at Duo Form these days. While Ditmer expresses great confidence
in the future of the industry, tomorrow's company probably won't look like today's version. While getting into other forms of plastics manufacturing – possibly through acquisition – is certainly one possibility, her bottom line: "Hopefully, we'll keep innovating."
And she stresses it will certainly help the RV industry.
"We've got a lot of ideas of different ways to dress up the showers," she says. "We want to make them easier to install so the OEs can get them put in faster. And we want to keep up-to-date with what's happening in the residential market, so we can mirror that to the OEs as well."