Features
Carving a Niche in Crossover Lightweights
inTech RV brings innovations and fresh design builds to its small, lightweight trailers for those who like off-grid experiences, as well as traditional camping.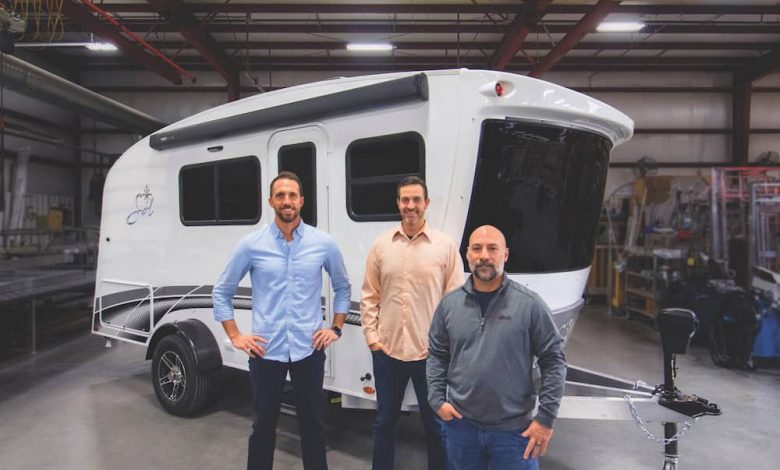 When inTech RV launched in 2016 with a small, lightweight camping trailer, it leveraged a strong DNA and design inspiration from its older sibling, inTech Trailers, which has manufactured custom all-aluminum motorsport trailers and more since 2010.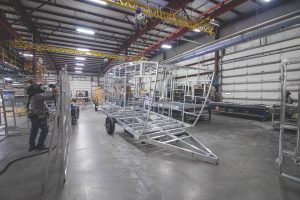 "We determined that our style, build, attention to detail and quality presented an opportunity for us in the smaller RV and over-road market," says Keith Fishburn, inTech RV product and sales manager. "There's a lot of crossover between inTech Trailers and inTech RV, from the design team to the craftsmen who build both 53-foot car haulers down to a 10-foot RV."
From inTech RV's first product introduction, with its Flyer line in 2016, it has since added the Luna, Sol and, most recently, the Terra – all of which are uniquely built on a full-aluminum cage construction. The travel trailers' design and strong constructions cater to RVers who seek the ability to go both off the grid and on traditional camping excursions while maintaining features and amenities that can offer more creature comforts.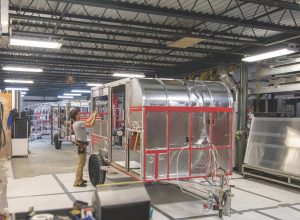 "Our goal is to be the best," Fishburn says of the Nappanee, Ind.-based manufacturer. "We want to provide a top-quality product for the best value.
"As we move from design to manufacturing, we always ask ourselves, 'What's best for the customer? What are the items that make the most sense, are the most helpful, last the longest and make their experience the most enjoyable?'"
Asked how best to characterize an inTech RV trailer in terms of automotive offerings – say, a Cadillac, Ford or Chevy – Fishburn chuckles, "Maybe something foreign or a little different than what one would typically see daily on the road – sporty boutique."
The Flyer Takes Off
The Flyer line is intended to be overly simplistic in design with minimal systems. It can be taken off-road and can be easily added onto and modified, from solar packages and off-road features to shower systems and portable toilets.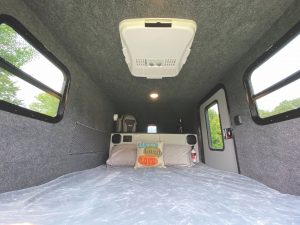 "It's highly accessorizable, very similar to a Jeep," Fishburn says. "In fact, the number of Flyer owners that also drive a Jeep is through the roof."
Bolt-on accessories can include RotopaX products, shovels and axes attached to its roof rack, roof-top tents, and numerous "overlanding" features.
The first three models of the Flyer – Chase, Pursue, and Explore – weigh in at less than 2,000 pounds, while the Discover model is about 2,700 pounds with a "toy hauler-type setup."
Luna Shines Light on Amenities
The Flyer was soon followed in 2018 by inTech's teardrop, Luna, which offers a more finished and refined product that market research showed some customers desired.
Whereas Flyer users generally want to perform their own unit modifications, the Luna offers another level of amenities already in place but can still cross back and forth between off-grid camping and traditional campground locations.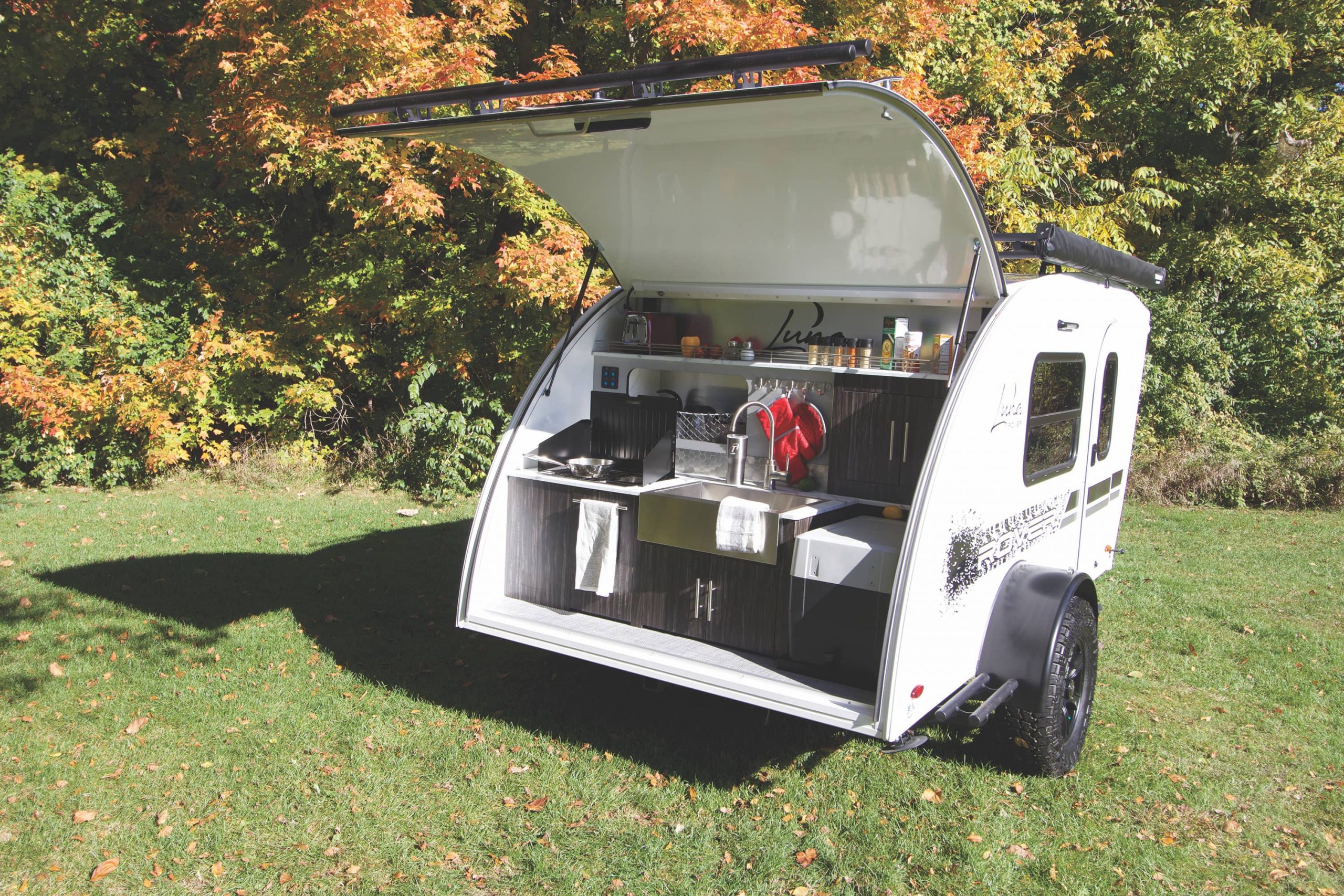 "Once we made that little teardrop Luna (1,800 pounds), people really started to notice us," Fishburn says. "It has a unique shape and design with a big front windshield – it got us a lot of recognition from dealers and got our product heavily into the marketplace."
By their general design nature, a teardrop footprint is traditionally tight and a bit claustrophobic, so inTech implemented its "tilt-forward" design so that the front cap angles forward with a large windshield.
"By doing that, it presented a new realm of possibilities for us because we took the frame sizes that were comparable to other units in the same market and opened up the forward area more, versus having it angle back. We're able to do more with less – we keep the footprint small – but offer more opportunity in the unit space."
The Sol & Terra Go Bigger
From the Luna, inTech's intention was to introduce RVs in the next step in size, which led to the launch of its Sol product, the company's travel trailer version of the Luna.
"The Sol's sales went really crazy and has absolutely blown us up in the RV realm," Fishburn says. "While we're not mainstream in our product sizing – we're focused on small, lightweight trailers – we give people more options, such as a bathroom and kitchen amenities. It opened us up to more people interested in an inTech."
The Sol Horizon weighs about 3,300 pounds, while the Sol Dawn and Sol Eclipse models each weigh in the 2,000-pound range.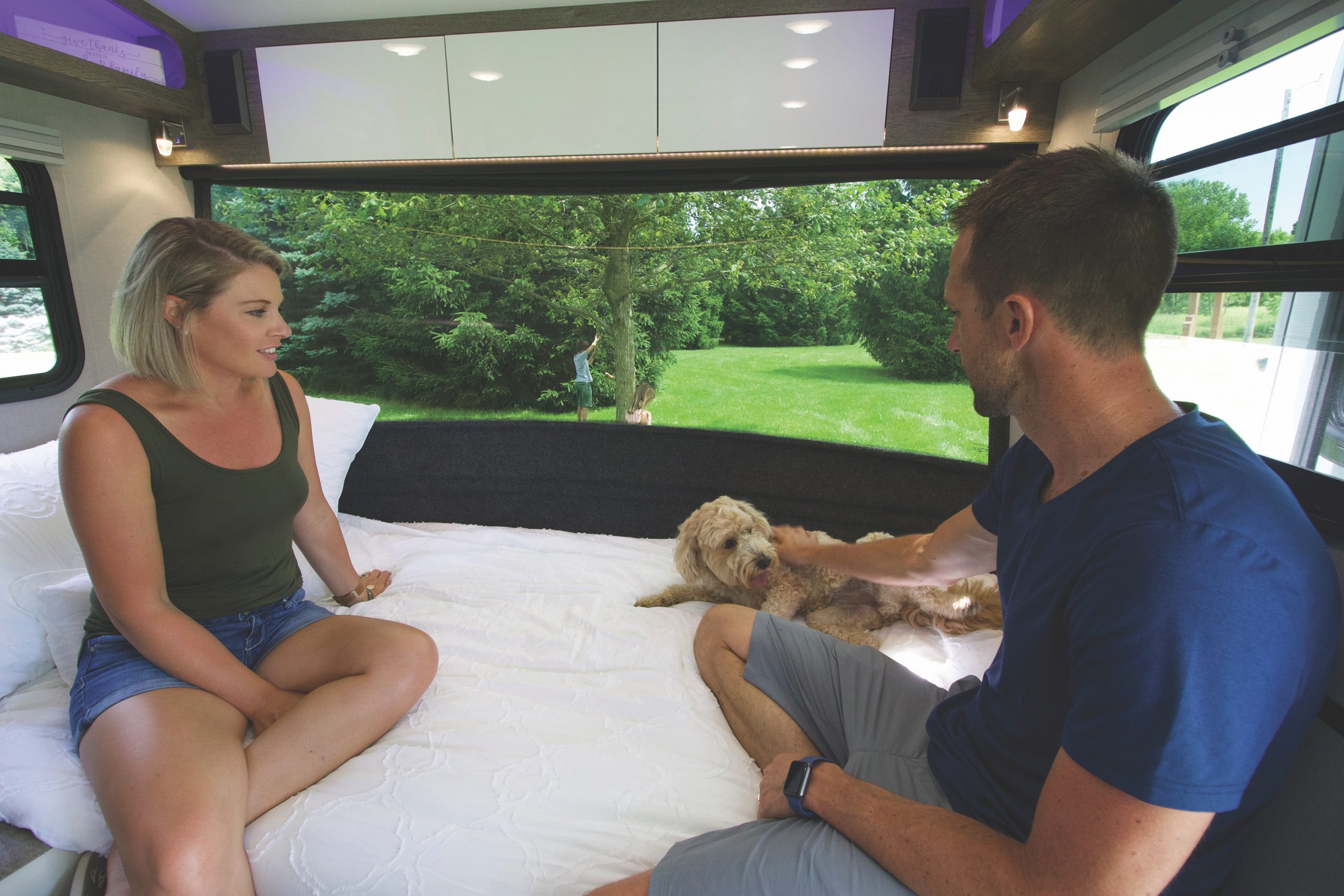 "The challenge in designing a unit under 5,000 pounds is always making sure it has the proper amenities, no wasted space, and the customer is comfortable," Fishburn says. "How big do you make the bathroom? How much bed space is given? How much do you dedicate to the kitchen? It's always about finding the right balance."
The RV manufacturer has continued to evolve with its recently launched Terra model in 2020, which is yet a larger model (about 5,700 pounds), featuring a dry bath, a walk-around bed and more amenities for those who generally spend more time RVing.
Profit-Sharing Fosters Collaborative Culture
In contrast with much larger rivals, inTech RV is a "slower manufacturer" in that it doesn't produce many units each day, because its main focus is on product quality and craftsmanship, Fishburn says.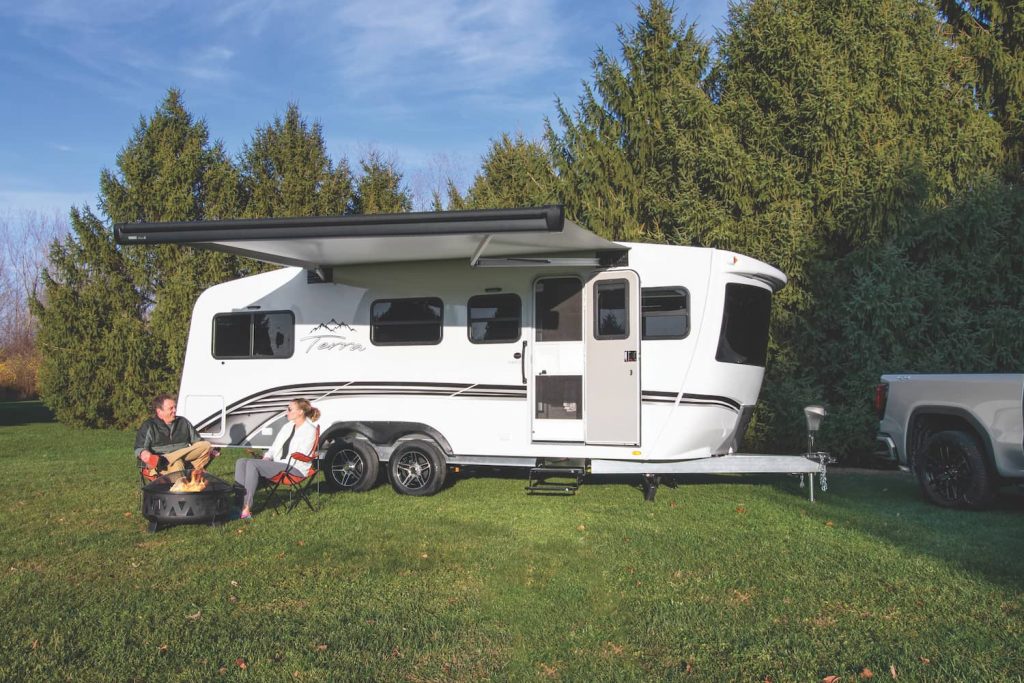 According to the company website, inTech's company structure is founded on the principle that its team members are not compensated according to piece-rate production, but rather are paid by the profitability of the business. As a result, it gives the entire team a unique level of ownership in the products and the company's future.
"We're dedicated to making the best product – not just pushing a unit out of the door," Fishburn says. "We're all paid according to our profitability – and it helps keep everyone motivated and working together as a team, from the ownership down through the ranks. It creates a culture that's fun to be part of and there's a lot of pride in what we build. We care."
Fresh Perspectives Bring Innovation
Many of inTech's employees come from professional backgrounds outside of the RV industry. While a number of production managers and its service team have come from other RV manufacturers, the majority of its employees – including its owners – come from other markets.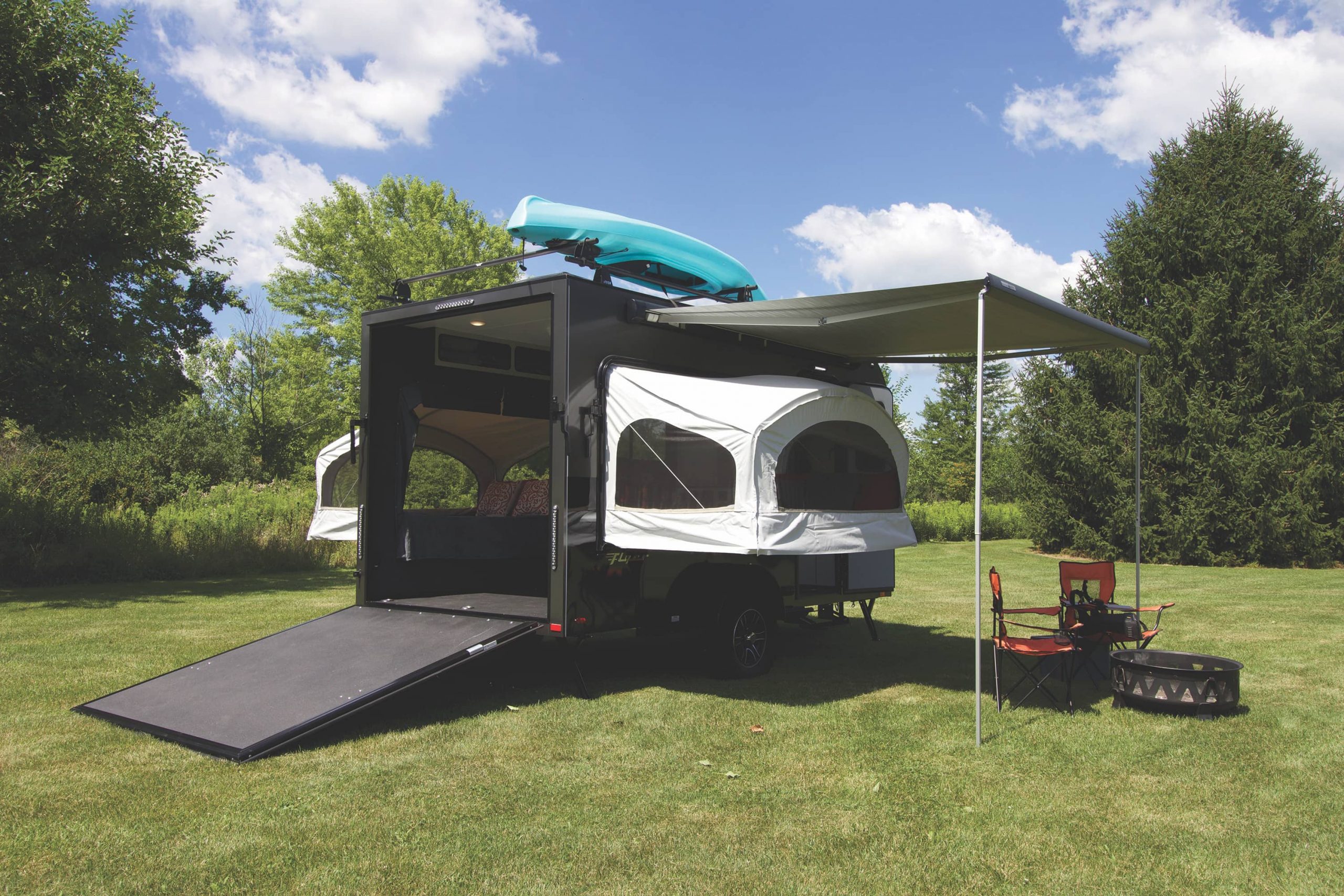 "It helps to give a different perspective as to how we go about doing things," says Fishburn, who came from a sales background in the marine industry before he arrived at inTech RV. He adds that he has always enjoyed product design.
"We haven't been influenced by other RV manufacturers, which has helped us, particularly in our design elements. We have fresh eyes," he says. "Every unit begins with a full aluminum cage construction that's welded together, which sets us apart from many other manufacturers, who use a modular design."
Those modular designs found in rival products typically use frames that may or may not be made by the RV manufacturer, upon which they begin placing the parts and components on top of it. Eventually, manufacturers attach the walls and ceilings, which are either stapled or screwed together.
"Our units, however, begin as a full skeleton structure with strength built in, which results in the slower manufacturing process because we might just have two production staff working in a unit's enclosed space," Fishburn says. "There are a lot of trailers out there with off-road tires on them, but as soon as a camper takes it off-road or on demanding terrain, that unit will twist. All of a sudden, cabinet doors won't close properly, and components loosen. Our build style makes sure those things don't happen with our products."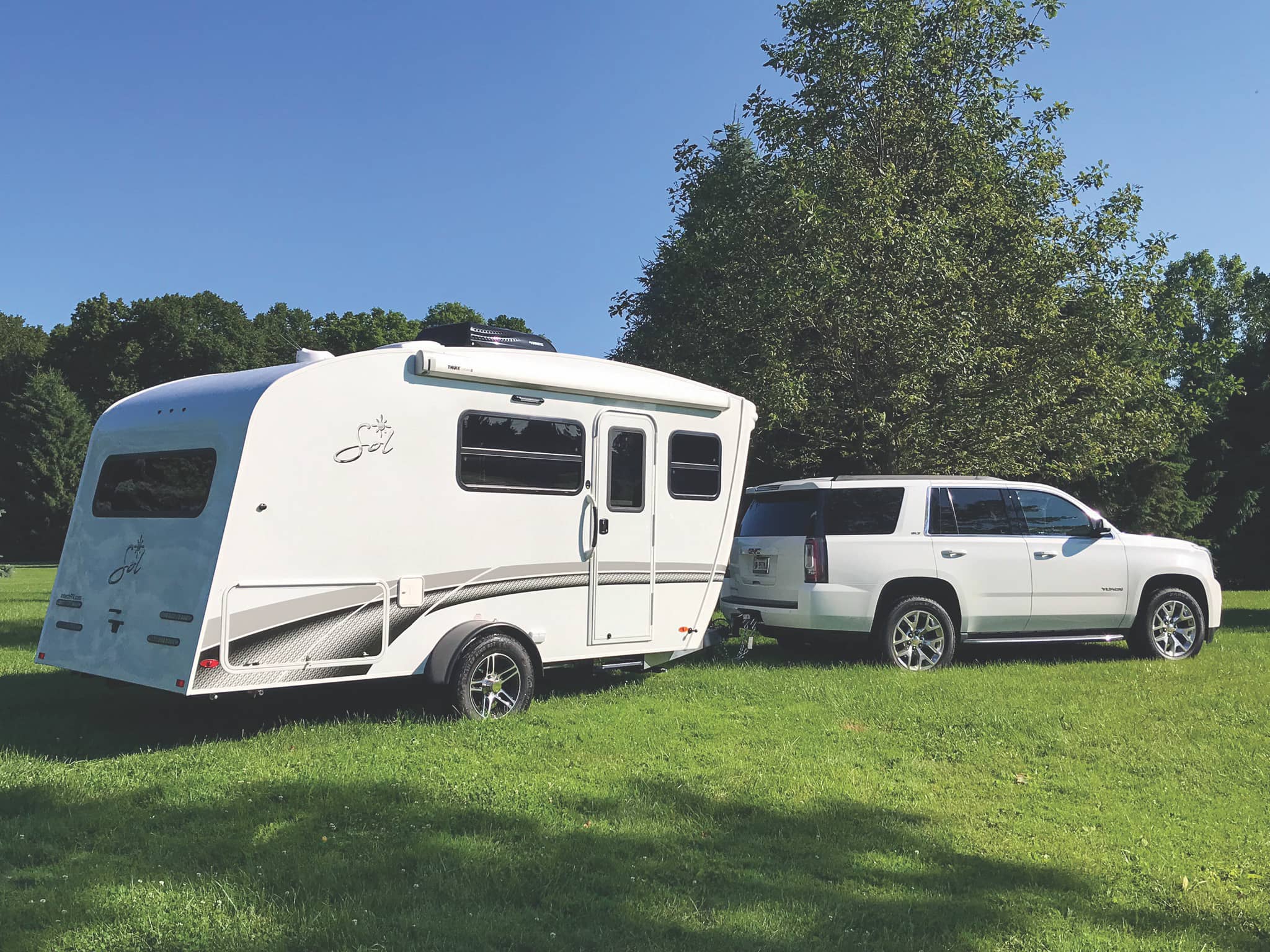 Some design innovations are often the simplest, Fishburn adds. The slide-out kitchen in the Flyer line, as an example, uses space in the front of the unit that normally would just be a cabinet area with interior storage.
"We were able to design a slide-out kitchen with a cooktop, built-in refrigerator, storage and a removable table – it adds great functionality. The same idea is now also being introduced into the Sol and Terra."
Word of mouth and social media, particularly Facebook, has informed and driven product research and design from customer feedback at inTech. It also has built its customer base.
"When you come to market with a higher-dollar product, people might be skeptical about why they cost more than competing brands," Fishburn says, "but as more inTech trailers get out there, owner groups have emerged on social media and word gets around – demand picks up. It's where our growth has come from.
"We pay attention to how customers use our product," he adds. "We might think a particular design element or component is important, but it can play out differently in the field, as we've learned from past input."
One such example involves the Luna, which was first introduced as a "street-style" camper: It didn't offer off-road tires and wasn't built in a more rugged fashion for going off-grid.
"Then we started to see the importance of those elements and how the customers wanted to use the product, so we made sure there were those features," Fishburn says.
As a result of continuous input, he says the Luna line "pretty much changed over" to match what inTech's clientele was asking for, including 12-volt capacities.
"These guys don't necessarily want to be hooked up to power all the time," Fishburn says.
inTech also compiles lists of items noted from customer feedback and works on them throughout the year. The company's goal is to have those changes ready to implement for the new model year – although it will make modifications within a model year if it deems them urgent. When the Sol was introduced, for example, it didn't feature hold-opens on its upper cabinets, which Fishburn says became a point of frustration for some users.
"It was annoying for the customer to hold open the cabinet with one arm and access it with the other – and the doors were occasionally opening as they were driving. So, we made those adjustments and corrections on the fly," he says.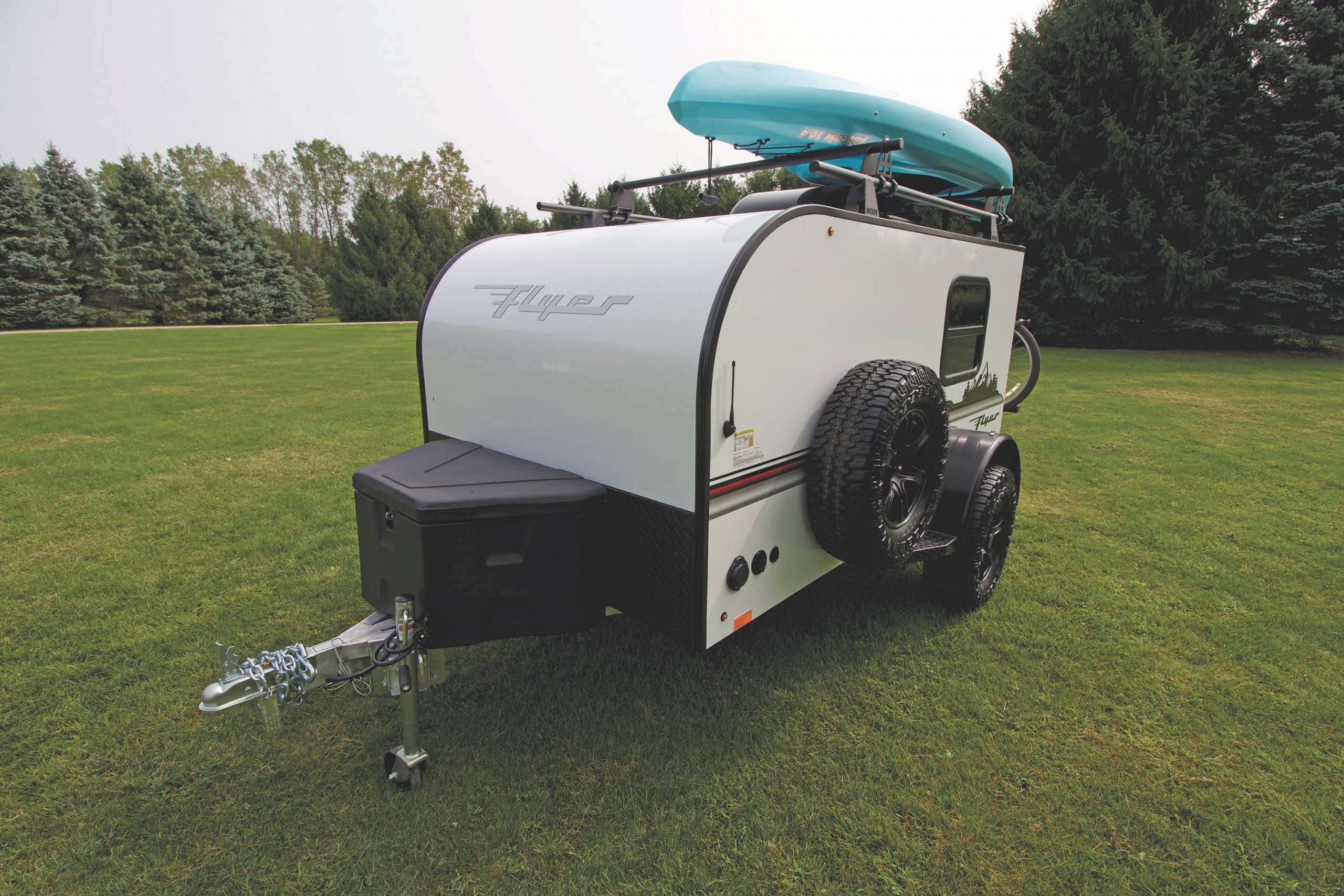 A Roadmap & Tools for Modifications
inTech's website contains a fount of product information for each model for customers who are interested in making their own personalized modifications and accessorizing.
"We made it easy for them to find the information they want on our products in order to work on and modify the unit," says Fishburn, adding that the company offers frame prints for the Flyer, so a customer knows where the studs are located for their own modifications.
"We're always thinking about what a customer might want to do with their unit after the purchase, and what we can do to make it convenient for them," he says. "The tools and information we make available are also useful for dealer techs."
The "inTech Marketplace" is the company's online store for customers to search and purchase parts and accessories for their units.
"We want to make it easy for them to find components for their trailers, whether it's a replacement part for a light they damaged or to locate an item that's unique to their unit," Fishburn says. "We want to make it easy for them to access what they want and need. And that's an area we're looking to expand in, which is prevalent in the automotive industry, because it's not something often seen in the RV industry.
"We build our company on the premise that customers will get an RV that they can rely on, camp without issues, and making sure that their next trailer is an inTech, too."