Features
Class C's Important to Rental Market
This article is from our older website archives. Some content may not be formatted or attributed properly. Please
Contact Us
if you feel it needs to be corrected. Thank you.
As more North Americans gravitate toward the RVing lifestyle, the desire to test the waters often materializes by renting an RV, often a Class C motorhome.
Figures from market data firm Statistical Surveys finds that the nation's leading RV manufacturers – Thor Industries and Forest River – provide the vast majority of the Class C's that wind up in dealers' rental fleets. These rentals represented about 13 percent of all the Class C retail sales by these two firms through October, according to Stat Surveys, which has been tracking rental sales since about 2011. Representatives for Thor and Forest River – which are battling for market share in the segment – generally concur with Stat Survey's assessment.
Here's a look behind the scenes of the Class C rental business through conversations with the two leading manufacturers.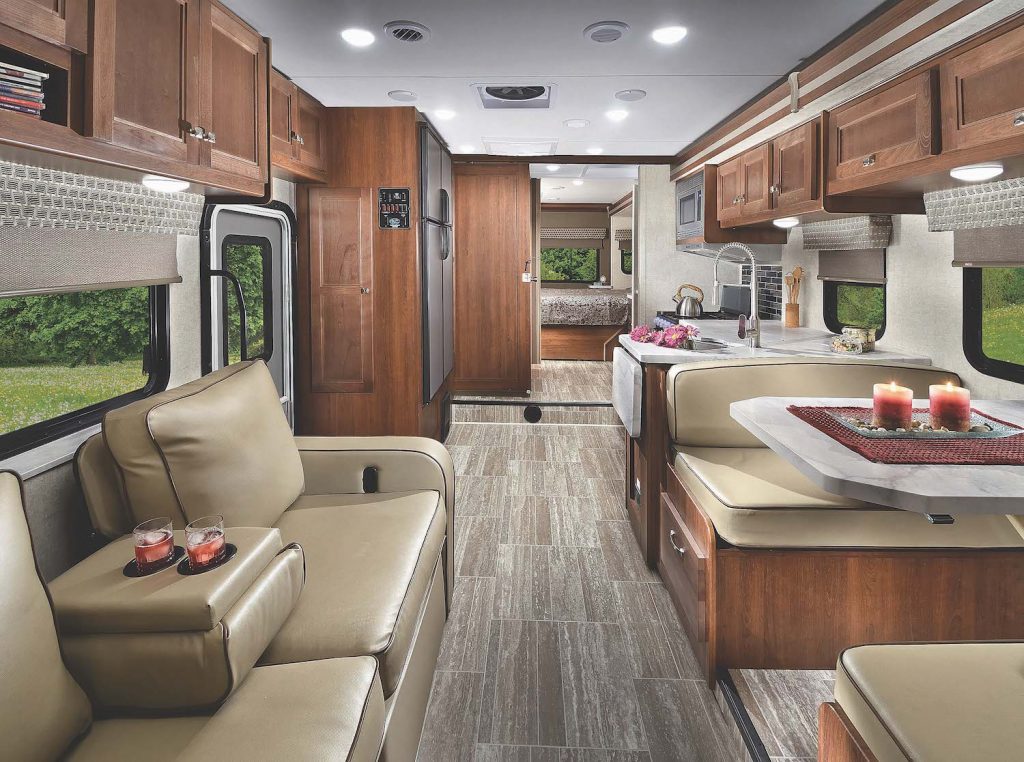 Because many young families want to rent a Class C, RV makers say it's important to be able to offer sufficient sleeping accommodations, so bunk models are popular. Pictured here is Sunseeker 3250LE.
Forest River: No. 2 in Rentals – But Growing
Forest River will offer any model or floorplan for rental purposes, but dealers often choose the company's most popular floorplans as their rentals, so that means models with bunk beds are frequent choices, followed by shorter units for couple clients and longer units for families or travelers making longer trips, according to Kary Katzenberger, national sales manager for Sunseeker/Forester, who oversees the ordering process.
His assessment coincides with the RV Rental Association survey, which found that larger RVs – as measured by the number of sleeping areas – are the most popular rental units, according to survey respondents. Some 40 percent of dealers said units with at least four sleeping areas are the most popular, while 27 percent said at least six sleeping areas was the most popular floorplan. Another 24 percent said units with at least two sleeping areas were the most popular.
Rental units are indistinguishable from units built for normal retail sale, so the manufacturing process does not change, Katzenberger says. He adds that dealers tend to order entry-level models with few options: They're looking to avoid potential quality issues in their rentals, so single-slide units would be more desirable than units with multiple slides, for example.
Forest River, which has built Class C's for rental purposes since its formative years, offers no inducement to dealers who opt to turn their wholesale purchases into rentals. However, some chassis suppliers, such as Ford Motor Co., offer rebates to dealers who do so, according to Katzenberger.
He estimates that about 10 percent of his division's C shipments were destined for rentals in 2018. He says he foresees that share growing to 15 percent to 18 percent in 2019, as some former clients are returning.
"I've had a lot of groups (dealers and agencies) contact me," he says.
In January, when he was interviewed for this story, he was finalizing orders for the year. He projects 2019 rental production will total 1,000 units. In addition, some units meant for retail sale may end up as rentals once they hit the dealers' lots, so the size of the nation's rental fleet could be understated, Katzenberger suspects.
Whatever the case, "It's a decent profit center for dealers who enter this business," he says.
Unlike units designed for retail sale, which may sit on the dealer's lot for several months before a sale, rental units can generate revenue starting on Day 1 at rates as much as $2,000 a week, according to Katzenberger.
He says OEMs realize a side benefit to the rental business.
"We get so much immediate feedback on how the coach is being used and we know right away if something is bad," he says. Retail units may sit on a lot for months, but rental units tend to be used immediately, providing that feedback right away.
Further, Katzenberger says he analyzes all warranty claims on rental units, further helping to ameliorate quality issues on subsequent units.
While Thor may be the leading supplier of rental Class C's in the U.S., Katzenberger says Forest River "dominates" the Canadian market, thanks to its exclusive relationship with CanaDream, a leading Canadian rental agency.
Overall, Katzenberger projects his build rate for rentals will increase by at least 40 percent this year, thanks to Forest River's relationship with rental firms and its dealers.
Over at Forest River's Coachmen RV Division, Mike Bear, division general manager, says his division has a long-term commitment to the rental business.
"If you are going to be viable in Class C's, you have to pay attention to the rental market," he says. He notes that, according to Statistical Surveys through November, Forest River accounted for 29 percent of U.S. rental Class C registrations and that Coachmen RV built about 75 percent of those U.S. registrations.
Coachmen RV has sponsored the MBA Rental School for years.
"Before that event was established, we held seminars in-house for our customers taught by industry leaders in RV rentals," Bear says. "We have a long-term relationship with a number of institutional rental companies, and continue to support and grow our dealership and rental only dealers."
He adds, "There is a rental only-retail customer out there. That customer reserves an RV for an annual vacation date; they pay their rental fee, enjoy the RV lifestyle and at the end of their vacation simply return their RV. No maintenance, no storage, just a great RV getaway. Many dealers use rentals to make entering RV ownership easier by offering a first-time buyer the opportunity to rent before they buy."
Thor: Market Leader for Rental Fleets
Thor Industries is the primary supplier to the nation's largest rental agencies as well as RV dealers. Dealers have been renting Thor Class C's for decades, according to Jon Krider, vice president of product development and marketing for Thor Motor Coach (TMC).
"All dealers have access to buy rental motorhomes from us," Krider says. Given that "Four Winds, Chateau and A.C.E. are 'first step' units – the least complex to operate and offer the most enjoyment to consumers" – these have become TMC's focus for its rental program, he says. The A.C.E. is especially appealing to renters who are considering buying a Class A motorhome, but wish to camp in one before buying, he notes.
TMC has a lengthy history in the rental market, so it knows what to put in a rental unit –and what not to, says Krider.
"When you look at how a renter uses it versus a retail consumer, some vehicles we offer with extra goodies – like TV lifts, overhead beds and transfer switches – don't add a lot of value to a rental," he says. "It becomes a hindrance."
The "life" of a unit as a rental depends on the dealer, according to Krider. Once an RV is deemed no longer a rental, it is typically sold at retail at a reduced price.
"Another key point that's important: We put Four Winds, Chateau and A.C.E into our own rental fleet for our employees who are able to use from about Memorial Day to November," he says, adding that TMC has been making rentals available to employees for about four years. "We get feedback on every vehicle used."