Features
Competitors Partner for County RV Service Center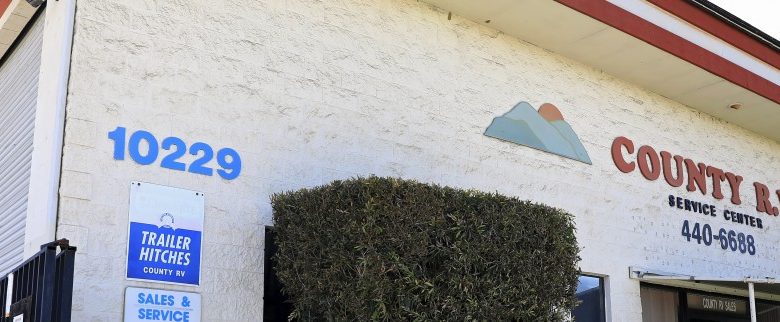 This article is from our older website archives. Some content may not be formatted or attributed properly. Please
Contact Us
if you feel it needs to be corrected. Thank you.
Keith Foulds and Mike Vrzich went from being competitors to partners in a California RV endeavor almost accidentally.
Each of the two men had bought an RV-related business in 1988 – Foulds purchased Ty and Bud's Hitches and Welding in El Cajon, and Vrzich acquired El Cajon Hitches and RV Repairs not far away.
Once they came together with County RV Service Center, they say they weathered the Great Recession and all the changes in the industry during the past 26 years by focusing on some old-fashioned values along the way.
"If you build something that is solid, if you build something that's built on integrity, and you take care of your customers and your employees, too, you're going to grow," says Foulds, co-owner of County RV Service Center in Santee, Calif.
The company offers a wide range of services, including RV repairs, body work, mechanical and engine service, tow packages, and fabrication. County RV also maintains a parts department that stocks hard-to-find parts.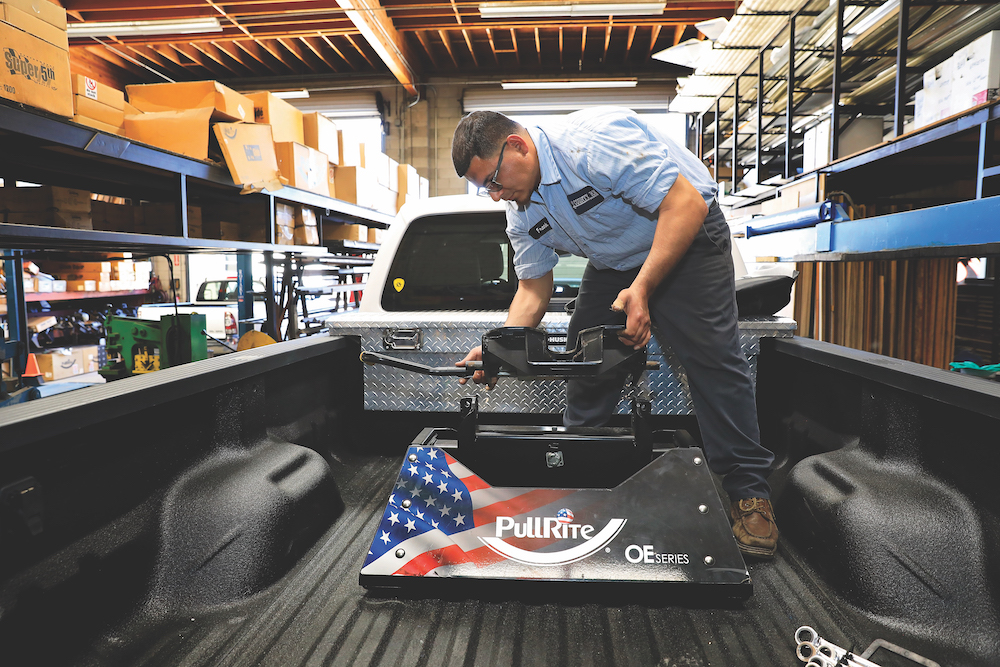 Technician Frank Aguilar finishes up the install of a fifth wheel hitch. 
Two Businesses Became One
Foulds says the lease on his building was up in 1992, and he wanted to get out from under annual rent increases and having to deal with a landlord. He and Vrzich had become friends, so he asked Vrzich to go with him when he looked at a building in nearby Santee to possibly purchase for Ty and Bud's Hitches and Welding.
"We went to lunch. I said, 'That building's a little stretch for me … but it would be a great building for you to assist you in RV repairs,'" Foulds says.
As they talked, Foulds made a proposal: "Let's go ahead and throw everything in a pile and buy that building, cut our overhead, and have a much better future. He said, 'OK, when do we move?'"
As Vrzich recalls: "It fell in our lap. We never thought twice, never looked back."
He moved in February 1993, and Foulds followed soon after.
"We've had our ups and downs, don't get me wrong, but we're a solid business today," Foulds says.
The lowest of the "downs" came during the Great Recession, when business fell off by about 50 percent.
Vrzich says the business was in a good position when the slowdown hit in 2008.
"We paid this property off almost 20 years ago. So, when times were tough … we went into it with money in the bank," Foulds says. He is proud to relate that, at a time when some employees' spouses were losing their jobs, County RV Service didn't have to lay anyone off or cut back on health insurance or retirement benefits.
One way the partners were able to make ends meet was to allow County RV to stop paying them, as owners of the building, any rent for a couple of years.
"Business was slower than normal, sure it was, but we were fine," Vrzich says. "We never went into debt or anything."
Both Vrzich and Foulds put a lot of stock in the quality of their employees.
"It's been a great ride for sure, and we've been blessed with good employees," Vrzich says. "It's the employees who have kept it going, with direction and coaching from our end."
"They're great. They're the next generation of County RV," Foulds says.
Taking Care of Employees
To hang onto those employees, many of whom are the sole breadwinners in their families, Foulds says County RV Service Center pays well and offers a benefits package that includes bonuses, health insurance, and a 401(K) with a 3 percent company salary match.
As a result, "We're not the cheapest in town," Vrzich says. "But with that, we're going to be fair with you, give you professional service, and stand behind what we do."
Several employees have been with the company for 20 years, and both partners expressed concern about the state of the nation's workforce and their ability to fill positions as their older workers retire.
"We have a situation here where we need to train people. It's a national problem," Foulds says. "The Internet, the phones, the electronics have all taken the minds away from the youth."
Adds Vrzich: "Everybody wants the money, but they don't want to work for it. … Everybody's got that problem; they can't find help."
He says County RV Service Center has had the best luck taking in people with no RV repair background or schooling, but a willingness to work, and training them from the ground up. Most of that training happens in-house, he says, although the company will send its employees to training programs at the annual RV shows and elsewhere.
Anyone without the drive to work and better himself probably won't do well with Foulds and Vrzich, who got where they are the hard way. Foulds served a tour of duty as a Marine in Vietnam in the late '60s, came back to the United States, worked as a "grunt mechanic," and then gained experience in a number of other fields before buying Ty and Bud's Hitches and Welding.
"It rounded me out," he says of that work experience.
Meanwhile, Vrzich says he left home at the age of 14 and never went back. As a youngster, he knew the value of hard work and had been able to build a savings account by delivering papers, mowing lawns, and waxing cars.
After leaving home, he paid $5,000 for a 4-year-old, 33-foot Holiday Rambler travel trailer from a dealership near his home.
He arranged a deal with the dealership: He would serve as a night watchman in return for being allowed to live for free in the trailer on the lot and walk to school from there.
"I actually started buying and selling RVs after hours," he says, explaining that the company was unloading used campers it didn't want to a wholesaler. He got permission to buy some from the dealership, fix them up himself, and sell them.
"I finished high school thinking I was going to go to college for electronics or computers," he says. "But I was doing so well and making so much money, I thought I would stick with that."
Foulds and Vrzich built the company to 14 or 15 employees at one point, Vrzich says, and it now has 11, counting the owners. Seven of those workers are service technicians, according to General Manager Ed Winfield.
The County RV building, roughly 7,000 square feet on a 1-acre lot, has four service bays inside, three lifts, three open-air bays under roofs, and "a pad where the mechanical guy works," Winfield says.
They Can Fix It
The parts department carries items that not every dealership or repair shop stocks, according to Winfield. So, although the store has basics such as hoses and chemicals, it doesn't carry things that Winfield calls "knickknacks" that can be found at discount stores.
"When your motorhome breaks, we have the parts to fix it … like solenoids and jack parts," he says.
When the two men merged their businesses, each had a top-rate hitch worker, Vrzich says. "Those guys could fabricate and build a Class III hitch from scratch." And when it seemed every motorhome on the road was towing a Saturn, County RV's crew became adept at fabricating base plates that were bolted and welded onto the tow cars, he says.
These days, with the more sophisticated electronics built into vehicles, "manufacturers don't want you welding on anything anymore," he says. So, County RV now usually bolts on other makers' base plates.
"It takes our liability out of the equation," Vrzich says. Additionally, "we do a lot of roof repair, a lot of collision repair, body skin," he adds. The paint work is done by a third party off-site.
"We've got a big fifth wheel in here now with a rubber roof, less than a year old," he says. "The birds actually pecked through it, and we're putting on an aluminum roof."
Another example of the repair work the crew does involves damage from tire blowouts. "We see this every day," Vrzich says. "We've had tire blowouts where the passenger front tire went right up through the front seat. … After a tire blowout, you look inside, and it looks like an explosion."
County RV Service Center also sells extended warranties – up to eight years on a new motorhome and nine years on a travel trailer; and for used units, up to five years.
"It's a win-win for us; if they're in town, they're going to see us," Vrzich says.
"We sell a lot of extended warranties," he says. "If they're smart, they will buy one, because these new RVs are so complex, with all these slide-outs and jacks and everything."
Vrzich says the service shop sees a lot of repeat customers who save up a list of things for County RV to deal with when they come through town on their annual trips.
Customers who have older RVs but want to keep them will go to County RV for help changing out appliances, adding solar systems, and even repairing and replacing upholstery and cabinetry, according to Vrzich.
The partners say one of the biggest changes they have seen over the past 26 years is the influence of the Internet, with customers able to go online to research and buy parts, and the changes the online world brought to the company's marketing efforts.
"We've evolved into a much different business, but still with the same basic core," Foulds says. "The business was built on honesty, integrity, and its employees."