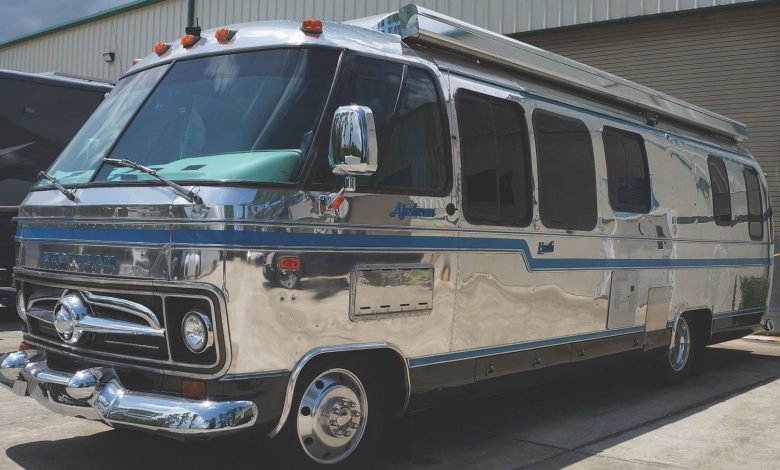 Greg and Stephanie Williams like a challenge.
It's a good thing they do, given that customers seem to enjoy giving their business, Classic Coach Works, an ever-growing variety of RV restoration and renovation projects.
When the Ormond, Fla.-business first began working on motorhomes in 1999, it mostly handled lighting and ceiling upgrades. However, customers subsequently began asking bones of the coach but was tired of the colors and wanted to brighten them up.
In response, the shop reupholstered every piece of furniture, changing the colors from a drab green to a much lighter color ultra-leather, as well as updating the countertops and modernizing the shower. Additionally, the company installed 40-inch LED TVs in the galley and bedroom.
Reflecting a trend in new coaches, which often have entertainment systems in the wall of the coach, Classic Coach Works added that functionality to the passenger slide-out, under the kitchen window.
"We cut into the side wall and gave him an outside TV and stereo like modern coaches," says Williams, the president of Classic Coach Works.
In another recent project, Classic Coach Works performed a near-total coach restoration, at a cost of about $300,000.
Another recent job Classic Coach Works tackled was the renovation and modernization of a classic Airstream motorhome.
Williams says the owner wanted to customize the layout herself and was willing to spend the money to do that.
Because the customer is sensitive to noise, the company is completely insulating the ceiling, walls and floor and all under-bay cabinets with aircraft-sound insulation to minimize noise, as well as upgrading the windows from standard dual-pane glass. Additionally, the business is replacing a basement A/C system with a roof A/C, replacing the heating system.
"We are literally building the coach over again. We have completely gutted and stripped out every system it came with and are starting over," Williams says.
Employing Specialized Workers 
Classic Coach Works operates in 15,000 square feet of space. Williams says his company can work on 10 to 12 coaches at a time, with six housed in bays inside and the rest outside. He hires skilled craftsmen to work on the renovations, employing 17 people who rotate through the different projects.
Projects are scheduled based on which particular skillsets are available. Some of Williams' workers specialize in flooring, which is a popular upgrade. He also hires cabinetmakers, plumbers and electricians.
"It is hard to find custom craftspeople. It's a special type of person to be able to keep up with constant change and constantly shuffling of things that happen," Williams says.
Workers who come from the motorhome manufacturing world are used to the jobs fitting into their same routine. They do relatively the same thing over and over.
"In our case, they have to be very adept and constantly changing in keeping up with whatever it is we are looking for, the next thing for the customer," Williams says. "Because, unlike the craftsman who works in a factory to put this thing together, who never comes face to face with the person who is going to use it, our guys are face to face with the person using it. If there is a complaint, they are hearing about it. Accolades are face to face as well. Our people have to care, and if they don't care … how the customer feels, they don't last here."
Some of the company's employees do multiple aspects of a renovation. The same person doing the flooring also can do ceilings, but cabinet makers, electricians and plumbers have very specialized jobs. Working on plumbing or even flooring in a motorhome is different than working on a home or business.
Employees have to keep in mind the interaction with the slide-outs and all the other things going on in the motorhome when they approach their piece of the project.
"We pretty much prefer our flooring people not to have experience in the home world because we don't want them to bring those habits into the RV," Williams says.
Classic Coach Works trains many of its employees on how to do the same work they always do – but on an RV.
Most of its employees come via word of mouth. When there is an opening, the owners ask their staff members to reach out to people they have worked with in the past.
"That's how we get some of our best hires," Williams says.
As for Williams, he brings a unique background to the business. He served for 14 years in the Navy's nuclear power program, working with submarines. When he got out of the Navy, he went to work at Featherlite Coaches doing luxury conversions.
The previous owner of Classic Coach Works, Dennis Stewart, was a salesman at Featherlite before he left to purchase Classic Coach Works. When demands for more technical renovations became too much for him to handle, he brought in Williams to run the business.
Williams and his wife started at the business in 2008 and acquired Classic Coach Works from Stewart in 2010.
Customers Love Their Coaches 
"The bulk of our customers are retired people who spend a lot of time in their motorhome," Williams says. Some customers are full-timers, while others may spend up to two or three months at a time on the road. The common denominator tends to be that customers own luxury units and see value in keeping and investing in their older coach, according to Williams.
"Many people are finding it a wise investment to put their money into what they already have," he says.
The business mainly works on higher-end Class A motorhomes, although it will work on nearly any RV. While the average cost of a renovation by Classic Coach Works can cost between $20,000 and $40,000, Williams says that can still be less than what a customer might pay in taxes and fees on a luxury motorhome.
"One of the things we used to tell people … (is that) for the sales tax you are going to spend on a new purchase, we can give you a really nice renovation in your coach," he says. "It helps them put it in perspective."
According to Williams, a typical renovation takes between two and four weeks, depending on the complexity of the job.
"We'll work a lot of overtime to keep up with things and give people their coaches back on time," he says, adding that the business can be stressful at times because a number of jobs can stack up on top of each other.
"It's important that one finishes so the next one can finish," he says.
In addition to renovation work, the team at Classic Coach Works is able to provide basic repair service, such as routine engine, generator or chassis maintenance work.
While Classic Coach Works is able to do some remarkable renovation projects, it doesn't attempt to do everything in-house. For example, it outsources upholstery work and exterior paint jobs.
"One of the things we are considering for when we build a new facility in a few years is to add a paint booth to that because there is a pretty big demand. Everyone is bumping their coach into something from time to time and older coaches are looking to redo their paint scheme," Williams says. Still, the company has no plans to bring that work in-house anytime soon, he adds.
Business comes to Classic Coach Works in different ways, including repeat business from snowbirds who spend their winters in Florida, new business from NASCAR racers and fans who attend events at the Daytona International Speedway in nearby Daytona, as well as strong word-of-mouth referrals from satisfied customers.
Staying Ahead of the Curve
Williams says one of the challenges of operating a business like his is that, as manufacturers get wind of the types of upgrades customers are making to their coaches, they begin to incorporate those changes into their new models. That means he and his team have to adapt and get more creative when deciding which upgrades they will offer to current and future clients.
For example, the most common upgrades Classic Coach Works did seven or eight years ago were taking out the carpet and accordion shades and putting in hard-surface flooring and roller shades. Manufacturers took notice of that – and now all new coaches come out of the factory with hard-surface flooring and roller shades.
"We have to constantly be reinventing ourselves because if we stay stagnant and, more or less, new coaches keep up with what we are adding and doing, eventually all coaches out there don't require what we do anymore," Williams says.
As another example of such change, a few years ago people came to Classic Coach Works wanting to change out their pre-manufactured fiberglass shower enclosures. They wanted a larger space that was easier to get in and out of.
The business responded by making custom shower enclosures with Corian walls and a custom pan made out of tile.
"Now, when you look at a new American Coach coming out of the factory, it has the same shower we were putting in as an upgrade five years ago," Williams says. "One of those things we stay in tune with is what people like and don't like about their coaches and we find ways to make them more usable with a little more storage space here and a more comfortable way to watch TV here."
Despite RV manufacturers adopting features and stylings that Classic Coach Works once led the way with, Williams says he is optimistic on the company's prospects moving forward. That optimism comes from the company's ability to come up with new ideas moving forward as well as its unmatched ability to provide customization and renovation on existing coaches, he says.
For example, Williams notes that by custom building its own cabinets for coaches it can match the stain color on cabinets and any profiles on drawers and door faces.
"Our goal when we put something like that in is not to make it look like it was added but to make it look like it was built that way in the coach," he says. "We are usually able to pull that off. You need to understand the floorplan of the coach to understand it didn't come from the manufacturer that way."
As for new features and technology, one popular renovation currently for Classic Coach Works is to replace the motorhome's factory dashboard with a custom dash where everything is controlled through iPads. Instead of a gauge cluster with mechanical gauges, everything is displayed on and controlled through a tablet.
The variety of the work the business does – combined with the ability to make customers' dreams come true when it comes to renovating and updating their coaches – is what makes the work so rewarding, according to Williams.
"We love what we do," he says. "It's really a very interesting business. It is never ever boring.
"It's always changing because what you do from one week to the next is always changing. There are always new obstacles and new problems," he adds. "Just when you think you have seen everything that could happen in a motorhome, you find 10 more things you didn't ever dream could happen."