Features
Creating the Look and Feel of Home
Many of today's RV interior coach designs are more contemporary and residential in nature.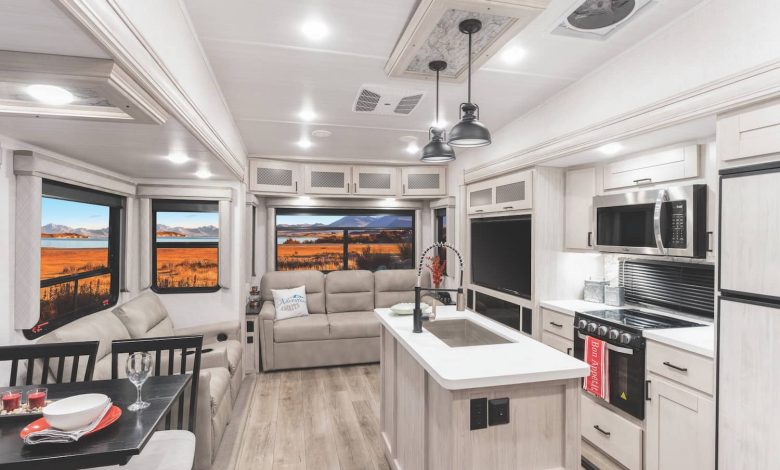 You might think of a motorhome or towable RV as the ultimate hybrid. Whether it has its own motive power or is pulled, it must be roadworthy. However, whether it's for weekends at the lake with the kids or a full-time retirement residence, it's also a home.
Just like a home, the look and style of that interior also can be critical to the owner's satisfaction. And, if there's one thing that cable DIY programming and the internet have done, it's brought more of the look of today's homes into RVs at a pace that's faster than ever.
However, those who design the interiors of these units say there are some critical differences between them and a place in the suburbs. Both the cost of the amenities and their weight are important, as is the ability of suppliers to deliver on time – especially if items are going into something that will roll off the assembly line in a day.
"It's more than playing around with fabrics," says Renee Gillis, director of design for Elkhart, Ind.-based Heartland RVs. "There's a lot that goes into it. The inside is engineered as much as the guts of the unit."
Close to Home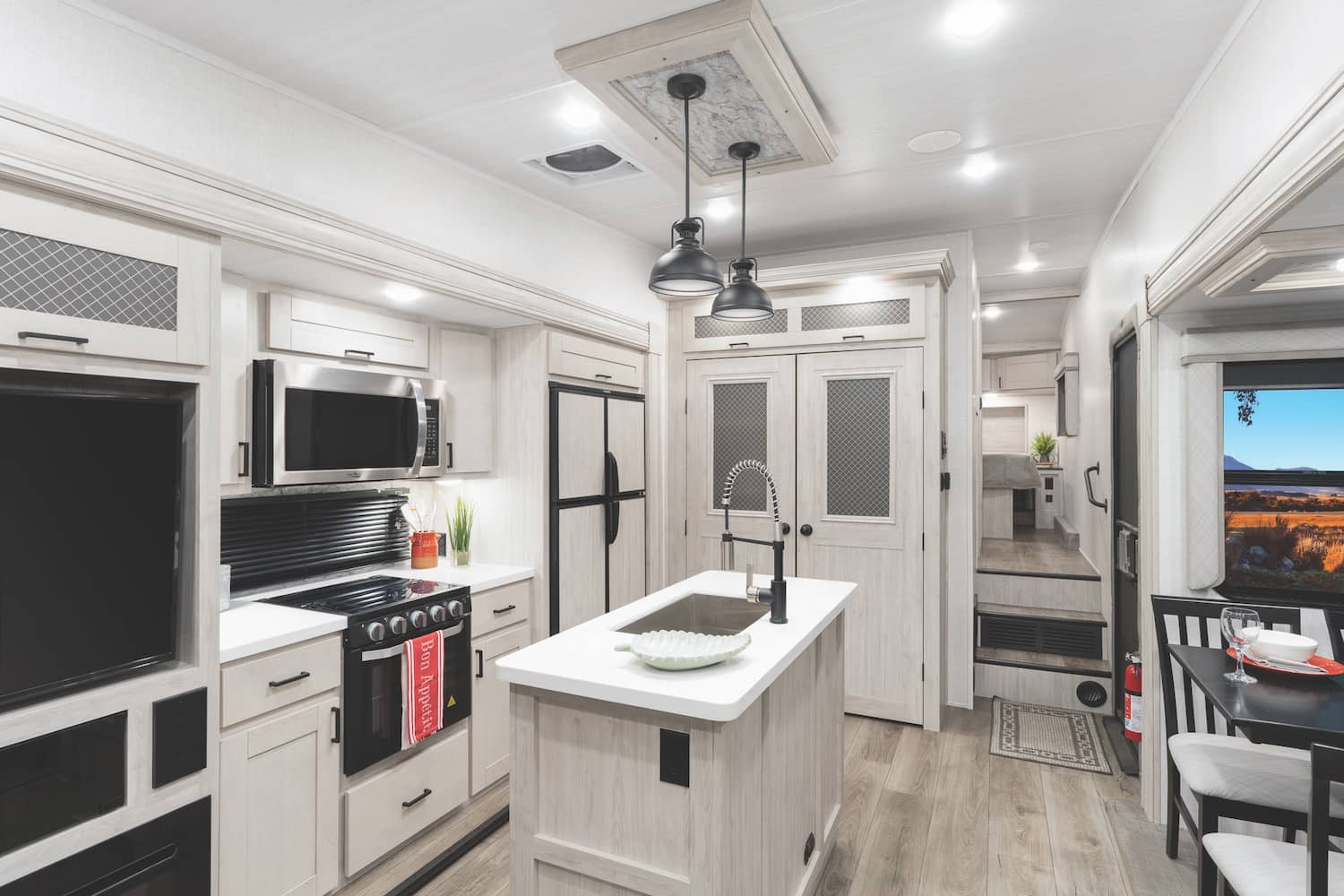 Probably the biggest change with the overall look of RV interiors is how much more closely they follow residential trends than they did even a few years ago, when the assumption was the market lagged by three to five years.
Lisa Liegl Rees is a general manager for the five brands at East to West, division of Elkhart-based Forest River, as well as supervising interior design. She has a marketing degree in fashion design and had worked in other industries as a buyer and importer before deciding to get into manufacturing. She believes media is what has sparked the change to more immediacy.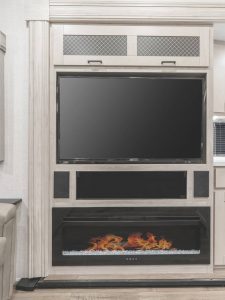 "Today is the age of HGTV and all those design networks," Rees says. "Our consumers are more aware of home trends. And I think they're wanting something a bit more modern or a bit more fashion-forward in their RVs, like what they would find in their homes."
She cites as examples vinyl flooring with a herringbone pattern or a polished concrete look, lighter wood tones and marble-look countertops.
Andrea Graves has a degree in interior design and began her career as a contract designer for commercial spaces. She was first hired as director of design for DRV Luxury Suites in Howe, Ind. When THOR Industries purchased DRV and Cruiser RV in 2014, she assumed the Cruiser RV portfolio as well.
She says the RV design world is still a bit cautious, but it's evolving.
"When I started, the colors were still very traditional," is how Graves puts it. "They were beautiful, but everyone was playing it safe. Now, everyone's taking on a bit more risk and is pushing the envelope to get us closer to the residential trends. For instance, this year you're going to be seeing a lot of whites and more of the European looks."
However, she adds that's also a bit risky because the goal always is to appeal to most people who are going to be buying units – not just those who like fashion design. For instance, while blues and greens are now appearing in some kitchens, that might be a reach for some manufacturers and some units.
"It doesn't work for everyone and it probably isn't going to work for the units where they build 30 a day," she says. "However, someone will put it in something that's a little dialed back so they can see how people react."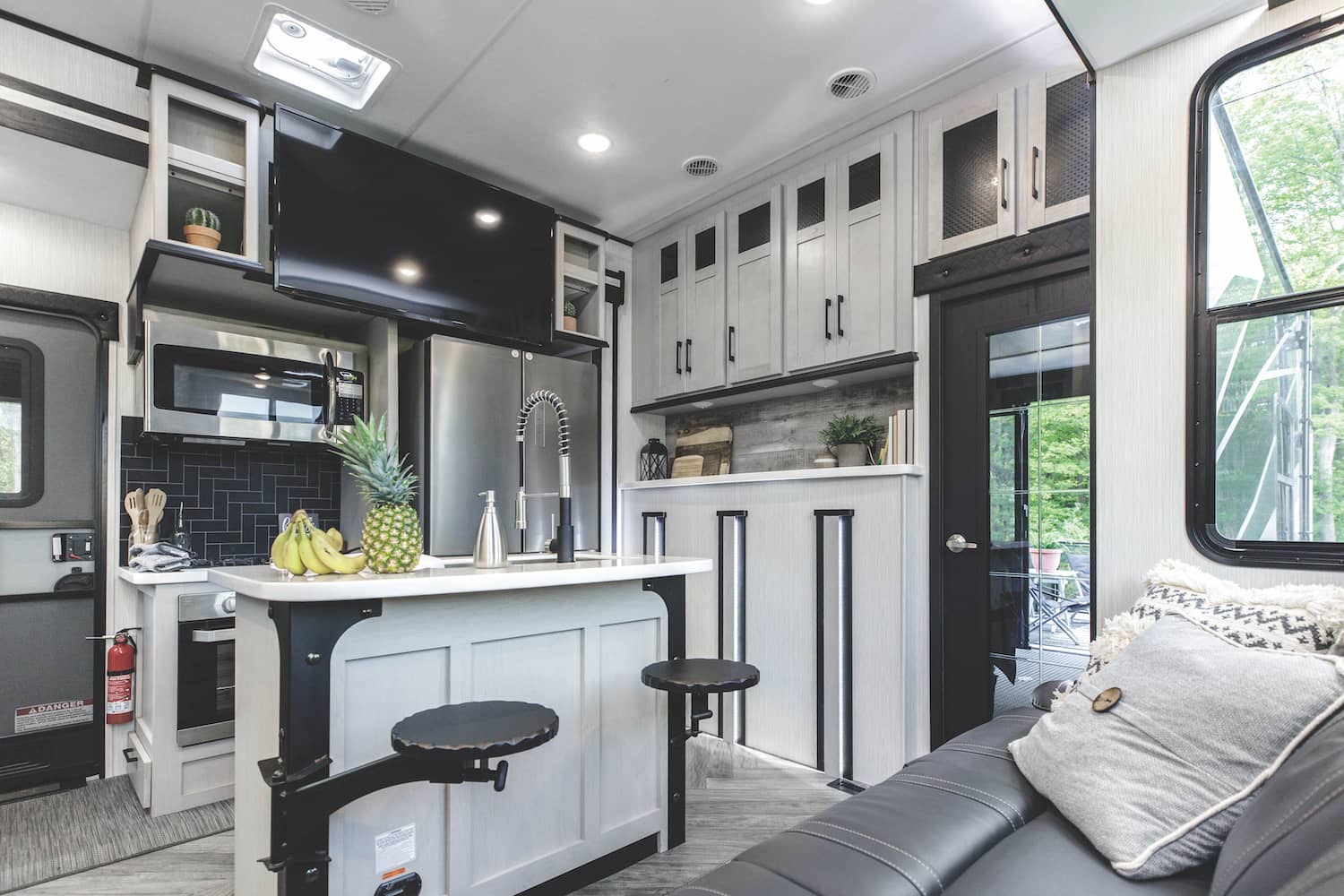 Stacy Stewart worked her way up from the factory floor through the engineering department to become interior design manager for towables in 2005 at Middlebury, Ind.-based Jayco, and she says regardless of what's being decorated, the goal is the same.
"You want the color and the feel and the flow to make you feel good when you walk in" Stewart says. "You don't want things that are going to be loud and distracting, but they also need a little pop to keep people's attention. And you want to take that small space and make it feel comfortable, not tight."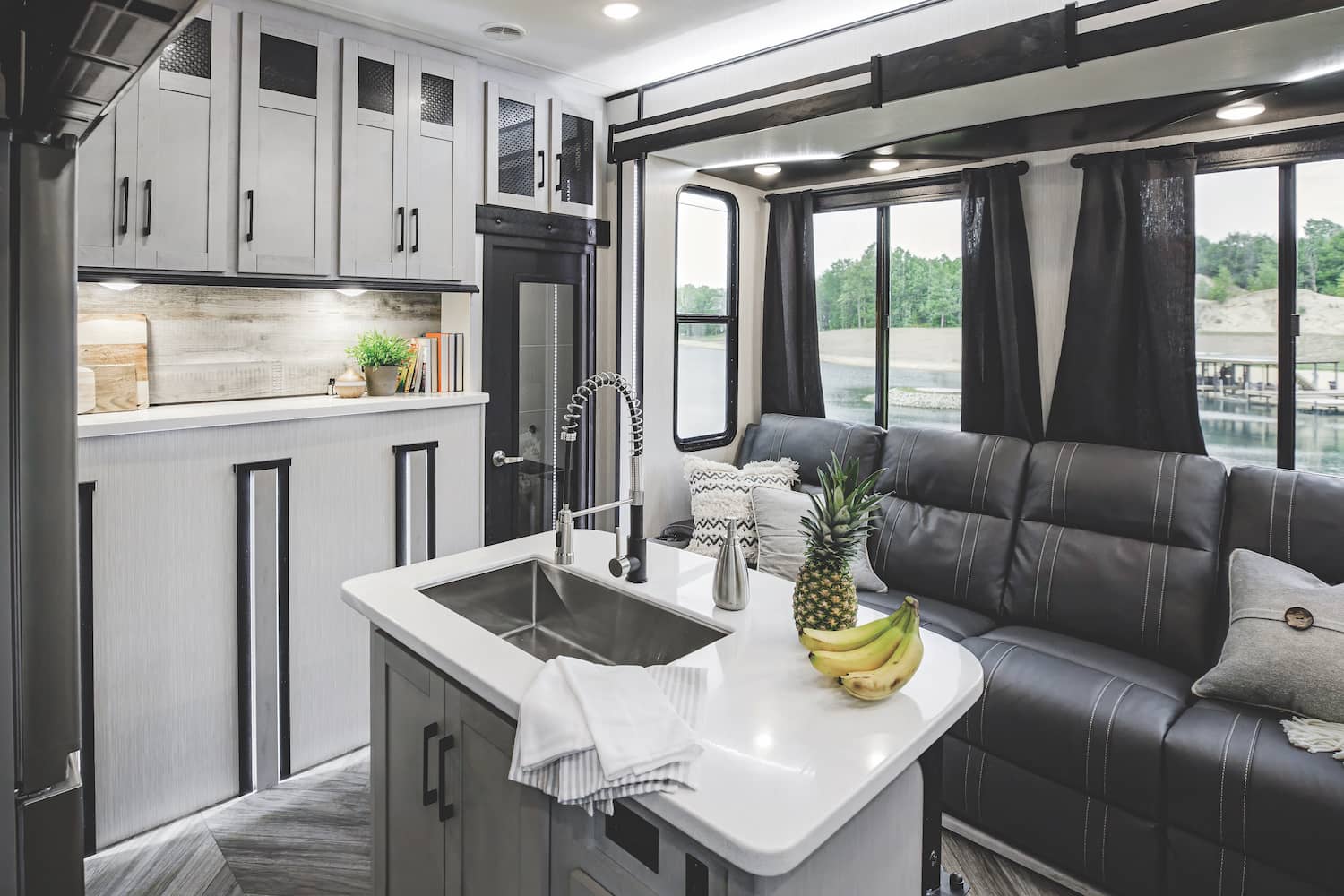 A Team Effort
How a unit gets to its final look is a complicated process that involves a whole team of people, and a myriad of suppliers.
For simple logistic purposes, a lot of manufacturers work on a two-year cycle, where the exterior is updated one year, and the interior the next. However, DRV's Graves says that's not always the case.
"We try to stay on a two-year cycle, especially with items like the wood colors, just because there are so many parts involved," she says. "If, for some reason, the color is not well-received, we could switch earlier. It may be that we've updated enough of the little décor elements that we don't need to change. And there have been some colors that have gone past two years. It just depends on what is selling."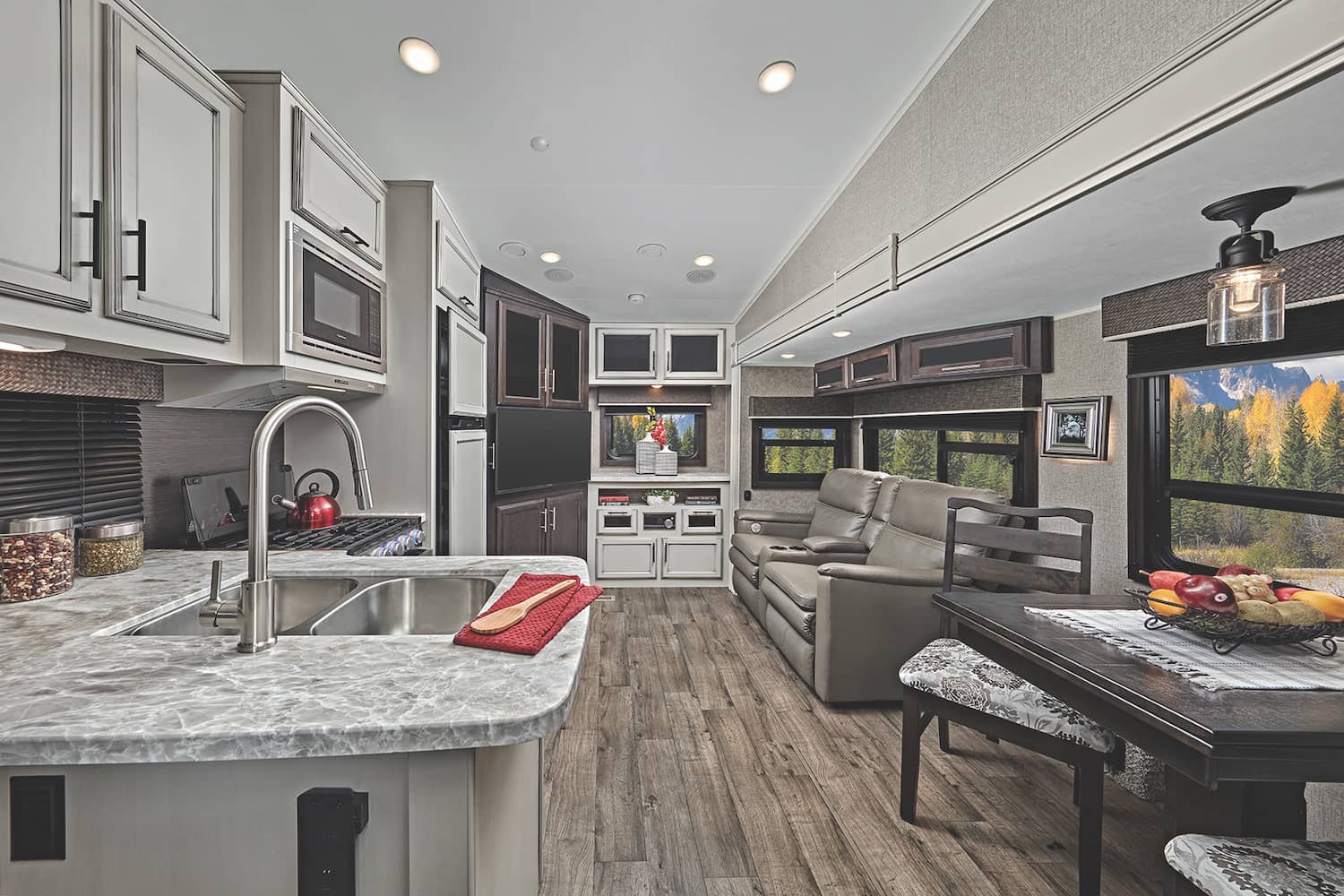 Regardless of the unit, all agree that coming up with that look is an involved process.
Gillis, who began her career in the industry as an intern with Holiday Rambler while still studying for her degree in interior design, spent the early part of her career in the engineering department there before moving on to Four Winds, then a THOR brand. She's been with Heartland for more than 10 years, and she says the conversation about the interior look of a particular model starts early.
"If the change is going to be in the summer, we will start working in the fall," Gillis says. "We begin by discussing it with sales, and we decide how much is going to change and come up with conceptual ideas. It takes that much time to pull ideas together, run pilot units and decide if any modifications or tweaks need to be made."
East to West's Rees says it's her feeling that some interiors in the past didn't really give much consideration to women. Because there are several women on her executive team, she says, they give feedback on the design of the prototype, and then the male members of the team are brought in.
"It is a team effort, because the sales team has to be committed to selling the product," Rees says. "If they don't like it, if it doesn't resonate with them, it probably won't resonate with their customers. They must be proud of what we're putting on the market, too. It has to be something men and women love."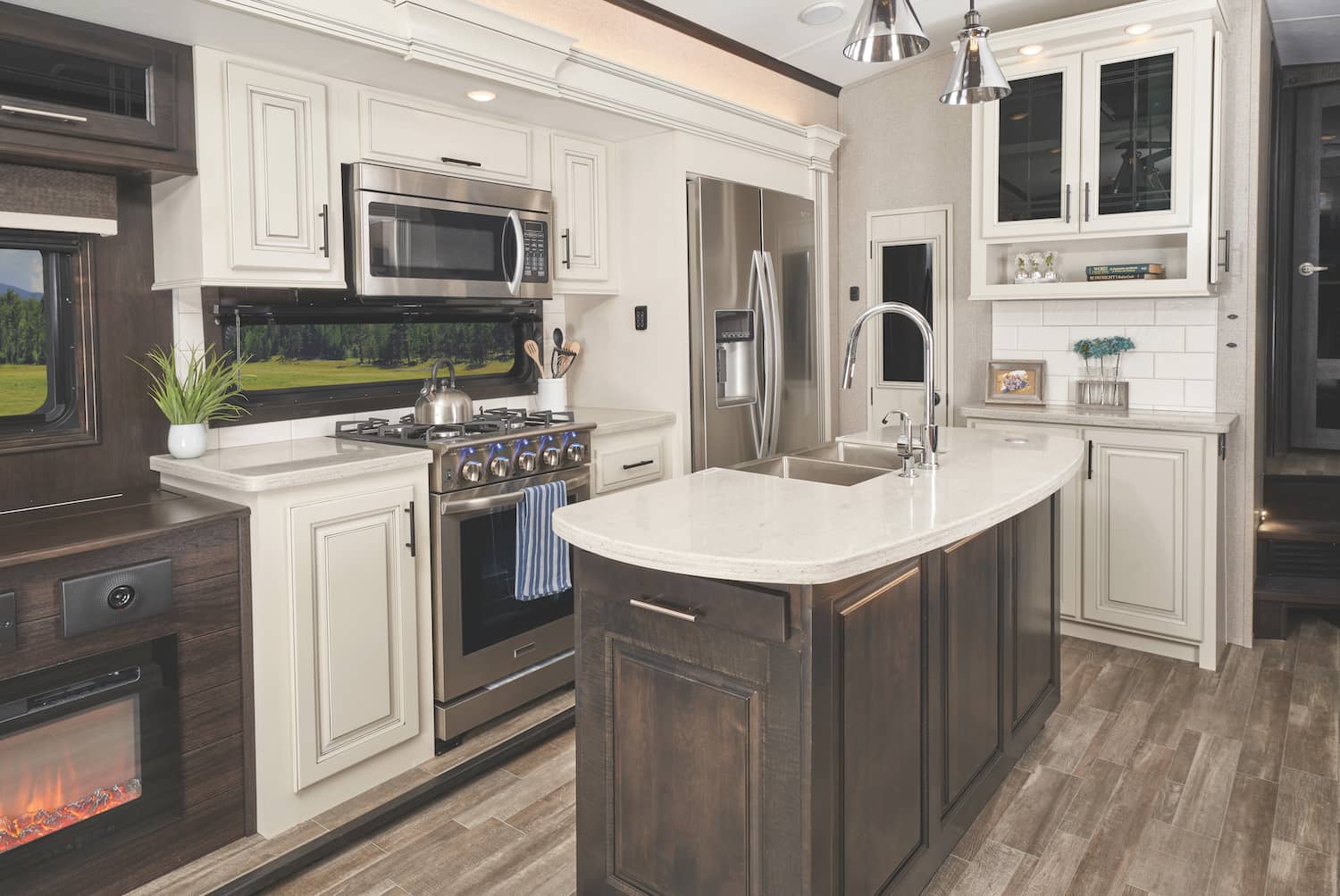 And where do those conceptual ideas come from?
The short answer is just about everywhere. These designers utilize everything from home shows to popular online sites such as Pinterest and Houzz to everyday life.
"Sometimes, I start with the wood," says Gillis. "I'm always looking when I'm out in a restaurant or a hotel lobby or a store. I look at the elements and sometimes I start with a shape or something that I saw and took a picture of."
Dollars & Cents
Having a concept is one thing, but getting that idea into a particular unit in a way that's going to work for everyone from the sales team to the accounting department to the buyer is another. Jayco's Stewart says a lot of the process involves just knowing the unit's budget.
"The price on the décor is a big thing," Stewart says. "It's a matter of where you spend your money. If it's a smaller unit, then we're not going to be putting tile on the backsplash. On the other hand, we have a fifth wheel that has a nicer shower than in my house."
Also important is adaptability – the sofa that becomes a bed, the dinette that also can double as a sleeping space.
This is where having good relationships with suppliers is critical. DRV's Graves says she typically visits the suppliers' showrooms to see what new things they have to offer, and then they'll work together to get just the right product for her price range.
"For example, a fabric supplier will have a line they represent for commercial work," she says. "It's a line that's a little bit more expensive, but they can pull some of the ounce weight out or deconstruct it a little bit to make the price go down. But they also have the ability to add a protective finish if that's something we need."
Under the right circumstances, it's also possible to get a supplier to offer a manufacturer an exclusive on a color or product, although that may be a mixed blessing.
"A lot of suppliers are very receptive to that idea," says Heartland's Gillis. "It's another way to set us apart from the others by having an exclusive look for a countertop color or a flooring element."
In what's really a numbers game, exclusivity doesn't always work, adds Gillis. East to West's Rees agrees.
"I try to veer away from that, because if you have an exclusive product and you don't purchase enough of it, you could have a shortage," Rees says. "Or, you have an overage because it isn't a hit with customers, but you're still stuck buying X amount."
Long before large numbers of products are being assembled from all over the globe, though, the new décor is going through a prototyping or pilot process. Rees says in her case, that comes only after she's spent months picking out the items that will go into that new décor.
"I try to really narrow it down to what I like before we prototype because of the time involved," she says. "And it costs a lot of money and time, so we have to be really sure of what we want."
Typically, many of the same people involved in evaluating the prototype are the ones who participated in the original discussion about the design. And, says Graves, sometimes what looked good in concept just doesn't cut it in the end.
"We run pilots for the very reason to make sure it's going to look right," she says. "I would love to say I've never had to rerun a pilot, but that's not true. Unless it's something so small that we can take a sample that we can hold up and say, 'Yeah, that will fix it,' we'll go back and do another pilot."
Assembling the Masses
Once the prototype is approved, it then becomes a matter of numbers and time to get the units with their new décor out the door.
Just how many items – individual SKUs – go into an average unit?
None of the women interviewed for this article is prepared to say.
"Gosh, I don't know," says DRV's Graves. "Hundreds and hundreds. Even if I pick a wood color, it's not just one thing. I'm picking a wood color for the fascia, for the cabinet doors, for the passage doors. They are all separate numbers. For instance, a typical DRV unit will have up to 100 different doors in it. It's a lot of parts."
It's probably the reason that companies try to manage that number somewhat. Gillis says that at Heartland she works to limit SKUs, which are shared within brands, while East to West's Rees says that company limits options per model. Even so, the interior design includes everything from the flooring, wallboards, and window treatments on through to cabinet hardware and drawer pulls to the bedding and pillows. And it's here that having a good relationship with suppliers needs to be a two-way street given the availability of those various components.
"Even when you've selected your SKUs, you have to sort through them and make sure they're both affordable and available," says Gillis. "How much do you have to buy at once? Does it have to be imported?"
Jayco's Stewart agrees that it's a balancing act performed in large part by the company's purchasing people, and not – in the end – based entirely on price.
"It depends on if the company has been a very good vendor," Stewart says. "The company might not be the cheapest, but has it supplied us for the last numbers of years, and how many hiccups have we had? We want vendors we can count on who are always there for us."
Asked about their suppliers, these women uniformly say they're thankful for the companies that, as Graves says, "make us look good."
"I have so many suppliers that become friends, too," says Rees. "You work with them so closely, and I just appreciate all they do to make it happen. It's nice having good partners."
So, what can RV buyers expect to see in the future?
As Heartland's Gillis observes, things always come back – just not in quite the same way. She says a good example of that is the return of brass hardware.
One trend East to West's Rees has noticed is different woodgrains, including such non-traditional looks as teak and painted woods. Gillis also expects the look of wood to change, although that may mean the return of some darker looks.
"I feel we're going to reintroduce warmth back into the units with different shades of browns and naturals," she says. "Gray and white are still big, but we're looking for stronger accents, whether it's in the floor or the wood color."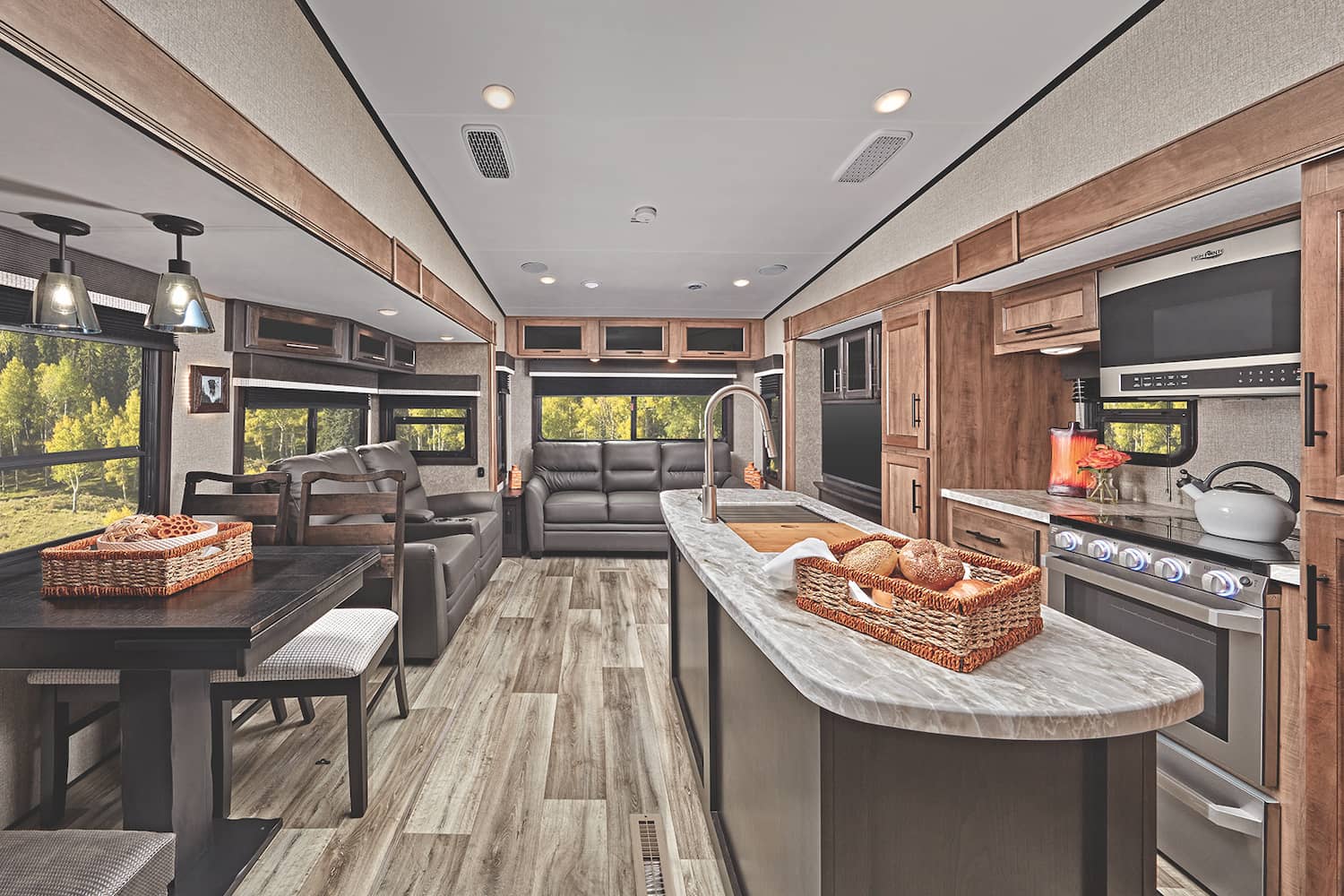 Jayco's Stewart also cites both a move away from floral and leafy patterns in fabrics and toward textures and, yes, wood colors.
"We used to have three shades of brown," she says. "We still have one that's got a gray undertone to it, instead of a red."
Perhaps better than most, Stewart recognizes how much RV décor mimics what's in the home – and vice versa. She says her daughter, who is building a home, came to the Jayco design room and is looking at using some of the flooring and décor features for her own project.
"It's very exciting that she wants to do that," her mother says.
You can read RV PRO's Interiors Special Product Focus on new appliances by clicking here.