Features
Cruiser RV Showcases its Single-Axle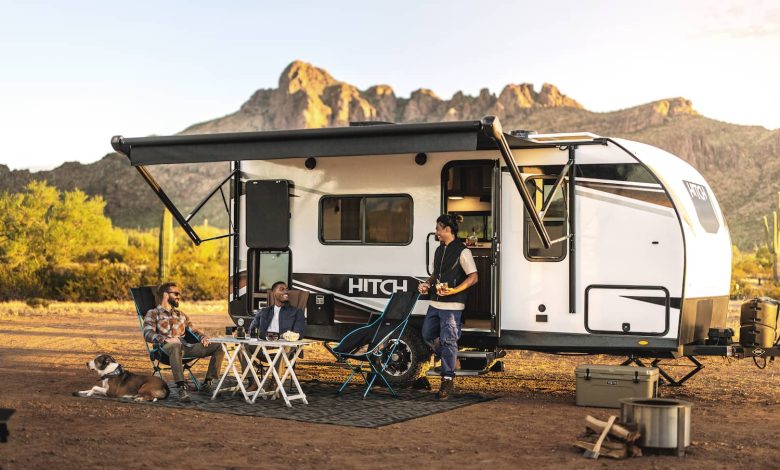 The question of single-axle versus double-axle travel trailers might be considered a game of "this or that." The budget and personal preferences of the RVer determine the RV they choose.
But lately, single-axle trailers are rising in popularity, especially among new entrants to the RVing lifestyle, says Dave Burroughs, general manager of Cruiser RV, a Howe, Indiana, company known for its quality, lightweight travel trailers.
The single-axle RV has several advantages that make it attractive to buyers. Single-axle travel trailers are easy to tow, affordable and offer a decent amount of room for camping.
"They are larger than a standard teardrop RV but have a lightweight construction," he says. "They are more affordable than other recreational vehicles. They are very maneuverable and set up quickly. Most can be towed by a standard pickup truck or SUV. Buying a big tow vehicle isn't necessary to move them."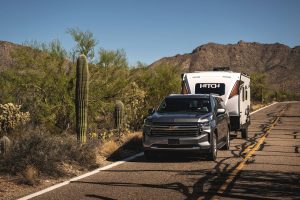 Built-In Affordability
There are many reasons that a single-axle traveler trailer is more affordable, Burroughs says.
First is their size. Because manufacturers build these trailers on a smaller platform, they are in a weight class of under 4,000 pounds. Besides costing less, being lighter weight means they need less power to tow. It is possible to save on fuel consumption and tow vehicle wear and tear by putting less strain on the engine.
But though the trailers are smaller, they still offer the same amenities as their larger double-axle counterparts. They are a step up from a popup trailer, which is where most campers enter the outdoors experience.
People also can get into more adventurous camping experiences with single-axle travel trailers. Burroughs says that single-axle travel trailers have a solid roof and do not have canvas sides, which keeps campers warm and dry in inclement weather.
"Having a solid roof and no canvas sides is a definite advantage, especially in some national parks," he says. "A popup camper doesn't work well with bears and other animals. And some parks have restrictions on RV size. These units are smaller and more mobile."
Built for Comfort
Many single-axle travel trailers come with well-designed floorplans to ensure there is no sacrifice in amenities, Burroughs adds.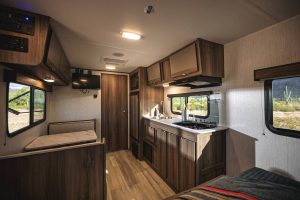 "You may sacrifice size, but you are not sacrificing comfort," he says. "Air conditioning and heating, queen-size beds, and even full-size restrooms are still available in these units. There are floorplans with bunks or slideouts, which make them perfect for a small family."
Most families do not want to camp in tents but do so because they lack the budget to purchase larger vehicles to pull heavier trailers.
"A travel trailer will allow them to adventure into camping and see this great country in an affordable, maneuverable and comfortable way," he says. "Is it a great big, 400-square-foot fifth wheel? No. But it will get you into the camping lifestyle and allow you to do everything you want without expensive vehicle upgrades. Once people get into the camping lifestyle, they will go from a popup trailer to a single-axle, tandem-axle all the way to fifth wheels and motorhomes. It's a progression."
Burroughs cites Cruiser's new Hitch 18MRB as an example. "The single-coupled coach lacks nothing in terms of design and functionality," he says. "We have a full-size refrigerator. The coach has air conditioning and heating. It has everything you need, including full-size showers and dinettes you can stretch out on.
"There are a lot of features in our single-axle trailers. Cruiser's single-axle RVs are not the cheapest, nor are they the most expensive. But consumers get a lot of bang for their buck in the mid- to upper-30s price range."
Cruiser Reinvents Hitch Line
Cruiser reintroduced its entire line of single-axle trailers at the 2022 Open House in Elkhart, Indiana.
The line has two couples coaches and two family coaches with bunkhouse models. The units come with and without slideouts.
"There is a lot of flexibility," he says.
The biggest change to the line was its body, which the company expanded to 7 1/2 feet wide.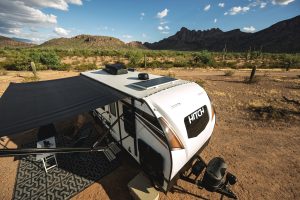 "We made it more spacious, but stayed within the single-axle platform," Burroughs explains.
The company also redid all of the interiors and exteriors for the Hitch brand and added a fiberglass cap with a windshield to bathe the RVs in light.
"The coach feels more open because of the windshield. The fiberglass cap also makes the coach feel more upscale. The fiberglass is easy to clean, looks nice and is functional because it brings light from the outside into the coach," he says.
Interiors also shine with sleek, simple, European-styled cabinetry in a bright, two-toned color scheme and solid surface kitchen countertops. The kitchen offerings include a 16-inch round, hand-built kitchen sink; a 12-volt refrigerator; and an ample dinette.
"We are making 12-volt refrigerators standard across the entire line," he says.
RVers also like to have outdoor kitchens on their RVs. The single-axle line from Cruiser RV does not disappoint. All Hitch units come with outdoor kitchens, which expands cooking options.
"Ours are fully equipped kitchens, with a refrigerator, so they do not have to run in and out of the camper when cooking outside," he says. "Today's consumers value outdoor kitchens more than ever."
Cruiser RV also upgraded the air conditioners on the entire Hitch travel trailer line. The company now offers 15,000-Btu air conditioners.
All coaches also come with marine-grade flooring to make cleanup a breeze. Floor plans also can include queen-size beds, bunkhouse options and slideouts. All coaches come with full-size bathrooms for greater creature comforts.
Hitch Tech and Solar
Tech comforts are plentiful in the Hitch line of single-axle trailers. The rigs come with 360-degree HD antennas with Wi-Fi prep, 4G LTE prep, and 12-volt TVs with DVD players.
"You can even use these RVs to work remotely," Burroughs says.
Cruiser RV also improved solar packages across the Hitch line, which comes standard with SOL – Powered by the Sun prep. With three solar options to choose from, consumers can choose a solar package that supplements their typical energy use, or go for a higher-tier package that powers the RV when they camp off-grid.
"We start out with a 190-watt, roof-mounted, solid solar panel, then we prep that with the 30-amp controller," he says. "The solar package is tiered and extendable. If you want to go off-grid and do boondocking, we make it extremely easy for you to do that."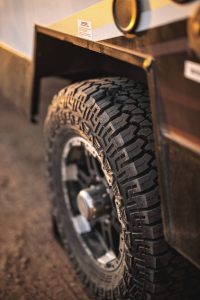 Burroughs says the upgrade made sense. Consumers had told them they wanted to go further out to "just get away. Even if they don't do it that often, they want the ability to do it," he says.
Boondocking or going off-grid requires unit modifications, which come standard on Hitch RVs. The trailers come with standard off-road tires with good ground clearance. He says this allows RVers to go off-road.
"We also introduced a product called The Vault, which cleans up the wiring and puts it into one area near the hitch," Burroughs adds. The Vault provides central housing for 12-volt wiring connections. It allows owners to disconnect 12-volt power going from the battery to the RV, keeping the battery in the same charge state as when they cut the power.
USB charging ports are throughout the coach, as are conveniently located 110-watt plugs.
"We have them everywhere, even near the bed area, where you may want to charge your phone or plug in a CPAP machine," he says.
Hitch's Super Setup
The Hitch line of RVs also delivers the quick set up abilities consumers ask for, according to Burroughs.
"You have four jacks to put down, then you plug it in and hook up to water if you're at a full hookup site and you are good to go," he says. "There isn't much to it. Compared to a tandem-axle trailer, it takes a lot less time to set up.
"RVers want to set up quickly so they can enjoy the outdoors right away. That is what they are paying for. They are not paying for the experience of setting up a camper and tearing it down," he says. "So, we made it quite easy for them. All our units offer electric awnings with LED lighting, electric tongue jacks and easy-to-operate leveling jacks for fast and easy set up."
There's an App for That
Cruiser RV has introduced MyCruiserRV, a tool that helps consumers manage their Hitch single-axle travel trailers from their phones.
The new mobile app lets owners store their RV information, monitor warranty statuses and access how-to videos on the go.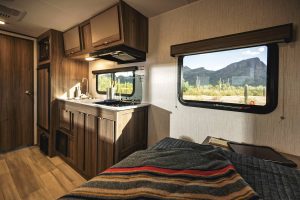 "They have a lot of flexibility in the app," Burroughs says. "They can find the dealer to schedule service, track parts orders, warranties and more. It also has a lot of checklists and how-to videos for them."
Burroughs believes the entire industry needs to move toward apps that connect them to consumers.
"Our app helps us connect with the end user," he says. "We have also introduced a new dealer app and portal that helps dealers connect with the customer on warranty work and service recalls, etc."
He says all of this has a single goal in mind.
"It is critically important that we take excellent care of the customer and help them feel more connected to the product," he says. "Consumers expect more from manufacturers and dealers than they did in the past."
The RV industry is dealing with a new group of consumers since the pandemic, he adds.
"Many new consumers have never camped before and need additional support," he says. "They also have elevated expectations. They want an app and a lot of electronics. They want flexibility and great service. As manufacturers and dealers, we need to elevate our games to make sure we provide consumers with the best products possible. Consumers who fall in love with camping will stay with us for a long time."