Features
Cummins Celebrates 100 Years of Power Systems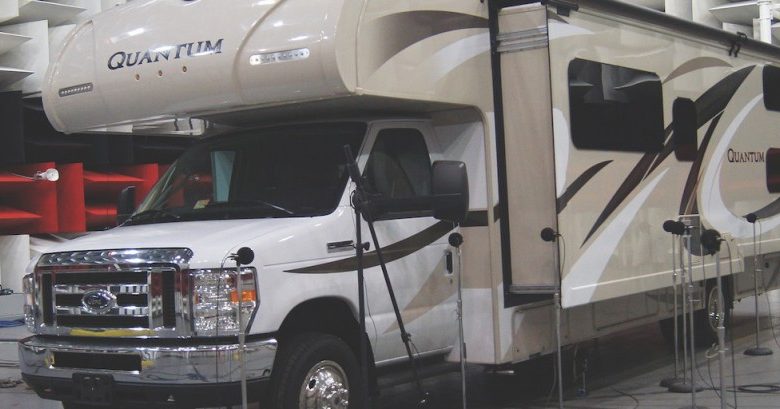 This article is from our older website archives. Some content may not be formatted or attributed properly. Please
Contact Us
if you feel it needs to be corrected. Thank you.
Had Clessie Cummins, his partner, and their successors, merely thought they were selling diesel engines, Cummins Inc. probably wouldn't have lasted nearly long enough to celebrate its centennial earlier this year. Cummins – both the man and the company – may have been early developers of diesel power in North America, but it's the spirit of innovation that has really carried forward across the decades as Cummins has branched out into alternate fuel sources such as natural gas and electric power.
Today, the company is recognized as offering diesel engine options as motive power for a wide range of larger vehicles, including RVs. Additionally, the company also is well-known
in the industry for its generator product line that comes as standard on many RVs.
"We continue to look at how power needs are changing, how we're delivering that power, and how we can unleash the power of our customers by the innovations we're providing," says Michael Anderson, communications director for power systems for Cummins. "We're in the market to power customers through innovation and development."
Technologically Advanced 
Looking back 120 years, it's hard for the average person today to realize just what an innovation the passenger car was at the turn of the 20th Century, especially since Henry Ford didn't begin building them for the masses until 1908.
For Columbus, Ind., banker William Irwin, a car was no doubt a status symbol, and so technologically advanced it required a driver: Cummins.
However, Cummins' interests were in the mechanical aspects of motive power, and in 1919, he founded the Cummins Engine Co. with a six-horsepower model designed for farm use. As with many a new product, it took a while for Cummins and his engines to hit their stride.
Thanks to funding from Irwin, Cummins was able to stay afloat while he tried other markets, including marine applications. He also tried the automobile market, entering one of his designs in the 1931 Indianapolis 500, where it traveled the entire distance on one tank of diesel fuel.
The company seemed to hit its stride, though, when that same year Cummins made the trip from New York to Los Angeles, where Irwin owned a controlling interest in a supermarket chain. Cummins persuaded Irwin to put diesel engines in the trucks used to deliver food to the stores.
Their higher torque made them ideal for the California mountains, as well as durable and economical to run. The result was the over-the-road diesel trucking industry.
As to why Irwin continued to bankroll Cummins as he sought to find the right markets for his engines, Anderson speculates it was for a mix of reasons.
"The Irwin family owned a variety of interests, and like any banker, William Irwin was looking for opportunities where he could invest his money," Anderson says. "But they also had a personal relationship that let him put his faith in Clessie."
Cummins may have been the technology guy, but the Irwin family certainly contributed more than just money to the enterprise that Cummins is today. William Irwin's great nephew, J. Irwin Miller, helped establish the core values that drive the company even today.
One of those was the establishment of the Cummins Foundation, which led the way to the investment in architecture which continues to draw people to Columbus.
"We also focus a lot of time and attention on sustainability and diversity," says Anderson. "We wanted to make sure we have a very inclusive workforce that's going to be with us for a long time. And, with sustainability – even though our products rely on fossil fuels – we want to make sure we're protecting the environment as much as we can, and through innovation, making the most out of those precious resources."
Today, with a worldwide workforce approaching 60,000, Cummins is noted for the heavy investment it makes in increasing diversity through various technical groups, such as the national Women in Engineering organization, and chapters of the National Society of Black Engineers in communities where the company has plants.
"We know our company is better off when we have a large diverse workforce where ideas thrive and flourish," Anderson says. "We try to do as much as possible to promote that, on both the local and global scale."
Cummins also is a strong supporter of technical education, wherever it has facilities. Anderson says that's because the company recognizes it needs both engineers and mechanics.
"We value the development of the mechanics and other technical people needed to support these engines as they go off to serve our global footprint," he says. "Our products go off to all four corners of the world, and if there's a problem, they have to be worked on locally."
A Boon to RVs 
As Cummins Inc. celebrates its centennial, the company is still known for producing a diesel engine that's powerful, reliable and fuel-efficient – in short, a boon to the RV industry.
At present, the company holds the largest share of the diesel RV market with its X15, X12, L9 and B6.7 model engines on Freightliner, Spartan and some Tiffin-built chassis. As part of that, the company also has a program called Cummins Coach Care that covers service on both chassis and major systems in those units.
"Our X series engines are the ones that have seen the most work in terms of improving fuel economy and reducing emissions as low as possible," says Anderson. "We have a platform that either combines with smart transmission technology or integration through the full power train, so the engine combined with the transmission combined with the full drive train makes the unit as efficient as possible."
Benefits include more speed and miles-per-gallon on grades, and up to 50 percent more torque on hills.
While the choice of engine is a decision each new RV buyer must make, one that's already been made for them in many cases is the presence of an onboard generator, and there many OEMs, hands down, are choosing Cummins' Onan brand of generators.
Minneapolis-based Onan has only a slightly shorter history than its parent, being founded in 1920. Cummins acquired a majority share of Onan in 1986 and later purchased the entire company. Today, it's part of Cummins' Power Systems business segment.
"The reason that Cummins bought Onan was that the majority of its product was around 300-kw or below," says Garry Enyart, Onan's director of mobile generator sales (and RVIA chairman). "They were doing some assembly of their own generator sets and it made perfect sense for them to acquire Onan and use the brand and engineering expertise to further their work in the generator segment of the business."
He adds that power generation has always been the focus of Cummins, but that doesn't necessarily mean motive power. The company manufactures generators from 2,500 watts, which is the size of a typical RV generator, all the way up to 95-liter engines, which are as large as a semi-trailer and provide emergency power for hospitals and data centers.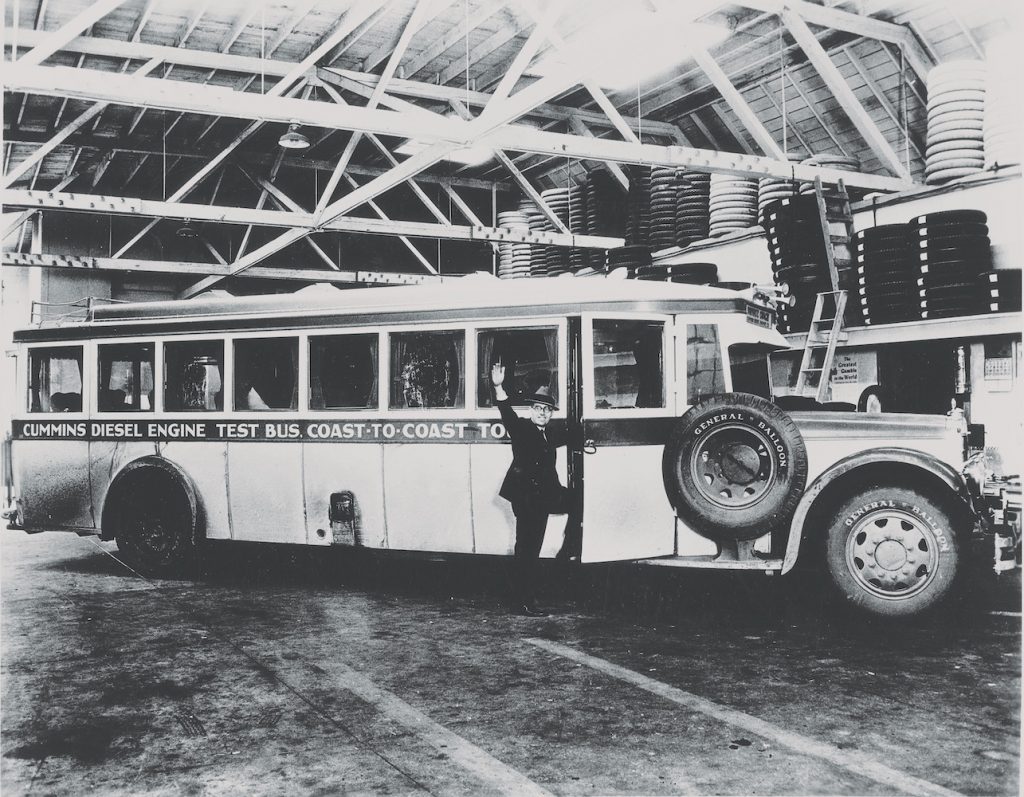 In 1932, the Cummins H-Powered Mack bus traveled from New York to Los Angeles in 78 running hours, achieving a faster travel time than by express train. The 125-horsepower Model H test bus reached speeds of up to 65 miles per hour during that trip.
"The RV and mobile market are 5 percent to 7 percent of the overall Power Systems division," Enyart says. "We build most of the generators that are consumed in North America and all of the RV generators and mobile generators are distributed worldwide."
Enyart explains that every Class A motorhome – whether gas or diesel – gets a generator built-in at the factory, as do almost all Class C units, particularly those built on Ford E Series chassis. Additionally, many Class B units and many sport utility trailers also come with a generator.
"Air-conditioning – whether the unit is in transit or stationary – was the primary impetus for generators when we started selling fixed-mounted units to Winnebago and the like," he says. "People love the comforts of home – even when they're camping, and a generator remains the best option to run all those appliances."
While OEM-installed units make up a big part of Cummins' sales to the RV market, there's also a segment that is still buying from dealers and distributors. Enyart notes that generators aren't yet standard on all fifth wheels, for instance.
Many of the units are gas-powered, but especially in Class C diesel units, generators typically run on the same fuel or liquid propane.
"The only issue you can run into is having storage capacity for enough LP tanks if you're dry camping," he says. "It's best to have more than one tank."
Not surprisingly, Cummins has its own company-owned distribution center in Elkhart.
"One of the reasons we're a preferred supplier to many of the OEMs is because we provide everything necessary to install the generator at the OEM," says Enyart. "We include the generator, any ancillary control panels, wiring harnesses, exhaust components and anything else necessary for each individual model."
Each is also engineered to work well in the coach, a fact guaranteed by the company's large staff of salespeople and engineers.
"Our people are at plants working with the OEM engineers and other support services on a daily basis," Enyart says. "Our crew is also very tenured; we've been doing this for a long time, and we work well together."
So, what does the future hold for Cummins in the RV market?
The next step may be electric engines. The company already offers an electric-powered truck, the Cummins Aeos, although Enyart believes trucks and buses are initially more likely candidates for electrification.
"If you think about a vehicle that isn't over-the-road and returns to a terminal every day, that's a great application for electrification," he says. "We're investing heavily in electrification, and we do have a concept highway truck with the Aeos. However, if you're over-the-road you have to have some place to recharge it."
For that reason alone, Enyart says the RV market may lag in any move toward electrification.
In the meantime, the Onan brand will have some new products coming out starting early next year for the OEM market, including a new small generator.
"We're going to be focusing on new designs that are quieter, more fuel-efficient, and provide the same kind of good, clean power that we always have had, and we'll do it more efficiently," he says. But, then, sustainability is a big part of the Cummins' way – and it will continue as the company starts work on its second century.
"We've focused for a very long time on sustainability, and we've been good stewards to the environment," Enyart concludes. "We've worked hard to improve the emissions output on all our engines and to follow EPA (Environmental Protection Agency) and other standards globally. We take addressing our carbon footprint very seriously, making sure that we as a company are sustainable and that our products do what we say they'll do, whatever market we sell into."