Features
Dealer Profile: Southern Comfort
Southland RV prospers by retailing upscale, niche products and by maintaining a laser-like focus on the service end of the business.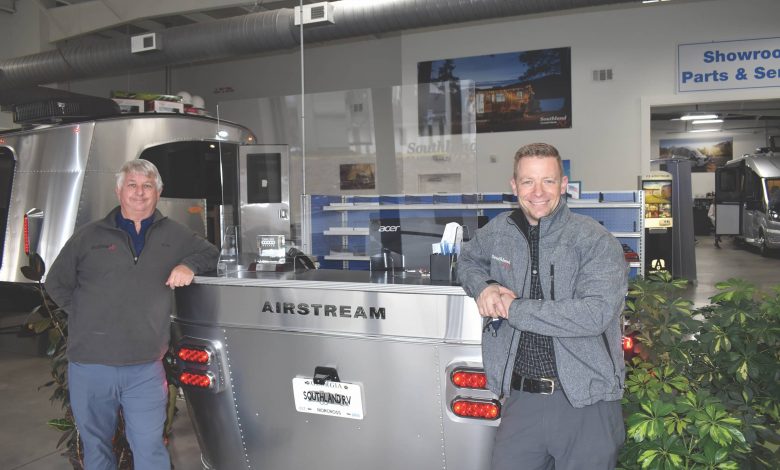 Brett Hensley, Matt Frady and Eddie Correa view the RV dealership business a bit differently than most.
One could say they approach camper sales by thinking outside the box, or to borrow a line from famed singer Linda Ronstadt, they "travel to the beat of a different drum" with a business founded on serving a collection of upscale niche markets.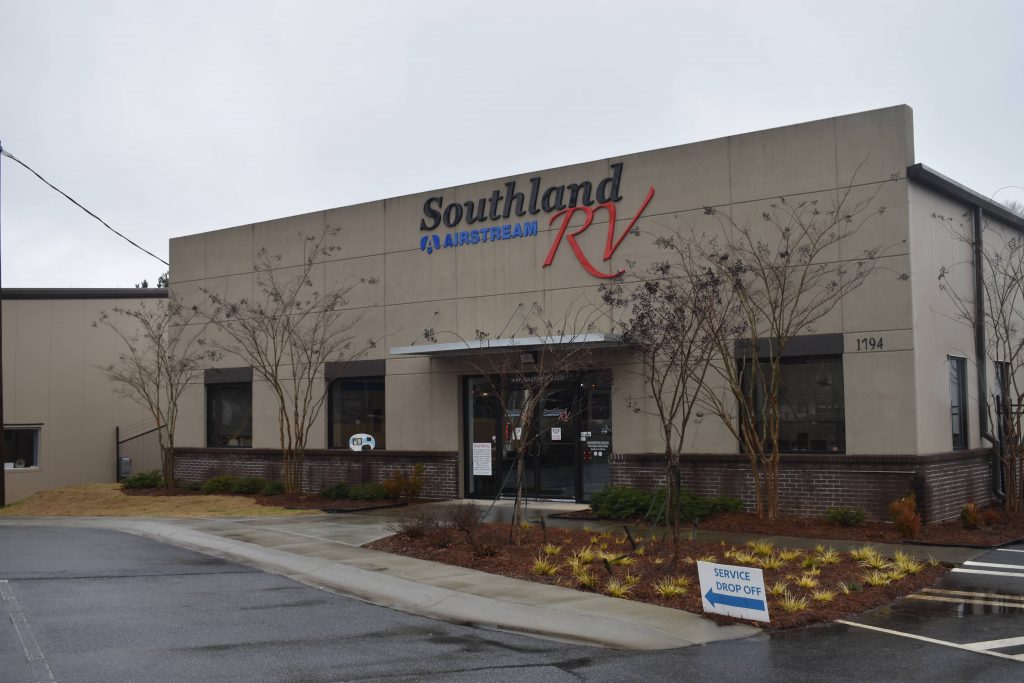 Partners at Southland RV in Norcross, Ga., the trio perceived a gap in the Atlanta market for specialty RV products. Perhaps sensing the beginning of a trend, they figured that focusing mostly on smaller RVs, such as teardrops and A-frames, might be the wave of the future. Judging by Southland's robust climb in sales over the past several years, they were right. During 2020 – a year disrupted by a global pandemic – the dealership set a record, selling 540 units. Southland is already on pace to top that this year.
"We wanted to find a special niche for ourselves, where we would not have to compete as much with the larger dealers," Frady says. "Our customers find it refreshing and different."
Sales have been escalating since Southland moved into its current facility near the end of 2015, growing by 40 percent in 2020. Southland, according to Hensley, was a sub-$5 million per year dealer in 2015. That figure rose to more than $25 million in 2020.
"That's pretty phenomenal growth, even in this industry," Hensley says.
That growth slowed a bit in 2019, to "just" 10 percent, as Southland scaled back slightly while a new service center was built.
"We have a sign in our office that says, 'We are different – and we like it that way,'" Correa says. "Our culture is a combination of who we are as owners, our mindsets, and the diversity between the three of us and the products that we carry. We have the unique items that are what we consider the best of the best."
Airsteams & Smaller Trailers Power Success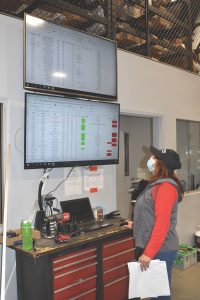 While smaller RV brands account for the majority of sales, Airstreams are Southland's biggest seller, accounting for about 17 percent of unit sales. Southland is an Airstream Five Rivet Dealership, a distinction the manufacturer bestows on dealers it judges to have met its highest standards in sales and service. Southland was one of the original eight dealers in the U.S. to achieve this level.
"The Airstream is an iconic brand in the RV industry," Hensley says. "Baby Boomers saw them when they were kids, and now that they are retiring, that is the direction a lot of them are going. Airstream is going wide open to meet demand and cannot even get close."
This year figures to be another banner one for Airstream sales. By mid-February, Southland had 70 pre-sold Airstreams on order. The rest of the RVs Southland sells fall into the small category. nuCamp is second in sales, followed by Lance Campers and Leisure Travel Vans. All told, Southland represents nearly 20 brands.
"We like to say, we do 'weird' well," Hensley says. "We are a specialty dealer – not a traditional dealer. We take pieces of the market and try to specialize. Most of our products fall into the specialty line of RVs. We do have some traditional models, but 75 percent of our sales are what we consider non-traditional: Airstream, small teardrop campers, inTechs, Super C RVs and truck campers. We've taken small pieces of the market and found ways to excel at that."
Southland's prime real estate fronting one of the busiest interstates in the U.S. notwithstanding, the majority of customers seek out the dealership from afar, prompted by online research and social media. Frady says that Southland has one of the largest geographic footprints in the industry, having served customers from 45 states over the past year.
"If you look at a map, we cover the whole country, but our largest numbers come from the southeast: Georgia, Alabama, Tennessee, South Carolina and Florida," Frady says. "But we have had customers from California, Washington State and Utah. These people drive a long way because we serve a niche market."
Southland also attracts robust interest from overseas customers. Over the past few years, units have been shipped to Africa, Russia and Argentina. But the biggest importer of RVs from Southland is South Korea, averaging 30 to 40 units per year.
Southland's website draws heavy traffic – 298,000 visitors and 1.85 million page views in 2020. Sales Manager Dylan DeHoff created a marketing video that drew 900,000 views on YouTube.
A Passion for Service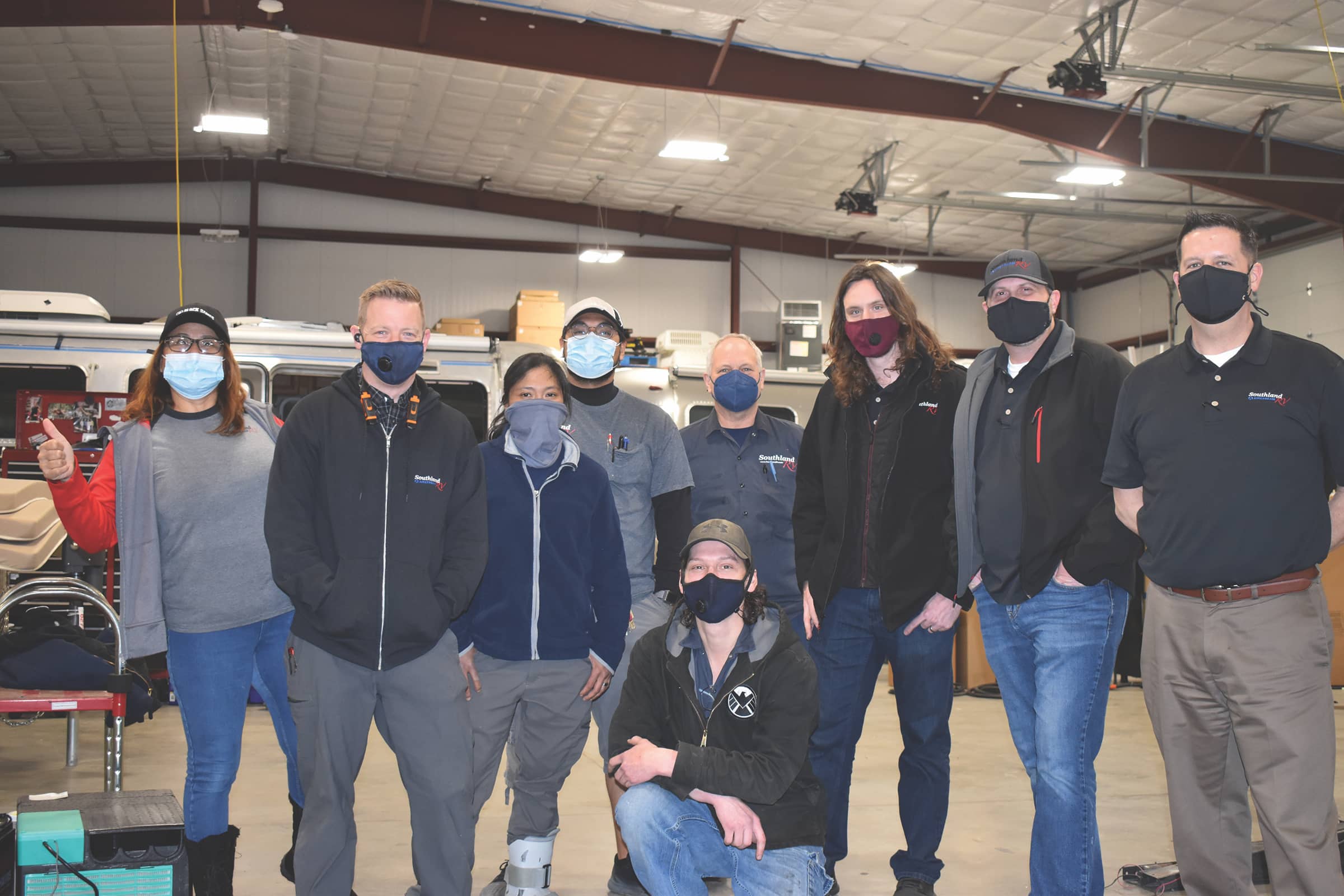 Helping propel Southland's sales is its service department, an area upon which the dealership places a great emphasis. The three partners have a passion for service.
In fact, they view their operation as a service facility that sells RVs. A new $1.9 million service center opened near the end of 2019, providing additional space for its bustling repair operation. Hensley credits this emphasis for driving Southland's 30 percent mark in repeat customers.
The service facility has seven bay doors, with each bay 90 feet deep, allowing for two or more units in each. Southland regularly has 14 to 16 units in the building. Hensley says it is likely the largest air-conditioned RV service shop in the Atlanta area. The facility also features a 60-foot-long pit for oil changes.
"It is one of the best equipped shops in Atlanta," Hensley says. "We have an air system that is 175 PSI, where a normal air system is only 130. That gives us the ability to work on the big tires and buses."
Hensley describes Southland's service team as "the best crew anywhere." Of the dealership's total 43 employees, 25 work in service and parts.
"We have around seven on our technician crew, and then we have several of what we call junior techs: talented, handy youngsters that we are training," Frady says. "They can do a lot of the simpler tasks and keep things moving along faster. We like to do an apprentice-style program where they can learn from the more seasoned techs about not only the RV industry, but also about how we do things – how our service department works and the way we want things fixed."
The service staff works as one unit and everyone is treated as family, according to Frady, who says this gives the service a completely different feel than can be found at some dealerships.
"I've seen places that have a bad atmosphere, where you feel that people don't really want to be there," he says. "I think we've done a good job of creating a place that technicians want to come and work and learn and grow. It gives us a chance to train people to do the work the way we want it done. Finding a trained technician these days is like finding a unicorn. You pretty much have to grow your own."
Airstream models account for about half of Southland's service business. The dealership employs four Airstream-certified technicians.
Providing proper prep work is another key to Southland's success.
"We sometimes take several days of prep," Correa says. "We check every inch of it. We like to say they are 90 percent built when they get here. The rest is us – and sometimes more than that. The only way to get a superior product out there is to do the proper prep. You only get one chance to make a first impression on the customer's first camping trip – and that's up to us."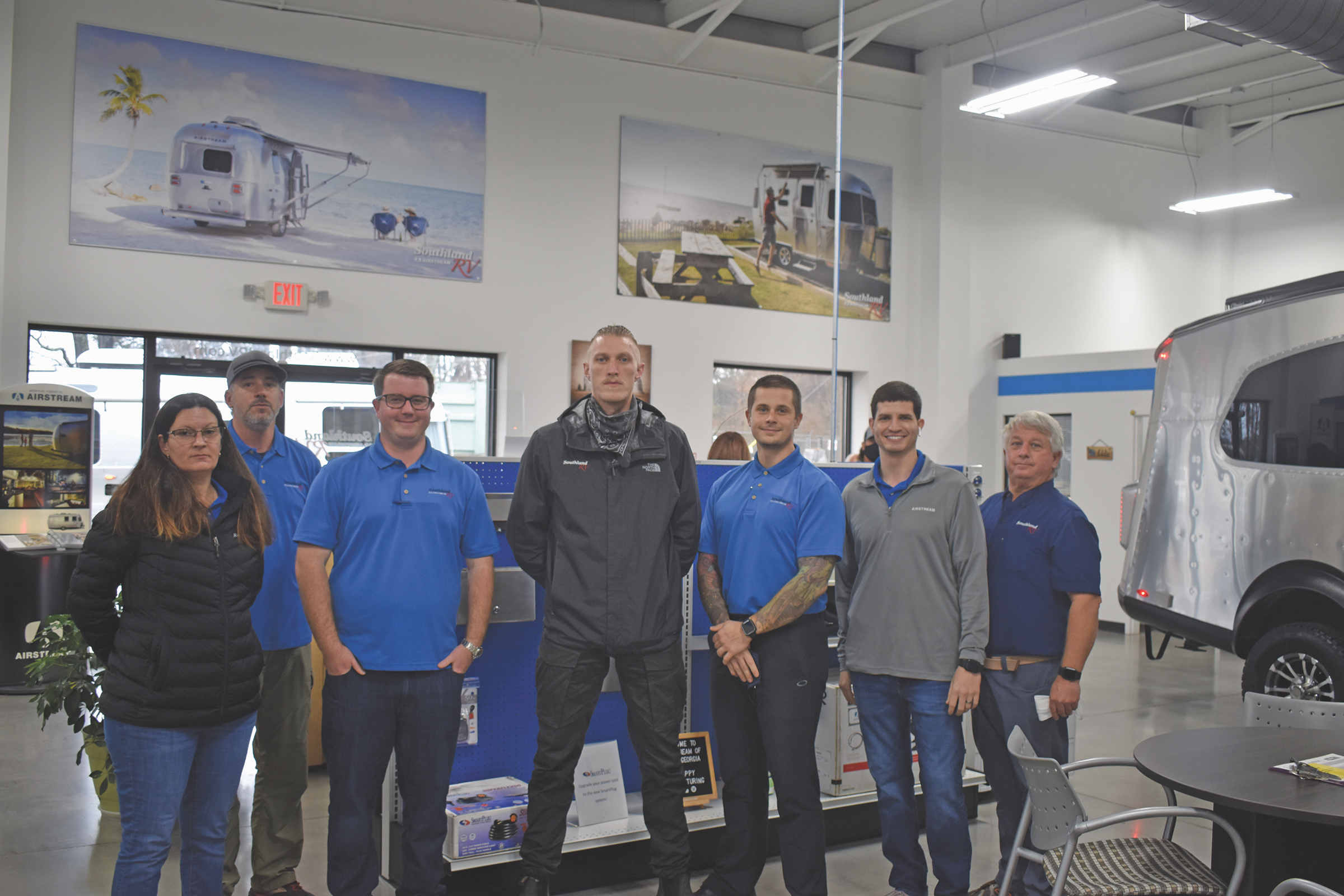 Bouncing Back from COVID-19
Southland dramatically reduced its inventory at the beginning of 2019 to make room to build the 12,000-square- foot service center. This doubled its previous service space.
Then came March 2020. The COVID-19 pandemic hit and Southland began experiencing the effects by the second week in March.
"We had some pretty scary times at that point," Hensley says. "The city came in and said we could only have 10 people at a time in each of the buildings. We never downsized, but we had to play with the schedules to keep everybody employed. We locked the front door. All sales transactions were done outside. It was pretty scary for the entire industry during March and April."
By the end of April, customers started coming back. Among the first were traveling nurses, wanting to buy truck campers to serve as temporary residences as they responded to the pandemic. Hensley says some dealerships were apparently afraid to work with nurses, but Southland developed a plan.
"We came up with video walk-throughs, using technology," he says. "We parked the campers outside. We used masks and social distancing. That kind of got things going. By May, it was crazy busy again – and we've stayed busy since. We kept up the practice of no-contact deliveries through July."
Stephen Reixinger, Southland parts and service director, says the videos made a major difference when preparing a unit for delivery.
"Our walkthrough crew goes through it inch by inch with video, like what we once would have done in person with the customers," he says. "Now, they don't have to waste all day here with us. It is a different level of customer service that people really appreciate. We can get the video to them ahead of time, so that when they get here, they are already educated on the product."
Still, Southland was forced to deal with COVID-19's ravaging impact on a store-wide level, as five employees including – Correa and Hensley – were infected by the virus in December. The entire front-end staff caught it, except for Frady.
Correa's case was particularly acute.
Returning from a work trip to the Midwest in December, he says he became seriously ill and was soon hospitalized. He wound up being ventilated and spending nearly two months in the hospital.
In a recent interview from his home, he says he hopes to return to work later this month.
"I'm on the way to recovery," Correa says. "Each day is better than the day before. The two months in the hospital were terrible. I'm learning to walk again. I was put on a ventilator and went the whole route. I'm the only one who went on the ventilator at that time in that hospital who made it out."
Correa is not sure how he acquired it, but he says he thinks it could have been on a plane or during an Uber ride.
"I was only using a bandana as a mask back then, and I have learned those are worthless," he says now.
After team members became infected, Southland immediately took preventative steps to protect its own personnel as well as anyone visiting the dealership.
"We kept the service department open, but we shut down sales over Christmas and New Year's, from Dec. 23 to Jan. 4, to try to quarantine to get it out of here," Frady says. The strategy worked, and by mid-February, just one employee was in quarantine.
Additionally, Southland now requires anyone entering the building to wear a mask.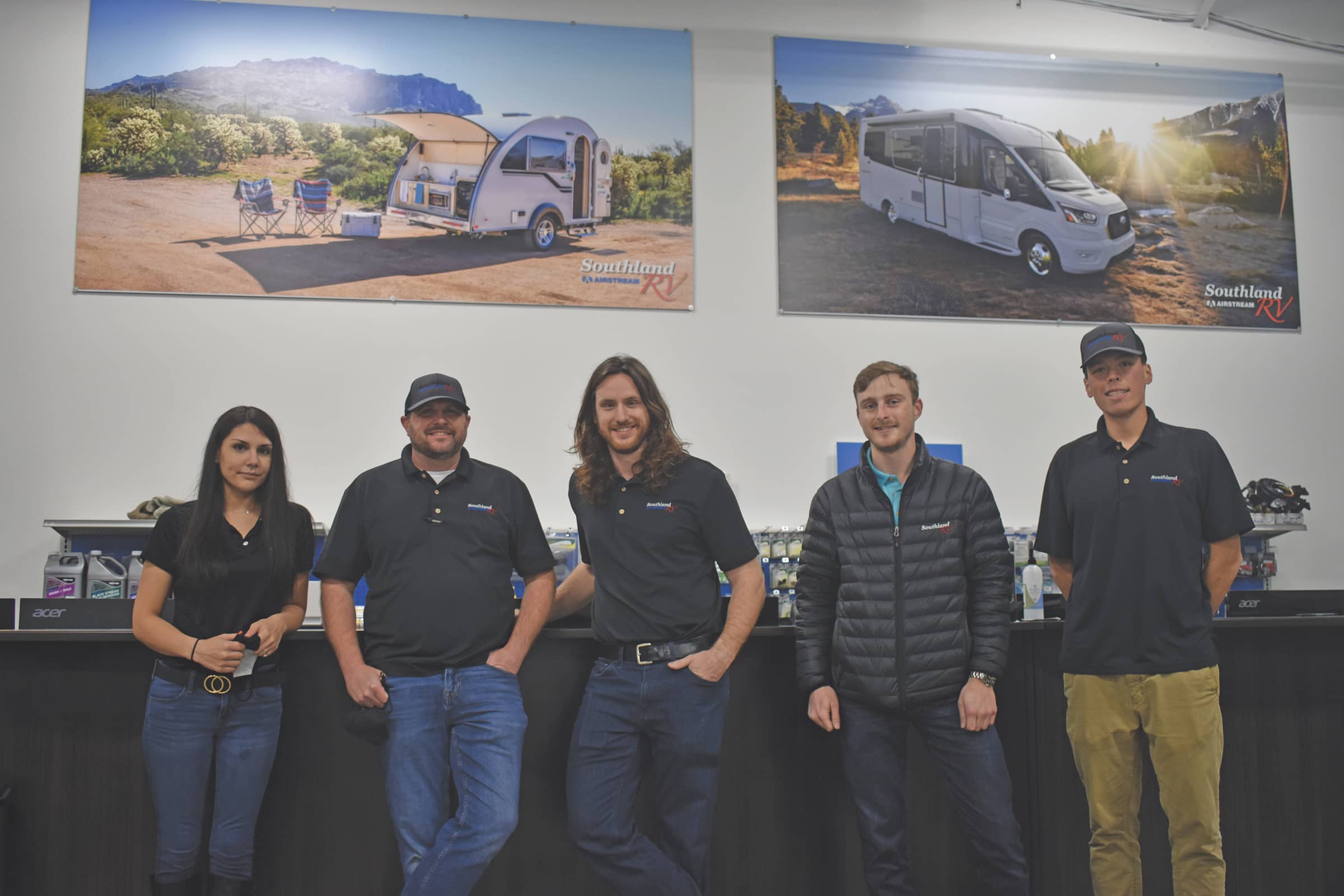 Dealership in Growth Mode
Southland's growth is fueling additional expansion. In January, the company opened a second location in LaGrange, a city in west central Georgia near the Alabama border. It began as service only, but plans are to add sales by this spring.
Strong demand for service necessitated opening a second location, Hensley says, adding that the new location will serve customers in Alabama, as well as in West Georgia. The new facility will help relieve the service demand in Norcross.
A third facility is planned for Savannah in 2022, giving Southland a geographic triangle across Georgia. That facility will service customers in South Carolina and North Florida.
Southland figures to have another banner year in 2021. In addition to the strong pre-booked sales for several models, January marked a record month for service and also a record for sales of parts and accessories.
"Normally, we have a show (Atlanta Camping & RV Show, held virtually this year) in January, and even without a show this year, we are looking at a record year barring anything unknown happening," Hensley predicts.
"The industry is going to be strong. I don't see this letting up until 2022. It's going to take that long to get inventory levels back up."