Features
Demco Offers a Complete Towing Solution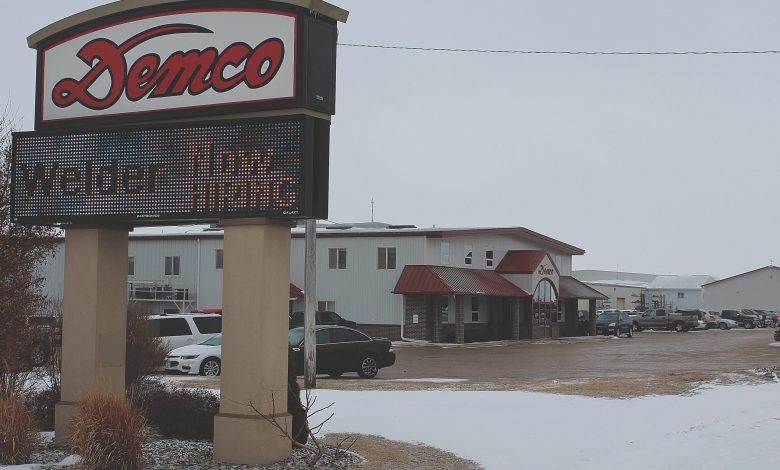 This article is from our older website archives. Some content may not be formatted or attributed properly. Please
Contact Us
if you feel it needs to be corrected. Thank you.
BOYDEN, Iowa – Towns of any size are few and far between on the western edge of Iowa.
There are far more fields full of stubble from corn, wheat and soy bean crops this time of year than there are major metropolitan areas.
But in Boyden, a town of just under 700 people in the northwest corner of the state, a manufacturer that spent its early years heavily vested in the agricultural industry is also an important player in the RV industry.
Dethmers Manufacturing Co., better known as Demco, employs a good portion of those 700 residents, along with a number from surrounding towns of similar size from some 30 miles away. In addition to creating agricultural machinery, the company makes the Kar Kaddy dolly, tow bars, base plates and fifth wheel hitches and, most recently, the newly purchased Air Force One, Delta Force and other supplemental braking products the company acquired from SMI.
One might logically wonder what a grain wagon has to do with a fifth wheel hitch. The Demco answer would be: Nothing. And that's the whole point.
Diversification of products is what has made the company strong and what helps keep that large percentage of the small town employed when one sector of the economy takes a dip.
"That's a key in my mind to business today," says Verlin Keninger, product coordinator for Demco's RV sector. "With the trends up and down, the RV industry is going very well right now and the ag industry not as well. We see those things offset each other. That is very critical to Demco and its success. You have those ups and down cycles in the business world, but the diversification helps level it out."
Demco's main plant is located in Boyden, Iowa, in the northwest corner of Iowa.
Growing with the Industry
Until the early 1980s, Demco, which started life as a farm implement dealership, only built farm equipment.
A major dip in the ag economy led founder Bob Dethmers to branch out by acquiring the patents for the self-steering Kar Kaddy, which allowed a motorhome to tow a car with the front two wheels of the car loaded on a dolly.
Kar Kaddy made a big impact on the company's bottom line and helped keep Demco going through that downturn.
Over the years, further diversification has brought products such as tow bars and base plates to the Demco production floor. In 2011, the company bought the Hijacker line of fifth wheel hitches and brought production to Boyden.
Keninger, who oversees the fifth wheel side of the business, says his segment has seen tremendous growth, mostly due to the growth in automatic slide hitches that are used in short-bed trucks.
"Now we've got some of the manufacturers being more friendly with their products and rounding the corners on the trailers and things," he says. "In some cases, they don't need a sliding hitch anymore. Maybe they're more in the market for a lightweight hitch. So, we've introduced our Recon and have some seen some really good growth in that."
In 1991, Demco developed a brake actuator product, and in 2017, SMI joined the fold, although production of the supplemental brake products is more a matter of assembly than heavy manufacturing like Demco's other products.
Today, Vice President of Marketing Ken Streff estimates that the RV segment makes up about 20 percent of Demco's business, and he expects that to continue to grow with the addition of SMI.
"The ownership of the company is very focused on supporting the community." – Ken Streff, VP of Marketing
Demco's main location in Boyden has been added to 27 times over the years and now encompasses about 350,000 square feet. Another location in Spencer, Iowa, which handles ag equipment and semitrailers, covers about 100,000 square feet. The Boyden location has 225 employees and the Spencer plant 65 to 70.
"That's down quite a bit from a couple of years ago when the ag economy was rolling hard," Streff says. "Now, it's kind of switched to where the RV economy is rolling hard for us and the ag is in a little bit of a downturn. Commodity prices of corn, soybeans and wheat are down."
But in Iowa, people who don't know what goes on inside the walls of the plants mostly think of Demco as an ag company. After all, the fields around the Boyden plant are full of grain wagons and fertilizer sprayers in hues of green, red and blue to match a farmer's tractor brand of choice.
"People who just know us in the farm world are always surprised when they find out we're involved in the RV world," says Benji Vande Griend, director of sales. "It's interesting in that way. Growing up in this area, I knew Demco mostly for the wagons and such, because my dad farmed."
Take a Brake
After only about eight months owning the SMI line, it's a bit difficult to estimate how much impact the systems will have on Demco overall.
What isn't hard to see is the level of interest and energy the new products have brought to the plant.
In a newly redesigned section of the plant, new lighting, wiring and other equipment stand out among the more industrial welders, laser cutters and production lines taken up by other Demco products. Employees – most fairly new to the company – handle wiring, assembly and packaging duties for the brake products.
At the corporate level, the biggest reason for the excitement is that now Demco can offer a complete package for anyone wishing to tow a vehicle behind their motorhome. In the past, the company had the tow bars and base plates – and at one point even tried manufacturing its own braking system. But officials never felt comfortable with those brakes and left a hole in Demco's towing line.
"The SMI was just a natural fit for Demco," Keninger says. "A lot of times people would see we sell the base plates and we have the tow bars and the accessories and would want to go with the complete kit from the same supplier. We had a lot of questions about what braking system we had. Of course, we didn't offer one, so SMI was a perfect fit and really complements the whole line. It is a quality braking system and Demco is very much high quality in our tow bars."
After parts for various products are cut out of steel sheets, the remnants are set aside for recycling.
Brian Van Der Vliet, SMI product coordinator, says supplemental braking systems are required for flat-towing in all 50 states, and points to important safety reasons that he believes make the Demco products a good option.
"What people don't understand is when you're towing a vehicle that weighs, say, 3,000 pounds they think that's a pretty light car," he says. "But with the inertia of having all of that weight behind you, when the experts have looked at it, you can actually take that 3,000 pounds and multiply that by 2.7 and that is the rate of weight that is pushing you. It actually becomes an extreme safety issue. At 60 miles per hour with no system at all, you go to make a normal stop, you can reduce that range by 250 to 300 feet."
Although Demco officials knew they needed the braking system to complete their product line, that doesn't mean there wasn't some apprehension after the initial purchase of SMI's assets from the Newburgh, Ind., company.
Air Force One and Delta Force have been solid sellers for years, and the Demco production team had to learn the ins and outs of how to assemble them.
"I was really worried about it because SMI was going straight up as far as popularity goes," says Call Center Manager Scott Johnsen, who previously was Demco'sRV segment coordinator. "I was nervous about that. The people in the back have stepped up to the plate and caught on and learned from the SMI people who came here to do the training. They took that all in and understand the product line so well. I honestly couldn't be happier with the transition."
Johnsen credits Van Der Vliet, who had previous experience with similar products at Ford Motors, with helping to expedite the transition.
He says that, working in coordination with the SMI team in Indiana, Demco was able to get a head start on building the products before officially moving production to Iowa. They also were able to ensure they had the right number of workers on the line in order to meet the forecast for product demand.
"By the time the switch was flipped to Demco, we had a lot of inventory we Could work through while we plotted our way through it," Johnsen says.
As more of the product is produced in Boyden, the SMI name will be slowly phased out and the products will simply be known, for example, as Air Force One by Demco.
Born in a Small Town
As with any small town, there are advantages and disadvantages to Boyden.
Streff likes to joke that a comment can be made in the Demco plant, and by the time he can drive to the other end of town, everybody there has already heard the comment.
With such a small population, it can be difficult at times to find the qualified employees needed. That is the biggest reason Demco draws from surrounding communities such as George, Hull, Orange City, Sheldon and Sioux Center.
"The ownership of this company is third-generation right now," Streff says. "Unemployment is very low here right now. The family is very committed to the community here. It means a great deal to us. Their roots go very deep into the community."
Ivelisse Ortiz assembles a Recon fifth wheel hitch.
Part of the reason for the low unemployment is the amount of people involved in agriculture. But another reason is there are a surprising number of manufacturers located in northern Iowa.
Among the more well-known within a short drive are Pella Windows, Diamond Vogel Paints and Rosenboom custom cylinders.
Still, Demco fields a solid workforce and maintains an ISO Certified Lean shop.
The efforts appear to pay off, as any number of people on the production floor and in office positions report they have worked for Demco for anywhere from 19 to 34 years.
The small-town community atmosphere of the plant extends to the way Demco handles its customer service, as well.
Van Der Vliet says the company promotes a customer of the month on the production floor to help those handling the manufacturing put a face to the names of the companies who are buying their products.
"They know where the products are going to," he says. "Now they're putting faces to that. All the product coordinators are giving one of their customers every month so that as our people are building the products, they can put a face to the name and be part of our community as well."
Keninger says the small size of the company itself pays off when it comes to customer input.
As an example, he notes how Demco developed its Recon lightweight fifth wheel hitch based on requests from customers.
"We were getting feedback from customers looking for a lighter-weight hitch option," he says. "We kicked that over to engineering to see what they could do and we saw them act accordingly. That's one of the reasons I enjoy working here is seeing how well the company listens to the customers and reacts to their needs and issues."
So, although the company has branched out from its origins in an effort to strengthen its overall position, Demco at heart remains that small-town manufacturer with agriculture at its roots.
"It's very important for us as a company to be a good corporate citizen," Streff says. "The ownership of the company is very focused on supporting the community. The Christian values are very evident in the ownership and family."