Features
Designing Woman
Mindy Cox keeps the interiors of REV RV Group's high-end diesel fresh.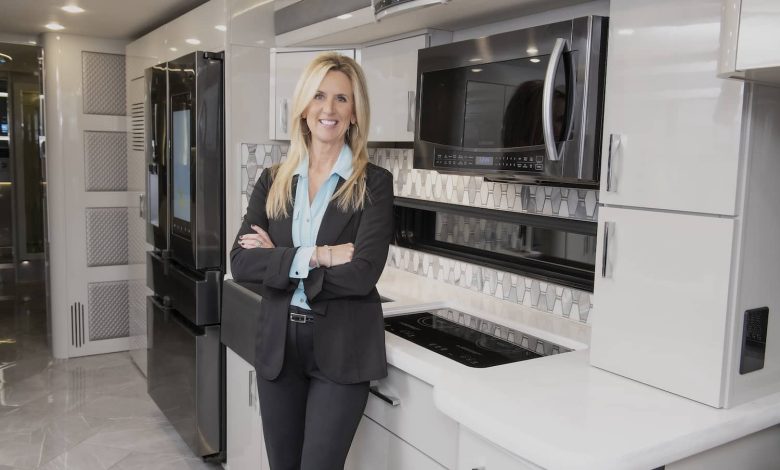 If there's one thing that Mindy Cox can't leave out when concepting the interior design of a luxury RV, it's the lighting.
"Without being able to dim and offer the right kind of lighting, it would be difficult for me," says Cox, interior designer and lead designer of for American Coach and Fleetwood RV's high-end diesel products. "I'm a fanatic over lighting; lighting is super important from an interior design aspect."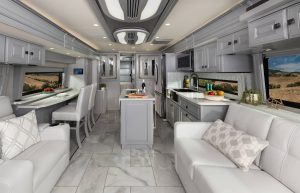 LED lighting has taken the world by storm, Cox says, and it's important to pay attention to lighting zones throughout the unit so that task lighting and accent lighting is available.
"We work with a professional lighting company to test every kelvin level within the interior to make sure everything falls within the same categories," she says. "So our lights all have the same coloration so you're not looking at a halogen over here and an LED over here. Having lighting that is uniform throughout is super important.
"Everything is set up in moods, so you can have ambient lighting in the evening when you want to dial it down and watch TV or have a nice dinner, or you can click a button and hold and it will go up so you can have full task lighting.
"We put it at the floor, behind our windows so at night it looks absolutely beautiful when you have it all on and you can control what you want on and what you don't want on."
Cox knows what she's talking about, having been in the business for about 20 years, starting with working with luxury buses, taking a break to focus on her family's retail furnishing business in Knoxville, Tennessee, then coming back to the RV industry 10 years ago and working with REV Group on the American Coach line: American Coach, American Eagle, American Dream and American Tradition. Cox also oversees Fleetwood Discovery and Discovery LXE.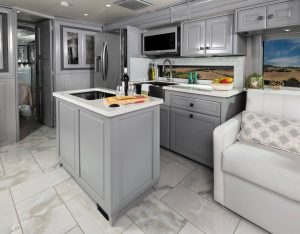 Seeking Inspiration
When it comes to discovering what's next for interior design, Cox turns to some likely – and unlikely – sources.
"I look for inspiration from kitchen and bath trade shows, the residential home furnishing side of the world," she says. "We go to High Point, North Carolina, and you get to see a lot of the new designs that have come out in home furnishings."
She also looks to boat shows and magazines for what's trending.
"I go to all of the RV shows and we have dealer events, we have owners rallies, so I love to pick their brain and say 'hey, what are you hearing?, what's the general feedback from the products that we design?,'" Cox says.
For example, the painted cabinetry option has been popular because it's something people are seeing in residential.
"I see a little more trend of even lighter cabinetry but also coffee hues, going back to a little bit of darker cabinetry for accent or islands," Cox says. "We're doing kitchen islands in some of our floorplans. It makes for a great workspace so that's something that's been kind of a popular floorplan that we've brought on this year, and it's been very well received.
"We're always trying to look for things from outside to bring into RV," Cox says. "We're looking for high-end residential and cutting-edge designs and then bring them back to where I'm working and designing."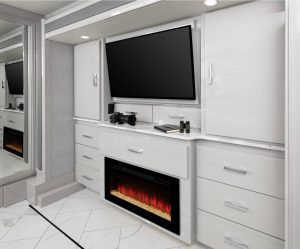 The champagne bronze hardware – the new subtle gold that many are using in residential homes – is popular in RVs now, too. Cox says finishes are important in interiors, such as the champagne bronze, chrome and black that are still very trendy and popular in kitchen and bath.
Cox says she has started working with Cambria Quartz countertops and now they are bringing quartz into RVs.
"The way I design is more emphasis is on the countertops because we're doing a luxury quartz that has a nice big vein running through, so not as much emphasis on a busier, mosaic backsplash, but something that will pair nicely with the countertop, so it's just complementing instead of being busy," Cox says.
"Things that will give a high- end feeling that you're in your home but you're in a motorhome," Cox says about what she's looking for. "And some of these are people's homes or home away from home. So that's where I find a lot of ideas – in residential kitchen and bath."
Function Fabrics
With the on-the-go lifestyle that comes with owning an RV, sourcing materials that will wear as little as possible over time over time is critical. Still, Cox says she considers the aesthetic as well as wearability.
"We have quite a few mills that we do business with that serve the RV as well as the residential industry, so the fabrics that we source have to perform, but also I don't want them to look like an RV fabric," she says. "We're really wanting the best of both."
Cox says she works to make sure her selections are commercial grade. If the fabric is going to be used on a seat, or a dinette chair, how well it will wear is important. But for an accent pillow to add in color or pattern, commercial grade fabric is not really necessary.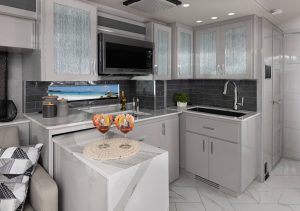 "We test for wearability to make sure that the materials we use on our furniture will be standing strong in five years, so we don't want anything that will flake or peel," Cox says. "We partner with some great suppliers that we trust and that have a great reputation."
From the bedding, pillow shams, valances, feature walls and more, Cox says there are 10 to 15 fabrics used in every unit's interior.
Since her family owns a home furnishing business, Cox's knowledge of the best furniture for RVs runs deep. In fact, her family has developed a line of furniture called Apex Custom Furniture for the American line.
"We use our exclusive line of furniture that is built more to have the residential look and feel," she says. "I'm able to control the designs, and we are different – we have something unique in the product from motion sofas to sleeper sofas, to recliners, to dinettes – so we have a full line of furniture that's just exclusive to American Coach."
Up-to-Date Interiors
Keeping the interiors fresh is the goal for Cox and her team. Each year, she says, they work with the sales team and their dealers to gain feedback on what are the bestselling features. They look at the statistics based on sales to consumers and revamp the interior every couple of years.
"We typically design three interiors per model, and we offer four wood colors – painted in two colors and two to three wood stain colors ranging from light, medium to dark, so we kind of cover the bases," she says. "Every year we get together and we review each model and look at what might be that décor that needs to go away — it might have run for a couple years and it's losing the excitement. So, we'll drop something and add something new."
Her team works to refresh the interior or create a new floorplan so there's always something new to debut at shows each year.
"You have to have the versatility but also differentiating between the brands, too; you don't want everything to just look alike," she says.