Features
Dometic Sharpens Focus on End Consumers
The new president of Dometic Americas pledges a consumer focus and a renewed emphasis on new product development and sustainable business practices.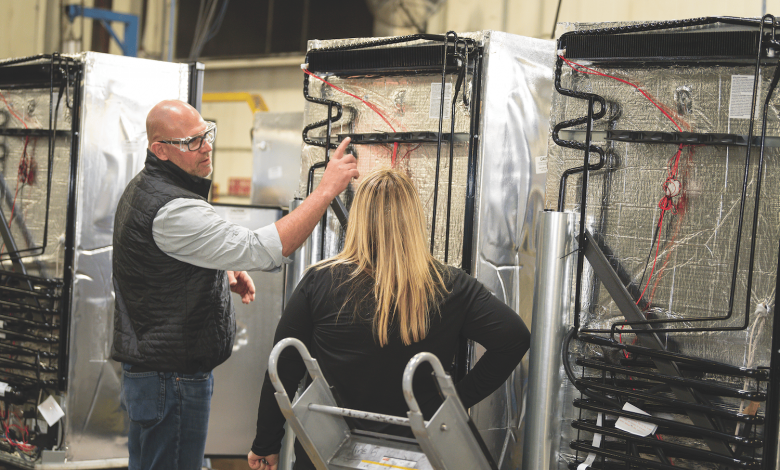 In the crush of day-to-day business, it can sometimes be easy to lose focus. It might be meeting a deadline or hitting a sales goal or just completing a routine project, but sometimes professionals lose sight of what they are really doing and for whom.
At Dometic Americas, new President Oliver Bahr says his main job is to get the company to focus more on its end consumers.
"In the past, maybe we haven't taken as much of a focus on the end consumer as we could," he says. "My background is in the consumer-goods space. I want us to understand RV consumer needs, RV consumer pain-points and then develop solutions for those consumers."
Aimed at the New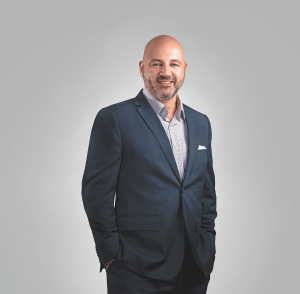 From an RV perspective, Dometic couldn't be a better partner. Just about everyone in the industry recognizes the name, and the company has a reputation for understanding mobile living and the mobile lifestyle.
Additionally, the 2020 annual report by its parent, Sweden-based Dometic Group, shows its sales are almost equally balanced between OE sales (54 percent) and aftermarket (46 per- cent). About the only thing that might cause confusion is that to one person the name means refrigerators, while to someone else it might be air conditioners … or toilets.
Spun off from Swedish appliance manufacturer Electrolux early in this century, the company has subsequently gone on to expand into several broad markets, including climate, power and control, food and beverage and other applications.
In other words, it's a company that isn't afraid of the new – whether it's new consumers, new products or new markets. Although he took over from predecessor Scott Nelson near the end of June, Bahr is only the newest of several strategic actions Dometic has taken over the past couple of years.
The Americas group moved into a new headquarters building in Elkhart, Ind., near the end of 2019, specifically to stress its emphasis on the RV market. The parent Dometic Group also has done some reorganizing, so that along with its Americas, EMEA (Europe, Middle East and Africa) and APAC (Asia-Pacific) groups, it also has a Global group.
Bahr explains that, while the other three groups focus on the RV, commercial passenger vehicle (CPV) and outdoor segments, the Global group focuses on products and companies where the customers are, well, more global.
"The product orientation is far less, and the cultural nuances and differences are far less," Bahr says. "Boats are generally the same across the globe. When you're looking at minibars and refrigerators – except for maybe some voltage changes – those are fairly similar as we distribute them across the world."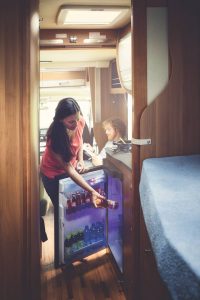 Rather than the RV industry, Bahr comes to his new position with a strong emphasis in sales and marketing of consumer products for the decorative plumbing market. He most recently worked for Hans Grohe Group, a Germany manufacturer of commercial and residential shower systems. Before that, he was with Franke, a Swiss maker of kitchen sinks and faucets.
"I really enjoy product," Bahr says. "I like the tangible product that we can offer. And I get drawn into innovative and iconic products. I feel like Dometic has a lot of that and has a lot of opportunity to continue to develop that."
More Than RVs
The issue that Bahr – and his boss, Dometic CEO and President Juan Vargues – sees is that the market is expanding, but also becoming more fragmented.
"There are more competitive players – and more outside competitors from around the world," Bahr notes.
And, make no mistake, Dometic is worldwide, although 51 percent of its business comes from the Americas group. The company sells products in more than 100 different countries, offering products from 22 different manufacturing and assembly facilities. Fortunately, Bahr adds, "There's a tremendous amount of synergy within our segments, not just from an operation standpoint, but there are a lot of synergies with crossover customers. There's a lot of conversation back and forth. Our common thread is mobile-based activities."
However, he says, the market for Dometic's products is changing. Only part of that is due to the explosive growth the RV industry has experienced thanks to the COVID-19 pandemic.
"The biggest generation in America right now is the Millennials," Bahr says. "We know they're starting to enter the market, and specifically the RV market. But an RV to them probably means something different than it does to the Gen Xers or the Boomers. We have to make sure we have the right products that fit all these different generations and demographic needs or demographic nuances."
At the same time, he says the company needs to serve more than just RV customers, because the market isn't linear.
"These may be people who have backyard barbecues on weekends, or they may enjoy a boat ride on a Saturday," Bahr says. "They may simply want a weekend getaway into nature, and you don't necessarily need an RV for that. Our consumers are out there, and we want to make sure we're present in their lives so when they do step into an RV there's comfort and familiarity with our brand and a trust in our brand."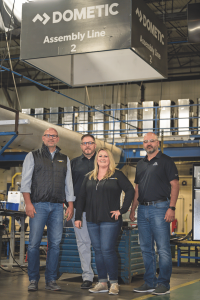 Product is vitally important to Dometic, and the company takes multiple approaches to it. Pre-COVID, the company indicated it would be bringing new products to market in the 2021- 2022 timeframe, and despite the pandemic, Bahr says Dometic has done just that.
He highlights a new RV water heater design that provides two to three times longer showers, as well as a new 12-volt DC refrigerator that utilizes some of the technology and performance of residential refrigerators.
More importantly, he says the company's Product Innovation Index – which is determined by measuring the revenue of new products and service against a company's total revenue – most recently stood at 25 percent.
"That's a pretty big step from where it's been," Bahr says. "We're putting an increased focus on bringing more new products to market, whether that be bringing new innovation to market, or just making some of our existing products better."
To further make sure Dometic has a full complement of product to offer its customers, the company also doesn't shy away from making strategic acquisitions. Although its recent acquisition of Igloo, maker of iconic coolers, may have made the biggest splash, in 2021 the company also picked up four companies involved in solar power and power distribution for the RV industry. The two U.S.-based ones are Zamp Solar, and Valterra Products, which includes its Go Power! division.
"We also need to think about where the market may be moving, and that includes electrification," says Bahr. "Plus, sustainability is a big focus for us because it's high on the radar for the Millennial generation. We try to find companies that meet our consumer needs and improve on our core. This will allow us to be a more progressive, forward-thinking partner to the RV industry."
Sustainability is Key
When Bahr says sustainability is a big focus for Dometic, he isn't kidding. It carries over from the materials it uses in its products to the management of its manufacturing facilities to where it invests its charitable donations.
Its most recent announcement in that direction is the unveiling of a line of products made from a material called Redux, whose content is 100 percent recycled plastic.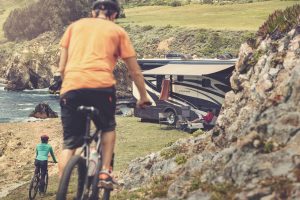 "You'll see it in products like camping chairs, tents and awnings in the near term," Bahr says. "Although you may not necessarily see it in the actual product, as our goal is for the product not to look different. Obviously, we build it a certain way to meet a certain quality standard and perform to a certain level. That shouldn't change the expectation of the consumer."
And, he says, longer-term, Redux will expand into other products, even as Dometic looks for other recycled materials.
Part of the push for recycled materials is simply that sustainability is a message that rates high with Millennials. However, Bahr notes that not only are Dometic's customers people who care about the environment because they spend time there, but so are the people who work for the company.
Perhaps nowhere is that more apparent than at the company's Greenbrier, Tenn., manufacturing plant. There, through a suite of cooperative programs offered through the Tennessee Valley Authority, Dometic has been able to completely offset all electrical use through renewable sources, reducing an estimated 1,500 metric tons of carbon dioxide (CO2) emissions monthly.
The company also has reduced its CO2 impact through truck utilization and capacity efforts and introduced a plant-wide single-stream recycling effort with the goal of getting the Greenbrier plant to "zero landfill" in 2023. A recently approved water heater wash line aims to reduce water use by 4.5 million gallons annually.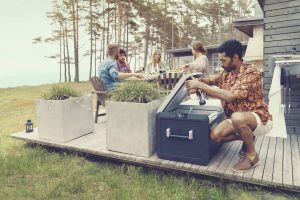 "We're going to continue to expand that to our other facilities," Bahr says. "And you'll see this in our messaging in the future where we talk more about promoting a sustainable lifestyle."
And early this year, Dometic announced it was joining the Conservation Alliance. A North American initiative, members are companies that support grassroots environmental organizations for the protection of wildlife and wild places.
Among other things the Alliance has done, Bahr says, is helped protect about 73 million acres of wildlands and 3,500 miles of rivers, along with purchasing 18 climbing areas and designating five marine reserves.
"It's just helping to do our part," he says. "We're helping protect the spaces where we know people will enjoy the outdoors and enjoy our products. We feel like it's a great opportunity to help."
Positioned for Success
While some of Dometic's sustainability goals are perhaps a bit aspirational, Bahr says both OEMs and the aftermarket shouldn't see huge changes in the nuts-and-bolts side of the operation, even though there have been some changes in the leadership team.
"Dometic has a great foundation and a great legacy that we can build off of," he says. "What the new leadership brings to the table is a fresh set of eyes and a new set of experiences."
However, he stresses that he's the only new executive from outside the industry, and that many of the others have years of experience in various aspects of the RV market.
"It's a good blend and balance for us and helps us position ourselves for success down the road," Bahr says. "Ultimately, that will help us deliver on our customers' expectations."
A good example is the company's August announcement that technicians from Dometic Service would soon deploy a pilot program in the Orlando, Fla., area to help alleviate RV consumers' service backlogs.
"I believe that a non-functioning product somewhere on the road is just unacceptable and it hurts that experience for RV consumers," Bahr says. "We want to help our consumers so they don't spend their time worrying about a refrigerator that's not working or a broken awning."
So far, the pilot program in the Orlando area has done well, and Bahr hopes to see it expand into other key RV markets across the country.
"We're also continuing to do a lot of training at the dealership service level," he adds. "We want to support them so they can help our consumers."
Still, Bahr acknowledges that's an area where COVID has hurt Dometic a little, although it's a problem that's not exclusive to that company or even the RV industry.
"A lot of our training initiatives and practices were done in-person, and when COVID hit, we had to pivot and focus more on digital distribution of training materials," he says. "Now that post-COVID is almost here, it's about getting back in front of our customers, our dealer network, our partners and revamping our training initiative so we can ensure we can deliver our information in the most effective way."
Other problems: finding good employees and dealing with the supply chain. Bahr mentions the microchip shortage as a particular issue.
"We're competing, not just with other RV supplier manufacturers, we're competing with the automotive industry and many other industries out there that need these chips," he says. "That's a challenge, but then there are raw material prices, and freight costs. Those are issues every company faces right now, and we're managing through it as best we can."
At the same time, he acknowledges many of Dometic's OEM customers have units sitting in their lots waiting to be finished.
"It's travel trailers, fifth wheels and motorcoaches," Bahr says. "Maybe they're missing a windshield or an air conditioning unit or headlights or whatever. And our challenge is how do we cover those needs as quickly as possible so that our OEM partners can finish those units and get them into the market."
However, Bahr is optimistic about the industry's growth prospects moving forward.
"Our perspective is that they'll continue to grow, but also evolve," he says. "I think they'll change as this younger generation becomes part of the purchasing population in RVs. For that reason, the look and feel of RVs may shift a little and that's something we need to pay close attention to. For instance, we're seeing a growth in panel vans. But, overall, we expect the market to continue to build."