Features
Dragonfly Energy Pursues Liftoff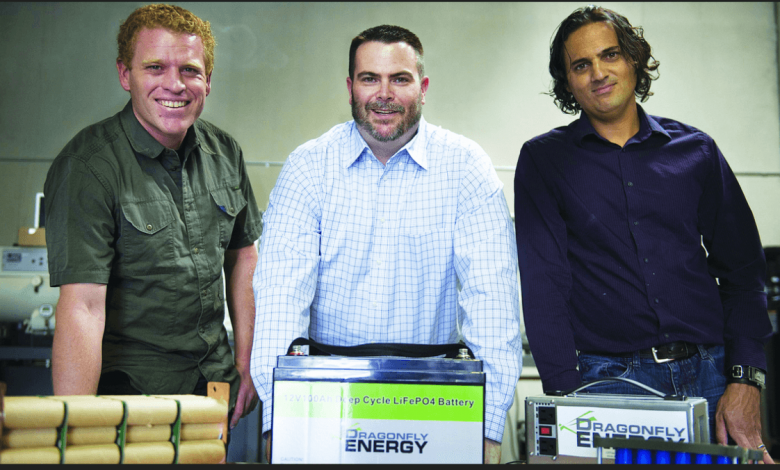 It wasn't so long ago that Dragonfly Energy was little more than a dream being cooked up by a group of engineering professional friends.
They knew they had a good idea for building lithium batteries for the RV and marine industries and they knew they had to the know-how to pull it off. What they needed was to convince those industries that it was a good idea. Well, that and enough seed money to pull it off.
Seven years later, count both industries convinced, as Sparks, Nev.-based Dragonfly Energy and its aftermarket brand, Battle Born Batteries, have carved out notable niches in the RV and marine markets with durable batteries that are longer-lasting and hold more charge than their lead-acid counterparts.
"Battle Born Batteries is a brand we sell to consumers," says COO Sean Nichols. "They're made in the same factory. But now we're making some OEM products that have features that consumers would never want to use in the aftermarket. They are designed differently, so they're kind of taking on a life of their own now."
Success has meant growth, not only in the number of batteries produced and number of customers, but also in terms of production facilities. The company recently moved into a new 15,000-square-foot building with plans for another 5,000-square-feet building across the street.
However, a recent deal that puts Dragonfly's latest innovation as an optional upgrade to Keystone RV's Montana could set Dragonfly up for even more prestige as an OEM supplier of lithium products for the future.
The Battery That Protects Itself
A company like Keystone RV – THOR's largest subsidiary – can afford to think big. So, when engineers began to think of ways to help RVers be able to be more flexible with boondocking – which would allow them to be flexible when booking campground space – thoughts turned to the best way to power an RV when shore power might not be readily available.
Keystone RV decided this type of package would be especially desirable for its flagship Montana fifth wheel.
What resulted was the Super Solar Flex package. To make up for lack of shore power and the desire to get away from generator power, four solar panels are installed on the roof at 265 watts apiece.
But what about power storage?
To make it energy efficient would take many lead-acid batteries, which would result in additional weight added to the coach.
Enter Dragonfly Energy with its new, comparatively lighter-weight GC3 product.
"It's a 255-amp hour battery, 12 volts. It has built-in heat," Nichols says.
He explains that the aftermarket batteries the company sells are drop-in replacements for lead-acid batteries. By RV Industry Association standards, they must be in a ventilated compartment required by lead-acid batteries.
"What we wanted to do with the GC3 was build a battery that people thought about differently when they wanted to install it," he says. "That way they can put it in places in the RV that you normally wouldn't put a battery.
"We ended up kind of talking to the engineers at Keystone early, early on when I was getting ready to develop this product, and they were keen on having the battery they could put somewhere else. Basically, they wanted to be able to use up some other unused space in the RV," he adds. "So, we built this battery for that reason."
The end result for Keystone was being able to build a box compartment that would fit the batteries and the inverter for the Super Solar Flex system and everything was able to be installed on the production line.
"It's not in the normal battery compartment, so you can put it somewhere else that could be climate-controlled," he says. "It has heat anyway, so that doesn't matter, but it could be in a climate-controlled environment."
The GC3 batteries provided Keystone with the kind of storage volume and flexibility the RV maker was looking for.
"What that's really offering is an awesome energy storage source," says Jon Brock, R&D engineer at Keystone. "It's 255-amp hours in about a 70- or 80-pound package. They're probably going to get 10 years of life out of those and they aren't going to have a battery anxiety."
The package comes with two GC3 batteries with an option for two more.
Brock says the package also includes a hybrid inverter charger and some battery guard products. It is integrated so that RV builders don't have to terminate any of the cables.
In addition, the coach includes two high-efficiency Soft Start air conditioners from Airxcel.
"We are able to start both through the air conditioners with the batteries without being plugged in," he says. "That is an industry first in a towable. We're exclusive right now with those. With aftermarket parts you can do it, but you aren't going to get a listed RVIA-compliant installation."
Dragonfly CEO Denis Phares says the partnership with Keystone RV has been a big step for his company – and one he hopes continues to grow.
"It was definitely a significant step for us, not only because of the reputation and quality of the Montana line, but also because it's such a unique application," he says. "The fact that these are going to be delivered to dealers with batteries in them, factory-installed batteries – it's a real shift in the industry. And it's really important for us to be contributing to such a shift in the industry."
Earning Their Wings
The fact that Dragonfly and Battle Born products have gained a notable space in the outdoor recreation industry so quickly isn't lost on the company founders.
Both Phares and Nichols acknowledge the hard work they and their partners had to put in just to get the company off the ground.
After starting in 2013, the team resorted to entering their concepts and inventions into startup competitions. Winning those competitions gave Phares and Nichols enough capital to build some products and secure some patents that got them started building their business model.
Also during that time, the pair found an international battery company that wanted to invest and gained a $2 million Series A seed round of funding.
With funding in place and products ready to produce, it was time to build relationships that would get the Dragonfly name out in front of the industry. That included acquiring brand ambassadors to promote the product.
"The interesting part of the story, too, is because over time I met some really amazing people that helped us grow our brand and we've worked really closely with them," Nichols says.
He also says he and Phares did not want to cut corners in any way getting the business started and even up to today. Despite any challenges, they insist on doing business "the old-fashioned way."
"When we started, you know, Denis and I were faced with a lot of challenges," he says. "People … didn't believe that we could actually make batteries. So, what we had to do was go out and learn how to make batteries. We did, and we built them in our garage and we built a really good battery.
"I quit my full-time job on Aug. 1, 2016, and that day I was on a plane going out there doing business development," Nichols adds. "I started working to educate RV and boat manufacturers on the benefits of lithium while at the same time, through our Battle Born line, we were educating consumers about the benefits of lithium, and that was our business model – to kind of educate both sides and then eventually they would meet in the middle. That's where we are right now."
Down to Business
Having convinced the industry that Dragonfly can build batteries and having won over the industry on the safety of lithium as a power source, Nichols says the future success of the company relies on doing business the old-fashioned way.
He says it is vital that the company understands the needs and concerns of its customers and addresses them the best way possible – which is usually in person.
"As the owners of the business, we are accessible to our customers," he says. "And, you know, that goes a long way to building a strong brand reputation, because we're actually involved and that brings people peace of mind when they're dealing with us."
Nichols says he makes a point of going out and visiting RV manufacturers in person to try to build up that trust and create business possibilities.
He says he's also proud of the way the company treats its 53 employees. As of the beginning of May, Dragonfly had not been forced to let any workers go due to the coronavirus outbreak and its negative impact upon business.
"We take really good care of our people here that work for us," he says. "And as a result of that, they work really hard for us and they bring everything they have to the table to help this company be successful. We care about them so much. They're actually all partners in the business; they're all shareholders in this company now."
That kind of commitment from both the employees and the ownership group will go a long way toward making Dragonfly successful in the future, according to Phares and Nichols.
"We show up, we deliver. Our people deliver," Nichols says. "We're all committed to producing the best product and doing as much of it as we can here in America."