Features
East to West on Course for Growth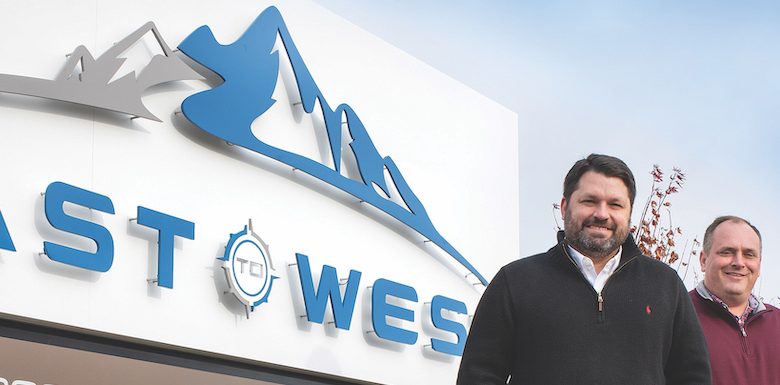 In about a year's time, Elkhart, Ind.-based manufacturer East to West RV has bounded from being the 58th largest travel trailer manufacturer in North America to one of the Top 25 – with no signs of slowing down.
The feat, as reported by Statistical Surveys, may come as a surprise to some RV industry observers, who second-guessed founder and RV neophyte Lisa Liegl Rees's credentials at the company's outset, or her business model stressing RV model simplification. However, there's no denying that the 38-year-old Rees is impacting the towables market in a notable way. When RV PRO first spoke with Rees in the summer of 2018, East to West was toiling in a leased facility on County Road 7 north of Elkhart and building five stick-and-tin Della Terra trailers a day.
Since moving into a 400,000-square-foot complex on an 86-acre site across from the Elkhart Municipal Airport in November 2018, East to West's daily production has tripled to 15 units, mixed between its legacy Della Terra brand and the newer half-ton towable laminated Alta trailer, which debuted during last September's Elkhart Open House Week.
Thanks to a steady stream of orders, East to West production workers were working five days a week through autumn. With a touch of pride in her voice, Rees notes that many competitors were working more limited hours during that same time period.
And notably, East to West grew without some of the inducements that other OEMs have adopted to move orders.
"We don't do volume discounts. We don't do show specials," Rees says. "We're kind of unique in that aspect for a variety of reasons. Sometimes it hinders relationships with those bigger dealers, because I don't offer a volume discount; everybody pays the same price.
"It's the right thing to do that our smaller dealers pay the same price as our larger dealers," she adds. "I'm trying to strive for that. It's very difficult being the lone wolf sometimes doing that."
East to West's recognition got a well-deserved shot in the arm among its dealer partners and prospective partners when it hosted Forest River's Expo during Open House Week. And the RV maker will get further attention this coming fall, when it launches its first fifth wheel at Open House.
RV PRO spoke with Rees over the holidays to take a look back and a look ahead for this trend-setting RV manufacturer.
Unconventional Business Model Pays Dividends 
East to West's rapid expansion caught everyone off guard – including Rees.
"I think we're moving quite quickly – faster than I thought we would," she says. While she knew her company was taking significant market share from her competition, she says she was uncertain of its precise ranking from market data firm Statistical Surveys until informed by RV PRO. "I'm on a fast track; my dad's whippin' me to get moving," Rees quips.
The RV maker's progress is particularly notable given its short history. Rees incorporated East to West and North to South Inc. (the company's full name) in May 2017 and didn't begin building the Della Terra until January 2018. In July of that same year, she sold her company to Forest River and became general manager of its newest division.
East to West moved into its new facility that November. The fresher and much larger production facility boosted morale and allowed East to West to fill orders much quicker, Rees contends.
When East to West started off with the Della Terra in the stick-and-tin market – the largest and most competitive segment of the RV industry – the challenge was daunting.
Rees credits her company's success to two primary factors.
The first is product simplification. Instead of following the industry norm of offering RV models in a plethora of floorplans and options, East to West began building Della Terras in eight floorplans, with one exterior color (gray-white with blue accents), one interior décor (an earth-tone brown) and very few options.
This approach simplified production, increased product quality, and facilitated easier retail sales, thereby yielding greater customer satisfaction, Rees contends.
As for the second factor, Rees credits the initial dealers who took a chance on the new product, adding that they were rewarded with quick turns and a low warranty claim rate.
An Expanding Product Lineup 
However, a laminated trailer was always in her business plan, Rees says, as Alta took about a year to go from conception to prototype.
"We took some of the key features that we believe East to West is about in terms of quality and construction and we morphed that into our laminate (Alta) brand. We want to continue morphing that as we grow in the future. Some of the key features that we like to do standard include a king bed, where applicable; finished, pass-through storage; a lot of storage on roller guides under dinettes, where applicable; and the largest air conditioning and heating units in all of our units (35,000 BTU furnaces and 15,000 BTU AC unit).
"With the Alta in particular, we're using Azdel sidewalls and a 5-inch vacuum-bonded roof, so that's a selling feature for us," Rees says. "We're doing aluminum-cage support for roofs and all windows and doors, Norco drop frame, electric stabilization jacks, aluminum rims, tinted windows, electric power tongue jacks, 5/8-inch tongue and groove plywood floors and magnetic baggage slam doors. We offer a lot of features others don't offer at this price point."
Meanwhile, "We have found that trying to make features standard and keeping simple floorplans with one décor has really worked well for us, our customers and sales guys," she adds.
There are a few upgrades, such as a second AC unit, a MORryde step and a queen bed option (instead of a king-size bed, for RVers who want more walk-around room). Both brands have an Extended Climate Guard Package with heated underbelly and better insulation that turns the brands into four-season coaches.
The Azdel composites are designed to be 50 percent lighter than standard wood and prevent delamination, mold and mildew.
"I hope over time it adds value to our trailers," Rees says.
The Alta 2810 KIK (king bed, island kitchen), 2600 KRB (king bed, rear bath) and 2100 MBH (Murphy bed, bunkhouse) floorplans have garnered the most attention thus far, according to Rees.
For 2020, East to West revamped the exterior and interior graphics on the Della Terra, which dealers say is a 100 percent improvement, as the product better meets the changing needs of the consumer, Rees says.
MSRPs range from $19,900 to $33,800 for the Della Terra and from $26,800 to $39,600 for the Alta.
All finished units are transported to Forest River's main PDI facility in Goshen, Ind. Rees says she hopes to eventually have her own PDI facility onsite.
Meanwhile, a steady stream of orders allowed East to West to grow to 170 employees by year-end and jump-started plans to build a fifth 100,000-square-foot manufacturing facility this year to accommodate a new fifth wheel brand, details of which are under wraps for now.
Additional Staffing Includes Key Hires 
Rees may be the face of East to West, but she credits Eric Sharp, co-GM and partner, for making the company "the best we can be. He's one of those guys that doesn't get much recognition because people don't realize all the work and effort he's done at Forest River," she says.
Sharp has worked with Rees's father, Pete Liegl, for more than 30 years and helped found and direct several Forest River brands, including Salem, Cardinal and Wildwood.
Sharp "is the best partner I could ever have," Rees says. "We love working together. I've told him he better not retire anytime soon because we've got a lot of things to do still!"
In recent months, new additions to the East to West management staff include:
Todd Grubb, sales manager for Alta
Tim Kauffman and Kevin Downey, Alta sales reps
Jory McDonald, Canadian rep for the Della Terra and Alta brands
Andy Cunningham, sales manager for Della Terra
Mark Krol, sales manager, new fifth wheel line
Adam Good, sales rep, new fifth wheel line
Rees says McDonald made a quick impact on East to West after joining the company on Oct. 1. East to West's Canadian market had been "really small," Rees concedes, with just a dozen dealers. However, McDonald soon signed up Canada's largest RV dealer, Fraserway RV, which will carry the Della Terra and Alta brands. The signing doubles the number of Canadian dealers carrying East to West brands.
When it comes to East to West's staffing, women hold prominent posts from the top job on down the line.
"Our team has a lot of women involved in the design and creation of this product," Rees notes, and that's by design. For example, Natalie Naquin oversees the dedicated label product for about 40 accounts and has "set a lot of trends for our sales team that I'm very proud of," Rees says. Lindsey Espiritu handles account management and marketing. Pam Bowen and Valerie Ronzone are sales coordinators. Mindee Edge and Becky Cloud are purchasing agents. Two women staff the parts and warranty departments and there are many women working on the production lines.
As the daughter of an industry legend who doubles as her boss, Rees confesses she feels pressure to succeed. Although she grew up in the Liegl household while her father was building what would become the largest privately-owned company in the history of the RV industry, Rees never worked for an RV company, except as a summer intern.
Taking the Plunge 
Rees's decision to build RVs was not a spur-of-the-moment one but came after a varied career. After graduating from Butler University in 2004 with a degree in marketing, she moved to Chicago and spent the next 13 years in retail buying and sales. The last six years before she founded East to West, she owned her own importing and distribution business.
With her experience introducing European brands to the U.S. and Canadian marketplace, she decided that she wanted sell her business and get into manufacturing of her own brands and products.
From time to time, Rees says she would talk with her father about starting her own RV company, but it wasn't until about three years ago that he began to take her seriously. She says she broached the idea of shortening the product line in the RV industry and he thought the idea had merit, she recalls.
Now, two years into manufacturing a product, Rees is gaining great insight into how the industry operates. With it comes great pressure.
"The pressure that I see is that it's a hard industry a) to be Pete's daughter, b) to be a woman, c) to come from the outside. There are so many things making it difficult," she says. "It's a challenge that I am up for, but at the same time, I want to do the things that are right in terms of quality for my customer and my dealer relationships."
Rees says she's fortunate she can turn to Forest River's veteran leadership team for guidance, when needed.
"I'm also learning so much from the team at Forest River, from people like Doug Deter, Doug Gaeddert and Mike R. Terlep, learning from them how we can be a better company. That's also what I'm focusing on – not just East to West – but how can Forest River do some cool things to change.
"That's kind of the challenges I try to work on with my dad – creating change within the organization and structure. So, it's a lot of pressure, but it's a really fun," Rees adds. "It's like working with my family I've known all of my life. It's been great. I love working with my dad and I hope he feels the same about me."
Expecting Growth in a Down Market 
Rees knows making market share leaps like East to West achieved in its first 18 months would be tough to repeat this year. However, the RV maker is expecting to grow again in 2020 – even though the overall towable market was down some 18 percent as 2019 ended.
"We've come a long way – and we have a long way to go – but I think growing our division as a brand – people seeing us take off in ways in terms of stats, in terms of customer feedback and thoughts on our product – will be significant," Rees says. "Our dealers will grow confidence in East to West because now we have more brand offerings and we'll continue to have that.
"So, we're really looking for good partners that want to invest with us from start to finish. We really appreciate those first dealers, who took a chance with us before we were at the point we are today.
"With that in mind, it's growing to be the best little brand we can be. I think every day is a challenge for us because we're small, but I hope with time we become a bigger division and have more impact on the market and I hope it's a good one," she says. "I really want to grow market share with our current dealers. That's really what I'm working on with the guys right now, to continue to grow market share at our locations. That's how the good brands do it: They grow with their dealerships and then continue the outreach."