Features
Eclipse RV's Not Playing Games With its Toy Hauler
With an eye on the hottest toys, and responding to its customers' needs, Eclipse RV succeeds in the toy hauler game.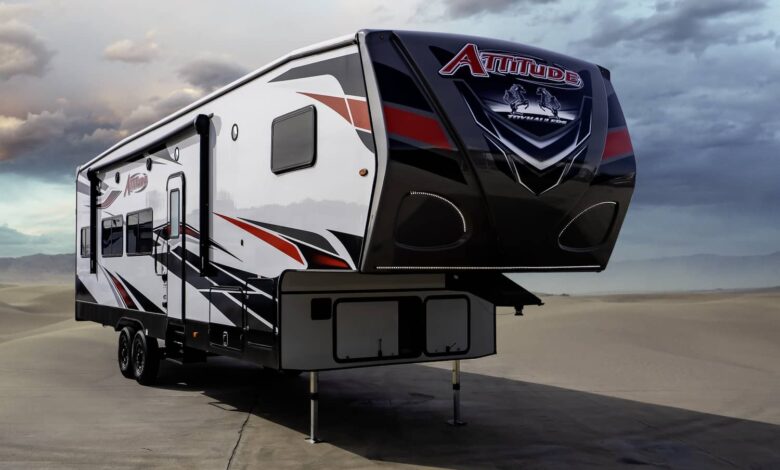 Staying on top of function, durability and design trends has served toy hauler specialist Eclipse RV well since its founding in 2003. Eclipse, based in Riverside, California, produces 500 to 1,000 RVs per year, about 90% of them toy haulers.
"We are working to stay ahead of the market," says Joanne Trealoff, company president, who co-founded the company with her late husband, Dallen, who passed away in 2021.
Trealoff notes the RV industry is realigning itself as the COVID-19 era fades away and dealers work to clear excess inventory.
"Through this period in time, we are focusing on making sure our toy haulers are meeting consumer needs, with function and style," she says.
One of those efforts is keeping track of the ever-changing toys consumers want to haul. Trealoff notes they are getting bigger, necessitating design changes in toy haulers. The sales team at Eclipse RV has first-hand experience and a track record of using toy haulers, while also owning and using the off-road toys.
Eclipse RV builds three lines of toy haulers. Attitude is the flagship line and the first brand launched by the company. Next came Stellar and, later on, Iconic was added.
Brent Macias, sales regional toy hauler specialist, says each brand has its own styling, interiors and amenities.
The toy haulers target off-the-grid adventure seekers as well as traditional campers.
"There is a lot of open terrain in the West, to allow people to enjoy the wilderness," Macias says.
While noting the RV industry in general continues to move beyond the pandemic-propelled sales spike, Macias is optimistic better days lie ahead.
"The market has been showing promise, as the dealers have been trying to move the inventory they bought during the pandemic, so in the 2023 market they are moving past that," Macias says. "We are seeing the actual retail coming through, seeing movement and getting new inventory out. The recent inventory we sent out retailed really quick, some in less than a month."
Eclipse's dealer network covers primarily the western United States.
"Our toy haulers are geared more to that western style of riding," Macias says. "Most of our customers adventure to the sand dunes, deserts, mountain ranges and off-roading. We cater to that side-by-side market."
Toy preferences have changed over the years. In the past, dirt bikes and quads dominated.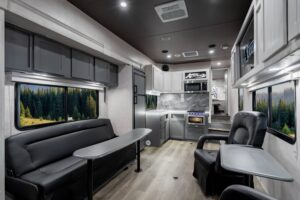 "Nowadays, it's a side-by-side market. Polaris RZR, Can Am, Honda Talon, all the off-road vehicles that operate off the grid. This is what has driven the toy industry. If you don't fit those certain vehicles, you are behind the times," he says.
The age range of Eclipse toy hauler owners varies widely. Years ago, Macias recalls, it was a younger crowd, but now users are more mature and have a greater appreciation of how they work.
"You can go out and just use it as a regular trailer, or you can take your toys with you," he says. "The amenities and the holding tank capacities are crucial features that allow the customer to virtually dry camp anyplace they choose, that's been the biggest change in the demographics. We are not getting just one age group; we have the whole gamut."
Recently, Eclipse RV reintroduced its travel trailer line Milan and also brought a new line to market – the overlander Mojo, and Moxie for the off-road enthusiast.
Performing well this year are Eclipse's smaller fifth wheels, which Macias says have been gaining market share.
"They have been doing really well for us. I think that is because of our slideouts, and the way we operate them to be able to accommodate the wider vehicles. We have floors that are integrated to fold up and add more room to the slideout. That is something we have been doing for a while, and other manufacturers are just now catching on to that, and trying to catch up."
Macias says Eclipse has some "cool things" in the works in terms of product development. Prior to the pandemic, Eclipse usually debuted its innovations at the Southern California RV Industry Show in Pomona. That event returns this year in October, after missing the past three years due to COVID-19's effects.
"That is a good time to debut new things," Macias says, "because off-roading season starts at the beginning of winter. Although we are seeing year-round usage."
Eclipse pays close attention to customer feedback. An example is the development of a custom-made outside light.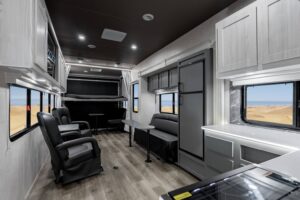 "We went as far as having our own exclusive light made that no one else can grab," Macias says.  "It provides more outside light than any other floodlight available on the market. If you've never gone camping in the middle of the desert, there is obviously no source of light from anywhere else, because you are the only one out there. You want/need to have light to be able to see around your campsite, and even work on something if you need to.
"The toy hauler industry may have slowed for a while, but it is showing signs of kicking back through again," he adds. "The customers are not going away, and the market is not. Some of the brands may have gotten a little too big, too fancy. I think that market is going to turn to us."
Trealoff anticipates sales will improve by the second half of the year. As Eclipse contemplates a successful first two decades, she says it is well prepared to meet the cyclical nature of the business.
"It is always important to never think you have it all," she says. We look at where the needs are, and where we want to move. It's important to look beyond what you are currently doing."
Macias credits Eclipse's highly seasoned staff. Many of them are toy hauler owners and know what it takes to build a top-quality trailer.
"We all started in the late '90s and early 2000s. We've been around trailers a long time. We are people who use trailers and go camping with our families," he says. "Customers understand the value we put in our trailers. We can show them places where other brands are skimping on the quality of the small parts, things that make the trailer last longer."