Features
FCCC Ventures onto Electric Avenue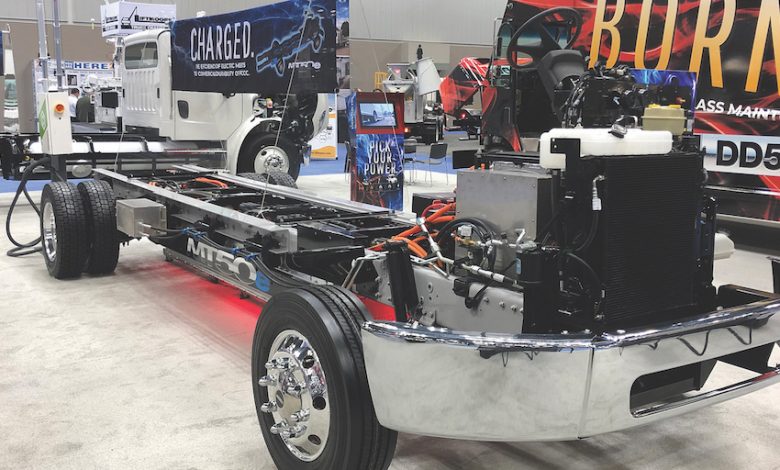 When Freightliner Custom Chassis Corp. recently debuted a new production-ready version of its all-electric MT50e truck chassis, it was aimed at the heavy- duty electric transportation market.
The RV market is still a fringe player in the potential of all-electric motorhomes, mostly because of two factors: the weight of the coach and its contents and also the distance most RVers expect to be able to travel on a single charge.
However, that doesn't mean there isn't a possible future in which the environmentally conscious meets the outdoor lover and an all-electric motorhome becomes a reality, according to Bryan R. Henke, Bryan R. Henke, manager-product marketing for FRCC.
Pointing to the Winnebago electric-powered concept vehicle that was shown during the 2019 RVX: The Experience Show, Henke says the potential exists for an electric chassis to be an option for a motorhome. It just needs the right kind of audience to buy in – understanding those limitations.
Chassis Built for Heavy-Duty Platforms 
The MT50e will feature an efficient and powerful battery system from Proterra, a California-based manufacturer of high-performance systems for heavy-duty platforms. The Proterra system powering the MT50e will offer 226 kilowatt-hours of energy capacity and an
all-electric, zero-emission drive system. The MT50e will feature a gross vehicle weight rating of 16,000 to 23,000 pounds, with no reduction in cargo volume capacity when it comes to commercial trucking. "If you look at an electric vehicle, period, and if you look at the electric traction motor when you drive an electric vehicle, performance is never the issue because of the inherent property of a traction motor," Henke says. "As soon as you initiate it, you hit the throttle, you get instantaneous torque. But on highway speeds, the faster you go, the performance sort of tapers off a little bit."
The vehicle is designed to enable more than 125 miles of driving range and can fully charge in about three hours with DC fast charging.
For now, it's that limited range and the way an RV is typically driven that are the major factors that keep the all-electric chassis from being an option for most motorhomes.
The chassis is designed to allow regenerative braking. That is, pressing the brake pedal in normal traffic recharges the batteries – just as it does in a Toyota Prius.
The problem is, most motorhome driving is done on an open road away from heavy traffic and with limited braking. That makes that 125-mile radius pretty hard and fast and keeps a driver from being able to get way out in the wilderness.
But Henke says he doesn't see that limitation as a wall that must necessarily keep an all-electric motorhome from becoming a reality.
"I would say that, from a performance standpoint, it's in our view that any driver would love it," he says. "It's super performance, super quiet as we try to obtain more range, you know, it's going to hit a certain market. There could be people that say, 'Hey, I'm going to drive 120 miles and I'm going to camp for a couple days.' Well, that's a perfect time to recharge your unit. I'm saying here I'm going to drive 150 miles and then I'm going to camp.
"It's that cross-country driver that drives 450 miles and has to wait six hours or four hours to charge that has to keep going," he adds. "It might not be the ideal experience for them. But for that weekend warrior who wants to stay local it's perfect. You know, they get their motorhome and they'll go maybe two, three, four hours away."
Henke suggests that the electric motorhome that would best succeed also would probably be shorter in size to maximize the battery performance and to limit the drop-off in performance seen in some electric vehicles.
He says that something in the 26- to 32-foot range might be ideal for an all-electric motorhome.
"When you're trying to move that mass down the road, moving weight also takes power, too," he says.
Advanced Technology Advances Safety 
With Proterra being a leader in the electric vehicle platform, the company also is a leader in the latest technology and safety, which is a big part of the MT50e.
"This current battery technology we have, it is from a power-density standpoint the best option that we have out there," Henke says. "It's well-proven. The safety elements are amazing."
Proterra also offers high-power charging systems that are purpose-built for commercial applications and use standardized technology for interoperability. Proterra charging systems utilize the universal J1772-CCS Type 1 charging standard, enabling operators to utilize Proterra charging systems for a range of battery-electric powered vehicles.
"The new MT50e blends the efficiency and performance of an electric vehicle with the undisputed strength and ruggedness that's made FCCC the most reliable chassis on the market," FCCC CEO and President Jeff Sather said when announcing the new chassis in February. "The MT50e comes with industry-leading, 24/7 support and builds on our heritage of technological innovation to propel both us and our customers into an era of zero emissions for last-mile delivery vehicles."
Launched as a prototype at the 2019 Work Truck Show, the MT50e is the first of several planned commercial electric vehicles from FCCC for use in a variety of applications. The chassis also was on display at the NTEA Work Truck Show in Indianapolis.
"This vehicle that we're showing is definitely focused here on the commercial side," Henke says. "Our work has been on the van commercial side, as it fits perfect in those applications."
However, in a time when people are becoming more environmentally conscious and want to make sure they are taking care of the resources they are out enjoying, who knows what might be in the not-too-distant future of RVing?
"From an RV standpoint, I think it's exciting technology, but the limitations are there," Henke says. "I'd hate for someone to say I want to build a 54,000-pound tag-axle unit. I see this as that weekend warrior, that Millennial-type of unit, that someone can really have fun and enjoy it. But it's not to go travel cross-country with it."