Features
Florida SuperShow Boasts 10 Percent Boost
This article is from our older website archives. Some content may not be formatted or attributed properly. Please
Contact Us
if you feel it needs to be corrected. Thank you.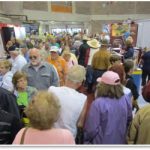 Record attendance on three of the five days at the 30th Florida RV SuperShow led to around a 10 percent increase in attendance over last year, the event's largest showcase on record, according to Florida RV Trade Association Marketing Director Dave Kelley.
---
Attendance at the Florida RV SuperShow outpaced previous years by about 10 percent, show officials estimate. Photo courtesy FRVTA. 
---
Final attendance numbers are expected later in the day, but show officials reported high-water marks on attendance Wednesday, Saturday and Sunday, surpassing last year's total of 56,953.
"Everything we heard form booth exhibitor's was it was one their best shows ever, or in some cases, record shows," Kelly said.
While more attendance is rarely a bad thing, Kelly said that there are diminishing returns as turnout grows, specifically finding parking for the more than 800 units that participated in the show's rally.
Rain prior to the show cut down on some parking options, and the Association will look for creative solutions to make the most out of the available parking at next year's show at the Florida State Fairgrounds in Tampa.
"We've maxed out the parking lot, but we're going to find ways," Kelly said. "We were talking about taking an aerial picture of the parking lot and maybe getting an engineer to design a parking bridge that would allow us to put more vehicles in there. It's always tough when you're parking cars and RVs and motorhomes and big trucks.
Some suggestions the Association will consider in the coming weeks are partitioning the rally from the rest of the show and capping the rally at 800 units.
Kelly added that another side-effect of growing attendance is that dealers and exhibitors become overwhelmed by consumer traffic, splitting sales people among too many interested customers.
"I don't know that the exhibitors are interested in a whole lot more," Kelly said. "They sometimes didn't have a chance to talk to people just because people were stacking up in the isles. You get to a point where you want to be able to talk to the serious buyers."
Kelly attributes the attendance to a number of factors, including the Wall That Heals, a half-scale replica of the Washington Vietnam Memorial.
"I think (the Wall) really helped a lot. It really drove our numbers up. It was well covered in the media, and  there was rarely a time you go over there and didn't see a crowd," Kelly said.
Economic factors can also be attributed with the attendance increase, all of which have had a recent positive effect on consumer confidence.
"It's just a perfect storm. Gas prices were falling, the stock market was up this week, home values are coming back," he said. "Really it comes down to confidence – people are feeling more confident to pull the trigger on stuff like this."
The gauge for demand, according to Kelly, will be on the upcoming show Thursday through Sunday in Fort Meyers, Fla., a lesser-known show that FRVTA officials will be watching with a close eye to determine consumer demand in the area.
"That will give us a good idea of where the Florida market is heading," Kelly said. "Then in a couple weeks, we do a couple more smaller regional shows."