Features
Four Wheels and Built for Adventure
Getting to know two adventure van companies that operate in Missouri and Alabama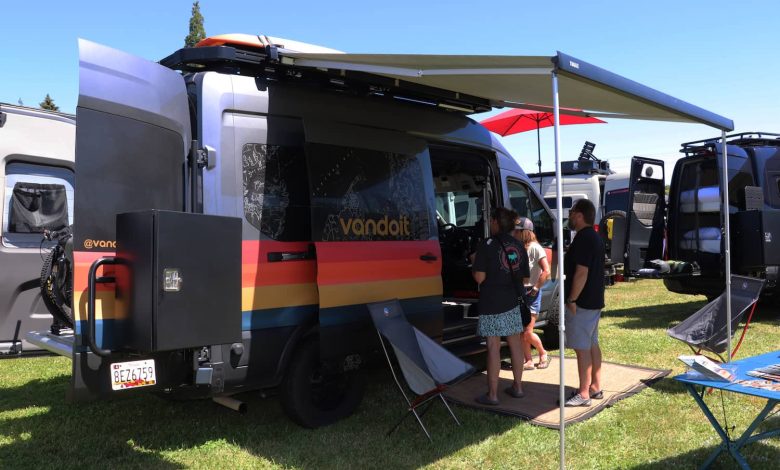 Adventure vans have become a ubiquitous part of overlanding – self-reliant travel to remote destinations where the journey is the goal. Using these off-highway capable vans as transport, trips to places not easily accessed or navigable are now possible.
The growth of adventure vans has gained momentum and there are now builders in nearly every state in the U.S. and most Canadian provinces. While Class B vans are targeted towards retirees, adventure vans are coveted by young families and active, outdoors-minded Gen Xers and millennials.
We talked with two leading adventure van builders, Vandoit and Storyteller Overland, to find out how dealers can become more knowledgeable about these vehicles and their legions of devotees.
RV PRO: How did you start your company, and when did you build your first van?
Brent Kline, CEO, Vandoit, Blue Springs, Missouri: Ours is a third-generation business started in 1947 in Manly, Iowa, by my grandfather, Woody Kline as Kline Automotive. He and my father, Fritz, were involved in manufacturing and distribution of RVs and the first tiny homes. Upon taking over the business in 2009, I shifted the focus to utility and multi-use conversions. In 2016, we felt the need to put renewed emphasis on adventure vans that are multi-use, marine grade, versatile, functional off-grid and bulletproof. We accomplished all of that while utilizing a modular system to remain multi-use.
Jeffrey Hunter, founder, chairman and CEO, Storyteller Overland, Birmingham, Alabama: We launched Storyteller Overland in November, 2018. As a company, we are celebrating our fourth year in business. We started with a small team of automotive and industrial designers, manufacturing specialists, community builders and outdoor lifestyle enthusiasts. Our goal was to create the highest quality, most innovative, turn key adventure van solutions that simplified the buying process, exceeded expectations for quality and craftsmanship, streamlined accessibility for warranty and aftersales care, and elevated the overall ownership experience for our customers and community.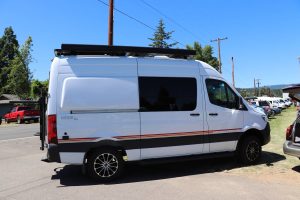 RV PRO: From inception until now, how many vans have you built and what improvements in the building process have you learned over time?
Kline: From 1947 to the present would be too difficult to count, but since 2009 when I took over, we have sold over 3,000 vans used for various utility purposes and at various conversion levels.
Hunter: To date, we have built over 1,300 MODE adventure vans. In the process we have been inspired by the individual stories and interconnected relationships that have evolved among MODE owners in a short period of time.
RV PRO: How do you go about marketing your company and its products? Do you go to events, use social media or advertising, rely on word of mouth or a combination of all of these?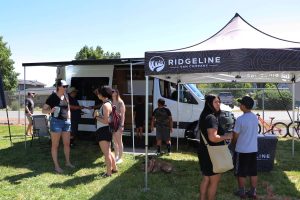 Kline: Because of our long history in the automotive industry, and specifically the multi-use van business, and our reputation, stability and know – how, customers trust us. This made word of mouth our greatest marketing tool. We also spread that message via social media along with a handful of events per year such as Overland Expo West, Adventure Van Expo, or local bicycle races in which we participate.
Hunter: We are an outdoor and adventure lifestyle brand. We believe you have to be present and engaged in the community so you can better understand the values and share the experiences of your customers and community. So, we are passionate about getting out in the wild and spending time with our customers at meet ups, expos, community events and trailheads. For us, it's not about the transaction, it's about the positive, long-term relationships and experiences we cultivate with our customers over time.
RV PRO: Are the Adventure Van Expo series the best events to attract new owners, or do you find there are others such as Overland Expo that bring in more interested prospects? Are there RV events locally or regionally that you have used?
Kline: We haven't found any event that stands above others from a marketing perspective. Because word of mouth concerning our brand is so strong, we've reduced the number of events we attend per year. Vanlife events in which we participate are tied to active, adventurous consumers.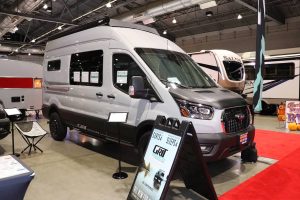 Ford's Transit platform, on which we build exclusively, is made near our factory in Kansas City. As a Ford Qualified  Vehicle Modifier (QVM), we often attend local or national events at their request.
Hunter: We love being active and engaged in the vanlife, overland and adventure travel communities, so we take part in as many of these types of gatherings as we can.
RV PRO: The Recreational Vehicle Industry Association (RVIA) claims it represents 98% of all RVs made in the U.S. Are you an RVIA member? If so, what are the advantages to being a member in the association?
Kline: We are an RVIA member and a certified RV manufacturer. This is a tough designation to obtain and maintain, especially in conjunction with Ford's QVM designation.
We believe the RVIA is of the utmost importance from a safety and quality perspective. If all the nuts and bolts are not installed with the proper torque, safety is jeopardized and this is just the start. Van modifiers are working with AC and DC electric, 12V to 110V, solar and lithium-power, tying it together at multiple locations, all intended to work together while being subjected to severe vibrations while traveling on or off the highway.
RVIA's standards program is the greatest member benefit and also a benefit to consumers because of safety and quality. The Standards Department maintains a full-time team of inspectors that monitors adherence to standards adopted by the Board of Directors for RV construction.  The team conducts more than 2,000 unannounced inspections of member company RV manufacturing plants annually, walking assembly stations along the production line, spot-checking RV units for compliance with over 500 safety-related requirements and talking to line employees. At Vandoit, we recognize Ford's investment puts into quality, engineering and safety. We choose not to compromise their engineering, but rather to complement it through QVM and RVIA certification.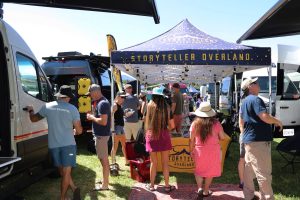 Hunter: We see tremendous value in being an active RVIA member. RVIA standards are a direct benefit to the industry and the customers that they ultimately serve. We are excited to see conversations around forward-thinking innovation, higher standards of quality, and elevated expectations for consumer experiences being prioritized by the RVIA and member companies.
RV PRO: Adventure vans that you build differ from what most Class B manufacturers assemble. Why do you think they are unable to provide a more customized product?
Kline: Because it's unorthodox and expensive to produce a high– quality, versatile and bulletproof van that changes based on customer needs. In fairness to Class B RV– makers, they can't be all things to all people, and neither can an adventure van company. Some customers want wood cabinets and items which impart the look and feel of home. Our customers are highly active in many different types of activities and it's mostly about the functionality and versatility.
Hunter: Our design language and build logic incorporate the types of premium quality, custom–crafted materials that people desire from bespoke builders and custom upfitters, while still adhering to best practices of higher volume manufacturing. This yields higher quality vehicles with greater standardization and consistency, which ultimately provides improved experiences and simplified serviceability for our customers.
RV PRO: RV dealers are more apt to sell Class B vans from established manufacturers. Will this change over time, or do you already have RV dealers that sell your vans? What do you think prompts them to sell adventure vans, versus units from manufacturers that may not be adventure ready?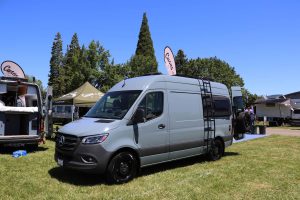 Kline: The National Highway Traffic Safety Administration (NHTSA) is a partner with RVIA from a safety, quality and certification perspective. New car dealers and RV dealers have too much to lose and will only distribute vans with RVIA, NHTSA and QVM designations. Many are reluctant to sell vans converted without them for potential quality and liability reasons. Likewise, we are particular about which dealers we would allow to sell our vans. We have been asked by hundreds of dealers who want to sell our products and have tried a few, but had to cancel the relationship with most dealers due to staffing, procedures and quality practices which don't live up to our expectations. We are always open to working with any dealer who won't compromise our best practices.
Dealers want to sell our vans because of the quality and safety designations along with our stability and reputation. Because of their marine– grade modularity and versatility, functionality and adventure readiness, our vans are prepared for any adventure any time, even if it's the family going to a weekend soccer tournament.
Hunter: As large as it is, and as many people as it serves, on many levels the RV industry was built on lowered expectations for far too long. But as new customers come in with assumptions for an automotive– level product, purchasing and ownership experience, the industry will be forced to innovate and improve on every level. From design to engineering, form to function, feature sets, pricing, value, serviceability and more, this is healthy. We've found dealers that want to be able to provide customers with innovative products that help to create exceptional ownership experiences and are backed by passionate, fully engaged companies who stand behind their products and brand. We are striving to constantly inspire confidence and deliver value, and we feel that like-minded companies who share this approach will thrive in the season of change sweeping across our industry.