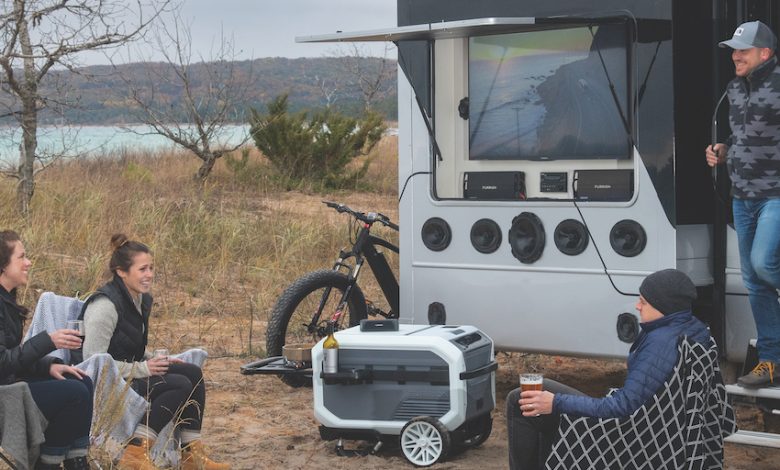 Furrion always does things in a big way.
So, perhaps it should not come as a surprise to anyone in the industry that when the Elkhart, Ind.-based supplier wanted to showcase what's possible in RV off-grid technology, it went all in – upgrading its existing 41-foot-long concept fifth wheel, dubbed Limitless, with all of the latest bells and whistles. The retrofitted and updated concept RV, now aptly named Limitless 2.0, is fully loaded with the company's many power products and energy-efficient appliances.
"We wanted to create a concept vehicle that was durable to withstand harsh weather environments. Obviously, that's the point of being off-grid," says Matt Fidler, co-founder and chief marketing officer for Furrion. "This gives us an opportunity to really test our products in these environments and make sure that they can withstand the toughest conditions possible."
So, what exactly makes Furrion's concept vehicle far more off-grid capable than the average RV?
Fidler says Furrion's standard off-grid system starts with the company's energy system, featuring more than 800 watts of solar panels on the roof, which are tied into a Furrion MPPT solar charger. That charger is equipped with special software that Furrion developed that enables the system to harvest more than 90 percent of the power created by the panels, which Fidler says is industry-leading technology.
"The efficiency of these products is what is important," he explains.
The company's off-grid system also includes four lithium batteries, which Fidler says offer the same amount of energy storage as about eight traditional AGM batteries while weighing considerably less.
"So, you use less batteries with lithium-ion without compromising energy storage while also creating more storage space in your RV," he says.
Another Furrion power feature on the concept fifth wheel is a 2,000-watt pure sine wave inverter, which converts 12-volt power to 110-volt, which allows RVers to use their AC and microwave off-grid.
"This particular inverter has a special bypass that allows you to charge batteries and run the AC at the same time, even while attached to park power," Fidler says. "Most competitive systems don't have this in their energy systems."
Additionally, as a secondary power source, Limitless 2.0 is equipped with a methanol fuel cell, which Fidler says offers an abundance of clean, efficient, reliable power for the many Furrion appliances and equipment on and in this beefy fifth wheel. The fuel cell acts as a back-up energy source during peak hours or if the solar panels are not generating enough power, according to Fidler.
"The fuel cell is a prototype that we are working on," he adds. So, it may take time for that technology to become widely available, but Fidler notes that the company's solar power technology is available now for OEMs to install in their units or prep RVs for installation "so the dealer can sell expanded off-grid solar systems that can be tailored to the customer and the way they want to use the RV."
Appliances Also Are Energy Efficient 
Fidler is quick to note that it's not simply the energy systems onboard the concept vehicle that make it off-grid capable. It's also the company's many energy-efficient appliances.
He highlights as an example Furrion's all-in-one entertainment center, which features a 32-inch TV, a stereo and a soundbar all built into one unit, which Fidler says is "super energy efficient" and runs directly from the battery. Both the living room and bedroom in the concept fifth wheel are equipped with the Furrion entertainment system.
The concept RV also features Furrion RV Chef Collection appliances, including an electric/gas built-in oven and cooktop appliances.
"The oven is the industry's first electric oven that is certified for RV use. It allows the user to switch from using gas or electric," Fidler says. "The induction cooktop is perfect for off-grid cooking if you are not using gas, as it is designed for low energy consumption and load manages between cooking zones, so it doesn't draw excessive power if you are using all of the appliances at once."
Additionally, the concept RV is equipped with a Furrion RV Chef Collection four-door refrigerator with a built-in wine cellar. It runs on a 110-volt power but also can run off the battery with Furrion's 2,000-watt inverter.
"The true built-in design and ventilation system allows air to flow better around the unit and this makes the cooling system function better and reduces energy consumption," Fidler says.
"Ultimately, there's no sacrificing when it comes to luxury on this unit," he adds. "We've made it so you can enjoy everything while you're plugged in, and everything still works while you are off-grid."
Fidler also touts Furrion's new, energy-efficient 12-volt Chill refrigerator. (The refrigerator is not installed on Limitless 2.0, but it is available for OEMs to install on new models.) The 10-cubic-foot refrigerator is a large-capacity unit but features a low-power consumption compressor, which Fidler says makes it ideal for camping off-grid for extended periods.
"What we're finding now is that many manufacturers are finding the customers who were installing the gas-absorption refrigerators that were running off LPG are now just converting to the 12-volt Furrion refrigerator because it's so energy efficient," he says. "That gas refrigerator
was created so that you could go off-grid, and they didn't have the energy capabilities to do that with a 12-volt refrigerator, but now you can."
Outdoor Products for Off-Grid RVing 
Furrion also offers a wide assortment of outdoor products, such as a portable electric refrigerator and an ePod portable charging station, which can be used by off-grid campers, or by any RVer who appreciates the convenience those products provide.
"So, you can always take Furrion with you, whether you are plugged in or off-grid, or whether you're camping or hiking somewhere remote – all of these products apply to those use cases," he says. "All of our innovations can help achieve those lifestyles."
Fidler anticipates that Furrion will highlight those outdoor products when it takes the concept fifth wheel on the road in the coming months for RV shows, for other events designed to raise awareness for Furrion's products, and for further testing by Furrion's staff.
"Well, mostly I look forward to using it myself," Fidler says with a laugh when asked about plans for the concept fifth wheel. "Like all of our concept vehicles we've done in the past, we're going to take it all around the U.S. to rallies and RV shows, outdoor retailer camping shows, music festivals and much more. We're not just going to talk about off-grid living, but all of the other technology that is fitted to the (concept RV) to create a big following around what we're doing."
Fidler says that he believes the concept RV and its many Furrion cutting-edge products can help win over people who might not otherwise consider themselves candidates for the RV lifestyle.
"We want to bring awareness to the younger demographics and the emerging customers in terms of what you can do with these RVs and the technology advancements that are creating the hype around RVs and just making it cool," he says.
Seeing Off-Grid Market Potential 
So, just how big is the market for off-grid RVing?
Fidler acknowledges that it's difficult to determine an exact dollar figure, but he says Furrion believes the market is significant and growing – which is why the company made a significant investment in money and time to create the off-grid concept RV in order to showcase what's possible, for consumers and industry professionals alike.
"This design of camping off-grid is more geared toward a younger demographic that is emerging into this lifestyle," Fidler says of the target market. "Those customers are demanding products and capabilities that can do these kinds of things (camp off-grid) and help them explore the world a bit better, but at the same time have the comforts of technology and luxury that they are accustomed to."
Moving forward, Fidler sees toy haulers, truck campers and smaller travel trailers and motorhomes as being early adopters of Furrion's off-grid technology products, in large part because those are the products Millennials are buying and the fact that the newer generation is using RVs differently than traditional campers.
Additionally, Fidler says he sees the company's off-grid products as appealing to other markets as well, including tiny homes, manufactured homes and the outdoor enthusiast, to name a few.
"RVs are a big part of our business and a big part of our focus, but the opportunities that we are seeing open up in other industries is really amazing to us," he says. "Business is growing very strongly now and we're branching out into these new markets."
And Fidler is quick to add that Furrion's energy system in particular is customizable and expandable.
"We make it easy for the dealer and the customer to upgrade their RV, if they want," he says. "For example, some people might just want a solar panel system that can trickle charge the battery, so it doesn't deplete while it's not in use. Others may want a full off-grid solar package because they are rarely plugged in. We can accommodate them either way because our power system represents … one ecosystem of products."
The Future is Here Now 
While Furrion's off-grid concept RV has a futuristic feel to it, Fidler notes that all of the products featured in and on the Limitless 2.0 are available for use today. And in fact, he says major manufacturers including Forest River, THOR Industries and Winnebago showcased many of those Furrion products during Elkhart Open House Week.
To support the company's off-grid products, Furrion has made a substantial commitment to provide assistance to both OEMs and dealers, according to Fidler.
"We are very much into training and building the knowledge base around Furrion systems and products, and that's ultimately what's making us successful, because we do provide that support," he says. "It's important to have collaboration with OEMs on the engineer and design so we can help them build the best products possible.
"And that's the beauty behind the (concept RV) – we showed how the system can work inside the RV. We can show people what can be done because we've already done it," he adds.
Meanwhile, Furrion also offers assistance at the dealer level as well, with point-of-purchase displays and other retail assistance to raise awareness with customers in terms of what's possible in terms of off-grid camping.
"The dealers have been very responsive to these programs that we have put in place," he says, adding that Furrion recently hired more team members to assist with dealer networking and merchandising efforts. "The end goal is to provide the end customer with all of the options they need to use the RV in the way they want to use it."
Innovation is Ongoing 
In one respect, the debut of the off-grid fifth wheel concept vehicle represents a milestone event for Furrion.
At the same time, Fidler notes that Furrion got its start back in 2007 developing a variety of power products for the RV and marine markets, so it has a long track record in producing products that were suited to off-grid RVing.
"We started off as an energy company. So, our expertise was in energy delivery, power management and solar energy," he says. "That was even before we progressed into all of the appliances and electronics that were installed into an RV or a boat. So, that really built the foundation of who we are as a company and how we define what luxury mobility really means.
"We've been releasing products over time, but this (the concept fifth wheel) represents a complete energy system," Fidler adds. "It's taken us some time to pioneer and engineer it for the special markets that we're in. And again, it's not just the energy system, it's developing the products inside the RV that are efficient enough to be taken off-grid, like the refrigerator, the TV, and other appliances."
And don't look for Furrion to rest on its laurels with the debut of the off-grid concept fifth wheel.
"We have a vision of where we want to be. Right now, we're still looking 10 to 20 years ahead of us from where we are today. And we're asking ourselves: What is the future going to look like and how can we make our products even more energy efficient and add bigger capacity? And possibly to the point where, maybe one day, you don't even have to plug into the park's energy system."