Features
General RV Gains Commanding Ground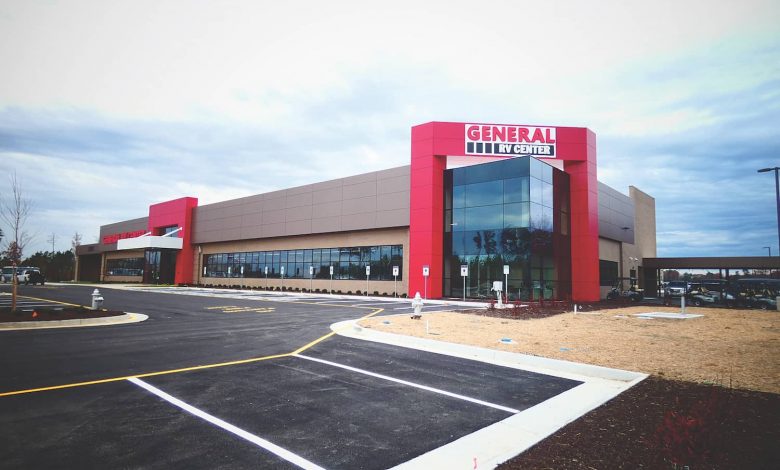 Michigan-based and family-owned General RV Center recently opened a new RV supercenter facility in Ashland, Va., which is now one of the company's 13 locations across the country.
The dealership's secret sauce for expansion and success?
It's knowing there is no secret sauce, per se – success requires sweat equity and a culture that spurs continuous improvement.
"It's an employee-driven company, led by President Loren Baidas and CEO Rob Baidas," says Ashland's general manager, Ed McNamara, who has been in the RV industry for 43 years. "It's what attracted me to the organization. It's the largest family-owned RV business and remains a very strong family-orientated one that runs on its values."
Those values include its vision of being a "premier RV partner" for manufacturers, suppliers and customers without having one partner dictate to another, according to McNamara.
"Size isn't as important to General RV as it is to other businesses," he says. "We just want to be a very large partner in the industry."
In total, General RV Centers employs about 1,800 people, carries inventory of roughly 5,000 RVs and features 500 service bays. It's a remarkable accomplishment for a business that started humbly in 1962, with founder Abe Baidas operating from a gas station in Detroit.
The new store recently moved from a temporary facility in Richmond, Va., where it had realized $60 million in revenues in 2018 during its first year as the Ashland facility was being built, according to Loren Baidas. The store increased its revenues to $80 million in 2019.
McNamara declined to project revenues for the Ashland Supercenter in 2020. However, he ventures that General RV will be one of the largest dealerships in the Mid-Atlantic region, as it's located along the Route 95 corridor, halfway between Canada and Florida, and can serve a 250- mile radius.
"We're in a sweet spot, with 48 percent of the country's population within a 10-hour drive. If it wasn't for the Baidas' family decision to come to Ashland and build this facility, then none of this would've happened. They put a lot of faith in our people and the area."
The dealership, which sits on 50 acres, has 40 service bays and a large retail store with a wide selection of parts and accessories. The store presently employs a staff of 103, although the business plan will staff 147 by the end of the second quarter and 200 by 2021. There will be nearly 550 RVs in stock by spring. Frontage and end units are presently plugged in and operational for customers to explore.
"We want to be recognized for how we conduct business and how we innovate the model with employee and customer retention," McNamara says. It's such a simple formula – 'Take care of your customers and employees and they'll take care of you' – but it comes down to execution. A lot of people say it but can't do it. It's where the rubber meets the road."
Growing Its Own Techs 
If consumers can't receive professional and timely RV service and repair, then the industry risks losing them to other recreational options, such as Airbnbs, hotels and resorts, according to McNamara.
"If they can't use their unit, then there are other choices, but we think RVing is a great way for families and making memories, and we want to make it as easy as possible for them," he says.
It's easier to run a sales business than it is to run a full-service dealership, which demands heavier capital requirements and bays, he adds. However, finding technicians – who require specialized training – can be a challenge, which is why General RV has committed to "growing its own."
The state of Virginia has an "accepted curriculum" in high school trade programs, which General RV just recently had approved and implemented in 2019. There are 10 students who enrolled in the dealership's technician-training program last May and there will be an additional 15 students participating this year.
"Once they graduate high school, they will be – at the very least – a registered technician and – at best – a certified technician," McNamara says, adding that General RV has created a set of pay scales to hire them.
The dealership also has incremental pay increases as students complete their academics and hands-on training. They will make between $25 and $35 an hour once they graduate high school as an RV technician, all with no college debt.
"When you train and grow in-house, they become people who will be with you long term with no interest in jumping ship," McNamara says. There's so much benefit in starting their careers from scratch, but it's a 'hard start' for a dealership. A lot of dealerships want a quick fix when it comes to hiring by paying more, for example, but you can't grow a good values-based staff that way.
"We have high expectations for all of our employees, but we also provide the training they need to get 'there,'" he adds.
Equipped for Service & Repair 
The new facility features 40 indoor service bays and three double drive-through bays, as well as a 40-foot concrete apron that wraps around the outside with air, water and electric hookups, staffed by 29 technicians and 10 trainees. The former location, or "second campus," also features 27 bays, which may be retrofitted or converted into a body shop.
"There's not enough capacity in the industry to handle the service needs of RVers," McNamara says. "After manufacturer warranties expire, consumers still have basic maintenance needs. When they're an 'orphaned customer' with nowhere to go, then our service capacity will fill that need – post-purchase and post-warranty. They're much more likely to stay in their RV lifestyle if they can receive proper service care."
Baidas adds, "Service in the RV industry has always been challenging and always will be. It doesn't get the support that it needs, whether it's from manufacturers and suppliers or dealers and training. We're constantly examining areas that we can improve on to give better service, and that can involve better communication with all partners and finding technicians and training them. It's all geared toward service."
There also will be some light automotive work performed, as Virginia has a state inspection, so additional staff will be hired, and McNamara projects his market will ultimately demand 60 to 70 bays.
"Most dealerships won't service an RV if they didn't sell it, but our size lifts that restriction so we can be a better partner. If you didn't buy from us, we'll still fix it," he says. "And not only will we repair the RV, we also offer our program, 'Keep You Camping.'"
General RV customers benefit from the program if they experience a "camping critical" issue – such as a recall, propane leak, appliance failure or no power – by having their service made a priority. Customers receive a same-day inspection and repair plan that outlines the service timeline.
"No appointment is necessary," McNamara says. "We have three drive-through service bays, equipped with air, water, electric and cable, where we can immediately diagnose the unit."
If it is determined to be a camping critical issue, then the RV is delivered immediately to one of the "Keep You Camping"-designated service bays. General RV has a lounge that's fully staffed to inform customers with repair updates.
Regional Operational Director Chris Carter adds that repairs can often take up to two months at other dealerships, whereas at General RV strives to get units in and out the same day.
"RVers typically trade in their units at 48 or 60 months, so if we're doing a great job of taking care of them, then we're going to get more repeat business," he adds. "Just as much, when we see to the needs of a customer who wasn't serviced properly at their own dealership, then where do you think they're shopping next time?"
Right Part, Right Time 
Parts ordering is expedited for the "Keep You Camping" program, either from critical parts in stock or sourced and overnighted from another General RV location. Each location's parts inventory is carefully monitored to ensure it is fully stocked and backed up.
"It gives us – not only a regional advantage – but a national advantage," McNamara says. "We run a truck, every day, to Indiana manufacturers to obtain parts for our distribution center."
General RV's parts department and retail showroom is well-stocked with everything from appliances and furniture to the "nuts and bolts." An additional showroom features working displays of products, such as electric jacks that customers can run up and down, mattresses, various step options, slide-out trays and solar panels.
"While a customer is waiting for a 'Keep You Camping' repair they have to opportunity to shop and add to their RV while it's being serviced," he adds.
Planning for What Comes Next 
General RV is always looking for the next opportunity to grow, according to Loren Baidas.
"It has to make sense and make our- selves a better company," he says. "We could go out and buy four or five dealerships, but that wouldn't necessarily make us a better company."
Acquisitions and expansion decisions are made strategically – the right location, right partners and right markets.
"But we also have to ask, 'Are we ready for another store? Is the team ready to take on another challenge?'" Loren Baidas says. "We're not going to sacrifice what all of our employees have built in order to add just another location. If we can't give our standard of customer service, then we're not ready – General RV isn't going to step backward to be bigger.
"We want premier facilities for our customers and employees to experience – and it's up to us to create that culture," he adds. "There is no secret sauce to success. It's just striving every day to be better and make improvements."