Features
Graphics Galore
Graphix Unlimited offers premier visual graphics for all types of RVs, from the largest motorhomes to the tiniest towables.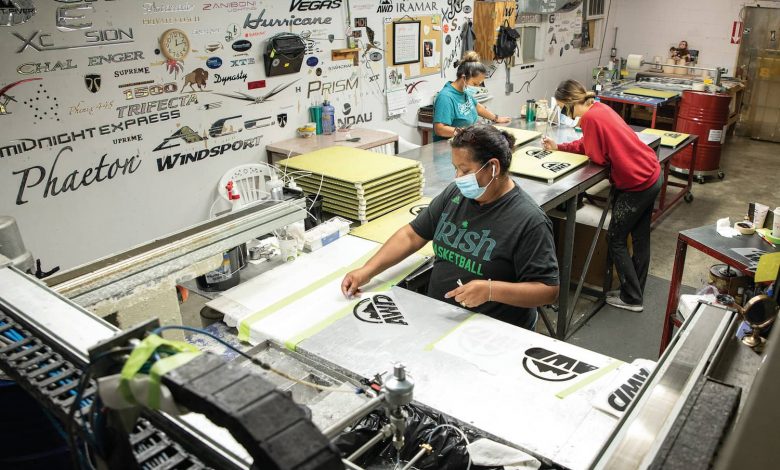 Ask Graphix Unlimited's CEO, Melissa Vitali, to tell you about her company and she doesn't hesitate: "We've always catered to the RV industry," she says.
In the case of Graphix Unlimited, "always" dates back to the company's founding 30 years ago by Bernie Erickson in Bremen, Ind., a community of about 5,000 people within easy driving distance of Elkhart.
The business has expanded its operations over the years to include work for the government, particularly the U.S. military. The latter has proven to be a boon, as it earned Graphix Unlimited an "essential business" designation during the initial COVID-19 shutdown, which allowed it to remain open.
However, the RV business continues to be the company's bread and butter, and the supplier continues to fine-tune its product offerings for that segment while maintaining its reputation for customer service, according to Vitali.
"The RV OEM market is still our largest market segment and they will always be our priority," she says.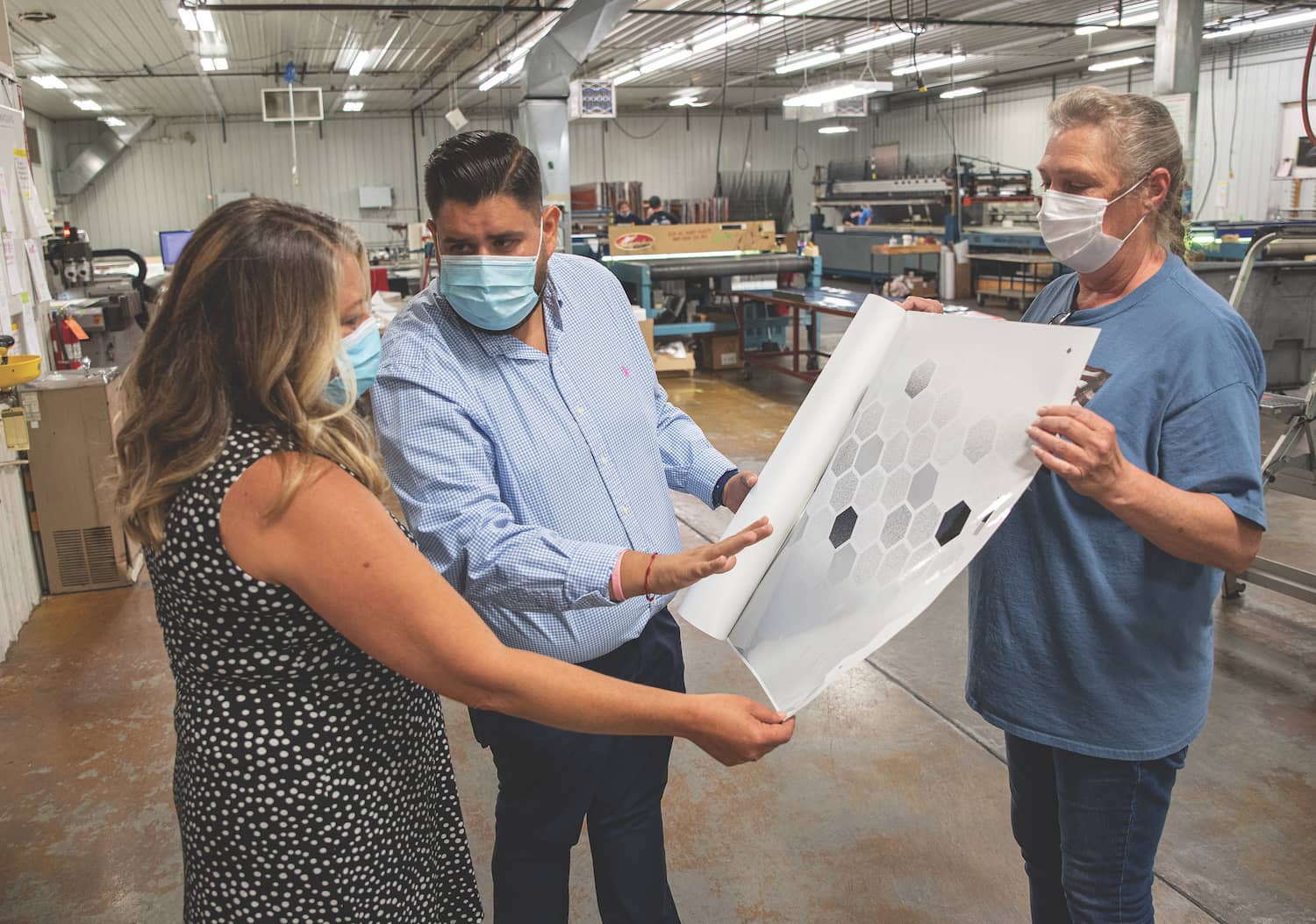 Taking the Reins
Erickson's roots in the RV graphics market ran deep even before he started Graphix Unlimited in 1990, according to Vitali.
"Prior to that (founding the company), he had worked for some of our competitors and had been in the business as a salesperson," says Vitali. "We've always been in the same facility here in Bremen, but we've expanded the building four times in 30 years. Right now, it's about 55,000 square feet."
When the Erickson family decided to step away from day-to-day management late last year, Vitali, who has been with the company for 15 years, was tapped to be the CEO.
Although reluctant to talk about herself, Amy Pollock, the company's sales rep for the RV OEM market, describes Vitali by saying, "She's always been looking ahead for what to do next. She's never been content in just one position, and it just happened that Greg Erickson was ready to step out and let somebody else take the reins."
Asked if the company will be doing anything special to celebrate its 30th anniversary, Vitali says no under the current unique circumstances.
"It's been such a crazy year that it would be difficult to do something," she says. "Probably another time, but not now."
Vitali admits she hadn't expected her first year in her new job to entail a pandemic and its effects. She expresses disappointment in the decision to cancel Elkhart Open House Week, reducing the company's opportunity to show off a major project on which the supplier has been working.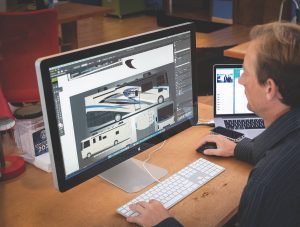 "We're still going to be doing it, though," she says. "I talked with the customer and we're all really excited that it will be coming out in late September."
In the meantime, the company is proud of the graphics it donated for the "Rollin on TV" customized Forest River No Boundaries model that's being raffled to raise money for Care Camps, a nonprofit organization that seeks to provide camping adventures for children with cancer.
"Sometimes we'll do special units," she says. "It's a one-time thing, and it's for charity."
Local Option
The bulk of Graphix Unlimited's work isn't, well … unlimited, but it can come in much larger numbers than a one-off. However, when Vitali talks about the company's core market, she prefers to first talk about people and customer service rather than the graphics the company produces.
"I think where Graphix Unlimited stands out is that we're local to most of the OEMs," she says. "We have a little bit of an advantage because our response times – if there is an issue – are pretty quick. We're within 45 minutes to an hour, but we pride ourselves on responding to our customers quickly."
Another advantage: That response isn't just coming from the salesperson or the quality team. Vitali says it can involve the inventory team, in-house customer service and the graphics design team. All those individuals – the company currently employs about 65 people – may be involved in the success of a project.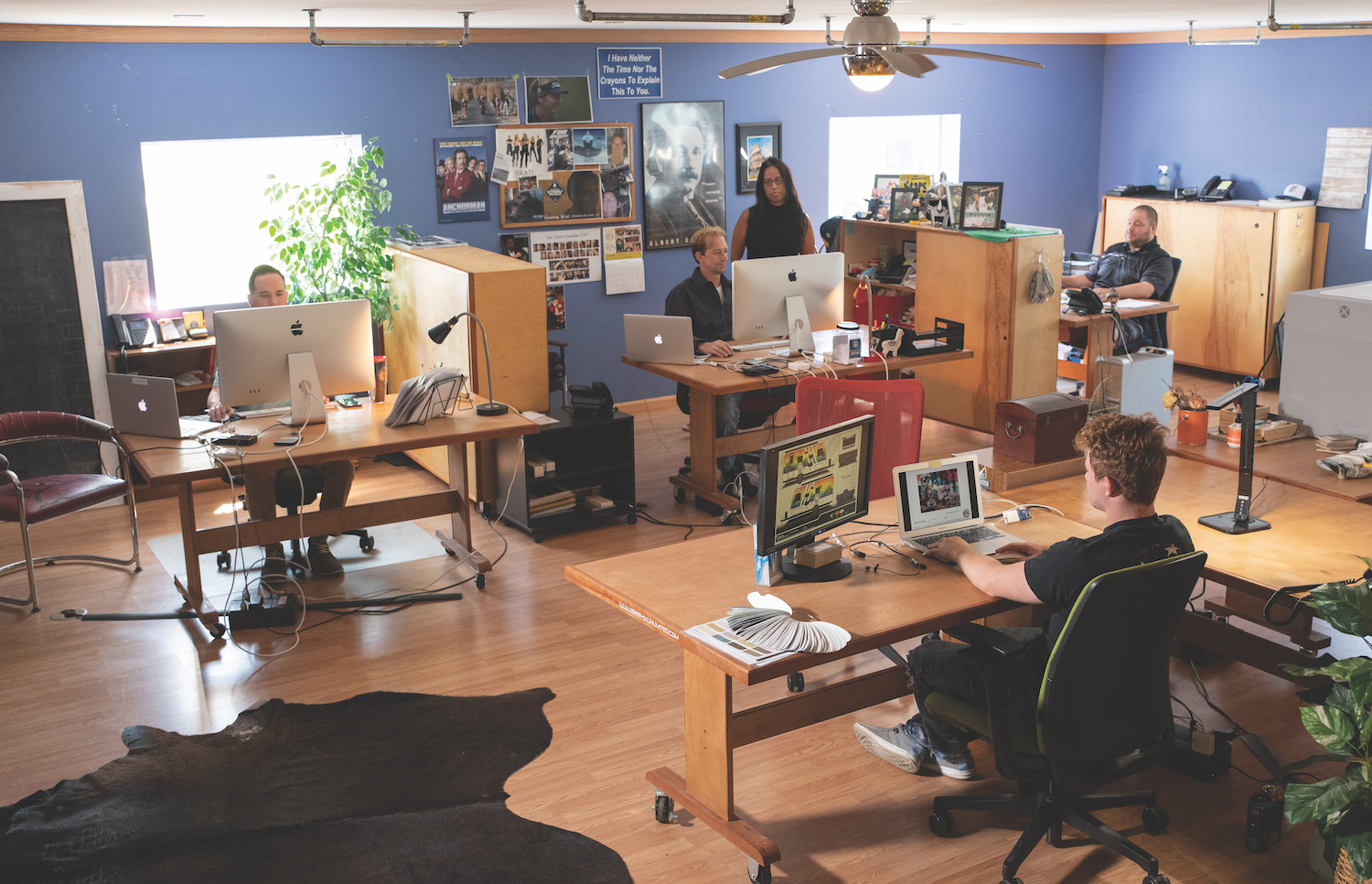 Vitali admits that there is no one formula the company follows for working with its customer base, as it varies from customer to customer and project to project, starting with how Graphix Unlimited finds out a manufacturer is beginning work on a new model.
"We have some that contact us, but we also know the cycles for model changes and we stay on top of that," Vitali says, adding that part of the sales staff 's job is reaching out to new contacts and keeping up with staff changes at the OEMs.
Once a new model or update is announced the hard work begins. Vitali says the graphics design team goes in and starts getting direction from the product managers. A big question is what market segment the unit is being designed for.
It's also likely the manufacturer has some thoughts on the colors and style they would like to see in the graphics package.
She acknowledges that some manufacturers are known for being more conservative than others.
Still another consideration is the type of unit the graphics are being designed for. Graphix Unlimited decorates everything from Class A motorhomes to what Vitali describes as, "little bitty travel trailers."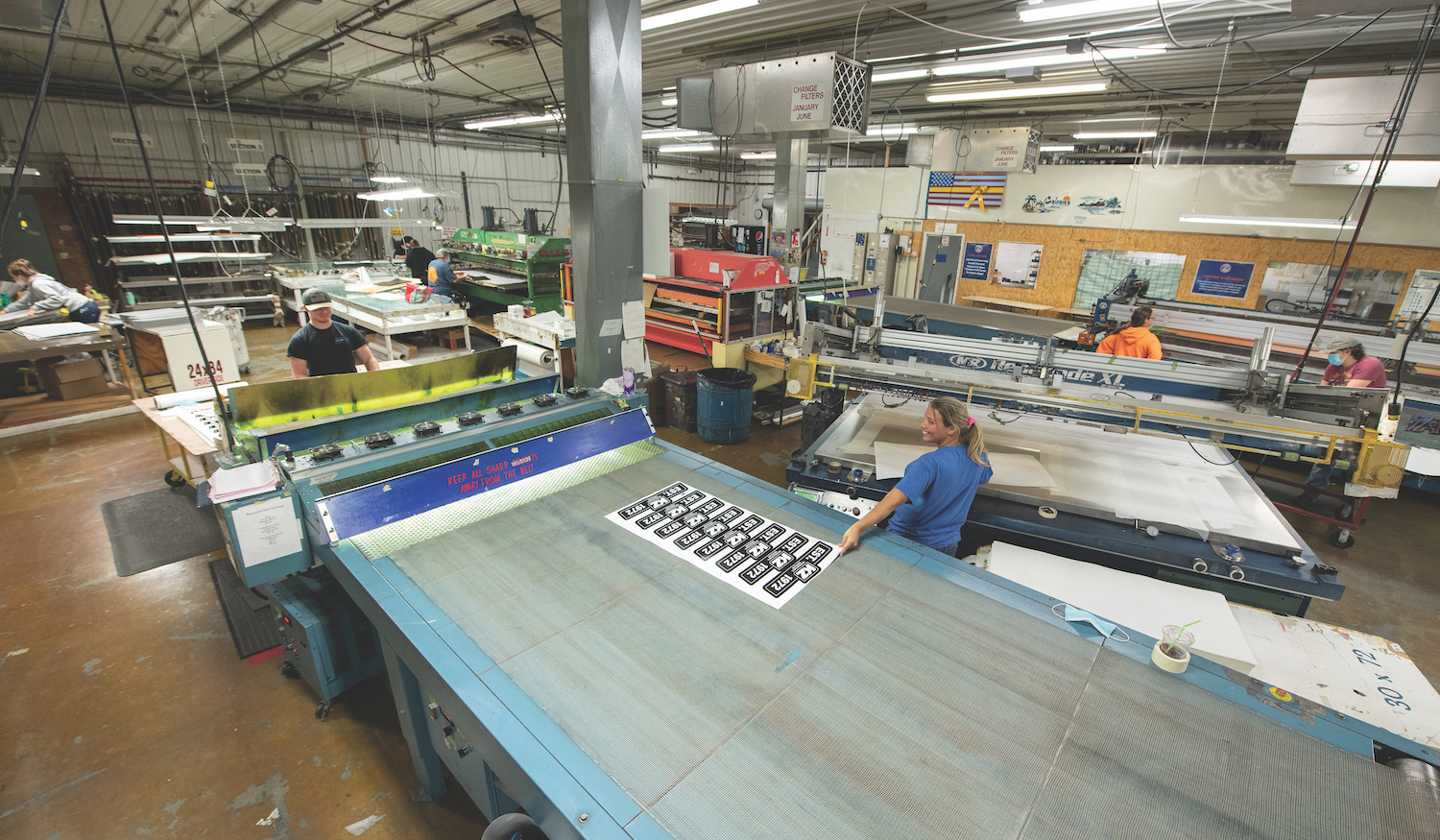 Pollock says the size of a unit can make a world of difference to a graphics designer. "Obviously, the decals are a little bigger on the motorized units," she says. "We have a little bit more budget to deal with and that helps, too. The big thing is, with the small units you have a smaller area and a lot more window space to try to avoid while still getting a good-looking design."
The company even needs to consider the popular colors for tow vehicles – currrently black, white, silver and gray. Graphix Unlimited works with The Color Marketing Group to stay on top of color trends and Pantone will provide info on the hot colors for 2021 later this fall.
Not surprisingly, "Working with them can take several months to get through the design phase," Vitali says. "We start almost a full year before the actual model change takes place."
It's also not a job for artists with egos.
Not only are Graphix Unlimited's six in-house graphic artists competing with each other, but various members of the OEM's staff are giving input, as well.
"By having that many graphic designers, we're able to give the customers a variety of styles to look at and choose from," Vitali adds. "And, they do have people on their staff who are weighing in and saying, 'You know, we'd rather have stripes than a swoosh.'"
Making a Difference
Swooshes or stripes, designing the graphics package is only part of Graphix Unlimited's job. Production and installation are also key components to a successful project.
The graphics are made from a cast vinyl with a five-to-seven-year life expectancy, Vitali says. And, while some of them are simply cut on large plotters, others are screen printed – or occasionally digitally printed – often with special effects.
"The number of pieces is usually what sets a job apart," says Juan Flores, the company's plant manager. "We use different metallics for different colors, and then print the effects. That's what really makes the difference in a job."
How important are the print effects? Well, the company has one graphic artist working solely on new print effects for next year's graphics.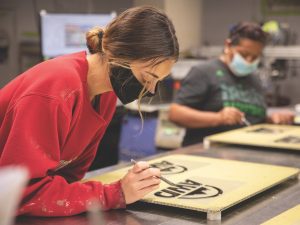 Flores is particularly proud of the work Graphix Unlimited puts into every name badge that goes on a unit.
"Some of them can be simple, but other customers go with a more-expensive upgraded name," he says. "Usually it's on chrome with a one- or two-color print, but it all depends on the budget. We have the capability to do the hard, raised plastic that you see on cars."
Nor does the company's involvement end when the pieces are all printed, cut, and delivered to an OEM. Graphix Unlimited also works with the installation crew on a regular basis.
"Usually when we go through a model change and they're starting a new design, we go out for the first few units," says Vitali. "We give them diagrams and we make sure they're comfortable with what they're doing. And, we go out regularly to check on the applicators. That's part of the customer service they appreciate from us."
It may seem like an awful lot of work to stick a few pieces of vinyl on a wall, but the reality is graphics play an important role in any RV unit. Says Vitali of her clients, "They want people to be impressed."
While that exterior paint job and graphics package are something the new owner will live with – hopefully for several years – it also represents a key piece of marketing.
"The OEMs want their models to stand out, but not for the wrong reasons," Vitali says. "They don't want people to just walk by a new unit. They want people to walk inside so they can see all the bells and whistles and upgrades."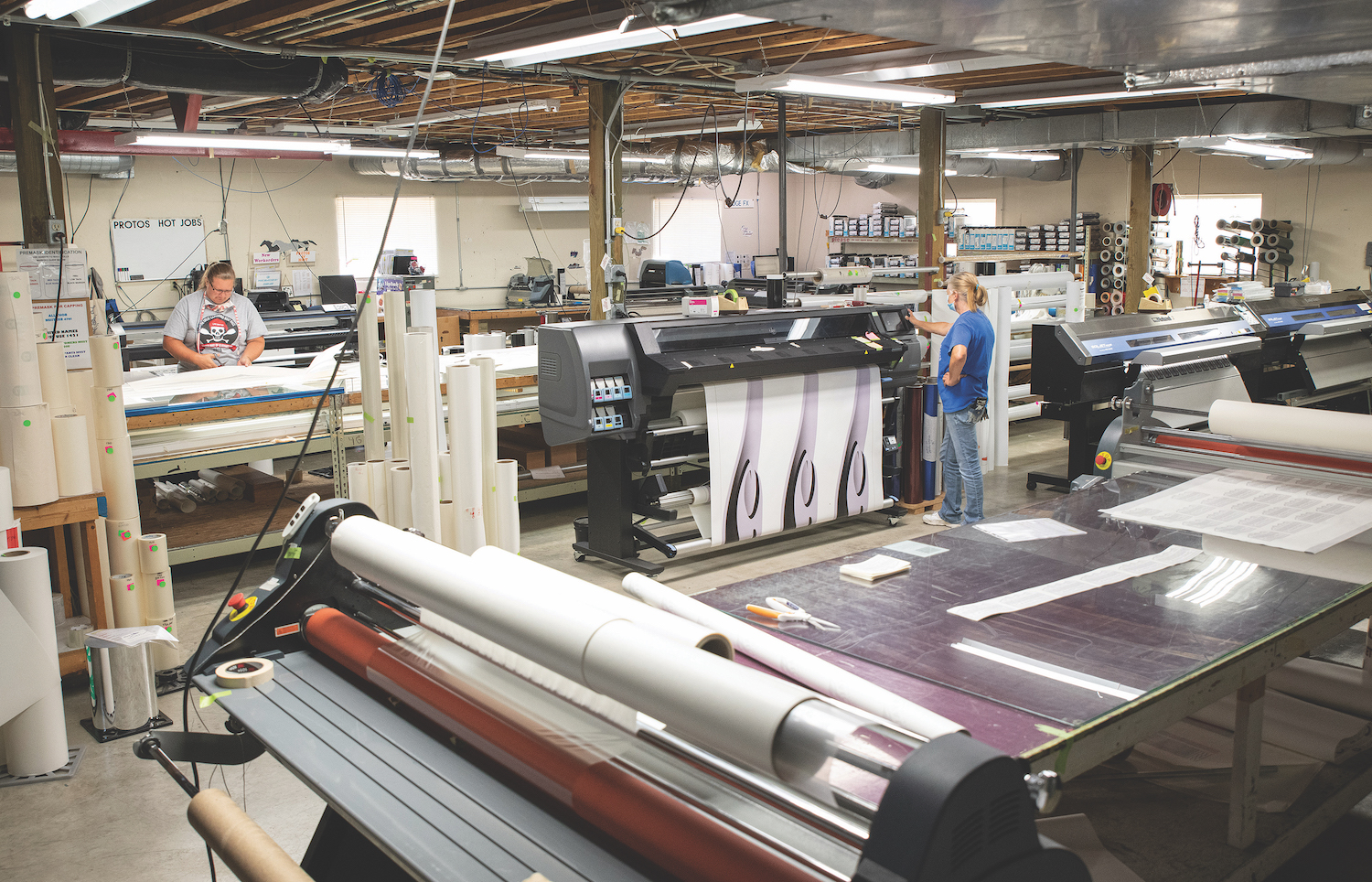 Measuring Success
Fortunately, Graphix Unlimited doesn't shy away from challenges. These days, one of its other profit centers is printing decals for U.S. military vehicles, particularly for its fleet of Humvees.
"We print those in every language you can imagine," says Vitali. "Because we have to make sure they're right, we work with certified translators for some of these; we print them, but we can't read them."
That association also allowed the company to stay open during the pandemic. And, thanks to diligent employees and good sanitation practices, as of mid-July Graphix Unlimited had only reported three cases of COVID-19.
One thing the company has gotten away from is providing replacement graphics for damaged RVs. Because there are independent companies that specialize in that work, Graphix Unlimited is happy to share its art files with them but won't do the work itself.
"We're set up to do large-volume work," says Vitali of the change. "It just wasn't cost-effective for us."
However, the new CEO is eying expansion in other areas, including interior graphics aimed at homes and offices, as well as – possibly – RVs.
"We're going to be producing interior wallpaper, removable, repositionable wallpaper, wall murals," she says. "We'll also be doing window coverings to produce effects like frosted windows or stained-glass style windows."
Those items will include online sales through such vendors as Amazon or Etsy. At least for the present, the company also is offering COVID-related floor graphics and an antimicrobial vinyl that inhibits the growth of bacterial and viruses on surfaces.
The company also is in the process of developing a new logo and website to reflect the product additions; both should be unveiled before the end of the year.
Beyond utilizing some excess capacity, one reason behind the expansion, Vitali says, is the sometimes-up-and-down nature of the RV industry – although she believes COVID-19 could prove to be a blessing in disguise.
"Our orders are coming in pretty well right now, and it seems the RV industry is staying strong," she says. "I know that sales have gone up, and on some of the online forums people are on waiting lists. That's a good forecast for us."
Asked to define Graphix Unlimited's greatest success, though, and Vitali goes back to the company's reputation for customer service and the employees – many of whom have been there for more than a decade.
"Customer service is very important to us and our customers see that," Vitali says. "That's why they stay with us, and that's why some of them come to us before they'll go to anyone else. It gives a certain level of comfort to call and deal with the same people.
"Success isn't always measured by the purchase order," she says.