Features
Gulf Stream Coach: 40 Years in the Making
Gulf Stream Coach continues to capitalize on a shifting RV market, and with 40 years of production under its belt, reveals a few contributions to its ongoing success.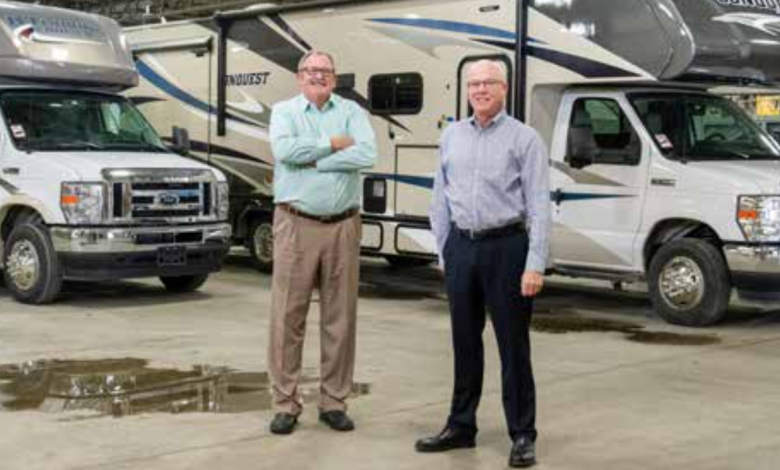 Despite the "unthinkable" changes that have hit the RV industry over the last few years, there's one thing that has kept Gulf Stream Coach on steady ground: good relationships.
In fact, the Nappanee, Indiana-based manufacturer is celebrating its 40th anniversary in 2022. Phil Sarvari, the company's president, remembers the exact date of its inception: March 17, 1983. Gulf Stream has since become the largest family-owned RV manufacturer in North America.
"We owe that to our relationships with dealers, many of which are family-owned and have been in the industry for a long time," Sarvari says. "And our suppliers are great, too."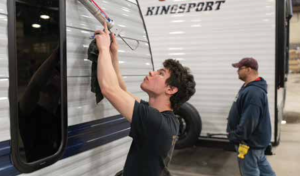 In 40 years, Gulf Stream has built and sold close to 400,000 units – ranging from Class C motorhomes to travel trailers and more. But rather than produce what the company wants, long-time success has stemmed from its open ears as the industry shifts and grows.
"We listen to our dealers because they're on the frontlines," Sarvari says. "We make what our partners are asking for. They know what's happening with consumers, and the amenities these buyers want to see."
In 2020, Gulf Stream's wholesale RV shipments were up 42% despite the eight-week shutdown during the COVID-19 pandemic. In 2021, that number rose to 49.3%. The manufacturer has seen "phenomenal" growth in retail market share since last year.
"The mood has been great coming off of 2021, fantastic from suppliers to dealers to manufacturers," Sarvari says. "Sales have been very strong, and we credit that to our dealer structure."
Gulf Stream is in full-force this year, reporting a 13.5% spike in retail market share for its travel trailers and a 42.7% increase in motorhomes. The numbers aren't necessarily surprising, says Sarvari and Dan Shea, the company's chairman of the board and son of company founder James Shea, Sr. In addition to a solid dealer structure, Gulf Stream's leadership and team culture are at the forefront of its ongoing success, backed by some employees as tenured as the company itself.
"I think the family-owned business helps in a lot of cases, and I think it is easier for us to attract and retain employees that may be fed up with the corporate environment somewhere else," said Shea in a 2021 interview with RV PRO. "That helped us to increase our production level (in 2020)."
The Show Goes On
Even as chassis makers have trouble getting product to manufacturers, Sarvari and Shea say sales are strong across the board.
"Our suppliers have done a phenomenal job," Sarvari says regarding recent supply chain hiccups. "We work closely with them, have given them longer lead times and forecasted out specific products."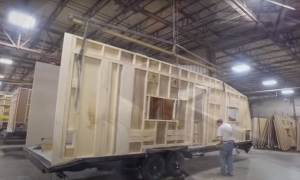 In addition to supply chain and material sourcing shifts, the pandemic triggered an unexpectedly large crowd of first-time buyers in the RV world – many of which are now looking to trade up for better rigs.
"When I was little, I don't remember the times I stayed in a hotel or took a flight. But I do remember all the times I was outdoors, making memories camping with my family," Sarvari says.
That idea is one behind the influx of younger RV buyers, many of whom sought a safer alternative for travelling throughout the pandemic. While Gulf Stream's consumer demographics are relatively still 35 to 75 years old, Shea and Sarvari note interest in attracting more younger customers, which means paying attention to the price tag.
"Part of our success historically is to move with the markets," Shea says. "Right now, we're focusing on reducing the price and increasing the value of our units."
Paired with the RV industry's rapid improvement in digital marketing and consumer-focused advertising, he says dealers who are face-to-face with the market's newcomers should get what they ask for.
In the Works
Looking ahead, Sarvari and Shea tout potentially four new floorplans being made based on dealer request.
"We are back to providing value for the first-time buyer, who bought a unit in the last two years and is ready to upgrade," Sarvari says. "Our product offerings need to fit those needs."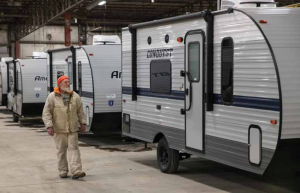 Gulf Stream's new and shiny are set to debut at the industry's Open House event, returning in-person this September to Elkhart, Indiana, after a two-year COVID-19 hiatus. The company is preparing special 40th anniversary acknowledgements, new floorplans and more to unveil during the week-long event.
"We have fresh décor and designs for all products," Shea says. That includes a grotto-like interior in Gulf Stream motorhomes with trending white cabinetry, he says, along with a full lineup of anniversary edition travel trailers.
The manufacturer's Nappanee campus drew a "hearty dealer response" to its offerings that were unveiled during last year's "Open House" event, hosted by the company. Sarvari and Shea said moods are high for this year's anticipated turnout.
As Gulf Stream Coach heads into its 40th year in production, Sarvari says he is proud of the manufacturer's ability to make changes on a dime, and with no debt.
"We're a very solid company that listens to our dealers," he adds. "Over the last three years, we have outpaced the market in terms of unit growth and market share growth."
Looking ahead, Sarvari and Shea see no slowing down of Gulf Stream's growing success in a rapidly changing market.