Features
Hilltop Keeps its Eyes on the Summit
A third-generation family-run business, Hilltop Camper & RV has its sights set on growth and continuous improvement.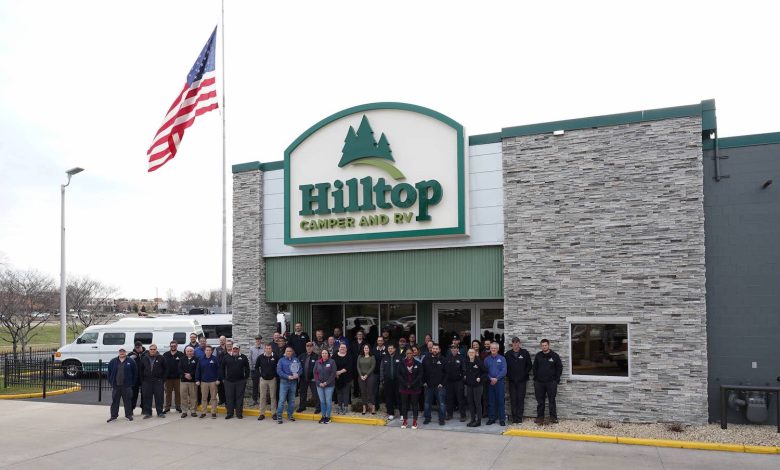 Family-run dealerships may be fairly common in the RV industry, but at Hilltop Camper & RV in Minnesota – where all four brothers in the Pearo family work at the dealerships their grandfather started – they've gone a step further.
Mike Pearo oversees finance, sales and inventory and is also the RV Dealers Association chairman of the board. His brother James is the warranty manager; Dave oversees parts and service for all of the Hilltop locations; and Jeffrey is the general manager of the Brainerd, Minnesota, location.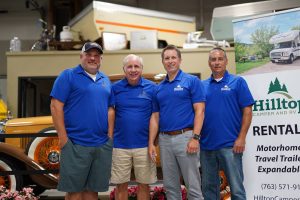 "Hilltop is in its 71st year," Pearo says proudly from the main headquarters in Fridley – one of the Twin Cities locations. "My grandfather started the dealership back in 1951 in the city of Hilltop, just outside Minneapolis. In 1951, it was a little, small city in Columbia Heights, out on highway 65, four to five miles north of downtown and surrounded by cornfields. Today, you'd never believe it was surrounded by farm fields."
Hilltop got its start in mobile homes and added travel trailers shortly after, Pearo says. By the 1970s, they'd moved strictly into RVs.
By 1998, Pearo's father and uncle – two of seven children – had taken over the business and that year moved the original location from Hilltop to Fridley. As its name illustrates, the Hilltop location literally was on top of a hill, which posed quite a challenge when moving the product around.
The Fridley site had more flat space – 8 acres, then another 7-acre lot nearby which they purchased soon after the Fridley location opened. Now there was a main business space for customers to visit, and a secondary lot that houses Hilltop's detail and prep shops and storage.
"The display lot may have one of a type (of RV), and then multiples at the storage lot if it's a good model for us," Pearo says.
In 2011, the four brothers bought out their uncle so he could retire.
"My dad and uncle did a great job of growing the business and dealing with the growth and adding personnel," he says.
The Height of Hilltop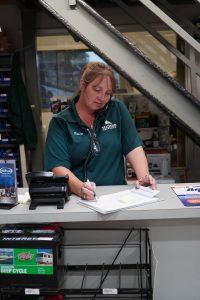 Not long after the four brothers were in business together as the third generation of owners, they opened the Rochester dealership in 2012, the Brainerd location in 2013, and in 2020, the Alexandria location opened in northwest Minnesota.
With both Brainerd and Alexandria in the lake-filled northwest region, that leaves Fridley and Rochester down in the southeast area of the state. Rochester is a large location, Pearo says of the city where the Mayo Clinic – the largest employer in the state – is located.
"There's a lot of similarities between the four locations, but the northern stores, a lot more of the customers right there are looking to park something," he says. "They don't have a tow vehicle; they want it delivered, set block leveled, and are using it as their lake home or vacation home, or for extra sleeping.
"We don't see that a whole lot with the Twin Cities; they're looking to go elsewhere. We're making sure they're set up to tow it properly and they're going places all the time."
The Fridley store is the largest with 60 employees; Hilltop has about 120 employees total.
"With the growth of our business and stores, we've added a full-time human resources employee," Pearo says, stating she handles recruiting, hiring and onboarding. "She sets employees' expectations and checks in with them, making sure they're getting the resources they need."
Pearo says they've developed internal training at Hilltop, especially homing in on the service side.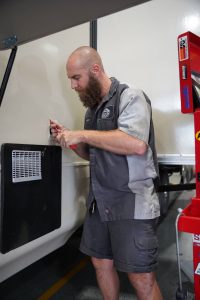 "One gentleman, 'Professor' Dave Agular, is very knowledgeable. We sent him to RVTI's train the trainer (program) and he continues to work with them," Pearo says, referring to the RV Technical Institute's training. "He has the ability to train technicians to the levels he's at, and he's Master certified. He'll work with them one on one and get them on a training program, move them up to the next level and get them to Master certification."
Since Professor Dave can't be with new hires all the time as he travels from location to location, Hilltop has also set up an apprenticeship-style system, pairing a new technician with someone who has more experience.
"The new techs will spend a week or two with a more seasoned technician, working side by side," Pearo says. "They'll usually work with two or three technicians before they get set up on their own bay.
"Our technician training is something I'm real proud of and our apprentice program has worked really well."
For other departments in the company, Pearo says they've hired a service writer and manager specialist who works with new service writers to make sure they understand and follow the processes they've developed. This especially includes keeping in contact with the customers.
"Our philosophy is we'll service anybody, whether you bought from us or not," Pearo says. "We have to, at times, prioritize our own customers, but our goal is to provide service to everyone."
Hilltop has been working hard to reduce its RECT – Repair Event Cycle Time – meeting with experts on the subject like Garry Enyart, a leader with the RV Industry Association and former Cummins executive who worked a short distance from Hilltop's Fridley store.
"He works with the service writer and manager and warranty manager," Pearo says. "He's helped us refine our processes a bit; it's been a good experience seeing the roadblocks we run into."
The parts side of the business also includes one-on-one training to help employees get familiar with the parts and how to take care of the customers.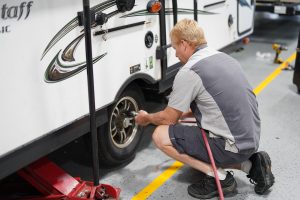 And, when it comes to sales, Pearo says they'll have new salespeople go to the Fridley store, where there's generally more action as a store in a larger city.
"They'll watch and shadow a salesperson for a day or two to get an idea of our process and how we treat the customer," Pearo says, adding their salespeople also do training with manufacturers reps as well.
In addition to that training, a "product walkaround" is something each salesperson takes turns leading. This involves taking the sales team to a particular model and demonstrating all of its features. Pearo says the salesperson who leads that week's walkaround will spend usually a week studying to prepare to teach everyone else.
"It's interactive," Pearo says. "Someone might jump in if there is anything the person missed, or we often hear someone say 'Oh, I didn't know that.' Then we know 'boom!' this training was worth it."
Hilltop's finance team has also grown its processes as the company has grown, Pearo says. Every two weeks, they have an all-hands call with finance and sales managers. They go over wins or exciting news, and then try to resolve any problems that have come up.
"We're making sure we're all using the same forms and doing the paperwork the same way, completing the paperwork properly so we're compliant," Pearo says.
Hilltop works with Vision Management Group and a rep from the company visits Hilltop twice a month to do one-on-one training and review paperwork to make sure everything is squared away.
"Especially on those finance meetings, it's fun to hear them patting each other on the back," Pearo says. "Of course, they want to be the best; it's a competitive nature but no one is keeping knowledge from one another.
"Everyone is in it together and we have different goals, but we do it together as a team," Pearo continues. "It's  really cool to see the stores start to work together really well."
One supportive measure Hilltop has put in place for its customers starting in 2018 has been the sales call-in line and a service line. This team of three employees at Hilltop takes incoming phone calls, live chats and texts, so they can be timely about answering questions.
"It's worked really well; we needed to do that in service," Pearo says. "Service writers are dealing with people in front of them, then the phone keeps ringing. By the time you call customers back, they're frustrated because it's taken a while.
"The window of time that customers want to hear from someone is shrinking."
The Family's Future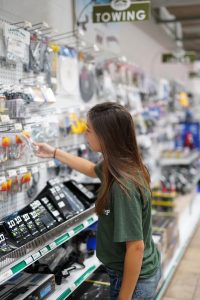 As for what lies ahead for Hilltop, Pearo says that while they've seen a little decline since the height of sales during the pandemic, it hasn't been substantial.
"There's still really good activity out there and a lot of buyers out there," he says.
He mentions that a wide range of products are selling. A year or two ago, dealers couldn't get enough of the entry- level trailers, he says.
"That's one segment we are stocked up on and probably have a little more than we need," Pearo says. "But we are seeing strong fifth wheel sales."
He adds that the motorized RVs are still in high demand, but the supply is still at a disadvantage because it's difficult for the manufacturers to get the chassis.
Stacy Lemke
"The used market is very strong – we added a used buyer in place because back in 2020 and 2021, we were so short in inventory, we went to buy some used," Pearo says. "Especially the motorized product because it's hard to get new motorized product."
Pearo confirms that they've seen a younger demographic purchasing units – a trend he noticed before the pandemic began.
"We were seeing a trend even before the pandemic, the average age of the RV buyer decreased," he says, "but then it got even more young once the pandemic occurred—it fast forwarded that age dropping once the pandemic hit.
"The ability to work from home or work from anywhere has been huge. Seeing families who decided to homeschool children, and some neat things where families are taking the RV if they're going to teach about U.S. history. To be there and see it would be amazing."
As for working with family, Pearo couldn't be more positive about it.
"It goes really well, and I have to credit my grandfather and my dad. They did a really good job about preaching how to work with family members and not strain your relationship," he says. "My grandfather put in place a 'no spouses allowed' rule, and that's something we've carried on and I think that helps keep the peace well.
"My father did a really good job teaching us how to work. So, the fact that we're all hard workers and do our jobs, it really helps. We don't have big issues because everyone is pitching in and doing their part."