Features
How to Leverage Sales Intelligence Tools in the RV Industry
Sponsored by Rollick
This article is from our older website archives. Some content may not be formatted or attributed properly. Please
Contact Us
if you feel it needs to be corrected. Thank you.
It's no secret that the sales cycle can be longer in the RV industry than in other, similar industries like automotive or motorcycle or even marine. However, the longer sales cycle isn't necessarily a bad thing. You can utilize the longer stretch of time with sophisticated marketing tools and strategies to create life-long, loyal customers. We call this sales intelligence. In this article, we will share key tactics and tools, specifically tailored to the RV industry, to help increase customer engagement resulting in more sales and loyal customers.
Prospect Engagement and Follow-Up
The key to mastering a longer sales cycle is to keep your customers informed and engaged throughout the entire buying experience, from the day they submit a lead and even after they purchase. One of the most effective ways to achieve continued engagement is to have a dedicated contact management process to ensure all leads are contacted within a timely manner, via appropriate channels and have their needs met. Most dealers believe they have an effective sales follow-up process, but Rollick data reflects otherwise. Based on our research, Rollick found that:
45.1 percent of dealers followed-up with consumers once
24.3 percent of dealers followed-up with consumers twice
30.6 percent of dealers followed up with consumers three times or more
If you are using a dedicated sales team, or a fully staffed business development center, it's paramount to have knowledgeable and dedicated personnel who are actively reaching out to all customers to build a relationship, earn trust, and schedule a no-obligation appointment in your showroom.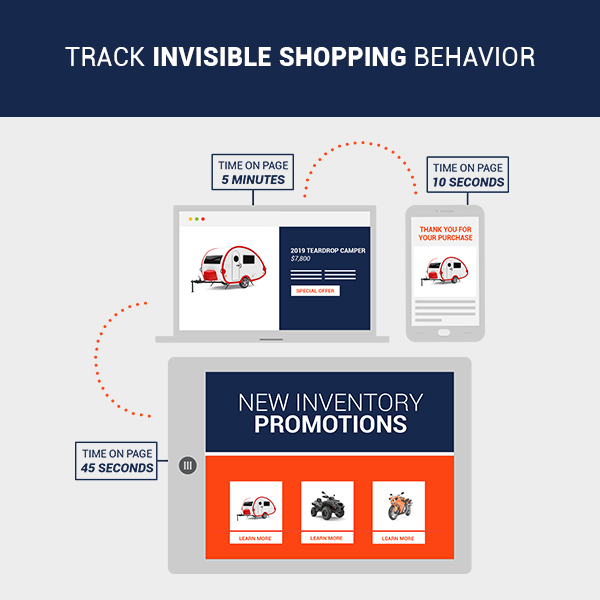 Track invisible shopper behavior.
Another customer engagement strategy for industries that have a longer purchase cycle is to develop a combined digital and personal touchpoint nurturing process. The simple process of automating a series of personalized emails to send customers is an excellent way to engage customers over time. Use the data you have to help further personalize these emails such as information based on the type of lead the customer submitted, their readiness to purchase from your dealership, or the type of product they are interested in purchasing.
Additionally, you can further narrow down the nurture emails by the type of information you think would benefit the customer based on where they are in the purchase cycle. You can find out this data by including a "time to purchase" drop-down on all your website forms. For example, if your customer indicates they are ready to buy now, you can send them automated emails with a specific price, reflecting the RV of their dreams, and include all information on financing and insurance needs. However, if a customer indicated they are not ready to buy for 3-6 months, include information and compelling content on how to best choose the RV that will fit their personal lifestyle and travel destinations. All of these personalizations can be automated, so you don't ever have to update or personally send these emails yourself and risk missing a lead or sending the wrong information.
In addition to the digital nurture emails, keeping track of customers that would benefit from a personal phone call is also effective. A combination of these two methods can help move a sale over the finish line and create a customer who is loyal.
Spend Your Sales Time on a "HIT List"
As an RV dealership focused on helping customers make a purchase, you have the opportunity to use marketing automation to help them make their decision to purchase sooner. This does not mean you have to pull everyone from your sales team to write personalized emails to each person in your customer database. The goal is to keep your inventory and dealership top of mind the minute the customer is ready to make a purchase. Dedicated marketing and technology solutions will help you determine which customers are closer to purchase than others. At Rollick, we call this "HIT" activity or "Highly Interactive Targets."
If you are a user of Aimbase, Rollick's proprietary marketing automation solution, your dealership may be receiving a daily "HIT" list of customers that were recently browsing the OEM's website, along with information about which pages the customer was on and for how long. This information can help your sales team view all of the web browsing activity, inventory, and floorplans before reaching out to the customer, which will help narrow down which customers are hot and what products they are interested in. This feature also helps sales teams keep track of every customer that submitted a lead, went "dark" for a period of time, and is now re-engaged online researching RV inventory.
Arming yourself with real customer data and shopping behavior keeps your brand or dealership focused on in-market customers who are ready to make their purchase, increasing your sales intelligence and likelihood of making a sale sooner. Simultaneously, you can utilize lead nurturing to give customers more time to do research and keep your brand or dealership top of mind for when the customer is ready to purchase.
Track All Prospect Activity in ONE Place
Think about the amount of research that takes place when purchasing a high-consideration product, such as an RV. From visiting dealership and OEM websites to reading online reviews and community forums, there's a lot of information that can sway a consumer's product decision. This actually creates a major advantage for your sales team if they are equipped to take advantage of the information and tools available.
For example, prospect tracking solutions, such as RollickLens, provides you with a timeline of ALL activity an individual prospect has had with your brand or dealership over time. RollickLens uniquely tracks engagement activity, such as lead submission, email engagement, and web page views on the OEM site, dealer sites, and a growing number of third-party sites, which will give you an overall idea of how ready that specific prospect is to purchase. You can use the prospect scores to help determine which prospects need more information, and what information might interest them.
Conclusion
As you can see, marketing automation and utilizing the data you already have available will inherently increase your sales intelligence to keep your dealership hyper-focused on customers at any point in the purchase process. It is important to note that these tools will help your sales team develop relationships and build rapport with consumers, closing sales sooner and creating life-long customers.