Features
How to Choose the Best Brake Controller
Helping customers understand their options should always be the goal.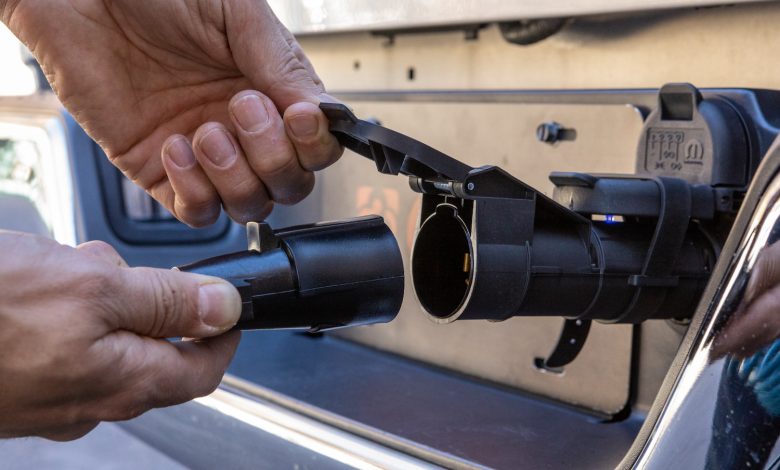 If you're a dealership or repair shop selling and installing brake controllers, you're aware this is a good news/bad news product.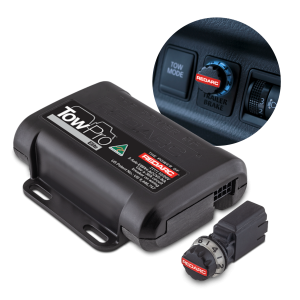 The good news, of course, is that more people are buying and towing more trailers than ever, boosting the need for controllers. The unwelcome news: devices are easier to install and use, meaning anyone with a bit of mechanical skill can take one home and put it in themselves and successfully use it.
Even worse, some truck and SUV manufacturers are offering them as an accessory on their vehicles, although companies that manufacture brake controllers agree they don't live up to the quality of those sold on the aftermarket.
Technology that's been improving over a handful of years is making the difference. Not only are companies eliminating the knee-bashing location of their units near the steering wheel, but some manufacturers are going the remote route with phone apps.
A Big Question
Many of us learned as children that towing can be fraught with problems. Hauling a wagon behind your bike seemed like a promising idea until the first stop sign, when the result would often be scrapes and bruises.
Multiply that by highway speeds, a fifth wheel and a truck large enough to pull it, and the possibilities for injuries and property damage soar. Fortunately, most vehicle buyers understand the need for a brake controller, and that, unlike the hitch, wiring harness and transmission cooler, it's not standard – at least yet.
Whether the average buyer knows just what brake controller is best for his trailer and how he's using it is a big question, however. The two different types of brake controllers help drive that.
"Proportional brake controllers determine the vehicle's rate of deceleration and apply the trailer's brake to match it," explains Derrick Webb, senior product manager with Plymouth, Michigan-based Horizon Global Americas. "With a time-based brake controller, when depressing the brake pedal in a tow vehicle, the brake controller generates on output signal that increases over a set period of time, applying braking power at a predetermined fixed rate."
There are advantages to each. For instance, a proportional system provides smoother braking and because both systems are doing the same amount of work, it reduces the amount of wear on each vehicle's braking system. A time-based system is typically less expensive and easier to install.
Helping a customer determine which system is best for his or her needs is the key service that a dealer can offer when selling brake controllers. However, Jesse Bauer, director of product development for Lippert Automotive, which includes the Eau Claire, Wisconsin-based Curt Manufacturing LLC, notes that many brake controller buyers are now doing their own research online.
For those who don't, Bauer says important questions to raise include:
How big is the trailer?
How many axles does it have?
What kind of weight is being pulled?
What types of driving scenarios are they going to face?
"It really comes down to what's important to them," Bauer says. "There's always a question of what price point do they want to buy at, but it usually comes down to safety and ease of use."
Selling Understanding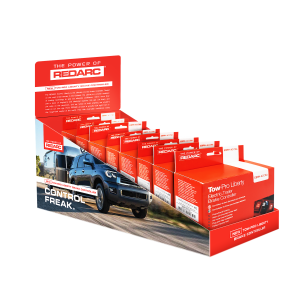 The issue of driving scenarios is a big one, and a question that first-time buyers of trailers may answer differently over time.
Although many manufacturers offer both types of controllers, one that doesn't is Australia-based REDARC Electronics. The company just sells proportional braking solutions, but Erich Ross, the company's sales manager for the eastern United States, says REDARC still recognizes that not all trailers – or towing experiences – are equal.
"People's tendencies do change," Ross says. "You might be a regular, everyday camper who's going to nationally known campgrounds and spots and experiencing everyday towing conditions. But, over time, some people decide they want to do something different and get off the grid."
With today's improving technology, still another consideration is whether a buyer is going to buy a single controller that might be used in multiple combinations of vehicles and trailers.
"We have a brake controller that can be set up in different combinations," says Bauer says. "A person is driving an Ford F-250 with a fifth wheel trailer on the weekends, and a Ram 1500 with a landscaping trailer during the week.
"Especially if they've never towed before, it can be to your benefit to help them do the research and understand what works for them best in a controller," he adds.
With evolving technology, Bauer says that Curt is particularly proud of its Spectrum and Echo models. Spectrum takes the proportional brake controller and mounts it under the dash, then adds a button to the dash to allow for the manual override and lets the user see his settings.
Echo utilizes the latest in smartphone technology to create a Bluetooth brake controller that uses radio signals to become the interface for the trailer brake operation. It doesn't require a traditional wiring connection, but instead plugs in between the vehicle-trailer seven-way.
However, the system is available with a separate manual override button that's also Bluetooth enabled that can be stuck to the dash. And, Bauer adds, "We'll soon be launching another one; there's another Echo coming."
Both Bluetooth control and the ability to switch controllers between vehicles, as well as adjust settings on a proportional brake controller aren't exclusive to Curt, either. Horizon Global's Webb says that company's newest Tekonsha Prodigy iD brake controller, Webb says offers the best of those worlds.
Used with the Tekonsha Edge app, it provides users with the ability to quickly switch between present trailers using the Edge application. Again, with mounting below the dash, it gives users a color LED display in the dash that provides diagnostics and alerts.
Even more important, it allows users to switch between proportional and timed braking.
"Typically, users would benefit due to the price point alone," says Webb says. "There is, however, the need for a time-based brake control when using the brake control primarily in off-road applications."
REDARC's Ross agrees. Designed for both on- and off-road towing, REDARC's Tow-Pro includes what it calls "user control mode," which turns off the accelerometer inside the brake controller and through a knob on the dash allows the user to control the braking.
"It's great if you're towing in mud or sand and you don't want a lot of braking forces that will cause the trailer to anchor deeper," he says. "But, if you're in situations with steep, rocky switchbacks and more of an off-road environment, you can turn the controller up quite a bit."
Although the company hasn't yet gotten into using some sort of process to cut the wiring between the tow vehicle and the trailer, "We are looking into some of those technologies," Ross says.
Adjustments are no problem for the Horizon Global's InSIGHT Plug-In Simple! brake controller. Dan Scheller, director of marketing for the Emporia, Kansas-based Hopkins Manufacturing Corp., says as with its competitors, the actual controller is mounted under the dash and away from knees and can control up to eight trailer brakes.
"The display is mounted on the dash for safety as drivers can view trailer braking details while maintaining peripheral vision on the road," says Scheller says. "The manual slide can easily be mounted in the dash area and requires no drilling at all."
Easy Enough?
Once a buyer has determined which brake controller is best for his or her personal towing needs, the ease of installation – especially with proportional brake controllers, which have a reputation for being difficult to install – may cut some sellers out of that part of the equation.
Ross, for instance, says REDARC has made its system almost foolproof because the accelerometer has three axes, so mounting it in almost any position is no problem.
"It's designed for a very easy install," he says. "We have vehicle-specific wire harnesses, so everything is plug-and-play. It can be a 15 to -20-minute install."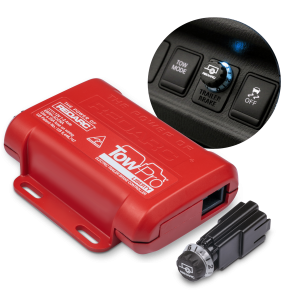 Other manufacturers are a bit more cautious. Curt's Bauer, for instance, says it really depends on how comfortable the vehicle owner is with doing the project. On the one hand, that person may not be comfortable mounting the controller under the dashboard. However, that company's electrical components are also in what it calls "a quick-plug, vehicle-specific harness."
"If they're not comfortable, they should probably at least seek the advice of a technician," Bauer says. "We do a lot of installation videos that we offer to our customers."
Sometimes it's not the installation, but the use of the controller, that's the concern, says Hopkins' Scheller, particularly if it's a time-based model.
"Understanding how to set the controller is key," he says. "Each trailer event could vary regarding the weight they're towing, and the braking force required for safe braking. Our dealers typically provide training for how to use the brake controller and advanced settings."
As for keeping those techs trained and at the top of their game, the manufacturers say they handle that through a mix of sales and company reps that offer training during visits to dealers, along with training materials, presentations, and videos.
"Even if it's a new tech, they're pretty handy and they can pick up on things pretty quickly," says Curt's Bauer says. "Plus, there's almost a constant flow of training materials from us, and when we do new videos, they're very readily available."
Along with training, the manufacturers make sure to supply their dealers with a steady stream of marketing materials to help explain to new trailer owners the importance of that brake controller and the differences in models.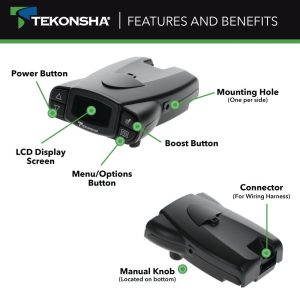 "Each dealer/customer's needs vary, but we partner with each of them the best we can, rather than taking a one-size-fits-all approach," says Hopkins' Scheller says. "We provide aid in developing front-of-store assortments. Our packaging was created to help each shopper choose the right product for them. We integrate QR codes to guide them through the features and use experience."
REDARC's Ross agrees that merchandizing needs vary by dealer, with the company providing everything from small cardboard displays to floor stickers and "shelf-talkers." However, the star of the company's marketing materials is a countertop interactive display.
"It's great for the salesperson or technician to actually operate the brake controller, but you can walk through it with the customer and say this is how this works," he says. "When you start talking about the user-control mode, it can get a little confusing in a customer's mind, but this is fully interactive and simulates actual braking."
The most important thing dealers need to be aware of is that the brake controller market is going to continue to change, say the manufacturers.
"The technology is really advancing, especially the sophistication of the microchips available," says Horizon Global's Webb. "That means brake controllers will be able to do more and incorporate more advanced features as new products are brought to market."
"Ten years from now, the brake controller market is going to look a lot different than it looks today," says Ross says. "A lot of vehicles are coming with some type of brake controller installed in it, but they're not the highest technology or the highest quality, because the auto manufacturers just want something that works. However, the brake controller manufacturers are going to be a couple steps ahead in the technology because we have to be. Even in those cases, it's still worth having an aftermarket controller because of the technology."