Features
JR Products: From Golden Rule to Golden Anniversary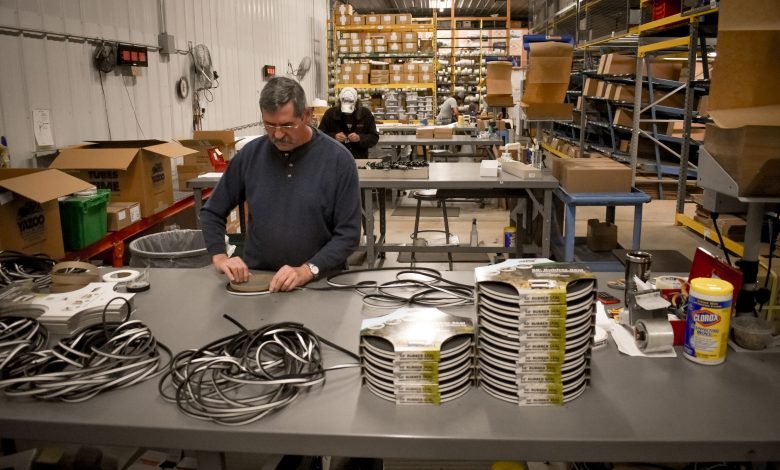 Brian Roba, president of JR Products, says he wholeheartedly agrees with the age-old sentiment that the customer is always right.
He also believes in putting employees first.
The management philosophy of simultaneously serving two masters – employees and business clients – is one he learned as a boy from his father, John Roba, who founded the business in 1970.
"I built my business on the Golden Rule," says founder John Roba, who retired from the business in 2016. "I have always treated our employees like family – but I also treated my customers that way. And, I always went the extra mile. You need to make money to survive in business. But I always felt that if I could help my customers or my employees, I needed to do it. And if I didn't make any money from it, that was fine, too."
This guiding principle helped John Roba grow the regional business he started with $2,000 in cash – borrowed from his father and father-in-law – into an international supplier of RV replacement parts, hardware and accessories.
The business, now 40-plus employees strong, marks its 50-year milestone this year. John Roba says the achievement is something he never expected when he started selling six products that his kids packaged in the family basement.
JR Products remains a family-owned business, but the company now offers more than 1,000 products produced in its Clarence Center, N.Y., production facility. "Back in the day, I was just thrilled if I could make a living," John Roba says. "It never dawned on me that the business would survive 50 years. But it's gratifying to see. What else could a father want than to build a business, have the family take it over and grow it? They've done a tremendous job."
Building a Business
John Roba says the company managed to succeed even in challenging times, strategically growing its way through an energy crisis in the 1970s, the 9/11 terrorist attacks and the Great Recession. In fact, the business doubled its size in two years' time following the Great Recession, he says.
"As the industry took a big hit, we invested back into our business," Brian Roba says. "We realized our competitors' mentalities would be to cut back. We took an unconventional approach and expanded our national sales team and added 400 to 500 new products."
As a result, he says the company grew exponentially between 2008 and 2016 and has seen steady growth ever since.
Supporting its customers as they struggled through the recession helped JR Products through this tough time, according to John Roba. He says he drew from lessons learned during the energy crisis of the 1970s and 1980s. As the RV industry suffered the effects of critical gas shortages, he says, "I learned that the way you merchandise and market your products sets you apart and creates dealer loyalty."
Giving Customers a Lift
Brian Roba agrees with his father's sentiments. He attributes JR Products' recent growth and continued customer loyalty to the Lift Program, started in 2008. He says the program – which trains JR Products' sales teams as merchandising specialists – redefined the company and facilitated industry-wide change. The program upends the traditional topdown model, where a company sells products to a distributor, the distributor sells products to a dealer, and the dealer sells products to consumers. With the Lift Program, JR Products' sales managers still sell products to distributors, but they also train distributors about the products and their use, call on their dealers, and hold seminars that teach dealers how to sell and merchandise products. This creates a more aggressive pull-through selling model, according to Brian Roba.
"As a result, the dealer knows the product, he understands it, and knows how to merchandise and sell it to the customer," John Roba says. "The result is our customers are happy, we are happy, and sales-wise, it comes back three-fold."
What's more, JR Products' team members set up product displays for retailers as an added benefit.
"Our sales team is much more hands-on with the 3,500 to 4,000 retailers we have," Brian Roba says. "A customer doesn't just buy products from us – they buy programs. Our team then goes to dealer locations and cleans up their parts section, including buying back competitors' products, and resetting the area."
JR Products' sales managers then create new displays, install high-end retail signage, merchandising racks, peg hooks and also wipe down shelves to help organize and clean dealer retail areas.
"These areas in RV dealerships can be very disorganized," says Ken Day, a regional sales manager for JR Products. "JR Products developed a system of planograms for top-selling items. We follow them to lift out old hardware, plumbing, electrical, LP gas and other slow-moving or obsolete products. Then, we refresh the area with top-selling parts and reset the section so it looks professional and organized, and is very easy for customers to shop."
JR Products offers the merchandising service to dealers for free, and the accompanying stocked inventory at a reduced price.
"When dealers buy this program through our distributors, we spend anywhere from one to five days doing resets for their dealers – and it's a free service," Brian Roba says. "We think it's important to be an advocate for our customers and do this work on their behalf to maintain loyalty."
Brian Roba says he believes high-level service will see JR Products through the coronavirus shutdown. And he predicts the RV industry will see an outcome like the aftereffects of 9/11.
"People were afraid to fly, and the RV industry experienced an enormous boom because people wanted to be closer to their families," he says.
He predicts families will forge new bonds while sheltering in place and that the fear of contracting a novel virus will also keep them off airplanes.
"We are planning and investing in our business right now, because I believe people will take to camping and RVing when this is all over," he says.
Educating the Industry
Meanwhile, generational changes and eCommerce also are disrupting the RV industry. As Baby Boomers exit RVing, it's ushering in younger customers who are used to buying products online and expect next-day delivery.
"It's very different from 10 to 15 years ago, when a customer would walk into a retailer and know its employees by name," Brian Roba says. "They had a relationship. If the dealer had to order the part, they'd say, 'OK, no problem. I'll swing by and pick it up when it comes in.' Today, we see a lack of patience on behalf of the consumer, and a disassociated business relationship."
Brian Roba calls on dealers to remember that if customers walk into their business and don't find what they want immediately, they will be quick to use an app to order it from another source.
"The focus must be on keeping product fulfillment at the highest level possible," he says. "Dealers have a great advantage against the big online (outlets) like Amazon or Walmart simply by having the products available and on their shelves."
Making sure products are available when customers need them requires widespread industry education as to why that's important, according to Brian Roba. As such, JR Products holds educational seminars aimed at teaching dealers about the changing RV consumer and the impacts of eCommerce.
"To compete with a new consumer purchasing mentality, dealers must fine-tune their product fulfillment," he says. "Yes, customers can buy a similar product on, Amazon. But when they buy a product online, there is no one to install it. And, if it's not installed at the dealership, there's no warranty on it. Plus, there is no one there to explain how the product works."
He adds, "Our RV dealers play an important role in this industry and it's incumbent upon manufacturers to educate dealers about why they need to keep product in their stores and not put it all in online retail storefronts."
Organized and stocked retail-based storefronts benefit service departments and RV customers. Customers want to find products easily, take them to the cash register and be on their way. Plus, a significant portion of dealers' parts and hardware sales happen in their service departments. Failing to keep parts on-site leads to longer Repair Event Cycle Times (RECT), which s Brian Roba says leads to dissatisfied customers who aren't likely to shop those retailers again.
"This sounds overly dramatic, but we see it all the time. Dealers thank us for putting our planogram in their stores," he says. "They tell us, 'We never thought we'd want all those switches here.' But it's not about the $15 switch. It's about the $5,000 vacation the customer wanted to go on. If you can put a switch in and have him on the road in an hour – versus his coach sitting there for a week – you have a satisfied customer and repeat business."
He adds, "It might be easy to create an online storefront, and there may be less overhead, but it could be the downfall of our industry if that massive shift happens without maintaining a physical parts store."
Supporting Employees Pays Dividends
Day, the regional sales manager for JR Products, has been in the workforce for almost 45 years, but he counts his 13 years with JR Products as superior to any other job he's had.
"This is by far the best place I've ever worked," he says simply.
He adds that he remembers the day he interviewed with the Robas.
"I told them, 'If you hire me, I will not be a 'yes' man, and I can't be micro-managed. But if you allow me to do my job to the best of my ability, and are there to instruct and guide me, you'll get outstanding performance from me,'" he says.
Although some businesses might have shirked from his strong statement, Brian Roba and his father hired Day immediately.
Brian Roba explains that's because Day is exactly the employee the company wants. JR Products empowers employees to do their jobs, he says, adding this philosophy gives employees flexibility. Employees can work from home if they choose and take vacations as they choose (the company gives employees unlimited vacation time).
What's more, the company treats its employees like family, according to Day. At age 61, doctors diagnosed Day with throat cancer. He recalls being terrified of his illness and of losing his job, but when he told Brian Roba about his diagnosis, Roba's first words were: "Ken, you are part of the family. Family is the most important part of our company."
Day recalls, "In the three months I went through treatments, they never hesitated to pay me my salary – and my commission – and I wasn't even on the road. That told me a lot about how they perceive their employees."
Brian Roba calls JR Products' employees its greatest asset. One way the company has sought to demonstrate that is by turning a large office room into a designated game room where employees can spend their free time playing games or relaxing, part of a larger effort by the company to create an enjoyable work environment.
"It has become the favorite room to all our employees," Brian Roba says. "We added a ton of fun activities including a dartboard, can-jam, bocce ball, giant Jenga, giant Connect Four, chess, Trivial Pursuit, Risk, and many other fun, interac-tive games. Our employees are free to use that room anytime they want to unwind and free their minds. I would say that it is not uncommon for there to be some sort of match going on almost every day.
"It has been the best investment I've made in our employees," he adds. "They love it, and in turn, I believe it makes everyone more productive."
The payoff comes in a committed workforce, according to Brian Roba, who says that employees tend to stay on for 10 to 15 years or more.
He says he subscribes to the philosophy of Richard Branson, the founder of Virgin Records and a serial entrepreneur, who famously said, "If you take care of your employees, they will take care of your customers, and your customers will take care of your bottom line."
He says he hires for personality, then trains for talent to create a workforce that treats customers like kings. In contrast, many companies hire for talent, then try to change an employee's personality, he says.
"The reality is, if you don't hire the right person to begin with – no matter what the job or function or skill is – that person will never fit into your system," he says. "We expect everyone who works here to have a positive, can-do attitude and a customer-first mentality."
Jill Carlo, marketing manager at JR Products, says that while the company gives employees great flexibility, it also puts high expectations upon them.
"We have a few strict things that every employee must adhere to. We have to be very quick to respond to our customers and we have to treat customers well," she says.
In 2018, Brian Roba won Buffalo First's Top C-Level Executive in Western New York award. He accepted the award right after JR Products closed on the best year in its history. Although he was the one being honored, he quickly attributed his success to the company's quality employees.
"Treat employees like family and empower them to be the best version of themselves," he said at the time. "Leadership is about being the least important person in the room."