Features
Keystone RV Delivers an Office With a View
Keystone RV's Montana debuts its front office floorplan in response to more people working remotely.and describes its creative process

Remote work isn't going anywhere. A monthly survey by Stanford University found that 27% of full-time paid workers are fully remote, The New York Times reported in March. The survey consisted of 10,000 workers across cities and industries.
The RV industry is well aware of this trend and has fully embraced it – as is evident in floorplan designs that increasingly include a workspace.
The Keystone Montana 3941FO is a prime example of this – the "FO" in the model number stands for "front office," and if you immediately envision a roomy desk with a large window, well, you'd be right on the nose.
"Especially during COVID, that was the thing that we heard the most of – all of these people starting to work more and more remotely," says Nick Ebenroth, product manager for Montana, Fuzion and Impact. "We constantly heard this feedback of these customers that were getting extremely innovative, and they were using their dining room table and they're setting up shop there just to work, or they've got little TV-type trays and they're working off of their sofas. Or in some of toy hauler floorplans, they've gutted the garage and made a whole entire office in the back.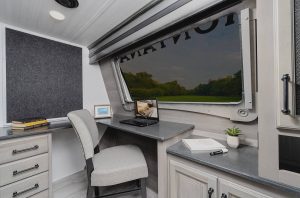 "We just kept talking from behind (the) scenes here at Montana: How do we build a floorplan that fits that? We'd love to just make it a dedicated office. So, as we kind of work through the layout, one of the things that one of our No. 1 selling floorplans has is our front living room unit.
"That front living, one of the neat things about it is that it has a front windshield. And so, customers that go have … really neat views of the lake or the mountains or the desert out the front. They can see that while they're sitting up watching TV … (but) what if we did an
office configuration where you still get that front living, but we shift the space a little bit and make that your office, and now you could sit and do work with this really cool backdrop while we're at it."
A Great Place To Work
In addition to the view, there's plenty about the front office space that makes it a good place to set up your laptop and get to work while out on the road.
"One of the big things that we wanted to make sure we did first is put a door on it so it has an actual door that closes off," Ebenroth says. "Once you're done working, you want to be able to close it off and put it away and then go enjoy your time with your family.
"In addition, if you've got calls that you want to make during the day, you can close it off and feel like you've got some space. And then we did a few things inside there. When you walk in, it's got a big L-shaped counter in the corner, and that L-shaped countertop gives you the spot for your office chair and whatever else you want to set up there. We've got four drawers on that left side, so all of your pencils and pens and office supply things can sit there."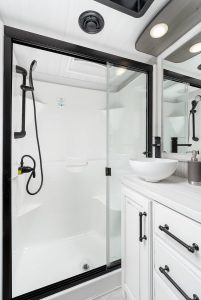 Another feature that makes the space feel more office-like is the corkboard to hang notes or photos, Ebenroth says. There is also plenty of space to add a stand-up desk setup or additional monitors if needed, instead of solely having to work off a laptop. There is a power source available under the L-shaped desk with a hole that you can feed cords down and keep them out of the way, he says.
There's also a large roller shade that can be pulled down to cover up the windshield when needed, and a couple storage areas for a printer, filing cabinet or other needs.
"One of the other things that I think was important when we were making decisions was we wanted to make sure that there's an air conditioning vent that's up there," Ebenroth says. "So that way if you have that closed off, you've got a vent that you can make sure you're keeping that room cool so it doesn't get overly hot. Then also on that door side, there is a window there that does two things: helps add more natural light, which you get plenty of it from your front windshield, but that one on the door side actually opens. So then that way you're getting cross ventilation into that space."
Making Room For Living
To make space for the front office, Ebenroth says they kept their "tried and proven" front living room intact and adjusted the layout by stealing a little space from the kitchen by removing the island.
Instead, to give owners plenty of counterspace, they included slot drawers that pull out.
"Those pull out (and) they basically make up a little peninsula on each side. The nice thing there is it gives you that extra countertop space that you would normally lose without your island. But they get tucked away when you don't need them," he says. "It gives you that extra countertop space and frees up the floor space."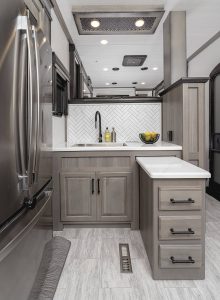 The kitchen still includes a refrigerator slide and three deep cabinets with double-doors, plus an oversized 24-inch chef selection oven. There is also a table and chairs in a slide-out, Ebenroth says.
"Some of the feedback we got, which I hadn't thought of, when we were at Tampa SuperShow when we introduced this floorplan, some people said the other nice thing that you can do here is if we have a family where we want to eat a Thanksgiving-type dinner, you can push away those rollouts and have a giant six person table – an extension or something … you can make that happen if you wanted to (with) an extra card table and chairs."
Heading to the other side of the kitchen is the primary bedroom and bathroom off the hallway so that guests don't have to go through the bedroom to use the facilities.
"Once you get into the bedroom, you still get a big king bed slide with the washer/dryer prep and plenty of hanging space," he says. "One of the things that we wanted to make sure we did when we built this was raise that back end … What that does is
it gives you a big, giant pull-out storage tray underneath the bedroom. That has become one of the things that our customers continually ask for and appreciate because storage is key inside the unit, but storage is also key on the exterior of the unit.
"And it also gives us the option, too, where on the side of the coach, we actually have an outside kitchen where you've got … a 12-volt refrigerator drawer. And you also have a griddle that's out there, too – a griddle that pulls out and drops down. So, you have a nice little cooking station as well."
Conceptualizing New Floorplans
Brainstorming for new floorplan ideas is constant, Ebenroth says. "A lot of times we work on projects for a long time before they come to fruition before the public and our dealers and everybody else sees them," he says. "But the life cycle, the way we typically do it, is in the late summer, early fall, is typically our model year change."
Around the time of Open House in September, the brand will reveal new floorplans and other new partnerships or products.
"Our goal is to normally introduce those floorplans right around that time," Ebenroth says. "Our dealers are there to see new product and we can showcase it to them. Then they can bring in some of that new product in the fall. But they can also work on exiting their current inventory to make sure that they bring it in by winter for our show season, which starts in January for that coming year's show season."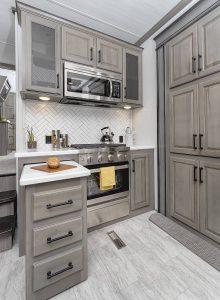 But Ebenroth says there are other times when new floorplans are introduced, such as this 3941FO, which was introduced at the Florida RV SuperShow in Tampa.
Ebenroth's production team meets regularly to talk about where the product is and how to move it forward. They could be looking at décor, features, floorplans and more.
"So, then I'll sketch some stuff out (and) talk with our team, our sales team, our dealer base, what things they think they need. And then I get with our engineers and we try to piecemeal some stuff together to lay it out," he says.
"Then it's kind of just like playing with Legos, right? As you start kind of building it and figuring out, OK, does this fit here with this? Oh, that doesn't work. We'll bring in this part; this doesn't flow quite the way we'd like it to.
"That's the great thing about our engineers and how really impactful and brilliant they are on these systems where they can (see) that doesn't work. They're the brains behind it. I just come up with ideas and then they figure out if they can make it work."
Collecting Feedback
The feedback the team received at the Tampa show was really positive, Ebenroth says – saying there was a noticeable buzz about the new layout.
"It's obvious there was a need for the unit. And when you build something that people ask for and then you build it and they really enjoy it, that's great," he says. "It's nice to build a floorplan that you feel like people need.
"We constantly want to bring features for plans, functionality to customers, to have them enjoy their camping experience the best way possible. All of our goals are always to be the No. 1 selling fifth wheeler. But the way you do that is … we just want customers to enjoy their camping experience when they're inside of a Montana or whatever brand we're selling.
"And so, I think that's what we kind of hang our hat on. We want to constantly bring new things to customers that they get really excited about."