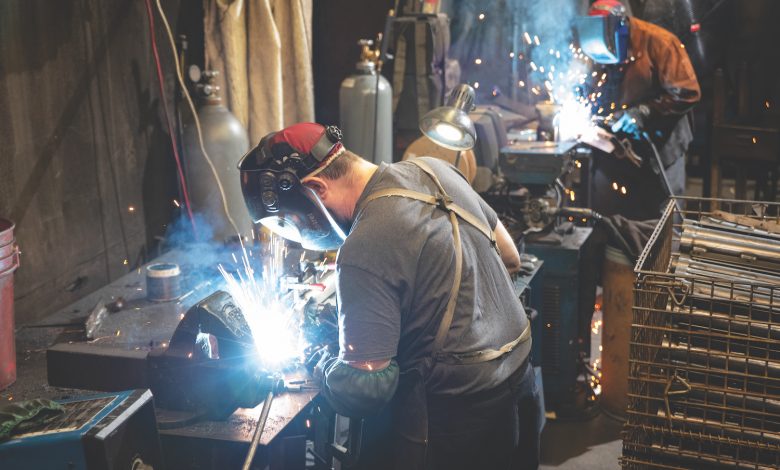 In today's world, where many RV suppliers try to offer something for everyone, Rieco-Titan takes the decidedly contrarian approach. It focuses on one product type – truck camper jacks – and does it well.
"Jacks are all we do," says Doug Bakker, the Frankfort, Ill.-based company's operations manager. "We don't focus on a pile of other things, so when you call here looking for help, we don't have to be versed in every single item in your camper. We're pretty specific on what we deal with and it allows us to get people better answers to their questions."
Bakker explains that every product that's assembled by the company is tested and inspected before it ships, and later – if there is a problem – it's resolved to the customer's satisfaction.
"It's all about making sure the person who has our jacks has a good experience from the beginning to the end," is how Bakker puts it. "People still make mistakes, so there will be things that go wrong, but when it does, we make sure to take care of them." By narrowing the company's product focus to jacks (plus a few related items) – and by putting a strong focus on customer service – Rieco-Titan is able to set itself apart from other suppliers, according to Bakker.
Going & Growing
And while other companies might tout how big they are, it's no insult to call Rieco-Titan a mom-and-pop operation. What is now Rieco-Titan is the brainchild of Bob and Sharon McCarthy, and dates to the late 1970s, when Bob McCarthy left a corporate job rather than move to the East Coast.
Instead, the McCarthys bought a metal fabrication business, Vindee Industries. One of Vindee's customers was Titan Jacks, a manufacturer of mechanical camper jacks, and before too long the couple purchased Titan, as well.
Later, the McCarthys also acquired California-based Rieco, a manufacturer of hydraulic jacks for the camper industry, creating Rieco-Titan. Today, the business operates with 19 employees in 35,000 square feet of space in Frankfort, an exurb at the southern tip of the greater Chicago area.
And, while Bob McCarthy passed away in July 2014, Sharon McCarthy remains active in the business, according Bakker, who has taken over much of the day-to-day direction of Rieco-Titan.
Bakker has been with the operation since early 1996. A tool- and-die maker by training, he says early in his career he began designing the dies himself, which is a main reason he caught the McCarthys' attention.
"At that time, they were having some issues with the jacks and their production," he says. "I came from tooling and made some changes that helped smooth out production in both the designs and in the actual assembly."
Later, when a supplier folded, Bakker helped move the company to a different screw jack.
"I did a lot of research and redesign on that," he says. "That changed the look of the products and made a nice, clean-looking part."
Because of that experience, Bakker adds that he also found himself doing more for the company in terms of talking with customers, going to shows and doing yet more design of custom products and brackets, so it wasn't a big stretch to become the operations manager following Bob McCarthy's passing.
Talking with customers has been a hallmark of Rieco-Titan. McCarthy was known for chatting with clients to understand their needs and concerns, an approach that's led to some of the company's best-known products, such as the pop-up lift system designed for Palomino RV and used by Northstar.
"We'd get feedback from the guys installing the jacks and we're always trying to find out what's going on, and if they're seeing issues, so that we can address them right away," Bakker says.
The most recent change comes to the company's electronics package.
"The remotes and the control box used to have little dip switches at the box, and they had to match in the remote," he explains. "Now, they just pair up; you press a button and the receiver knows the remote signal. It's just little tweaks that we make."
Matching Up
Sometimes a product doesn't even have to be new and improved to enjoy a renewed life in another market – or, in this case, the aftermarket.
Bakker says the Rieco-Titan jacks and those from Atwood Products shared a pattern dating back to the time he started with the company. In other words, the two products matched both in terms of the brackets that go on the camper and the holes used to mount the jack.
He speculates that's because, for many years, Atwood was the largest supplier of jacks to the industry and it supplied Lance Camper Manufacturing, the largest OEM in the truck camper market.
"When I started, I was told that 50 percent of all truck campers were made by Lance, and everybody else added up to what they did," Bakker says.
He might not have given it another thought – except that when Atwood's jack manufacturing operation was sold in 2014 to Lippert Components, Lippert subsequently shut down production of the Atwood products in favor of its own Happijac line.
"That's when I started getting phone calls from people saying they had heard our jacks would match up with the Atwoods and wondering if they could just put one of our jacks on if they needed to replace just one or two of them," he says.
Bakker says he knew they would fit physically, but he wasn't certain how they would match up because of different motor sizes and different gear ratios on the Rieco- Titan jacks. Ultimately, he went to Missouri to test them out with a camper owner there.
When those tests proved to be successful, he contacted Truck Camper Magazine, which invited him to a jamboree in Gettysburg, Pa., to do a demonstration. Bakker was given a time slot to give a presentation and answer questions and then do some installation work on a camper.
"We proved that one of our jacks runs almost identical to the other jacks and it would be safe to do so," Bakker says. "However, we suggest they do two jacks just to make sure. Actually, we suggest they put the two new jacks on the front of the camper where there's more weight and move the older ones to the back."
While many truck-camper owners appreciate the cost savings from replacing only one or two jacks, rather than the whole set, he adds that another advantage of the Rieco-Titan products is the remote control. Not only do the Atwood jacks work with the Rieco-Titan remote, but it includes a rocker switch to operate a unit's slide-outs, as well.
And, like the jacks themselves, Bakker says the electronics aren't that hard to replace.
"For the most part, it's just taking the wires off one control box and putting them on the other," he says.
Even before this, Bakker says the company had a good presence in the aftermarket, although given the niche nature of truck campers in the RV universe the number isn't huge. Most of its aftermarket sales are done through its distributor network, although buyers also call the company direct.
Next up for Rieco-Titan: A kit that will allow truck camper owners to replace their Happijac jacks through the creation of adapter brackets.
"We've already built the brackets and have redone our website materials, but it hasn't been added to the website yet," he says.
Opportunities Abound
While Bakker says the company has a good presence in the aftermarket, he believes the better opportunity going forward for Rieceo-Titan is with the OEMs.
Fortunately, the company already has an extensive list of OEM clients, including Palomino RV, Travel Lite RV, nuCamp, Northwood RV, Rugged Mountain Custom RV, Host Campers, Kimbo Campers, Alaskan Camper, Capri Campers, Bundutek, Kingstar and Northstar.
"We have Fleming Sales Co. in Elkhart warehouse for us and do some follow-up sales in the Elkhart area," Bakker says. "We build it here, ship it to their warehouse and they distribute to our customers throughout the week. Distribution to the other OEMs goes directly from here. And, we also have products going to Germany, China, South Korea, Australia and New Zealand."
He adds that – surprisingly, perhaps – his sales have been going up, even though he admits at least some people who might have bought truck campers in the past are switching to Class B motorhomes.
"Over the last two years, if you look at RV sales, the numbers say they're going down, but we've gone up each year," Bakker says. "And, I can't say we've hit any big new customer to increase our sales, either. It seems the continental U.S. has been steady with the truck campers. This is not a high-end purchase, but it's people who want to be outside who are spending their money on their toys for being outside. They don't want a 50-inch TV screen; they're sitting by the campfire."
Meanwhile, Bakker says one of his goals is to get out in the field to talk with more end-users, with the idea it may spur ideas for additional products.
"I'm planning on getting a camper and doing a little more traveling to rallies and jamborees to have a more interaction with people who are using our products," he says. "I'd also like more feedback on some things we could be adding to our lineup."
Not that the Rieco-Titan is strictly jacks even today. He cites the company's camper dollies and fifth wheel landing gear as examples. But, he adds, the company could be doing more.
"We want to reach a little bit outside our box and maybe start making some products for the aftermarket that would be for trailers and not just truck campers," Bakker says. "And, we want to continue to show the OEMs and the aftermarket the quality difference between our products and our competitors'."