Features
King of the Airwaves
Woman-led KING prospers thanks in part to its focus on creative problem-solving, making its products easy to use, having a good team and valuing diversity.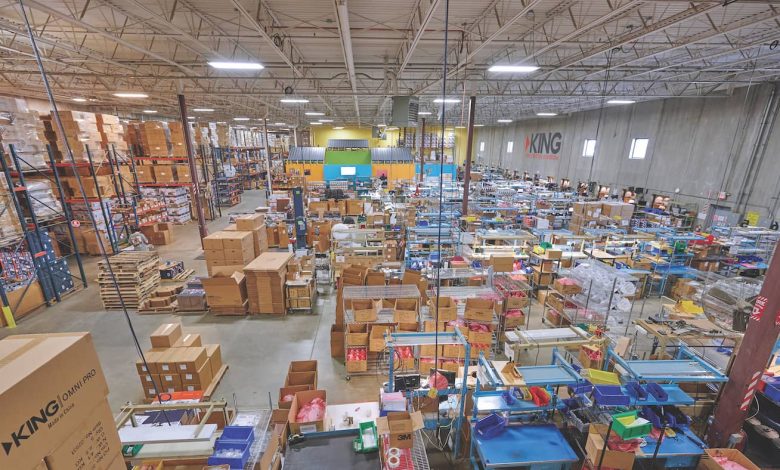 When it comes to marriage, Susan and Lael King are partners in every sense of the word. As an inventor, it was his products that formed the basis for KING, but it's her management that has grown the company as it morphed into the RV industry.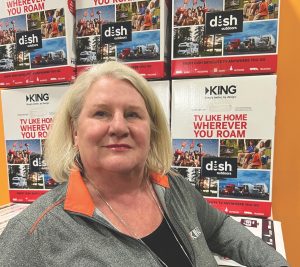 Recognizing early on campers' desire for a satellite system to enjoy their favorite programs away from home, KING was the first to develop a stationary automatic system under a dome. From there, the company has expanded into about every other type of connectivity, from Wi-Fi range extenders to satellite TV and over-the-air visual and audio reception.
More importantly, at a time when many people curse the complexity of their electronics, KING prides itself on making products that are easy to install and use. Or, as the company's motto proclaims, it's "Simply better, by design."
A Good Team
A great deal of that simplicity of design can be credited to company founder Lael King. Like many other companies, KING was launched in the couple's basement in 1985. Susan King explains the company's initial product was based on an automatic car starter he had developed.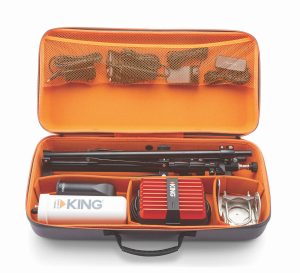 "He ended up selling the product and never was compensated as planned," she says. "At that point, he was looking at other things in the same category. He had an associate that was in the trucking industry, and they needed some engine monitors for idling."
After developing that product, Lael King got into cruise controls and other kinds of engine controls for trucks, including pressure controls for firetrucks. The company's biggest products became cruise controls and speed limiters for both trucks and RVs.
"That came about because we got a contract, first with Spartan Chassis and then with Freightliner Trucks, which both support RVs," Susan King explains.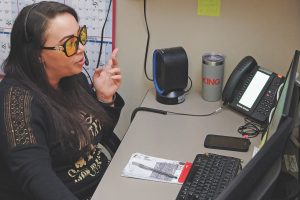 However, KING was also up against a changing marketplace. Thanks to emissions mandates, engines of all sorts were moving away from mechanical systems toward electronic ones. It was that realization that encouraged the company to look at other products. "We knew the diesel engines we were controlling would no longer need our kinds of products," Susan King says. "We began looking for other products – and eventually came upon a satellite system back when satellite was in its infancy. And, from there, we just took off with it."
It's not surprising that the Kings ended up going in the direction of products for RVs. Avid RVers for more than 30 years, Susan King says it's common for one or the other of them to come up with an idea for a new product or an improvement to an existing one while camping.
Today, Lael King is exclusively involved in product development. The difference is the company has an engineering team to collaborate with him, and a larger staff to help suggest ideas.
"He's looking at product ideas and building prototypes" says Susan King. "He's completely on the creative side now."
However, the success of KING is truly due to the partnership of Lael and Susan King. Not only did the business launch in her basement, but in its early years, Susan King had the not-inconsequential role of supporting the family while working as a registered nurse in the ICU unit of the University of Minnesota Medical Center.
"Eventually, Lael needed more help with administrative things – he's admittedly not good at that – so I left my job in nursing and began working for KING full time," she says. "We're a pretty good team and we don't step on each other's toes very often, so it's worked out pretty well."
The Value of Diversity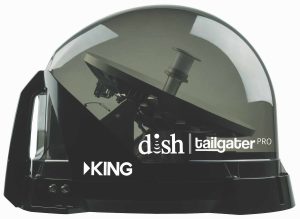 Today, Susan King serves as the company's CEO, directing close to 100 employees from its headquarters in the Minneapolis suburb of Bloomington, and a second facility in Elkhart, Ind. However, she's quick to stress that she and her husband are only two cogs in a much bigger wheel.
"We've got a really outstanding team here," Susan King says. "We set the stage, but our employees really have done a lot of the heavy lifting. They're the ones responsible for our very low return rate. We have outstanding quality, and that's just the culture here."
And, yes, with a woman at the helm, the culture at KING is a little atypical. Not only does the company recognize that people have lives outside of work, but in an industry that has the reputation of being dominated by white men, diversity is one of its core values.
"Half of our leadership team is composed of women," Susan King says. "In production, a little under half are women. Our crew is remarkably diverse; we represent a number of sexual orientations, ethnicities and religions."
The reason behind the approach is quite simple: diverse backgrounds generate diverse ideas and diverse solutions to problems. "You've got two different places that a man comes from versus a woman, and we incorporate that into our decision-making," she says. "I think it's really enhanced our company, and the men who work here really embrace the camaraderie and the idea exchange."
Craig Miller, KING's president, agrees, although he stresses the company hires for ability.
"It just makes you think of things a bit differently," Miller says. "Our success is often due to the diverse ideas we have here, and the female influences that we have here, and the collaborative efforts that we have here."
Susan King believes another result of that diversity is the company's reputation for producing exceptionally high-quality products.
"We're super proud of our return rate, which is less than 1 percent," she says. "With half of those, no defect is found. It just speaks volumes about the team here because you don't have that if you don't have a team that's really focused on quality. Everyone in the company plays a piece in our quality."
Besides serving as KING's headquarters, the 41,000-square-foot facility in Bloomington houses product development, the company's call center and production, as well as warehouse space. Not only are its products assembled from components shipped in from elsewhere, but Susan King says all are evaluated and the information stored before they head out the door, providing extra backup if there is a problem.
A 10,000-square-foot facility in Elkhart also has offices, a training center and storage that exclusively services the company's OEM customers.
"Out of this facility, we ship to distributors, we ship some dealer direct, and we ship to national accounts, such as Camping World," says Miller. "We also do fulfillment for Amazon. We ship international to Europe, Australia and New Zealand. And DISH is a partner of ours. It's a pretty diverse set of products and a very diverse set of customers."
Removing the Mystery
Because its customer base is so diverse, KING takes several different approaches to supporting everyone from dealers to the RV manufacturers.
While much of its aftermarket business goes through two-step distribution with NTP-STAG, the company has a full-blown in-house marketing department, according to Miller. However, key to that effort is its regional sales managers who provide dealership training.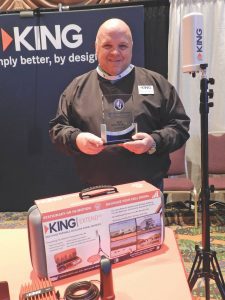 "All our salespeople are so well-trained on our products that they can conduct sales training wherever they go," adds Susan King. "We also support them through attending shows, offering show discounts on occasion, and providing marketing dollars. Sometimes we help with some of the marketing design."
Both Miller and Susan King stress that the RV owner isn't going to need to be trained on how to use one of KING's devices. "We pride ourselves in building technology that is people-literate," says Miller. "Our technology understands you. It does what you want it to do, the way you want it to work. We tell people to just press a button or turn it on. Other businesses get lost in complexity."
However, he adds that it's KING's job to make sure the people selling its products in the aftermarket can have detailed conversations with RV owners about Wi-Fi, LTE and satellite television. "It can become a jumbled mess for most people – and it's our job to demystify it," he says. "And, by demystifying it all, rest assured, people are going to want to buy our products because they're better than everybody else's." Elkhart is the home-base for the company's head of OEM sales, although KING also has an independent rep group it uses in Elkhart, as well as reps in Forest City, Iowa, and on the West Coast.
"It's a combination of KING employees and reps that serve the complicated OEM community," says Miller. "At this point, everybody wants to be connected, so the OEMs are building our products into everything from the lowest-end travel trailers to the highest-end diesel pushers."
Susan King adds that she feels the idea that people want to leave their cares – and devices – behind when they head out in their RVs is outdated.
"There's a wide variety of units in the marketplace," she says. "You have units that are set up to be remote offices. You have units for young families. You have units that are more luxurious. But, across the board there's a movement for connectivity."
Being Creative
So, with a quickly evolving demand for both entertainment and connectivity, how does KING stay on top of what consumers want? Some of it is simply that the company has innovation in its DNA, as KING holds some 30 patents for its various products.
However, Miller says it's also the result of work.
"We work hard to understand human needs," he says. "You have to be paying attention to the market, to the technology and the users."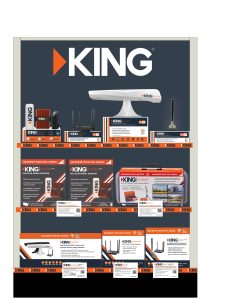 Further complicating matters has been the COVID-19 pandemic and its fallout. Susan King says the company initially shut down for nine weeks in early 2020, reopening about the same time many of the OEMs resumed production.
"We were going gangbusters from the moment we reopened," she says. "However, the supply issues are well-known across the entire world, and we have not been immune from that."
Not only have KING's shipping costs gone up as much as sixfold, but Susan King says she and the company's director of human resources recently joined the purchasing department in a two-day scramble to find resin after an order fell through.
"We have had to be extremely creative to keep product going out the door," she says. "Our engineering department has had to call out different materials. When we're solving problems, we often lean on each other, and that works quite well."
She's justifiably proud of the fact that no order from an OEM has gone unfilled, despite the supply issues.
As with other companies, KING also has faced the issue of hiring good people throughout the pandemic.
"We have an employee referral program, and we're using temp agencies to hire for production workers," says Susan King. "That's worked very well. We get to try them out for 90 or 120 days, and the ones we've liked we end up hiring."
Miller adds that it's not easy to get hired at KING, because people need to not only have the proper skills, but they must be a good cultural fit. But, he says, once people are hired, they want to stay.
Particularly when it comes to materials, Susan King says she is quite confident the company will continue to meet its commitments – although in the short term she doesn't think things will get easier.
"To date we've been able to answer those challenges quite well," she says. "But it's increasingly challenging. We've been creative, creative, creative."
As for the year ahead, neither King nor Miller is prepared to say much. KING is, as its CEO points out, a privately held company.
Miller does give some hint about future markets when he says, "Part of our vision is mobile first, home second. We're very focused on mobile and that's where most of our business is done, but the home market is on our radar."
In general, though, he expects KING's 2022 activities to disrupt competitors and delight customers.
"Our goal is to make sure people are connected all the time," Miller says. "We want to offer a range of devices that allow our customers to be connected the way they want to be connected."